Feminist Campers, NYC (Catherine Drillis)
There are no campfires, cabins or cookouts at Feminist Camp, but if you are in your 20s and want to plan for your feminist future, this is your first stop.
Feminist Camp is an initiative of Soapbox Inc., the world's largest feminist speakers' bureau, and is housed at the Ms. Foundation for Women in New York City. The camp brings together women of all ages (but mostly college-aged) from all over the world to meet and learn from feminists in the workplace.
The Camp was co-founded by Amy Richards and Jennifer Baumgardner, authors of Manifesta: Young Women, Feminism and the Future. After a number of speaking engagements at local colleges, they felt that the curriculum being taught was outdated and not in sync with contemporary feminist experience. So the two set out to design an event to showcase professional possibilities for which a feminist perspective and a women's studies degree would come in handy. Says Richards: "There are a myriad of jobs where one can practice their feminism, especially those professions and job sites that aren't as obviously feminist." Feminist Camp, like Soapbox and other projects, aims to bridge the divide between feminist theory and feminist practice.
A Typical Camp Day
A typical day at camp could start with a visit to meet and chat with some judges and police officers at a court in Queens. After lunch, campers might stop at a gallery showing feminist art, or take a trip to adoption clinic or a visit with a feminist publisher. Feminist Camp is an immersive experience intended to provide access to spaces and people bringing feminist values to the workplace.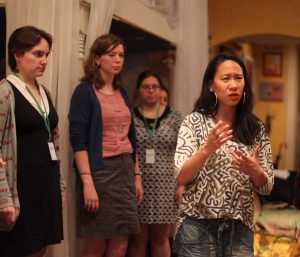 Feminist Camp field trip (Catherine Drillis)
A key takeaway for campers is that you don't have to compromise financial independence to be a feminist. "It is okay towant to make money and be a feminist," says Richards.
Students learn that there are many avenues to bring a gender lens to social issues. Jillian Heller was a recent participant in the June 2018 camp and found the experience to be practical. "Since Feminist Camp I've prioritized community-building in digital spaces as one of my "must-do's" in my career in digital writing and editing and aim to figure out just how to do that at graduate school this September," said Heller.
Summer and Winter Camping
The New York location hosts camps twice a year in January and June with 12 to 15 campers per session. Feminist Camp is a not-for-profit with fees of $1,500 per session that are subsidized by profits from Soapbox and other supporters. Financial aid is available.
A former camper established a satellite camp in Seattle, to offer that experience in her home city.
Other camp locations include Zambia, which has been taking Americans to Africa for the past three years to explore feminism outside a western perspective and meet local feminist organizers. In Massachusetts, Hampshire College hosts Feminist Camp for high school-aged feminists, taught in conjunction with their Civil Liberties and Public Policy Program.
Richards says plans are in the works for "more camps, more locations, mini-camps, more connections with alums as well as enlarging the program for the corporate workforce. Already, there is an active alumnae community of several hundred women to build from."
Practice What You Preach
The best part? I met with Blaine Edens, Director of Operations at Feminist Camp, to check out their digs in Brooklyn, N.Y. We met in Gloria Steinem's office the Ms. Foundation. Steinem, surely, could have commanded the corner office—the traditional symbol of success in the workplace—which would offer magnificent views of the Brooklyn Bridge Manhattan skyline. But that prime spot was given over to the communal lunch room, to be enjoyed by by all. To me, that reflected practical feminism at work, one lunchroom at a time.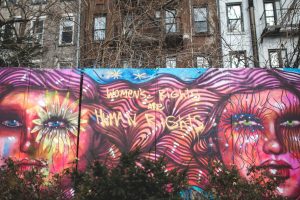 New York City (Catherine Drillis)