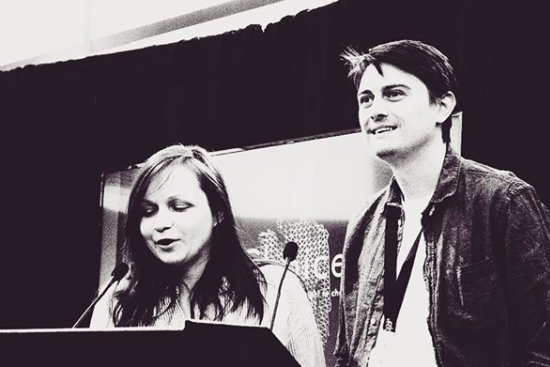 If I say "virtual reality" your response is not likely to be "the next tool in the arsenal of progressive social movements." VR has been relegated to the game space; it's expensive, the headsets (helmets, really) are clunky, and it takes vision to imagine how the technology can be a weapon for good. But Toronto-based Tribe of Pan—headed by Joanne-Aśka Popińska and her husband and business partner, Tom Hall—is using VR to change minds in the worldwide struggle for access to safe, legal abortion. Okay, I was skeptical too, until I jumped on a meandering yet fascinating Zoom with Tribe of Pan.
Joanne and Tom dressed in dark, comfortable clothes—relics from the days when they met working on 3D-movie sets. Joanne explains, "I'm a sociologist, and I came to Canada from Poland to work on 3D movies in 2013. Funnily enough, 3D movies died when I came to Canada. I killed them," she says, punctuating the story with a laugh.
The partners initially bonded over their dismay at the macho climate of film sets. Joanne describes her disillusionment: "Film is this vessel for change. Society is changed by movies, but on film sets even though we had Me Too, [the sexist attitude] is still there." Tom agrees, adding, "The making of a film is an inherently toxic experience for everybody involved."
So they quit their jobs to start Tribe of Pan, looking to do interesting work that was also socially meaningful.
Educating Humanity
Tribe of Pan also committed to having different values than the average film production company. Joanne recounts when she, a lifelong vegan, worked on a film glorifying meat that made her question her career path. She thought about how to have more control over the projects she worked on. She and Tom "wanted to do something that is either fun or has meaning, and to work with people we want to work with." She pauses and looks at her partner. "VR technology is super new, super expensive, but our logo is an ape in a headset. The name is from a zoological term. The tribe of pan encompasses the great apes, who are closest to humans. It speaks to what we want to do as a company: to show the subject's humanity." That concept of educating humanity remains central to the company's work.
Joanne started to think about abortion rights in 2016, when the situation for women in her native Poland became dire. After discussing it with Canadian friends and others, she and Tom embarked on their VR abortion rights documentary, The Choice. It had a successful but exhausting Kickstarter in January 2018, timed around Donald Trump's presidential inauguration. The Choice uses proprietary technology developed by Tribe of Pan to bring more immediacy to VR. Their tech is a stereoscopic volumetric camera which harnesses 3D-cinematography to create a realistic experience of interacting with another person.  Joanne and Tom are equally passionate about this technology—which they see as key to using interactive VR for social change—as their mission.
Getting Real With Stories
For The Choice, they theorized that if they could film women telling their stories and answering questions (about why they had chosen to abort their pregnancies), the film might be able to change people's minds. What was missing in the abortion debate was personal stories. Joanne explains, "I think what works best is personal conversation. It's much easier to find connections through talking, even if you're on the other side politically. We used virtual reality to introduce these women directly to the viewer." For their first interview, they chose a woman whose story was both relatable and terrible. She and her husband had planned the pregnancy, and she was 13 weeks along when she was rushed to the hospital with bleeding. Her doctor reassured her it was because she had been walking too much the night before. As she lived in Texas, however, her doctor was permitted to conceal medical information to head off an abortion. Six weeks later, she went to a doctor in another city who confirmed the fetus had serious abnormalities, including Turner's Syndrome, which reduced the chances of the fetus's survival to one percent.
"The idea behind The Choice is that you put on the VR headset and talk to women who had abortions and they share their personal stories," Joanne says. Thanks to Tribe of Pan's technology, you can also ask the woman questions and get real answers. Their technology makes the VR figure more lifelike, with light in their eyes and realistic contours on their skin. Their tech is also mobile so you can use it anywhere—not just on the huge (and expensive) stages the industry relies upon.
Joanne interviewed the Texas woman for days, trying to film answers to all the questions a curious person would ask—even one hostile to abortion rights. She and Tom comprised the crew, from planning the shoot to doing all of the post-production work. Their two-minute film was designed to raise funds, which they are still seeking. In the meantime, they are busy helping clients tell VR stories, including the City of Toronto and XL Outerworlds, a company making a 3D IMAX film which is a collaboration between five Canadian artists. Among their socially conscious projects is a VR tour of the Ernestine Women's Shelter, which they made to raise consciousness about the plight of victims of domestic violence.
Funding has been difficult because of the controversial subject matter of The Choice. The company applied for Canadian grants at both the provincial and national levels with no success. They did win two Kaleidoscope grants, which are awarded by the VR community, but the amounts were way too small to fund The Choice. Joanne says that readers can help directly by making a donation to their PayPal account. They are also looking for potential sponsors and partners in the private sector.
Yet the project has already been transformative. "I didn't expect a two-minute film to have this effect. We had some anti-choice people at a local VR conference in 2018 trying the headset on after telling us directly why they are anti-choice and why we're doing an awful thing. I said, can you just give it a try?" They plan to make the existing film the first chapter in a series of six stories which will comprise the documentary (they hope to release it in late 2020 or early 2021).
Joanne continues, "One guy put the headset on and after two minutes, he took it off and was silent. Then he said, 'I'm sorry, I didn't think about it this way.' Later he introduced us to other people, saying this is a very powerful project." Tribe of Pan know that they have a potent weapon that can influence the abortion debate, even if change happens one headset at a time.
---
Publishers Note:  Tribe of Pan is a member of Fifth Wave Connect,  Canada's first feminist entrepreneur and accelerator program for womxn in digital media, Fifth Wave Labs. The Fifth Wave is a year-round program offered by CFC Media Lab and its partners to support the growth and development of women entrepreneurs in the digital media sector in southern Ontario. All enterprise founders in the Fifth Wave community are selected for both their potential and commitment toward weaving intersectional feminist ideals of equity and fairness into sustainable and scalable business growth strategies. Fifth Wave Initiative is committed to 30% participation by members of underrepresented groups. Interested? Apply here. The Fifth Wave is a LiisBeth Media partner. 
---
Did you enjoy and find value in this article?  Please consider helping us publish more of them!  LiisBeth is an indie, womxn-led/owned media outlet.  We depend 100% on reader donations.  Please consider a contribution today! [direct-stripe value="ds1577108876188″]
---
Related reading:
Moving Pictures: What We Learned from Women Filmmakers at TIFF 2019