Last year, the Toronto International Film Festival (TIFF) and its counterparts in Cannes and Venice committed to achieving gender parity in film selections by 2020, signing the historic 5050×2020 agreement. With the Share Her Journey fundraising campaign, TIFF created the Micki Moore Residency (for female screenwriters), the inaugural TIFF Talent Accelerator (for female directors, producers, and writers), and achieved gender parity in both the TIFF Filmmaker Lab and TIFF's programming team.
Despite those initiatives, the total number of female-fronted films barely nudged up from 35 to 37 percent at TIFF, a fact lamented by TIFF's own co-head, Joana Vicente. In 2019, Venice selected only two films by female directors for its 21-film competition while Cannes selected four out of 19. Unlike Vicente, the heads of Cannes and Venice argued that redressing exclusion by quotas alone could dilute quality.
Women directors enjoyed the last laugh at that, with Manele Labidi's Arab Blues winning Venice's audience choice award, and Mati Diop taking the Grand Prix at Cannes for her film Atlantics, while also making history as the first Black woman director to compete at Cannes.
Here at LiisBeth, we wondered what happens when women get the opportunity to direct the storytelling? Do film plots, points of view, and ideas shift? And what might feminist entrepreneurs directing enterprises of their own take away from these narratives?
Five Films, Five Takeaways
At TIFF 2019, many international films made by women rejected facile notions of "girl power" or "leaning in" in favour of more dissonant, challenging plots. Take this cross-section of five films, which unsettle assumptions about who women are, what we can achieve, and what our models for work can be.
---
Arab Blues: Things Rarely Go According to Plan
I can see why French-Tunisian director Manele Labidi's bittersweet comedy won the audience choice award at Venice. It was my favourite, too.
The film follows young, intrepid Selma (Golshifteh Farahani), who studied in Paris for 10 years, as she returns to her hometown in Tunis to start her own psychotherapy practice for locals, post-revolution.
Challenges abound. The labyrinthine licensing bureaucracy forces Selma to work around the law. Locals are amused or irritated by her services. Yet her sessions soon become truly rewarding moments in the film. They not only reveal the limits of Selma's tacit mentor, Freud (whose portrait hangs on her office wall), but also how she is an outsider in her own hometown.
Ultimately, Selma's status as an outsider helps her forge her own path and build a more culturally nuanced "talking cure." Starting from a vague desire to "help," Selma learns why she really chose this path, which deepens both her practice and her clients' lives.
The takeaway: Entrepreneurs know that the best laid (business) plans can fall apart fast. Many opportunities must be seen—and seized—on the fly. Only much later can we see why we started.
---
How to Build a Girl: Success at Your Own Expense Equals Failure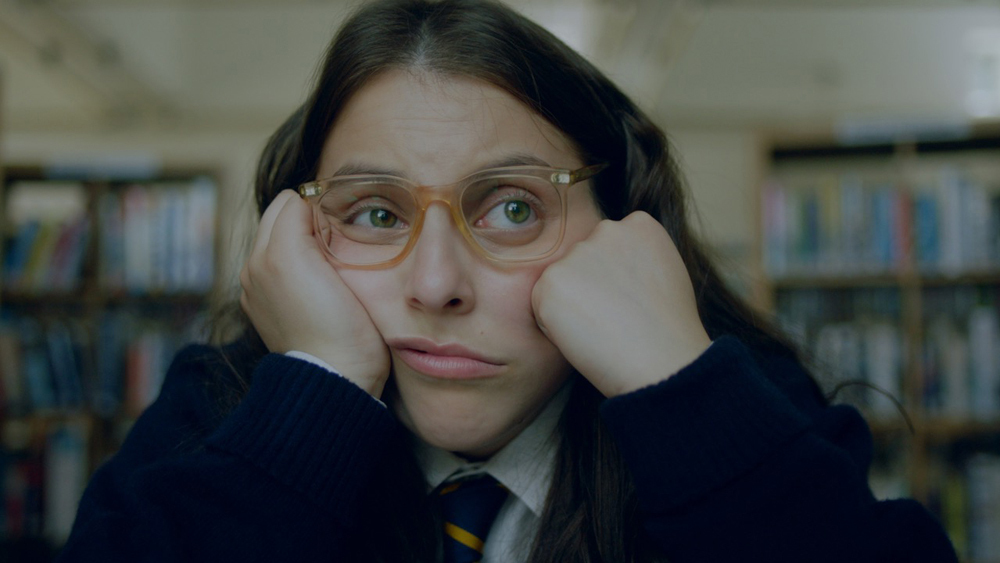 Coky Giedroyc's UK film brings to life Caitlin Moran's semi-autobiographical novel. Working-class '90s teenager Johanna (a dynamite Beanie Feldstein) morphs into "Dolly Wilde," a mean-spirited music journalist alter ego. Her scathing review of Queen, for example, bears the withering headline, "Bohemian Crapsody."
Discussions of entrepreneurship often emphasize the value of failure. How to Build a Girl, however, reveals that failing can be a lot harder for a working-class girl stuck among posh bros. For Johanna, there's no safety net if she doesn't win, yet dudes set the terms for that "win."
The more Johanna becomes Dolly, and the more men reward her, the more we see all the problems of her "success." That makes for a refreshing feminist rebuke: Don't mistake sexist cynicism for intelligence, let alone success.
No spoilers, but this well-written script will have women, especially those who've had to play "one of the guys," cheering on nerdy, smart-girl Johanna long past the closing credits.
The takeaway: Trying to become someone you're not isn't worth it—even if all signs point to a win.
---
 Harriet: Don't Lead Later, Lead Now

After directing the haunting Eve's Bayou in 1997, Kasi Lemmons joined a coterie of Black American filmmakers who seemed on the cusp of transforming the film industry. Sadly that did not materialize thanks to persistent Hollywood racism.
Lemmons' latest, Harriet, suggests a new day. It's a suspenseful biopic of Harriet Tubman, who escaped slavery and then returned to lead others to freedom along the Underground Railroad. Indeed, Harriet begs the question of why it took so long for the story of this amazing woman to reach the big screen.
Played with verve and grit by Cynthia Erivo, the diminutive Harriet displays a fierce will to eliminate slavery. Underestimated, even by herself at first, she begins in fear-driven flight, and then buoyed by faith and success, dives undaunted into leadership.
Harriet illustrates and intertwines three layers of Black female leadership—Harriet Tubman, Erivo in an Oscar-worthy performance, and Lemmons as auteur. For all three, defeat should have been inevitable, but they persevered.
The takeaway (in Harriet's words): "I've come this far on my own, so don't you dare tell me what I can't do."
---
Atlantics: Communities, Not Individuals, Generate Heroism

For those in social justice–driven enterprises, it's hard to keep fighting the good fight, day after day. Directed by Mati Diop, this Senegalese-French-Belgian co-production, which won the Grand Prix at Cannes, is both ghost story and love story, a poetic, magical take on how we can keep on pressing on—if we don't try to go it alone.
Atlantics opens with several men demanding, but not receiving, unpaid wages for their work on a half-finished high-rise in Dakar. From there, we see the relentless, sun-bleached ocean. Crashing waves foreshadow how the men will soon be doomed refugees, a juxtaposition that drives two star-crossed lovers apart.
Or do they part? Atlantics dives into magical realism to suggest that unresolved historical trauma will have the last say. Mourning women left behind start to embody the men's ghosts—and demand retribution. Eschewing realism, Atlantics offers a powerful, poignant parable.
The takeaway: By acting as a community, substantive social change can unfold.
---
Three Summers: Adversity Can Reveal Surprising Allies

We don't always know who our allies are until push comes to shove, and those who show up may not be whom we expect.
This Brazilian-French film, directed by Sandra Kogut, offers a canny exploration of class struggle. The legendary Regina Casé plays Madá, the lead housekeeper at a wealthy resort in Rio de Janeiro. Over three summers, we see how her boss's white-collar crimes affect but do not defeat Madá.
Based on the real-life Operation Car Wash investigation in Rio, Three Summers isn't interested in rich criminals. They're more sad sacks than masterminds. Instead, the film spends time with the staff, mostly women led by Madá. They are as pragmatic and resourceful as they are funny and kind, even when caught in the crossfire.
Madá transitions from identifying with her employers to supporting her coworkers and strikes up a friendship with her ex-boss's elderly father, Lira. He's abandoned—like the staff—and considered useless by his own self-absorbed family. Three Summers builds a plucky collective of who's left behind, and how they survive this failed (last?) resort.
The takeaway: Allies take surprising forms. We need to stay connected to those who show up for the hard work, for these allies will prove far more valuable in the end.
That's a wrap! If you attended TIFF, what films made you leave the theatre inspired and ready to act?
---
Creating researched and inspirational content to support and advocate for feminist changemaking takes hundreds of hours each month. If you find value and nourishment here, please consider becoming a donor subscriber or patron at a level of your choosing. Priced between a cup of coffee or one take out salad per month.
Support LiisBeth
You will have access to Payments processed through PayPal.
You can also contribute to our "Sustainability Fund" or an open donation in any amount.