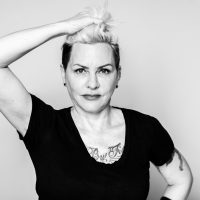 pk mutch (she/hers/elle)
Entrepreneur.

Activity Girrrl.
Feminist.
She/Her/Hers. Indie media entrepreneur, freelance journalist,
Canadian Association of Journalists
member, former book publishing executive, zine-maker and startup professional. Recipient of Inspiring Top 50 Women in STEM in 2018. Profiled in
Canada 150 Women: Conversations with Leaders, Champions and Luminaries.
Founder of
Highwire Collective (formerly Eve-Volution)
Also founder and former President of award-winning Fifth Town Artisan Cheese, Canada's 8th B-Corp, which under her leadership received the Premier's Award for Agri-Food Innovation (2009). pk currently works to advance inclusive, non-extractive, non-exploitative entrepreneurship and innovation in public policy and startup ecosystems with a particular emphasis on gender equity.  pk is the founding publisher and caretaker of LiisBeth. Follow pk on
Twitter
or connect with her on
LinkedIn
.