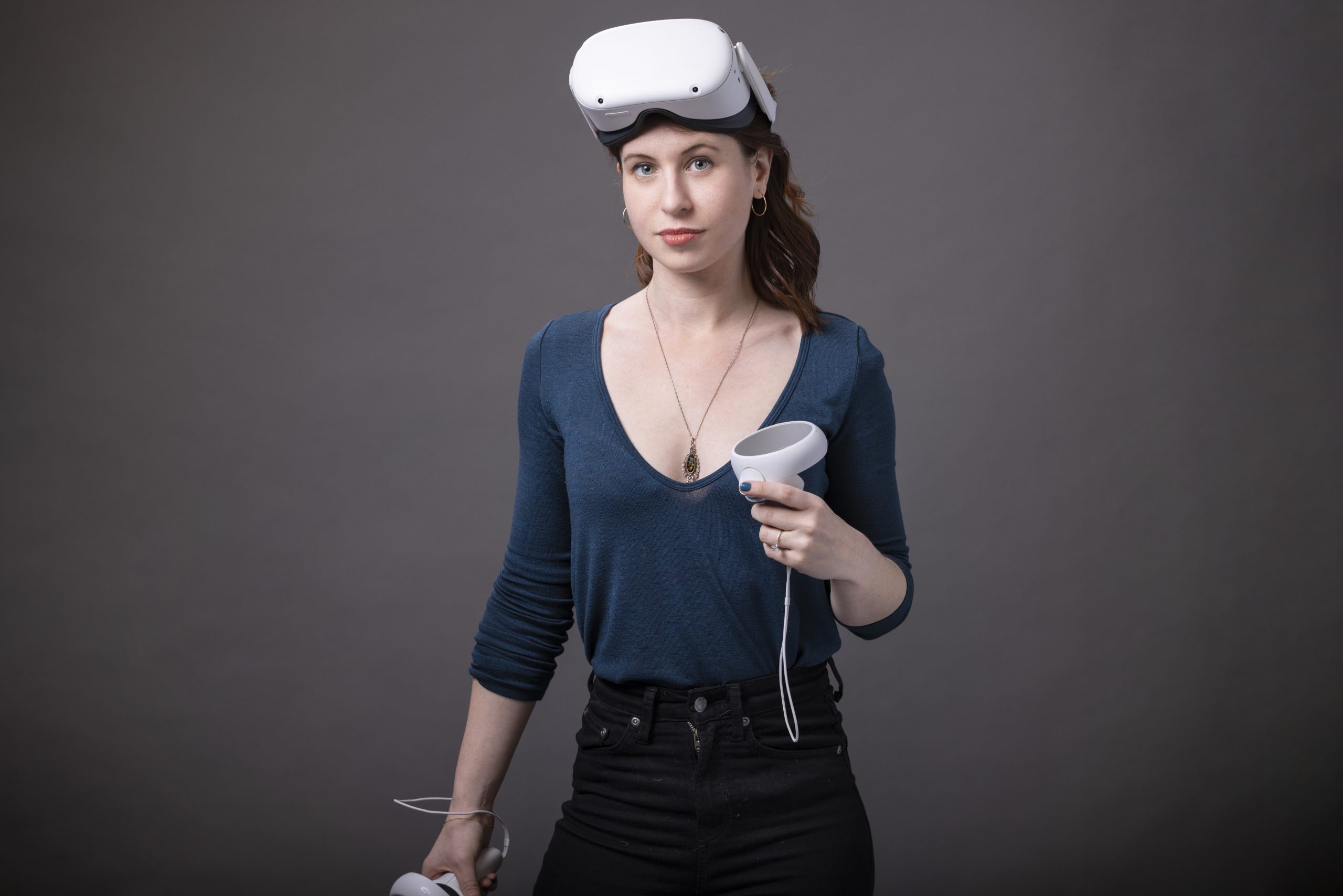 "The frenzy was really unique," Candice Houtekier said, recalling her first Collision technology conference in 2018. Houtekier had recently obtained a graduate degree in Art History and Video Games from the University of Montreal and was working at a contemporary art gallery. At the Collision conference she met tech-savvy entrepreneurs working at the intersection of art and blockchain technology. "It was avant-gardist," the 29-year-old said.
"I remember thinking art fairs, art events and art organizations in general are really late," she said, thinking back to how dated the arts world seemed compared to what she experienced at the Collision event. She wanted to change that. Six months after the conference she launched her own business. She had the perfect name: Art Collision.
Working at the Intersection of Art and Technology
Like many entrepreneurs Houtekier said "Yes to everything," at the beginning. Her clients were independent artists, collectors and smaller arts organization wanting to improve their digital presence.  She helped them with things such as website design and analytics.
"But with years, I learned what I'm good at, what I like to work on, and what is profitable for my business," she said. While she still provides more routine technical support, there has been a seismic shift in her business in a short time. In 2020, virtual reality services were less than ten percent of revenue. A year later it jumped to almost twenty-five percent. More and more clients are from around the world.
While the overall value of NFT art has dropped precipitously recently, Houtekier maintained it is a sound longer-term investment for savvy art collectors. She gave the example of the American abstract expressionist painter Helen Frankenthaler.  Someone who bought one of her paintings in the 1970s and flipped it two years later probably lost money. "But if you resold it forty years later, well you're probably going to make a lot of money." Houtekier helps her clients succeed in the world of NFTs. "I think the scene is a bit overwhelming because there is a lot of information, a lot of new vocabulary, and a lot of scammers," she said. "I show to my clients how to enter the scene in a secure peaceful way." This includes everything from how to open a crypto-wallet to minting an NFT to showcasing clients' artwork in a metaverse where it can be exhibited "In a professional and beautiful way."
Houtekier is a solopreneur with a strong team of collaborators like Brendon McNaughton, co-founder and CEO of Art Gate. She introduced herself to him at an art fair after noticing cynoculars in his hands. "Wow, what's going on in your headset?" she asked. "Show me what you can do."
Art Gate is a metaverse that leases space to art galleries to exhibit beyond their brick-and-mortar spaces. Imagine this: An art collector from anywhere can visit an art gallery thousands of miles away. They enter the Art Gate metaverse via their laptop or virtual reality headset. This gallery may be designed to look traditional with white walls or something completely outrageous. Similar to an in-person experience, there are even greeters and tour guides—sometimes these are bots. Art Collision and Art Gate collaborate on several art fairs every year and a month-long biennial with talks, discussions and gallery tours.
 A New Land Owner in Cryptovoxels
Last year, Houtekier expanded her footprint in the metaverse by buying a parcel of land in Cryptovoxels. Cryptovoxels (like Art Gate) is a metaverse that works well for exhibiting art. Her first project on her property was designing wearables (digital clothes for avatars). Her collection of designer hats was a hit with other Cryptovoxels land owners, artists and art collectors. "Or just people having fun and meeting the community and partying," Houtekier said. After all, making a fashion statement in the virtual world is as important as in real life.
This wearable project built Houtekier's competencies for selling digital assets in the metaverse that translated to her core business of helping artists. Many artists work with NFTs but there is not enough gallery space around to exhibit and sell their work. Houtekier collaborated with an architect to create Floating Point Gallery in the web3 to support emerging artists.
Art Collision's first exhibit in Cryptovoxels was the work of Canadian artist Antoine Lortie (@agrophobe). "I fell in love as soon as I discovered his work," Houtekier said. With the wearable project and her first art exhibit under her belt, she was ready to do more. She has recently added four new artists to her roster and has more exhibitions planned for later this year.
Avatars Empower Us
The metaverse opens up possibilities beyond creating and exhibiting art. Houtekier said it also empowers people by allowing them to create avatars as a form of expression. "It's about being yourself; it's about choosing who you want to be," she said.
Houtekier said some metaverses are very inclusive where avatars can have different skin colours (even blue!), religious symbols, assistive devices like hearing aids, robotic parts for limbs—and more. "The metaverse is giving us the opportunity to lay the foundation of a gender-neutral world where people can adopt the gender traits they want," she said. One of her female colleagues "Always wears a pretty moustache" during their team meetings in the Horizon Workrooms metaverse. "You can now be a woman, a man or a sandwich!" she joked. What about Houtekier's digital incarnation? "I embrace my female traits," she said. Her avatar sports sneakers and a little skirt—and of course, a hat!
Houtekier spent a lot of time as an avatar during the pandemic. She joined empowerment groups in the metaverse like Meta Angels where she met other women interested in sharing intelligence about the blockchain. She expanded her network across the globe thanks to Natural Language Processing which removed language barriers. However, the metaverse can only go so far in building networks. She is looking forward to live conferences, art fairs and openings. "It's going to be a great spring and a great summer and a great opportunity to meet the community again and to connect with people in real life," she said. "It's important to have a real time conversation with people one-on-one, face-to-face."
The Future of Art Collision
Houtekier's said she feels very privileged to work in an area she loves and to feel so well supported by the arts community and her collaborators. Art Collision has accomplished a lot in just a few short years. But Houtekier is set to take a big leap forward.
"We are ready to work with larger art organizations, museums, the government, and academic institutions", she said. Art Collision is currently working with the Canadian government to help transition from the traditional Canadian art scene to a more digital one, and advance the empowerment of women and minorities in the metaverse.
"We have the tools, the experience and the skills to really make the Canadian art scene a better one."  Houtekier is "Ready to do a great digital transition."
______________________________________________________________________________________________________________________
Publishers Note: Art Collision participated in the Fifth Wave  Initiative, a year-round program offered by CFC Media Lab and its partners to support the growth and development of women entrepreneurs in the digital media sector in southern Ontario. All enterprise founders in the Fifth Wave community are selected for both their potential and commitment toward weaving intersectional feminist ideals of equity and fairness into sustainable and scalable business growth strategies. Fifth Wave Initiative is committed to minimum of 50% participation per cohort by members of underrepresented groups. The Fifth Wave is a LiisBeth ally sponsor at the Lighthouse level. Applications for Fifth Wave Connect are open. Apply here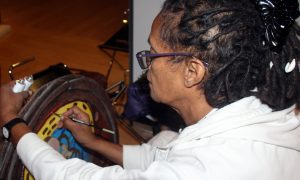 Meet six incredible feminist art equity and gender justice activists who are reimagining the art market.
Read More »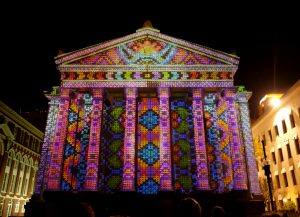 A pioneer in the field of light projection mapping, Emma López transforms public spaces and minds through the power of art.
Read More »
Art: "Patience" by Chief Lady Bird. During the long drive to my new home in northwestern Ontario, I pass numerous Trading Posts that line
Read More »