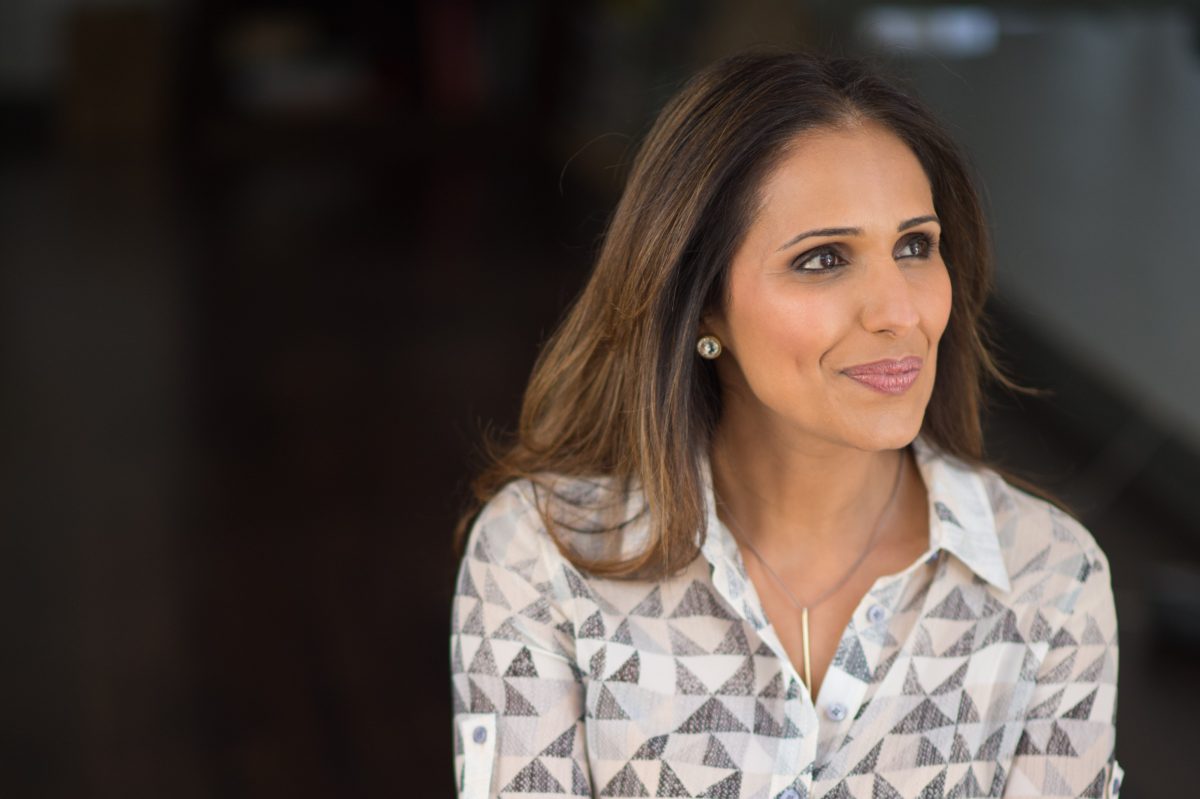 Dimple Mukherjee, founder of Whole Self Consulting, didn't plan on becoming an entrepreneur. She grew up in a largely traditional South Asian household and observed that starting and running a business was men's work. However, modern life intervened. Separated with three kids and looking to finally build a life she could love, the answer for her became entrepreneurship, learning to speak, being heard and seen, and connecting with inspiring entrepreneurial women.
We loved speaking with Dimple. Her story is an example of the transformative power of entrepreneurship, and how successfully crossing the river towards entrepreneurship is often a matter of feeling for the stones.
---
LiisBeth: Tell us about your journey.
Dimple Mukherjee: I was born in India but raised in Taiwan. We moved to Toronto when I was 12. My mom was a homemaker, but my dad was an entrepreneur. He started at age 16. Growing up in a household where my dad and his brothers had built a life for themselves around their business, I always felt that that was not a possibility for me. It just seemed very male-dominated back in the '70s and '80s. Instead, I chose to become a health care worker, a healer. It wasn't by intention that I became an entrepreneur, and I still have a hard time calling myself an entrepreneur.
It was by chance that I stumbled upon entrepreneurship as a path because I was coming from a place of wanting to be of real service to others, not just making money. Then,I read about Jadah Sellner, founder of Simple Green Smoothies. She said the way to think about entrepreneurship is to think about it as a way of creating and offering the world an important service. When I wrapped my head around that, I was comfortable calling myself an entrepreneur. I am all about service.
L: What did you do before starting your company?
DM: I worked in a hospital setting for about eight years. The job there gave me a little bit of understanding of how the world of business and entrepreneurship works. I was learning how to market myself within the medical industry, creating a name for myself, a reputation, which is all part of the entrepreneurial world. My job provided me with a stepping stone into the world of entrepreneurship.
L: Tell me a bit about how you decided to start Whole Self Consulting. Was it one of those aha moments that happen late at night?
DM: I think the journey began with a pivotal point in my life when I realized I was in a marriage that was no longer healthy for me. Still, I stayed in it because: a) I didn't realize what was going on; b) due to the cultural programming that I grew up under, divorce was not an option; c) my kids. Growing up, I was programmed to believe that if you got divorced, the kids would suffer. I was struggling to find a way forward and didn't know where to turn.
Meanwhile, I had also developed a passion for holistic living. I had begun pursuing a more holistic way of living when my kids were born, and I was finding that medicine didn't have a lot of the answers for some common problems like ear infections and things like that. I started searching for other ways. I started seeing a naturopath and started living more holistically myself.
Then one day, I was in a natural food health store and I picked up this book Crazy Sexy Diet by Kris Carr. She is an entrepreneur and a cancer survivor. Carr's website then led me to Marie Forleo's website. She is a female entrepreneur who has a program called B-School. It helps and inspires women to start online businesses. That was very intriguing to me, but I still didn't understand why at the time.
But that was in 2012. As I became more involved in B-School, I found I was really attracted to her teachings about how to become a creative entrepreneur, but I still didn't know what I wanted to do with it. During this time, I had thought about doing my MBA. While preparing for the GMAT, one of my peers said, "Why are you even bothering with an MBA? You're trying to build a life. Build on your passion for holistic living. Develop entrepreneurial skills."
She also encouraged me to take an integrative nutrition course. So I joined the Institute for Integrative Nutrition online. From there, I decided that I wanted to become a health coach. I got my certification in health coaching, separated from my husband, and Whole Self Consulting was born.
L: Why did you choose to immerse yourself in an online entrepreneur program for women (B-School)?
DM: I think it stems from how I was raised and just being very comfortable around women and not around men. Intuitively, I felt drawn to women and the feminine energy based on my intuition. If I look back to my upbringing, I was brought up in a home where the male figure was dominant. We were three girls and a boy, and my dad's mentality was that once a girl is married, she is gone. She belongs to her husband. Her duty is to service her husband and her husband's family.
I didn't learn to speak, metaphorically, until I left my parents' home and went to university. I was always very uncomfortable in school, very shy, very withdrawn, very much an introvert, and I felt uncomfortable around men. I think I was drawn to these female leaders because I felt safe to speak openly in their presence.
L: You talked about the value of women's spaces. Some argue that we don't need that anymore or we shouldn't need to have that. What's your sense of why women feel safer and more comfortable talking when there are no men in the room?
DM: Every woman's experience is different. We all come from various backgrounds. Some of us have been subjected to all kinds of domestic violence, sexual violence. I think because of the years and years of oppression, women have learned how to connect with each other in women-only spaces. I think women-only spaces thrive because women feel a sense of safety in them.
Also, many South Asian women are often uncomfortable allowing themselves to be "seen" or heard in co-ed settings because, traditionally, women have assumed the background role of being mothers, nurturers, or homemakers. If they push to be seen or heard, they feel as though they are being disrespectful to men, even if they are around men who don't think like that. The result is that many women find it hard to take on leadership roles in groups. They want to keep themselves small to make others feel comfortable.
L: Do women behave differently in women-only spaces?
DM: Mm-hmm. Women actually want women's spaces so they can be themselves and talk freely about their issues. Research shows that when you have men in the same room as women, men silence women just by their presence. They tend to set the agenda and they also tend to talk over women.
Also, I found that women actually thrive under the company and the social support of women. Being in a women-only space enhances the women's ability to bring forth what they need to in the world.
L: Tell me about Bindi Parlour.
DM: Bindi Parlour was brewing in my system, like everything else, for a long period. Bindi Parlour, on a surface level, is like a girl's night in at a friend's home with eight to 12 of your closest friends. It could even be people that the hostess may not know well, but that she has decided to invite into her home for a Bindi Parlour. During the first two hours of this party, I facilitate a women's circle and it takes the form of experiential learning.
There's a different theme to every Bindi Parlour depending on what the women want. One of the themes that have been popular with women has been self-compassion. Some other topics that have come out of this is the art of gratitude and the importance of daily rituals. Women are responding well to the learning that happens in Bindi Parlours but beyond the learning, they're establishing deeper, richer connections that are serving a need that's lacking right now in our society: connections with themselves and with other women.
L: After a Bindi Parlour, what do they take with them into the real world?
DM: I got a few testimonials and have done feedback sessions with them as well. The words they used were that they could release. By releasing, they were able to tap into those barriers within themselves. Once they've released that, they felt inspired to take action.
At that point, I encourage them to identify one little action that they might take back into their lives, or one little thing that they can share with a friend. They leave feeling very inspired, uplifted, and able to relieve emotions that they didn't even realize they had until they were within the power of a group of women.
L: Who's the target market?
DM: Women between the ages of 30 and 60. I get a lot of women from my generation whose parents are immigrants to this country. Women, in general, are really hungry for something like this.
L: When you're crafting a Bindi Parlour, do you recommend that everybody know each other? Or is it better when they don't know each other?
DM: I like women that don't know each other, simply because it is difficult for a woman to open up when she has friends there that she has known since she was a child. You never know what's going to come out in the group. Lately, there are themes that have been coming up such as infertility, which I had never thought would come up.
Infertility is a very sensitive topic for a woman, and it touches every core of her being: body image issues, guilt, and shame. She may wonder if something is wrong with her. It makes sense that that would come up when you're talking about self-compassion, but I didn't think that women would dig so deep. It just goes to show you what that power of sisterhood can do. When one person in the group decides to open up, it gives permission for the other women to open up.
L: What does it cost to attend a Bindi Parlour?
DM: It's $40 per person. It's not making money right now, but that's not a big concern for me. One of my beliefs is that the money will come if you're doing something you love and you're being of service and it's coming from a well-intended place.
L: From an entrepreneurial perspective, where do you want to be with Bindi Parlour or Whole Self Consulting in five to 10 years?
DM: I'd like Bindi Parlour to be accessible to as many women as I can make it available on a global level. For that, it's going to have to take on the shape of an online program. However, I don't want to lose the intimacy of an in-person women's circle. That will mean that I have to somehow keep the spark of the in-person circles alive while creating and holding space for women online. Eventually, I would like Bindi Parlour to be a community of women who gather together, whether in-person, online or at a retreat, to become the best versions of themselves.
L: What's one book you would recommend to our readers?
DM:  That's easy! Pussy: A Reclamation by Regena Thomashauer.
---
This interview has been edited for length and clarity.
Related Readings: "Why Shecosystem Is My System", by Marni Levitt