VIEWPOINT
How to Kill Feminism
Well the good news is, you can't.
Many have tried and still are trying. From Phyllis Schlafly in the 1970s, to the likes of Jordan Peterson, Suzanne Venker, and Penny Nance who have also discovered that, unlike advocating for feminism, working to crush feminism has become a fast way get an audience and make serious cash. But they will ultimately fail.
Here is why.
Because it lives our hearts—not our pocketbooks.
It's always a surprise to me to learn how few people realize feminism is both a gender equality movement and a set of values which serves to unleash undervalued human potential; its origins are rooted in compassion and love. From Maya Angelou to Louise Arbour to Zunera Ishaq, its history sparkles with stunning stories about overcoming man-made odds and finding the courage to speak truth to power despite searing personal risk. Though the mountain that feminists must negotiate to drive change is steep, rubbled, and treacherous, not to mention career and income limiting, the approach is learning-centred, innovation-led, and powered by unrealized possibilities—punctuated by brilliant colourful bursts of killer Schumer-esque insight and humour along the way.
Feminism realizes that what humanity has today is not even close to having it all. Its passion for realizing the benefits of fresh alternatives to current systems is what fuels its persistence to ascend again and again—like Japanese filmmaker Tomoyuki Tanaka's gender non-confirming Godzilla, also a mother, who rises from the sea with a vengeance to defeat man-made monsters designed to do nothing but destroy and empower it's masters.
There. I feel better now.
This was a brief excerpt. For the full essay, click here. 
---
THIS WEEK ON LIISBETH
Op Ed: Does Vigilante Justice Help? Or Hinder. 
Last week, #metoo struck Ontario's bucolic Prince Edward County. Norman Hardie, one of the area's most successful winery entrepreneurs, faced allegations of sexual harassment as a result of an extensive Globe & Mail (Canada's national newspaper) investigation. We know what the reporters think. But what do locals think? Read Prince Edward County resident and LiisBeth contributor Valerie Hussey's op-ed here.
---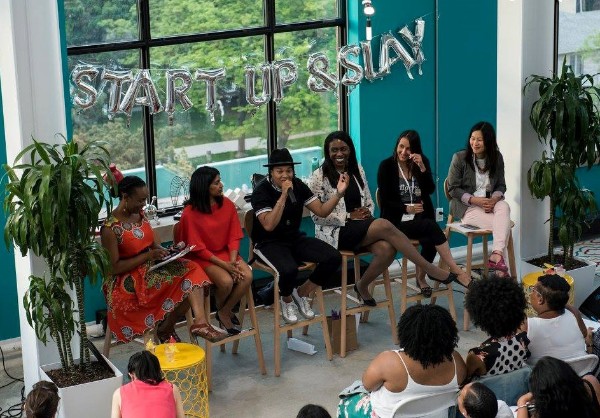 Emily Mills Hustles and Slays!
Emily Mills, founder of Toronto's fast-growing network of diverse women entrepreneurs recently left her day job to work on developing How She Hustles full time. Thank goodness. Because women entrepreneurs need enablers like Mills.
On May 30, Mills held a marquee event featuring a panel of six diverse women entrepreneurs. LiisBeth's newest contributor, Bee Quammie, was assigned to go, check it out, and share what was learned in this month's feature article, How She Hustles Can Fire Up Your Startup.
---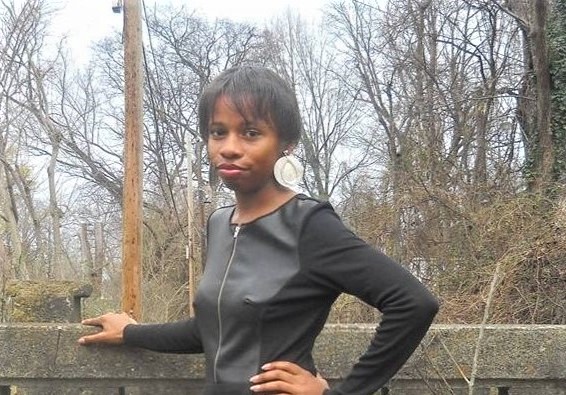 Chessica Luckett Takes a Stand
At LiisBeth, we get over a hundred queries for story ideas a month. One day we received an email from a 22 year-old entrepreneur named Chessica Luckett from Helena, Arizona. She wrote, "No one wants to respect a young person but to respect a young person who has started her own business while being of the minority is another story."
We wanted to know more. Here is her story, published as is, and only edited slightly for clarity.
---
FIELD NOTES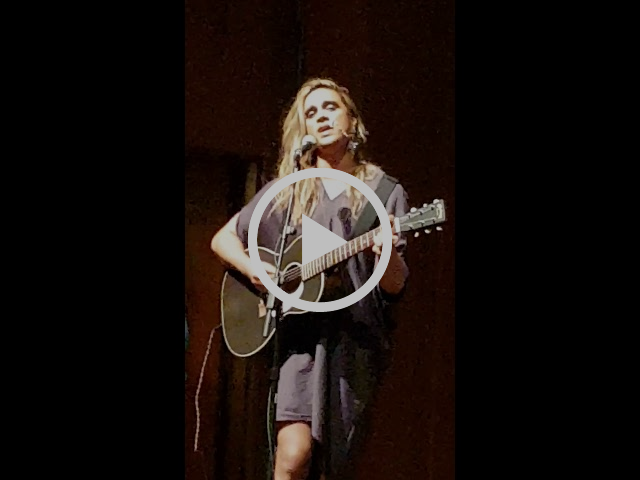 Luminato Highlights
Luminato is a Toronto-based arts festival that aims to feature "…critically acclaimed, globe-spanning, and expansive theatre, dance, music, and talks." This year's program had a lot of feminist-oriented events.
LiisBeth attended most of these events, including the "No Going Back" town hall, which looked at the future of feminism through the eyes of young adults. Among the stellar four panellists, two stood out: Vivek Shraya, a trans woman artist, writer, and educator, and Krysta Williams, an Indigenous feminist. Both shared novel insights and perspectives.
You can listen to the entire panel session here. Note: it's one hour and forty minutes long.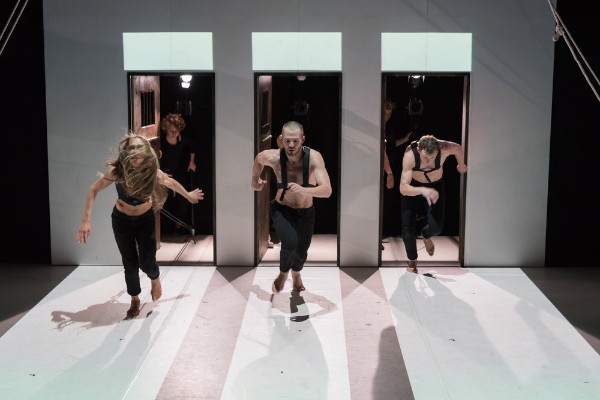 Other events at Luminato included a screening of !Women Art Revolution, a new documentary film that chronicles the history of feminist art in the United States (Judy Chicago's The Dinner Party was a highlight).
There was also Burning Doors, a harsh and challenging theatre production named one of the top 10 best theatre works of 2017 by The New York Times. Burning Doors was billed as an "explosive demonstration of the power of artistic resistance." But it also underscores the power of the state.
Pussy Riot's Maria Alyokhina was part of the troupe, and mid-way through the play she stopped to answer questions from the audience about her incarceration experience as well as the aftermath. She said that as it turns out, being in jail is not much different from being out of jail when you consider the role systems of oppressions play in one's lived experience.
The sum total of what was learned by participating in Luminato's human rights–related programming can be reduced to this: driving human-first centred social change is complex, hard work, and the activism associated with its advancement has varying degrees of consequences depending on where you live.
Burning Doors talked a lot about courage and the importance of not accepting an unacceptable status quo. For those who don't have that kind of courage, the very least they can do is support those willing to stand in the front lines on our behalf.
---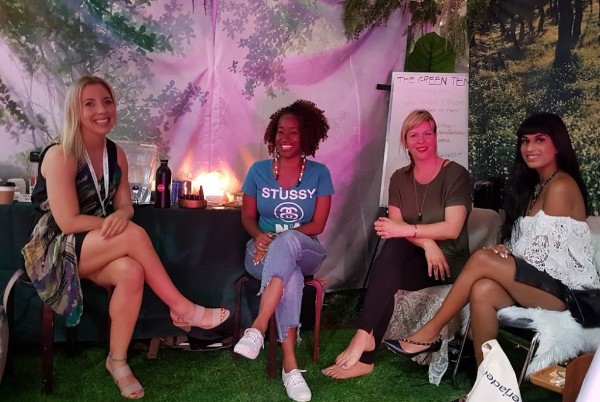 The Green Tent: Creating Spaces for Women on Trade Show Floors
After attending several cannabis industry conferences, four women noticed that there was zero opportunity for women at these conferences to convene, connect, and talk to each other in a non-"push-push-push" sales environment about how to successfully navigate a fast-moving new industry that is increasingly and systemically shutting women out.
Their solution? To create The Green Tent, an oasis-style space in the midst of the trade floor where women could stop in, find each other, have a coffee, meet the speakers, try some cannabis-infused hand cream, and learn from each other's experiences as new entrepreneurs in the space. Says Aniko Farkas, the space's co-founder and owner of BodyBeautyMind, "I have been in business for 18 years but am new to the cannabis space. This is a space where we are teaching each other."
---
Ellementa Comes to Canada
Yes. More news on the cannabis front. But for good reason.
First the Senate of Canada passed the bill last week. Legalization of nonmedical use of cannabis will follow in approximately two to three months, depending on who you ask.
Cannabis is a $6-billion-plus industry in Canada already, and while Bay Street investors titter about how current valuations are inflated, innovators and entrepreneurs don't really care. Shortages? New, messy, market? Awesome! And while some entrepreneurs are focusing on creating products, others like Ellementa, a U.S.-based women's network focused on wellness and cannabis education see services–namely health and wellness education- as the bigger opportunity. We met Ellementa co-founder Melissa Pierce at their Toronto launch. "I grew up in the 'just say no' generation," says Pierce, "so the idea of using cannabis medicinally for me personally was a difficult transition."
However, cannabis is now recognized in North America for being a legitimate and effective herb for a variety of medical and wellness-related issues like chronic pain management, insomnia, menopause symptoms, and anxiety. As a women's advocate, Pierce, who is 41 and a mother of four, believes that women over 40 will likely comprise the largest user demographic and the main household decision maker in the cannabis market. Pierce also recognizes that women working to ensure equality and equity will have their work cut out for them. "We have to keep fighting…and we need to be mindful of the industry culture we hope to create. Collaboration, not competition, will be important at this stage."
Ellementa currently has two chapters operating in Canada (one in Vancouver and another in Toronto). A Montreal chapter opens on July 9th.
---
Tech for Good?
The inaugural and unique True North conference that was held in Kitchener, Ont., attracted over 2,400 tech industry revellers. The purpose was to start a conversation about how technology and, more importantly, the industry as a whole can work to create social good—and ground zero "bro culture" once and for all.
Two sessions were devoted to creating a "Tech for Good Declaration," which organizers hoped would, once it's in final form, be adopted by tech companies everywhere as a code of conduct credo. You can download a copy of the draft here. Do you think they're on the right path? See for yourself.
---
We didn't know what governance feminism was, so we decided to find out. Turns out it's about feminists in power. The authors of Governance Feminism look at what happens when feminist critique inverts into governing norms. What kind of feminism becomes law and what becomes of arguments among feminists when it does? How are feminist challenges to male super-ordination transformed and distributed by bureaucratization and NGO-ification? How might we honestly assess feminism that governs? It's worth reading.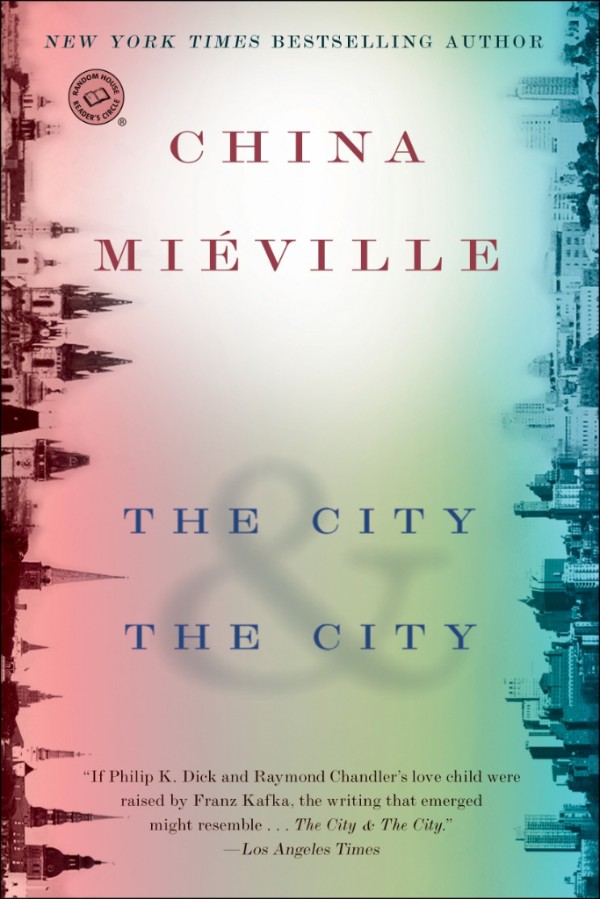 Lately, LiisBeth has been fascinated by these questions: What is a feminist city? What defines a feminist city? And is it worthwhile to develop one? While we explore the idea further in our feature essay, How to Kill Feminism, we have also been fascinated by China Miéville's book, The City & The City, which "skillfully examines the illusions people embrace to preserve their preferred social realities." This book was a referral by Tim Hurson, the co-founder of Mindcamp. A good cabin read for those who love fantasy, mystery, and dream about bridging divides.
---
And finally…in case you missed it!
This month, Startup Canada announced a new $5K per successful applicant women's entrepreneurship grant fund. The grant program is underwritten by Evolocity Financial Group, a small business lending enterprise with just two women out of nine on its senior management team (predictably, one in HR and one in accounting). Is this another case of gender washing? We think so. It's not the amount–it's what women are expected to do with the money if they get it.  Apparently, "grants are awarded to established women entrepreneurs and women-led companies in STEM from across Canada to support operations, access opportunities, and new markets, and to invest in training to upskill and grow, while accelerating gender parity and further unleash the economic potential of women."
Not sure who does the shopping at Evolocity, but most of us building companies will soon realize that $5,000 barely covers the time it takes to fill out their form, plus maybe a cup of coffee or two. This is just another "must perform miracles with pennies" initiative for women entrepreneurs. Some say it's better than nothing. We say organizations trading in gender halos should stop selling women entrepreneurs short.
Have you heard about the Canadian Women's Foundation's new initiative, the Gender Equality Network? Its goal? To identify and articulate the need for policy changes, build inclusive intersectional leadership, and take collective action to advance gender equality in Canada. Find out who's on it here (there's 137 women).
Is encouraging women's entrepreneurship or, more accurately, self employment in developing regions a good thing? Not always. Based on 10 months of fieldwork in Ahmedabad, India, as well as 30 interviews with women engaged in home-based garment work, a study by the Rotman School of Management's Institute for Gender & the Economy examines how women perceive themselves as workers, and how this relates to economic accounts of the benefits of entrepreneurship. Do North American self-employed women have similar experiences? Check out the research brief here.
The Kapor (pronounced KAY-por) Center for Social Impact aims to make the technology ecosystem and entrepreneurship more diverse and inclusive. In its 2017 study on why people leave the tech industry, it found that unfairness-based turnover in tech is a $16-billion-a-year problem. The study points out why the problem exists, and how tech enterprises can avoid this costly result. Read more here.
---
CAN'T MISS EVENTS
This time our list is short, because it's summer! But here are two events worth putting on your learning journey calendar:
Queer & Trans Inclusivity for Entrepreneurs
This workshop provides entrepreneurs with the language and tools they need to promote inclusivity for folks who identify as queer, trans, and non-binary.
Monday, July 16, 2018
6:15 PM – 8:30 PM
Make Lemonade
326 Adelaide St. West, Toronto
Cost: $35. Get tickets here.
Blockchain for Your Organization
Thursday, June 28, 2018
Opera House
735 Queen Street West, Toronto
Cost: $77 for a 3-day pass. Get tickets here.
Panic in the Labryinth
A series of performances centering on intersectional feminist poetics.
Thursday, August 2, 2018
6:30 PM – 8:00 PM
Gardiner Museum
111 Queen's Park, Toronto
Cost: Free. Register here.
Venus Fest: A Canadian Music Festival Celebrating Feminism in the Arts
September 20–22, 2018
Opera House
735 Queen Street West, Toronto
Cost: $77 for a three-day pass. Get tickets here.
The 2018 Entrepreneurial Feminist Forum
November 10 and 11, 2018
The Gladstone Hotel
1214 Queen Street West, Toronto
Hold the date! Ticket information coming soon.
---
That brings us to the end of our June newsletter. The next newsletter is scheduled for late July 2018.  Watch for some cool upcoming announcements too (Hint-we've hired!). In the meantime, follow us on Twitter, Tumblr or Facebook for updates, news, and provocative views.
If you are looking for an easy way to support feminist entrepreneurs, or help build feminist cities, look no further than considering a subscription to LiisBeth! We humbly remind you that subscriptions are $3/month, $7/month or $10/month.
Funds go directly towards paying writers, editors, proofreaders, photo permission fees, and illustrators. Building a feminist future requires both love—and financial support.
In the meantime, stay bold, stay woke, and slay.

Petra Kassun-Mutch
Founding Publisher, LiisBeth