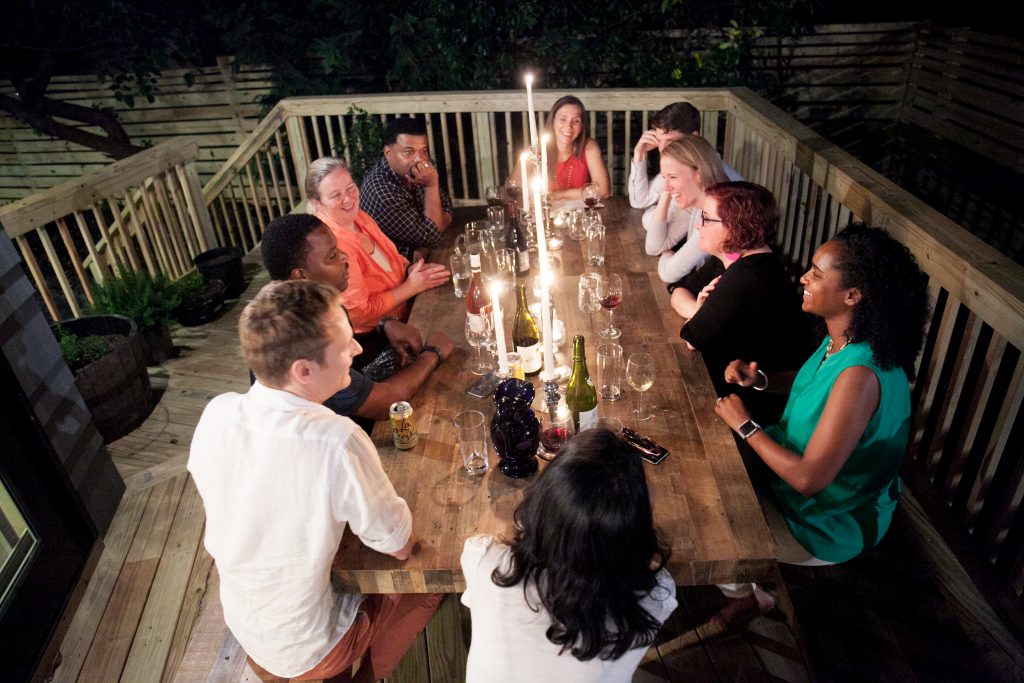 In 2016, Atlanta earned the dubious distinction of having the highest rate of income inequality among big cities in the United States, after years of inching up the rankings. By then, Rohit Malhotra had decided to make it his life work to improve the city's economic challenges, and he tapped into a unique source of talent to do so – women entrepreneurs.
Malhotra founded the Center for Civic Innovation (CCI) in 2014, after working on civic innovation initiatives in the Obama administration and studying how civic innovation could be a tool for addressing inequality in Atlanta at Harvard University's John F. Kennedy School of Government. After hearing about CCI, perhaps the city's most influential female entrepreneur, Spanx CEO and founder, Sara Blakely, reached out to Malhotra. She was interested in creating positive change in her community while also supporting female entrepreneurs and decided to partner with CCI to establish a residency to support civic-minded women entrepreneurs who are, as Blakely describes it, "the new guard of social change – operating at the intersection of entrepreneurship and philanthropy."
The one-year residency provides financial and development support to entrepreneurs to cover salaries, health care and product development as well as coaching, mentorship and workspace in CCI's offices. So far, 18 women leading startups have participated. This year, the residency will expand to include four men, though the women will still have an independent program backed by Blakely. Says Blakely, "I am inspired by the work they are doing and excited to see what their futures hold."
So what is that work?
It's about addressing "challenges that are at the root and the systemic reasoning for inequality to exist in the first place," says Malhotra. And the residency measures its entrepreneurs by how much they achieve – not by financial indicators.
Consider the Dharma Project, which brings yoga to organizations that experience high levels of stress dealing with effects of income equality, such as police officers. "What we're looking for is not just does that yoga studio sell a bunch of yoga mats because that's how they can make a ton of money. What we're interested in is: What has city hall changed about the way that they measure performance and reduction of stress of police officers?"
Cooking Up Big Ideas
I visited one of the Residency's newest members, Jenn Graham, at her breezy home on a tree-lined street in Old Fourth Ward, the diverse Atlanta neighborhood where Martin Luther King, Jr. was born. Graham's seven-week-old baby was sleeping upstairs as we sat downstairs at the kitchen table where Graham often holds staff meetings for her startup, Civic Dinners.
The 34-year-old founded the company after working with Atlanta Streets Alive, a project that closes some streets to cars for a few hours to allow people to socialize and experience the neighborhood without the buzz of traffic. People often live in bubbles, she says, that prevent them from meeting with others with different perspectives or backgrounds, especially true in a financially unequal city such as Atlanta. But she saw the power in connection. And that's what gave birth to her idea for Civic Dinners.
Its goal is straight forward: Gather diverse people for meals to discuss issues that affect them such as mobility, transit, and livability in their community. "We launched this idea of let's bring people together over food, just make it fun, make it social and have a conversation," Graham says. She started experimenting with the idea in 2014, officially launched the company in 2017 and today it has 10 employees with clients ranging from cities, regional planning commissions, nonprofits and even thought leaders eager to tap into diverse perspectives.
Anyone can sign up to host a dinner for six to eight diverse community members. Hosts pick a time and location, either a restaurant or their home. Every guest pays for their meal, and Civic Dinners provides organizational tools to bring people together as well as questions to spark conversation. In short, it's a civic focus group fueled by the joy of sharing a meal.
Conversations at the intimate dinner parties bring up unique thoughts, ideas, and opinions on topics of concern to clients, whether it's aging or affordable housing. After the dinner, Civic Dinners emails hosts and guests to gather insights discussed over dinner. Civic Dinners may also follow up with interviews and prepares a report for each client with key findings.
Change in action
The Atlanta Regional Commission, a civic planning agency, typically gathers feedback from meetings and surveys with Atlanta residents. It turned to Civic Dinners to tap deeper into community concerns. Graham says feedback from dinners they organized influenced ARC to create a new bike-pedestrian plan.
"We can reach further and deeper in conversation and allow for real dialogue, real questions and inquiry," says Graham. "It's been useful in convincing some political leaders who may not hear these perspectives in their day-to-day life."
In 2016, Civic Dinners piloted a series of dinners about the state of women, to connect women and foster civic leaders among them. Two who met at one of the dinners became business partners and started a women's co-working space in Atlanta. The dinners proved so popular, Civic Dinners is looking to partner with an organization to relaunch them.
Value of shared leadership
The company operates much like the events they organize. Graham describes it as a flat structure with shared leadership. Employees work remotely but gather together for lunch every Thursday, alternating who hosts and leads the team meeting. Graham says great ideas can come from anyone and usually come up at these lunches.
Saba Long, the chief marketing and communications strategist, concurs. "We are very much a believer in team. There's no one-upmanship. If I need support on something, I'm not afraid to ask for support. It's very much a collective type of environment. We're working together for a common good."
Graham, who has just begun her CCI residency, will use the support to help her company scale up. So far the company has held more than 900 dinners worldwide; it plans to hit more than 1,000 for 2018 alone. Graham wants Civic Dinners to become the go-to platform for holding community conversations and make it easier for organizations, governments, universities and companies to more easily engage people in creating social change.
Teaching With a Difference In Mind
A member of the first residency class in 2017, Tiffany Ray, founded Generation Infocus in 2013 to offer equal and inspiring project-based learning opportunities to kids from pre-K through grade 12, introducing kids to careers and entrepreneurial aspirations they may never have considered.
The social-innovation educational company is headquartered in a renovated historic building in Hapeville, a city adjacent to Atlanta. It has class space, an art gallery, a wearable technology lab, and a garden that supports vegan cooking classes. They work with schools, run after school and summer programs, and recently launched a "Mobile Maker Space" in the form of a bus that travels to community groups and schools to teach STEAM —science, technology, engineering, art and mathematics.
Generation Infocus charges schools and libraries for programs while parents pay for after-school programs, but the company secured a grant from the county to offer free programming for children from lower income households.
Ray, 37, says the CCI residency allowed her to meet and work with other entrepreneurial women. "One of the great advantages to being in a collective like that was to have other people who are in the trenches, who have different challenges," she says. "The conversations that happen around those classes can be phenomenal at times, so you're really learning a lot being with other women."
Importance of self care
She also took advantage of the residency's wholistic approach to supporting entrepreneurs, which means not just taking care of business but taking care of yourself. She used the health-care stipend to hire a personal trainer and managed to shed 50 pounds during the program.
Ray also used her year to explore expanding Generation Infocus, through franchising and licensing. Her long-term goal is to create services, including curriculum and leadership development, for educators starting business ventures.
Ray has established a track record on that front already, hiring local talent who often suffer precarious employment—such as an actress to teach theater or a seamstress to teach in the wearable technology lab. That helps creatives diversify income and still have the time to build creative careers.
Ray also offers monthly management training for her employees to develop leadership skills. "Sometimes, they may not have the skillset. They never hired staff before. They never learned how to manage in crisis or how to provide customer service to parents who may be upset. So there are so many different facets to being a leader, particularly in education." She says it's relevant and critical to build up the people that work for Generation Infocus. "Because then they're not stagnant. Then they want to stay and then they want to grow."
April Singley started with the company as a theatre teacher in 2016 and is now a program director. She says Generation Infocus fosters teamwork and encourages its employees to share ideas. "Everybody works together very much as a team, but also we are looked at as individuals. We do recognize the strengths in our peers and our colleagues. We want to foster that, and we also encourage people to keep cultivating that, keep bringing their ideas forward."
And that's exactly the sort of values the founder of CCI, Malhotra, looks for in supporting CCI residents. He says each entrepreneur has designed her business model with feminist values at the core. "What I love about ventures we work with is they are values-driven first. Those are values that will not be compromised for financial returns."
---
For more changing-making enlightenment:
LiisBeth asked company founders interviewed for Change Makers for books that inspired them. Tiffany Ray suggested EntreLeadership while Jenn Graham recommended Enlightened Power: How Women are Transforming the Practice of Leadership