Toronto's Kensington Market has long been the landing site of many of the migrant groups that help make the city one of the world's most vibrantly multicultural. On a Sunday in May, the funky market threw out the welcome mat to pioneers of a different kind—six innovative fashion companies producing lines that defy gender stereotypes. Women belonging to the LGBTQ community as well as fans of gender-neutral attire eagerly flocked into a pop-up retail store in the Supermarket restaurant to browse a rack of masculine-cut dress shirts from
Kirrin Finch
. A queer teen accompanied by her mom cracked a wide smile as she tried on a pair of NiK Kacy's agender desert boots. It's clear that both she and her mom are delighted to finally find footwear suited to the daughter's taste. "It shouldn't matter if you're identifying as a man or a woman, cis or trans," says 41-year-old
NiK Kacy
, founder of the self-named shoe line that puts an androgynizing twist on men's wingtip shoes and is made for feet ranging from a petite 3.5 in women's to size 14 in men's. "If you want to dress up and you want to wear a high heel, you should be able to. If you want to wear a wingtip, you should be able to," says Kacy. Kacy, a transman who identifies as masculine of centre/gender fluid and uses the pronoun they, flew in from Los Angeles to participate in the two-day
Superbutch
event, which included a fashion show the night before, pop-up retail shop and a panel discussion on what it means to identify—or not—as butch. Organized by musician/model
Dinah Thorpe
, production manager Heather Blom, academic Zoe Newman, and fashion designer
Jack Jackson
, Superbutch threw a spotlight on a growing number of local and international clothing lines catering to a vastly underserved market of LGBTQ people looking for designers who understand their identities and body types. As shown in a recent street fashion spread in
The New York Times
 in which men donned hot pink blazers adorned in flowers and paired with shorts, people beyond the LGBQT community appear to be looking for fashion that messes with the gender binary. "When I got here, I was running a few minutes late and there were already customers waiting to see my shoes, so that was awesome," says Kacy, who sported blue jeans, a button-down grey and white pinstripe with sleeves rolled to the elbows, a two-tone grey scarf, and a pair of their own wingtips to match.
Ideas Born of Frustration
Kacy, who previously worked as a senior interactive producer/project manager for an in-house creative agency at Google, had zero fashion experience when they started their line. Their idea was born from the frustration of never being able to find masculine-looking shoes that fit properly. In mid-2014, after quitting Google and recovering from surgery to transition, Kacy travelled throughout Europe, visiting factories and attending international shoe fairs seeking a manufacturer. People didn't want to give them "the time of day" though. Kacy's lack of fashion experience was only half the battle. "The way I present myself is masculine presenting, trans, gender queer, and they don't know what to do with me," Kacy says. "The shoe industry is very traditional, very archaic. They're mostly older, European men who have been in the industry for generations." They simply didn't understand Kacy's vision. "No I don't want a man's shoe in a woman's size," Kacy would think. "I want to get rid of that whole mentality." Eventually Kacy found a shoe factory in Portugal to make prototypes. They then launched a Kickstarter campaign in March 2015 to raise money for production. The effort attracted 267 backers from around the world who pledged $47,542—160 per cent of the original goal. The first collection featured what Kacy calls "masculine-of-centre" wingtip shoes and derby boots. The second collection will feature "feminine-of-centre" high heels.
Opportunities Ripe For Picking
Kacy says the queer fashion scene is begging for new entrepreneurs to enter the market. In the last few years, a number of apparel lines have taken advantage of the void to launch and, recently, another gender-neutral footwear company called 
Matriarch
 used Kickstarter to raise startup funds. While that competition would be cause for concern for some, Kacy feels differently. "I'm just excited that we're having more options. Competition is healthy because it inspires us to do better and it inspires more people to do more things like this. We're so underrepresented." Like-minded entrepreneurs such as Laura Moffat and Kelly Sanders Moffat are helping to build a welcoming, close-knit community. Last February, the Brooklyn-based couple ran a successful Kickstarter campaign to launch the debut collection of
Kirrin Finch
, a menswear-inspired line designed for women and genderqueers who want to sport a dapper look. "I don't feel like there's this secretive, competitive nature," says Laura of the LGBTQ fashion community. "NiK [Kacy] has been an amazing supporter for us and now we try to be supportive to new businesses that are joining. If we can be better together, then it can only benefit everybody as opposed to being petty and scrambling for opportunity." Neither of the Moffats have a fashion background—Laura used to work in marketing, Kelly as a teacher. Like Kacy, they launched their business out of frustration. Both were drawn to menswear, but were never able to get the right fit buying off the rack. Their own line of eco-conscious fashion (button-ups and T-shirts made from recycled plastics) are designed to accommodate a woman's bust, hip, height, and arm length. The pieces range in price from US$45 to $145.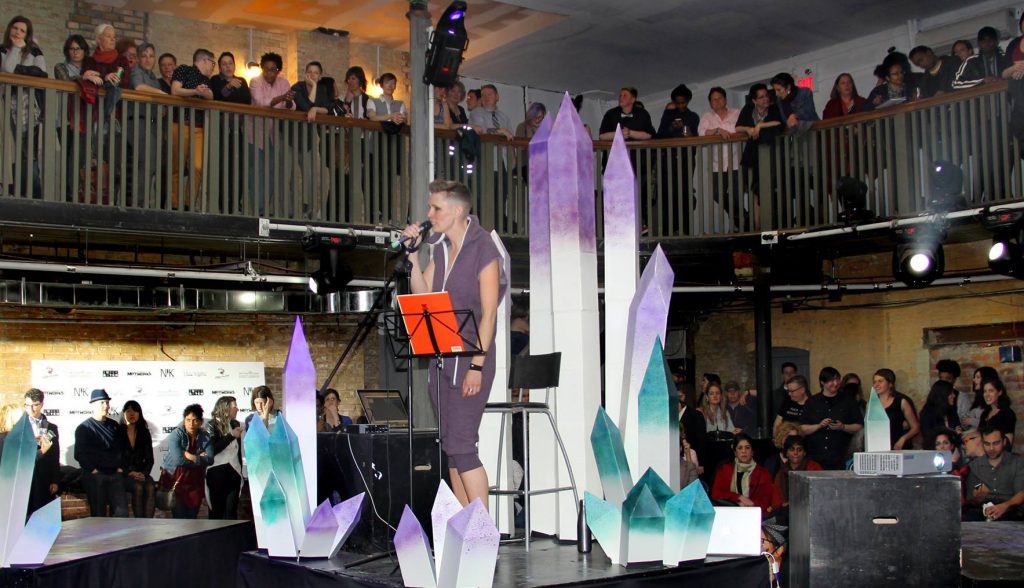 A Need For Mentors
To gain mentorship from seasoned fashion-industry professionals, the Moffats joined the
Brooklyn Fashion + Design Accelerator
. Living in one of the leading fashion cities of the world provides daily inspiration and is what Laura calls "super energizing." Sourcing buttons and fabrics is often just a subway ride away and they can get their shirts manufactured locally. What's lacking, though, is queer-specific resources. "There [are] no queer-based incubators or accelerators that I know of, or any associations that, from a financial perspective, support us," Laura says. It's a gap that the organizers of the Superbutch fashion event and retail pop-up says needs to be filled. Jack Jackson, who identifies as non-binary trans and uses the pronoun they, launched the Toronto-based bowtie line
alljackedup
in 2014, but has yet to find a mentor to guide the venture into its next stage of growth. While Jackson did tap into events like a three-day entrepreneur/startup hackathon to soak up knowledge from "brilliant" minds, something was always missing. "These events don't cater to what we're trying to do," Jackson says. "It's difficult to promote yourself at the best of times, but when you're trying to speak to someone who doesn't have an understanding of our community like we do, it makes it really difficult." The wider fashion community appears to be catching on to
androgynous wear
, which is starting to appear on runways and in major retail outlets like Zara. Jackson says this is "amazing" for breaking down the gender binary, but it needs to be recognized as more than a passing trend. Permanent options must be made available for people like Jackson, who "just don't fit into mainstream stuff." Laura agrees. "It's not really about trends. We would have worn these clothes five years ago, and we'll probably wear the same clothes five years from now." Jackson encourages consumers to pay attention to the smaller startups that the big designer brands and retailers are borrowing inspiration from. "I think more support needs to be given to the designers who are from that world, who understand what the community needs, rather than to major corporations." Kacy wants to see businesses like NiK Kacy, Kirrin Finch, and alljackedup become a viable part of the mainstream fashion industry. "I would love for one day, it to be no longer a queer business," Kacy says. "One day, hopefully, it's just going to be a business."