Sonia Godding Togobo fell in love with cinema and telling stories when she was around seven years old.
Her parents, immigrants from Guyana in South America in the '80s, had taken her to a Black History month event. There, she met one of the organizers who had memorabilia from throughout the Caribbean, the United States and Cuba. He was talking about the different elements of art history when he said something that has stayed with Godding Togobo ever since.
"He said, 'Most of us want our children to be doctors, lawyers, professionals. But we need more storytellers and filmmakers,'" Godding Togobo recalls. "I didn't know what that meant, but something about it resonated and never left me."
Nearly three decades later, Godding Togobo and her husband, Yao "Tuggstar" Togobo, founded Sunstar Worldwide Studio in 2010, a Canadian media company with a mission to illuminate the work of Africa and its diaspora.
Godding Togobo got her start in the industry after earning a diploma in film and television from Humber College. Unlike many other students who were interested in directing or producing, however, Godding Togobo realized she had a knack for editing and focused on post production.
She landed an internship at a post-production house in Toronto then a job working on short films, music videos and documentaries at Nelvana, Canada's premier animation company and a world-leading producer and distributor of children's content. She worked her way up to associate editor on CBC's A Deathly Silence, and edited a variety of programs including an hour special on the crisis in Darfur at MuchMusic, Canada's pioneering music channel.
Wanting to engage in more serious forms of storytelling, she moved to London, U.K., and produced her first documentary, Adopted ID, about a transracially adopted Canadian who returns to Haiti in search of her biological family.
While doing the festival rounds with that doc, Godding Togobo realized she needed to start her own production company if she wanted to continue making docs – and have control over the stories she wanted to tell. "That was really what attracted me to figure out how to set up a production company."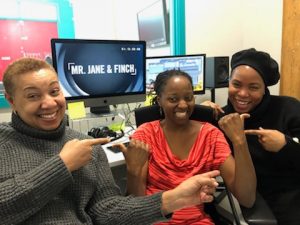 Sunstar Worldwide is predominantly focused on post production. The team consists of two other editors, Godding Togobo, and her husband, Yao, also a spoken word poet and writer. They hire on a contract basis if a project requires more hands. Currently, most of their projects involve editing video projects for other filmmakers and storytellers and producing content for businesses, but they hope to produce their own content for broadcast down the line
When choosing projects, Godding Togobo turns to her husband and business partner to discuss the vision for the work they want to create at Sunstar Worldwide. "We have a process that we go through to figure out if it is a viable project. Is it something that we are passionate about? Is it something the market seems to want? We ask ourselves those questions on a project per project basis. I also think a lot of it is just about capacity — do we have the capacity to really push for this project?"
Godding Togobo says she looks for projects that enable her to share authentic Black experiences, especially through the stories of Black women. This is, in a way, part of navigating her own layered identities. "I have lots of different identities that I sort of touch into: I'm African, I'm Guyanese, I'm Canadian, so what does that really mean? There is a lot of history right there, so often, those are the stories that I am looking at."
Godding Togobo believes the the time has come to explore the interconnectedness of identities given the racial reckoning the world is experiencing — and may just help address racial injustice and aid in healing. "Even when I started (the company), our stories just weren't important. Now there seems to be a little bit more openness, and there seems to be folks who are really interested in hearing from people of colour, about their experiences … When it comes to racial injustice, I feel like my part in that is showing authentic Black representation that challenges, enlightens and brings awareness to the things that unify us, and to the Black Canadian experience."
She was particularly proud to work on a documentary about Winston LaRose, an 80-year-old community activist in the Jane and Finch neighbourhood of Toronto who ran for political office for the first time, inspiring his racialized community with his campaign for city councilor.
Titled "Mr. Jane and Finch," the documentary (on CBC's Gem) was directed by Ngardy Conteh George, produced and written by Alison Duke of Oya Media Group, and edited by Godding Togobo.
Godding Togobo recently took part in Fifth Wave's feminist accelerator program, to sharpen her focus on her work as a storyteller and business owner. "Fifth Wave was a real boost in terms of information, in terms of my network, and in terms of giving me access to best practices and how to run a production company in this particular country."
It also gave her the space to think about the future of Sunstar Worldwide. "I am thinking a lot about what I want the next five years to look like, and the type of projects that I want to be on. I think along with COVID-19, we have had this racial reckoning that maybe would not have had the impact that it did if it was not for COVID-19.
"I am thinking a lot about the fact that now folks seem to be ready to talk about things in a new way, and I am also thinking a lot about what that means for the stories that I'm going to tell."
---
Publishers Note:  Sunstar Worldwide Studio is a participant in Canada's first feminist accelerator program for womxn in digital media, Fifth Wave Labs. The Fifth Wave is a year-round program offered by CFC Media Lab and its partners to support the growth and development of women entrepreneurs in the digital media sector in southern Ontario. All enterprise founders in the Fifth Wave community are selected for both their potential and commitment toward weaving intersectional feminist ideals of equity and fairness into sustainable and scalable business growth strategies. Fifth Wave Initiative is committed to 30% participation by members of underrepresented groups. The Fifth Wave is a LiisBeth Media partner and ally. Apply here.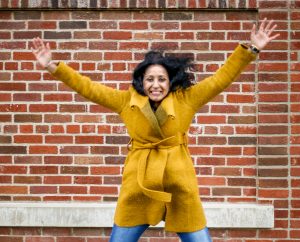 TV and Film So White? Caldwell's literary agency is changing that.
Read More »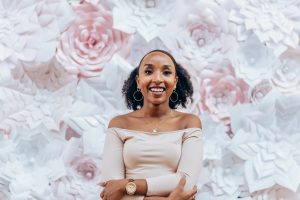 A new Canadian streaming platform features art from racialized artists for racialized audiences.
Read More »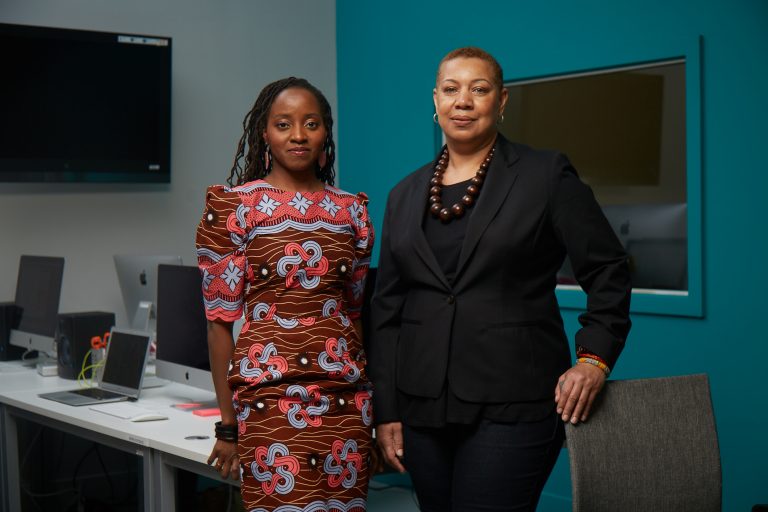 Two Black filmmakers found a treasure trove of activist footage – and a company.
Read More »