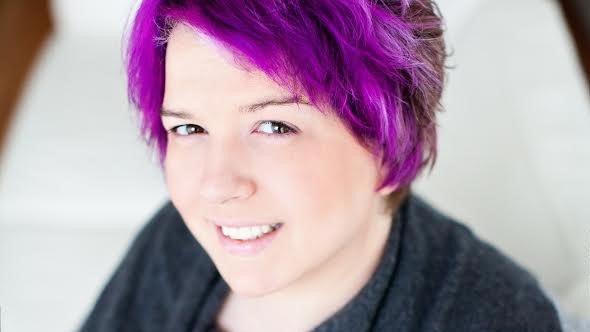 LiisBeth first met Jean Leggett (also known as Joyful Jean) at the GameON Pitch Competition in 2016. She caught our eye. And it was not because of the purple hair.
Leggett is the co-founder and CEO of Canadian startup gaming enterprise One More Story Games. When we asked her why she got into this "game," she replied like most entrepreneurs do, that it was to make money doing something she loved, but also to model, at both an enterprise and product level, how gender equity and equality in the gaming space benefits all stakeholders. Leggett recently completed Communitech's Fierce Founder's bootcamp program for women-led tech startups and is pretty excited about the fact that they are working with New York Times best-selling mystery, crime and urban fantasy author, Charlaine Harris (True Blood). Both Leggett and her husband of 21 years, Blair, identify as feminists.
Now that last point got our attention. Really? A feminist game company? How does one succeed as a feminist game technology startup in arguably one of the most misogynistic sectors of the tech space?
LiisBeth had to find out. So we circled back to interview Leggett on Skype.
LiisBeth: Tell us about your feminist spark moment.
Jean Leggett: Where do my feminist roots come from? I would say that growing up as the hard of hearing child in a deaf household is where I started to notice marginalization, inequality and its effects on people's lives. You see inequality from a different lens when you're brought up in a minority household, and when you yourself are a minority in that minority household.
I'm hard of hearing but I'm hearing enough to function in the hearing world and therefore I'm not deaf to my family. It was a difficult situation. I'm actually writing my own autobiographical story as a video game about a young hard of hearing girl who's rejected by her family for not being deaf enough. In the story, the heroine lives in the hearing world and the deaf world but feels she belongs to neither. For me it's somewhere in-between so my game is called Betwixt. I want it to be the first video game to have sign language in the video clips.
LiisBeth: How do you embed your passion for equality in your business?
Leggett: From the very beginning over 4 years ago, we aimed for gender equality and equity when hiring co-op students. We understood the value of being inclusive. We hired a female program member early on. She may not have been the best program member at the start, but there's not enough representation of women in tech so we wanted to train her. Equity and inclusivity is also part of our product design philosophy.
For the past two years, we have also been running summer camps for kids who want to learn how to tell stories through video game technology. In 2015, 22 boys and only three girls applied. That had to change. So I raised $8,000 from sponsors like Shopify and PayPal, as well as other local companies to help us reach out to girls and underwrite them as well as other underserved communities. Last year, we had a 50/50 gender ratio in our camps. Most camps out there would normally see a 15/85 female-to-male ratio.
We were doing some work with an elementary school earlier in the year and we purposefully picked girls who showed a lot of promise and sponsored them so they could come to the camps. There is a part of me that's conflicted about that whole process because I feel like the young boys of today have not done anything wrong and some of them are not getting the same opportunities because we're trying to get more girls in and I don't ever want to be seen as somebody that's pushing boys down.
LiisBeth: What about the gender and the product StoryStylus?
Leggett: We create adventure story–based games with female protagonists for starters. I played Candy Crush. But women deserve so much better than Candy Crush. We deserve better than the puzzle games that they re-skin and put new art on. We deserve better than slot machine mechanics that are constantly probing and prodding to get us to open our wallets. We're passionate about storytelling. That's why it's called One More Story Games because storytelling is where you find your characters and fall in love with them.
The game that we just produced in December is an adaptation of a short story from a female writer friend of ours called Danielle's Inferno. Danielle, our protagonist, finds herself having an out of body experience watching as paramedics try to resuscitate her at Schrödinger Capital, her office. She's approached by her spirit guide, a bitchy female Siamese cat named Pudding who then guides her through the nine circles of hell to uncover the meaning of life. In the game, you may or may not be dead. We've had people come in and play that game and weep, openly weep, at the end of the game because they did not expect that ending. I play the voice of Satan; it's my first voiceover in a video game. You weep at the end and that's what you want from games. I want to have made an impact on people's lives so they'll remember that game.
LiisBeth: What did you notice while teaching an equal gender class?
Leggett: You know, you've always got that one loud kid and it usually was a boy. So we would say, "We're going to share the conversation here so I'm just going to ask you to put your hand down." Or I would make a point of saying, "You know we've heard a lot from the boys, let's go to the girls." We have to be conscious of that dynamic. Like I said, our primary business is not about being educators, but we've noticed in that short period of time where we work with them in the summer, the boys are going to dominate the conversation and I think that's because they've been allowed and conditioned to.
LiisBeth: Are you involved in other feminist leadership work in the gaming space?
Leggett: I am involved with women in an innovation group here in Barrie, Ont. Sort of like an ad hoc group of women in the technology and innovation space. We're trying to spearhead some engaging and meaningful activities for young women in the community, which is great.
Other than that we do occasionally participate in the Ladies Learning Code and the Girls Learning Code activities. We're also very focused on advocating to see female protagonists as a new game genre.
LiisBeth: Unlike many gaming companies, you see the women's gaming market as a huge underserved market opportunity and the stats seem to support this. Focusing on the needs of women gamers sounds like a smart move. Are investors interested?
Leggett: I think it's hindering our ability to get funding in Canada. I would love to find some feminist investors to be honest.
LiisBeth: What is your current ask to the universe?
Leggett: My current ask? I'd love an opportunity to connect with people in the magazine and newspaper world who write for women over 30 and/or publications aimed at authors. Since our focus is building smarter games for smart women, I'd love to highlight the work we're doing and also the upcoming game adaptation – Shakespeare's Landlord (the novel was written by Charlaine Harris, best known for her Sookie Stackhouse series which HBO adapted as True Blood, and has sold 36M+ novels) we plan to publish this fall.
LiisBeth: Are there any games you would recommend to our readers?
Leggett: Women tend to like adventure, story-driven games. I recommend the classic Nancy Drew games created by Her Interactive. The former CEO Megan Gaiser is one of the advisors and biggest supporters of our mission to positively represent feminism in games. I am also quite partial to the Gabriel Knight series, created by Jane Jensen. I'm also a huge fan of the Tex Murphy adventure games by Chris Jones. Each of these games is focused on depth of character and story, something we want to empower writers to do with our software.
---
Additional reading about women and gaming: 
52% of gamers are women – but the industry doesn't know it: The Guardian, Meg Jayanth
Take a look at the average American gamer in new survey findings: Polygon, Allegra Frank