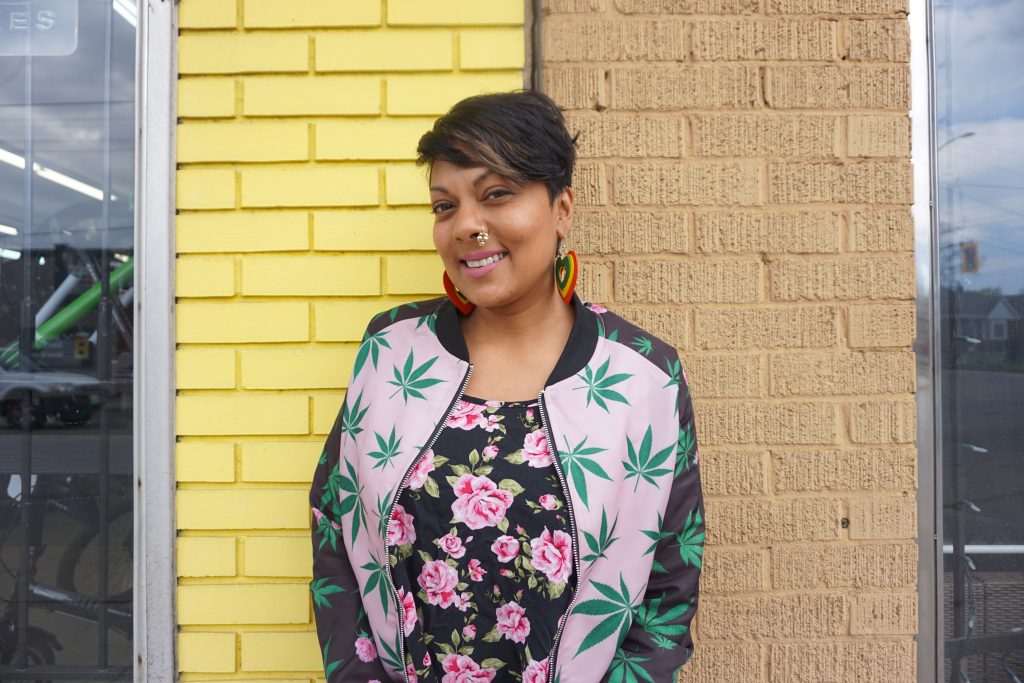 Reena Rampersad makes a killer cannabis-infused chimichurri sauce. Not only does she drizzle in some cannabis oil, she incorporates the non-psychoactive leaves to give it more texture and a boost of antioxidants. As the owner of the High Society Supper Club, Rampersad creates private dining experiences featuring all kinds of micro-dosed dishes – from amuse bouche (or is that amuse bud?) to infused butters, dressings for salads, sauces for mains, and fudge and cookies.
"It took me some time to experiment and figure out my menu," says Rampersad, who lives in Hamilton, Ont. where her business is also based. "I asked friends on their day off if they could test out my recipes. That's how I figured out how to dose properly. We started doing unofficial dinner parties. Then we did larger dinners and started bringing them to Toronto."
Over the past several years, she has catered more than 100 supper parties for all sorts of clients, from corporate beverage companies to owners of resplendent mansions to family dinners. Buffets start at $55 per person, while table service is $65. She gets two to three bookings a week and has eight people on her payroll.
But there's just one problem: Even though recreational cannabis is legal in Canada, it's not yet legal for establishments to produce and sell cannabis-infused food and drinks. That legislation comes down October 17, 2019. So, for now, Rampersad runs the High Society Supper Club as a complementary service to her Limin' Coconut catering company, which specializes in Indo-Caribbean cuisine. She had a license to operate since 2015. If a clients request an infused item, Rampersad must get them to provide their own cannabis while she provides the infusion service—at no extra charge.
"This is how we have to do it for now," says Rampersad. "The irony is that the High Society is really what's been taking off. People are interested in seeing what infused dining is all about. But I can't officially operate as a business, which has been so hard because I could be paying my bills really, really well right now."
It takes guts to run a business that occupies in such a quasi legal area, especially if you're a woman of colour. Out of the 99 licensed cannabis companies in Canada who have public information available, only eight are headed by women.
Rampersad, who is the daughter of Trinidadian parents, says she's often one of the only minorities at the cannabis conferences and panels she gets invited to, and, to her disappoint, discovered that there is not even much talk about diversity and inclusion. "All too often it's a message that people are trying to censor out or don't care about or are trying to silence," says Rampersad. "When we talk about implementing change and creating an equitable industry, I don't see how that's possible if we don't have that from the top down. If we only have one narrative being represented, that's going to carry out everywhere else in terms of the images that are being marketed and the policies that are being created. It's actually very alarming since cannabis is slotted to be the largest and most influential industry out there."
Rampersad is pushing for change in her own ways. She prioritizes women and women of colour when hiring, and she pays her staff at least $15 an hour. She has also started organizing marketplace events where people can purchase products from vendors from marginalized communities and folks who have been affected by the long prohibition on cannabis, such as Rastafarian organizations and Indigenous exhibitors.
"This is how I'm able to work back in my social justice aspect since so many people are being left out of this newly emerging industry," she says.
Working in the cannabis space isn't just a political and professional endeavour—it's also deeply personal. Rampersad has lost a number of family members to the war on drugs and the destructive policies that have negatively impacted marginalized communities. Growing up, she saw her father get accosted by the police for his cannabis use, over and over. What she learned from witnessing this was that the law enforcement could over look some dabbling in recreational use of cannabis before it was legal, but often came down hard on people of colour using the substance. "It's enraging to see how racist it was in the beginning. It showed me that sometimes the law can be wrong."
Wanting to right the wrongs of the past, Rampersad joined the Campaign For Cannabis Amnesty as a volunteer coordinator. The group's main push right now is to convince the federal government to amend and pass Bill C-93 so that it gives expungements rather than pardons to Canadians convicted of simple possession of marijuana. With expungements the government would be admitting it was wrong in the and would permanently delete an individual's criminal record. Pardons, on the other hand, would merely forgive individuals of their criminal past, but would not protect them from having their convictions reinstated or accidentally disclosed.
As for her High Society Supper Club, Rampersad looks forward to legalization of food and drink this fall but worries whether the legal framework will extend to grassroots companies such as her own.  Cannabis edibles alone could be a $4.1 billion market in Canada and the U.S. by 2022, with large companies vying for the action. It's only fair that entrepreneurs like her get a taste of that too, she says. "We are the people that helped to build the demand and set certain standards. All we want is for them to include us too."
---