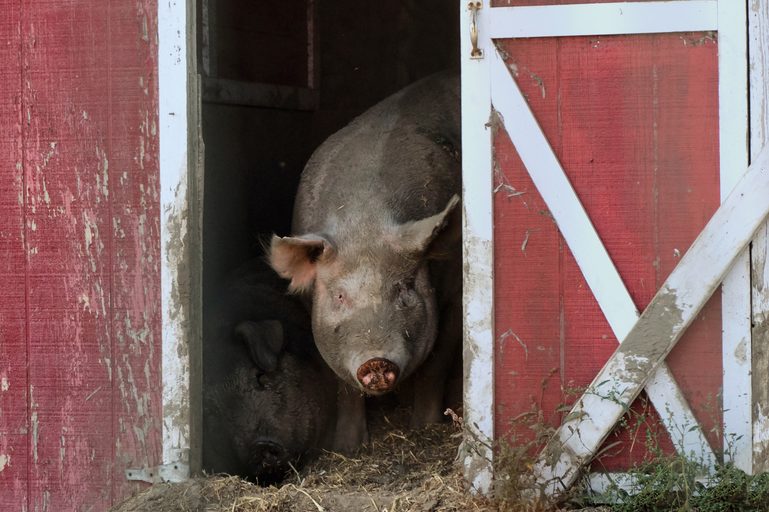 Amid the cookie-cutter suburbs and glassy condos in the Greater Toronto Area (GTA), a handful of buildings proudly stand out for Melinda Zytaruk and the passion her company poured into creating them.
There's the second-storey addition on a downtown family home insulated with straw bales sourced from a southern Ontario farmer and made from the stalks of wheat, which stores more carbon than is required to grow it. In the east end, a basement and kitchen renovation built with concrete containing 60 percent less CO2 emissions than conventional concrete. On the outskirts of the GTA, in Caledon, Ont., an old horse barn turned into a brewery using various recycled materials.
These are all projects completed by Zytaruk and her team at the Ontario-based sustainable construction company, Fourth Pig. "You've heard the story of the three little pigs? We're telling the story of the fourth pig," says Zytaruk, the company's general manager who is also a certified builder, registered designer, and environmental expert. The famed children's tale, she explains, doesn't actually end with the pigs who built their houses out of straw, sticks, and bricks. There was another pig who proposed they work together, combine all their materials and concepts, and create a healthier more environmentally sustainable house. That's what the Fourth Pig is all about: building new possibilities.
Zytaruk and Glen Byrom (who are married) along with Matthew Adams and Sally Miller (also spouses) formed Fourth Pig back in 2007 after realizing how few green construction companies there were in Canada even though, according to recent data, residential, commercial, and industrial buildings accounted for 17 percent of greenhouse gas emissions. Adams, who is now the director of operations and education, referred to conventional buildings as a "climate change catastrophe" and that Canada needed significant change in the construction industry to meet reduction targets.
Fourth Pig set out to be part of that change, promoting sustainable construction practices by hosting talks on green building and hands-on skill-building workshops, and by creating greener, cleaner, and healthier buildings in communities in the GTA, the Golden Horseshoe, and Muskoka areas of Ontario.
Says Adams: "Sustainable building means a cleaner environment, more efficient energy generation and use, more effective use of building materials, and healthier living spaces." For instance, traditional building materials release high levels of volatile organic compounds (VOCs) that have been linked to headaches and skin irritations. Fourth Pig uses eco-friendly adhesives with zero VOCs. Constructing an eco-friendly building doesn't necessarily cost more than conventional structures, but going "green" typically lowers operational costs, such as energy usage. "The result is buildings that are good for the planet and good for your health," says Adams.
But Fourth Pig's goal wasn't just to use healthier materials and reduce a project's carbon footprint. Committing to building sustainably required rethinking how people work within the business, explains Zytaruk. "Can you protect the environment and still exploit people? Is that even compatible?" Short answer: No. That's why the founders set up their business as a non-profit worker co-operative, to ensure all worker-owners participate equally in the decision-making and direction of the company.
At the time, the business structure was not well understood by financial institutions, so rather than loans, the founders sought private investment to start their business. Says Adams, "Any startup is going to face strong scrutiny from a lending agent so at that time being a non-profit worker co-op (very rare) was one more challenge." He adds that they have since received support from government and not-for-profit grants and wage subsidy youth placement programs.
Employees can become worker-owners after completing two years and 2,500 hours with the company. Applicants must also comply with the International Co-operative Alliance's values of self-help, self-responsibility, democracy, equality, equity, and solidarity. Once approved, all worker-owners have an equal role in governing Fourth Pig. Currently, all six current worker-owners sit on the board, which meets monthly. Whether a lead carpenter or an operations manager, each has an equal vote, says Zytaruk.
She admits that involving so many people in decision-making can mean there is "more process" than in a conventional business. However, she feels that approaching challenges as a team is why co-ops are so resilient in times of crisis—such as the current COVID-19 pandemic.
In accordance with public health guidelines, Fourth Pig ceased on-site work on April 9 until at least May 4. As with most businesses, that has meant lost income. But in the true spirit of a co-op, Zytaruk says, "The whole company is involved in discussions about how we get through this, whether they're a carpenter or manager."
The worker co-op structure and the company's commitment to sustainability and equality attracted M-C MacPhee to join the company last year. She remembers reading through the company's policies and procedures and being impressed by its carefully considered zero-tolerance policy for workplace violence and harassment such as bullying or jokes that are degrading or offensive. MacPhee has worked in the industry "on and off" for a decade, usually for larger companies where women comprised a miniscule minority of the labour force. Though she can hold her own, the 39-year-old said she actively sought to work apart from the rest of the crew at job sites, to avoid their sexist banter. That type of behaviour is not tolerated at Fourth Pig.
"There's just a commitment at the Pig to always do better, to talk things out, to make sure communication is really clear, everyone's really comfortable, everything is going well, and people are having a really good work experience day to day," says MacPhee.
That commitment extends to Fourth Pig's "fairly flat" pay structure. According to Zytaruk, entry-level positions earn a living wage, rather than minimum wage, and managerial positions, while still competitive, are not as high-paying as in other companies. "Nobody earns more than two and a half times what the lowest wage person would be."
Beyond creating a more equitable structure internally, Fourth Pig also prioritizes education—another reason the company appealed to MacPhee, who teaches construction at Georgian College. Fourth Pig provides training opportunities for employees and hosts hands-on presentations for the public on worker co-ops and sustainable construction as well as raising awareness with public policy-makers on the importance of sustainable building.
MacPhee, who joined as a carpenter, is now a site supervisor. She says there's a strong team commitment to the company's mission to build greener and also to "help each other learn in whatever capacity we can."
That goes for the founding owners, according to Zytaruk, who says the company is constantly striving to improve, utilizing new tools and approaches to creating healthier buildings, communities, and work teams. "We're always trying to learn and do better every day," says Zytaruk.
Since all companies are mandated to have policies on workplace violence and harassment, MacPhee wanted to emphasize that what stood out to her was that this one seemed to be thoughtfully written compared to others that seem cookie-cutter and just there to fulfill requirements
This was a specific company so don't want to generalize