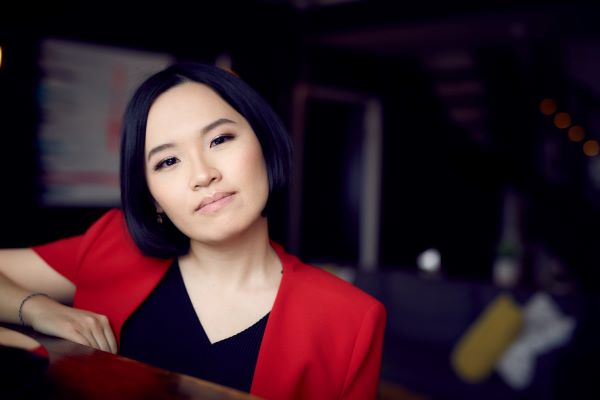 In the span of four months, Cherry Rose Tan was involved in a major car accident, lost her brother unexpectedly on Christmas Day, and found out her mother had stage three cancer. Her grief was unlike anything she had ever felt before, so she decided to turn to her colleagues in the tech industry for support. But she didn't know where to go or who to talk to. That's when she realized the sad truth: Nobody in tech talks about this stuff.
So Tan, an executive coach in Toronto who helps entrepreneurs get past their personal and professional roadblocks, started For Founders By Founders in 2018. She defines it as a movement to get tech founders, investors, and executive directors to talk to her about their mental health struggles—and agree to publish their story online.
"There's some serious mental health breakdowns and emotional suffering that happens in my industry," says Tan. "People come to a point in their success where they've spent so long in a place of drive and doing and achieving more, that they're really disconnected from their emotions and what it means to be human."
Tan wanted to end this systemic silence, but prompting entrepreneurs to open up about their struggles wasn't easy. Says Tan: "One investor said to me, 'I love what you're doing, but I need to be real with you. I don't think you're going to get a single person to pledge their mental health story.'"
She refused to believe that. "We don't have to settle for an industry where the best we can do is have founders cope with alcohol and drugs and do their healing in bathrooms."
Tan knew she was tapping into something huge. Research by psychiatrist Dr. Michael Freeman, who specializes in mental health issues and illnesses among entrepreneurs in the US, found that 72 percent of entrepreneurs struggled with mental health. They were also twice as likely to suffer from depression and experience suicidal thoughts than non-entrepreneurs.
People may go into entrepreneurship for the freedom it can offer, but what's rarely discussed is how often that journey comes with seemingly insurmountable stress, burnout, and crippling loneliness. Stigma and shame around mental health often keeps people from getting treatment when they need it.
To start her venture, Tan reached out to a few people she knew had gone through something deeply personal and asked them if they were willing to talk about it in a one-on-one interview. It took four months before she secured her first subject (or champion, as she likes to call them); within a year and a half, she had convinced 65 people to share their stories, including CEOs of multi-million-dollar companies. Tech leaders opened up about an array of challenges: abusive families, postpartum depression, eating disorders, painful divorces, losing a parent, the immense pressures of running a company, and being responsible for so many people's livelihoods.
So far, Tan has published 20 of those stories online at pledgeyourstory.com. She is currently working on a podcast slated for release in November, which will feature one-hour intimate conversations with tech entrepreneurs about their personal mental health experiences.
Says Tan: "One of the most impactful stories was from a founder who I really respect. Super accomplished, serial founder. This person shared with me a story about their breakdown, a time when things were so, so, so bad that they didn't know if they would survive until the next day. This person told me the reason they're alive and doing the work they do is because of one person who changed their life and said, 'I'll be the person who will hold the space and listen to your story.' It just reminded me that this work really matters."
As a for-profit social enterprise, Tan is able to do this work while generating revenue by crafting mental health strategies for founders and investors, speaking at companies and conferences, and providing mental health training at the executive level.
Tan's forum is particularly useful for female founders who often face even more pressures. They struggle with being taken seriously, securing funding, finding a supportive network, combatting discrimination, coping with imposter syndrome—you name it. For Founders By Founders gives women entrepreneurs an outlet to openly talk about their struggles without shame, judgment, or guilt. Says Tan: "There's a lot of masculine energy in this industry, and I feel like that's why so many people are suffering is because they don't have a connection to this softer side of themselves."
Throughout her interviews, Tan noticed other patterns emerging. For instance, she discovered that anxiety and imposter syndrome tend to creep up when founders raise their first round of funding. And when founders exit their company, they often feel like they've lost their sense of identity and fall into depression and grief.
So now Tan is creating a playbook for tech founders that will lay out a roadmap of what to expect with their emotional and mental health journey from startup to acquisition.
"I'm really excited about this playbook," says Tan. "I want to show people the way out of emotional suffering."
If you are in an emergency, in crisis or need someone to talk to, please use these hotlines or call 911 immediately.
---
Cherry Rose Tan's Reading Recommendations:
"Life-changing book. It talks about a nine-figure tech founder who decided to let go of control (as a paradigm for success), and how his life transformed on every level because of it. What happens if we start trusting ourselves and life, instead of fighting it? I found it powerful for shifting my perspective with adversity."
"One of my favourite mindset books of all time. Written by the founder of the world's largest real-estate firm, it explores the question: What is the one thing I can do such that by doing it, everything else will be easier or unnecessary? It has been important for my mental health and in keeping me focused on what is most important."
---
This article was generously sponsored by Startup Here Toronto
---
LiisBeth is an all women-owned/led indie media outlet (rare).  We believe quality journalism should be accessible to all.  If you found value in this piece, please consider helping us source and publisher more via a small donation or reader subscription today![direct-stripe value="ds1577108717283″]
---
Related Reading
https://www.liisbeth.com/2016/03/11/why-shecosystem-is-my-system/