Christy Pettit thinks of bees pollinating a field of flowers when she thinks about the name of her company. 
"Pollen does not rampantly go everywhere," she explained during a Zoom call. "There's a strategy."
Launched in 2008, the Guelph, Ontario based Pollinate Networks doesn't match bees and flowers but mentors and mentees. Its technology predicts a high degree of compatibility among people, and their online education resources ensure mentees and mentors get the most out of their time together.
Mentorship Benefits Employees and Enterprise Leaders
Pettit has experienced first-hand the difference mentorship can make. "[Mentors] have really enhanced my knowledge and saved me a ton of heartache by having the expertise at a moment when I needed it," she said. An early mentor helped her appreciate how she could make a more positive impression when working with clients and executives. 
"It wasn't clear to me how much my tone and demeanor and approach affected the whole soup," Pettit said.
Pettit said it makes business sense for business leaders, founders and owners to invest in mentorship tools, as external market research has found significantly higher retention rates, productivity, and job satisfaction for those in mentoring programs compared to those who were not. After all, employees today are seeking more individualized attention and learning. 
Moreover, Pettit said the pandemic has heightened interest in mentorship programs, as the interpersonal moments mentorship provides are more valuable in hybrid and virtual work arrangements.
Proprietary Software Makes the Best Matches Possible
What sets Pollinate Networks apart from its competitors is the rigor of its matching algorithms, Pettit said. Although there are around 300 large companies globally which offer mentor-mentee matching services, the information Pollinate collects from mentors and mentees with its proprietary software predicts better matches than most. 
"It's not just throwing people together and hoping that it works," she said. 
Pollinate works by collecting a myriad of detailed information to help mentees find their ideal mentors. Mentees start by identifying their career goals and the skills they want to develop, which might include things like strategic thinking, business awareness, or stepping outside their comfort zone. Likewise, mentors provide information including their work history and expertise. Pollinate also assesses the collaboration styles of mentors and mentees to ensure interpersonal dynamics are positive and productive, and then determines matches based on what the algorithm determines is the best fit for their needs and personality.   
While being a mentor is often unpaid work, these mentors volunteer their time because they don't want" all the hard-won knowledge and experience they have to go to waste," Pettit said. 
Mentoring Can Support Diversity Goals
While the company's strong suit lies in the power of its matching algorithms, Pollinate also offers online educational videos intended to help mentors and mentees to get the most from their mentorships. Topics include things like the role of mentors and mentees, Socratic questioning, and overcoming unconscious bias. Pettit said everyone has unconscious bias, and helping mentors discover their own biases and expand their understanding of the role of privilege, concept of intersectionality, and value of lived experience makes them better mentors. 
Mentoring programs can also help women and other underrepresented groups by expanding their networks and gaining access to more experienced or senior people who can support their career growth. 
Pettit said there is a "legitimate hunger" in organizations to achieve greater diversity in leadership roles and other positions. 
"It's not just political correctness anymore," she said.
Doing it Right Takes Time
While many of the company's clients are big companies like Manulife and BlackBerry, which license its software to benefit their own employees, Pollinate also works with not-for-profits and emerging companies to match mentors and mentees within a broader community. 
For example, Pollinate partners with the Guelph-Wellington Business Center to match local entrepreneurs with advisors who offer support around pandemic recovery, and Project Learning Tree uses Pollinate to help pair mentors with youth looking to pursue careers in forestry. The company's platform is also matching entrepreneurs in the food and agriculture industry with mentors to explore ways to address rising food costs and global food supply chain issues.
With more and more enterprises and organizations embracing the possibilities of mentorship, Pettit said Pollinate is "growing at a good pace right now and moving our way up, revenue-wise."
While the company's eventual goal is to focus solely on mentorship, Pollinate's mentorship-pairing services currently represent between 70 to 80 percent of its income. The remaining revenue comes from things like engagement surveys, professional services, and grants, which Pollinate uses to fund ongoing improvements to its mentorship software.
Developing an computer based intelligent algorithm like the one Pollinate uses takes time and money; while the company could have easily designed a more generic mentor-matching program much more quickly, Pollinate has benefitted from taking extra time to develop its unique algorithm for maximum compatibility. Pettit maintains that the power of their well-honed matching system makes mentorship more meaningful and improves outcomes for all involved.
"I wanted to do this the right way," Pettit said.
Publishers Note: Pollinate participated in the Fifth Wave  Initiative, a year-round program offered by CFC Media Lab and its partners to support the growth and development of women entrepreneurs in the digital media and commerce sector in southern Ontario. All enterprise founders in the Fifth Wave community are selected for both their potential and commitment toward weaving intersectional feminist ideals of equity and fairness into sustainable and scalable business growth strategies. Fifth Wave Initiative is committed to a minimum of 50% participation per cohort by members of underrepresented groups. The Fifth Wave is a LiisBeth ally sponsor at the Lighthouse level. 
Alexandra Mandewo, 18, recently won an award for her poem – Believe Her.
Read More »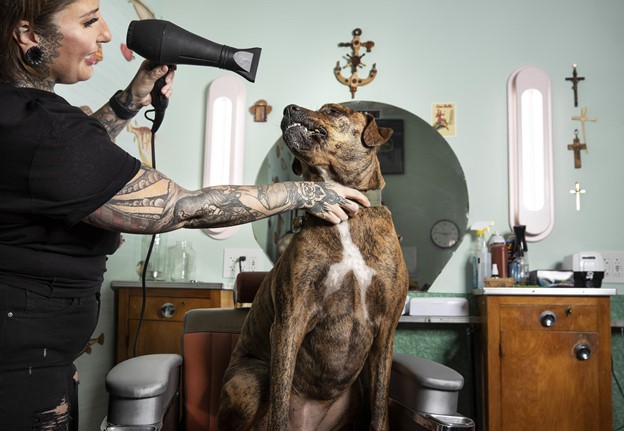 A new grant buoys the hopes of rescue dogs and rescuers alike.
Read More »
Immigrant Women in Business (IWB) strives to lift up and empower new Canadians venturing into
entrepreneurship
Read More »