As the saying goes, a woman's place is in the kitchen—that is until money, fame, or a coveted Michelin star is at stake, at which point it can become a male-dominated space pretty quickly. Foodie utopia Portland was no different until an industry outsider named Michelle Battista decided to challenge the culinary boys' club. In 2014, the designer and marketing entrepreneur with a passion for food brought together a group of women with diverse talents to create what she describes as "a safe place for women in culinary arts."

Enter the Nightwood Society. The eclectic group—ranging in skill set from butchers and bakers to florists, writers, and visual artists—conceived of a food-based creative incubator to nurture women entrepreneurs striving to find stable footing in Portland's vibrant and competitive culinary scene. They toiled in a variety of traditionally underfunded areas—live music, cooking classes, immersive dining experiences, catered events, art installations—but believed by joining forces, they could create something special and sustaining.

Battista teamed up with friend and associate Kati Reardon, a product management specialist for global brands such as Nike, Columbia Sportswear, and Banana Republic, to raise the capital to lease a 3,000-square-foot event space in the city's inner NE business district, where they could bring together food, art, design, and social consciousness in a delightful blend of community activism. "So we decided we could do this, and do this in our own way," says Battista, "and it could be all women."

Indeed, Nightwood Society created a women-focused supply chain, from farmers through to sommeliers and chefs. For capital, they turned to non-traditional investors such as women's accelerators and financing groups. Supportive, like-minded men were welcome to contribute.

But Portland, as Battista describes it, is a finicky market where the average restaurant has a life expectancy of about two years. Those that survive face constant scrutiny over the minutiae of their menus. Was this free-range chicken fed on pesticide-free grains and seasoned with fair trade salt? Is your house kombucha small-batch or just craft?
Nightwood Society overcame the odds and found its way to a stable source of revenue by becoming a go-to space for community groups that share their interests and values in social justice, diversity, and equality. They have hosted events, leased space and catered for women's outreach groups, non-profit organizations, and even Oregon's governor, Kate Brown.
All that didn't come about by happenstance. When Battista moved to Portland after going to school in New York, she was shocked by the city's whiteness—and its long history of racism and exclusion. She knew Nightwood would never reach communities of colour organically but would have to reach out specifically to historically oppressed and overlooked groups. Says Battista: "Nightwood is the hub of a community I built and curated intentionally with a lot of time and attention. We ask, who do we want to reach out to and how do we vet their values? Without shared values it isn't going to work."

The outside-the-box business model has also built strength by sharing resources. The range of activities at the Nightwood Society can be eclectic: cooking and charcuterie-making classes, weddings, political events, public speaking classes, and outside catering gigs. Beyond a skeletal staff, most function as contractors and freelancers, posting shifts that others sign up for and taking shifts based on schedules and skill sets. The arrangement suits the ebb and flow of the business and the lives of the people drawn to such a dynamic, artistic enterprise. Says Battista: "Everyone works when they want. No one's ever grumpy [as] they have other jobs."

The collective is structured as a limited liability corporation with two legal owners, each with a clearly defined equity agreement. Members can buy into the for-profit business. Leah Scafe, Director of Experience, and Sarah Schneider, "Kitchen Queen," have acquired a partial ownership, which comes with more decision-making power and autonomy.

But the vast majority of the dozen or so primary members involved have a part-time association with the collective, using the space to grow their business, augment other income, and network with supportive, like-minded entrepreneurs. The model enables Nightwood to be flexible, inclusive, and resilient. It supports growth via diversification rather than simply volume. And it allows them to scale their business sustainably through ebbs and flows of a fluctuating economy.
To Battista, Nightwood's fusion of food, art, and activism is natural. "I'm a designer by trade and I have a design agency; I've always been obsessed with connecting sensory things." She says she doesn't just love food and the craft of making it, but the whole experience of food, including the atmosphere of the surroundings and the company at one's table.
Battista urges people looking to emulate the Nightwood model to build a strong team. "There is a moment when you just have to jump in and be on the ride and use your best assumptions and experience to make it happen." But it helps, she advises, to have a mentor and to ask for guidance when you encounter something you don't understand. Then comes the task of building a team that shares your vision and values. "Without the right people to believe in and help you execute your vision, then your vision is only an idea."

After that, the rules for taking something on, she says, are pretty simple. "Lead with the values always and don't compromise. This is your compass," says Battista. Evaluate proposals based on whether they move the venture forward, and whether or not they serve everyone's best interests, as well as your vision and mission. Make sure what you do stays on brand. Remember that you can't say yes to everything.

But how does that clear-eyed vision translate into the effective operation of a for-profit enterprise that offers charcuterie classes and public speaking classes, as well as hosts political events and weddings, all under the guise of a cutting-edge restaurant? Pretty effectively, says Battista, albeit with a lot of individual trust, coaching, and business mentoring. The entire staff meets just every two weeks to handle the logistics of the organization. Outside of that, Battista makes a point of not micromanaging the members. The goal is to find motivated innovators with a unique vision and nurture them with resources and opportunity.

"And then," Battista says, "we let them grow."

To learn more about the Nightwood Society, visit https://www.thenightwoodsociety.com/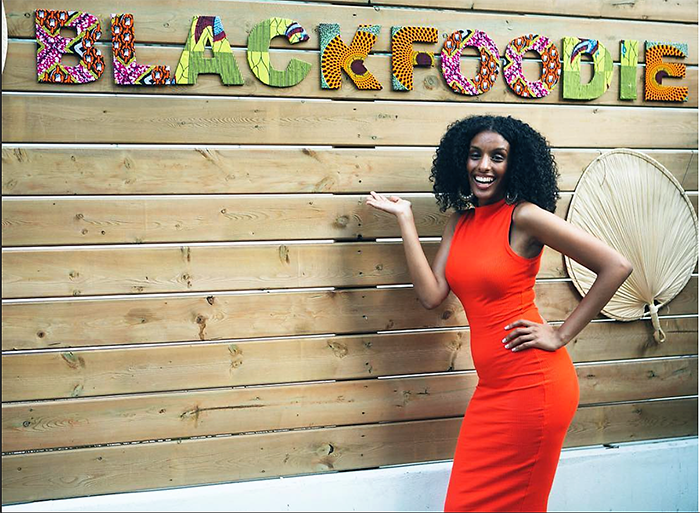 Shoddy treatment at a restaurant inspired Eden Hagos not to stay home but to go big with her business ideas. She sees huge potential in the Black Foodie brand and envisions it evolving into a web series or television show in the future.
Read More »