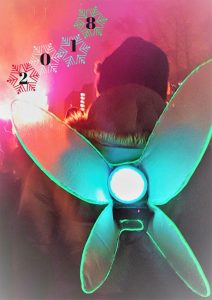 VIEWPOINT
This year I ended up celebrating the winter solstice at Kensington Market in Toronto for the first time with new friends.  Paul, the initiator, described it to me as a sort of "mini-burning man". It was an apt description. After a brief parade of giant puppets, pagan costumes and a few hundred urban revellers of all ages carrying homemade lanterns, the colourful, lit collective gathered with others in Alexandra Park, where a 20-foot high purpose-built sculpture was thereafter set on fire. The red embers floated up towards the sky while white snowflakes fell. There was drumming, dancing, and hot drinks.  The diverse crowd cheered while also stamping their feet and rubbing their mittened hands together for added warmth on this dark, minus 20 centigrade December night.
While watching the flame devour the papier-mâché and chicken wire animal god sculpture, I noticed the togetherness that the fire aroused in all of us. I was also struck by the fact that while the source of holiday light varies for different cultures and backgrounds—Christmas trees, menorahs, lanterns—there was a certain universality to how people practice the season; It almost always involves acts of generosity, goodwill, healing, and reconnection. Participating in the season in this way leaves you with a sense that renewal is not only possible-but on its way.
It was a welcome feeling that night.  And it still persists on this New Year's Eve day.
---
THIS WEEK ON LIISBETH
Winter Solstice Playlist: Beginnings, Endings, and Bridges
LiisBeth is pleased to bring you this smoldering, contemplative and appropriately named new year playlist curated by Aerin Fogel, Toronto musician and founder of Venusfest, a Toronto-based feminist music festival.
The collection features some well-known artists like Bjork, as well as emerging artists like Lido Pimienta (below), a Columbian-Canadian musician and human rights advocate who won this year's Polaris Music Prize for her album, La Papessa.
The Polaris Prize is based on artistic merit without regard to sales history or label affiliation. Winners are selected by  "a Grand Jury of 11 music media professionals drawn from the greater Polaris jury pool of almost 200 writers, editors, broadcasters, DJs and personalities from across the country.
You can listen to the playlist by clicking here.
---
It's here!  The LiisBeth 2018 Feminist Entrepreneur Reading List!
After the entrepreneurial feminist forum in November, many attendees asked for a list of recommended readings to help them dig deeper into the concepts and topics introduced at the November 11 forum held in Toronto at the Ontario College of Art University.  We thought "Good idea!"  So here is the list which includes 20 books and five readings.
You can download it here.  Oh, and I think it goes without saying, don't try to read them all at once!  S–p–a–c–e it out.
We hope it will give your feminist business practice what you need soar in 2018.
---
LiisBeth is Now on Patreon!
You may not realize this, but LiisBeth runs on passion diesel and volunteer time, plus the paid contributions of over 20 freelance contributors, editors, and visual artists.
Grants are hard to come by given what we do. (Feminist business practice is for some, still too niche or too scary to contemplate!). We are working on recruiting angel investors who are passionate about the cause. No luck yet. But we're not giving up!
In the meantime, it's really up to us, entrepreneurial feminists, to keep this conversation going and growing. 
This is our humble ask: If you have read, benefited from, shared, attended one of our events, heard us speak at a conference, or talked about LiisBeth's work at least once, we would love to see you deepen your engagement with us by supporting this work not only with your attention and praise but with donations as well. 
We have lots of options. Our subscriptions range from $3 to $10 per month. Or, you can make a one time $5 or $100 donation. It's up to you to determine what level of support works for your budget.
LiisBeth is open access regardless of how much you donate—and will remain so.
If cash is not an option, you can support us in other ways:
Share this newsletter with five friends and encourage them to sign up for our newsletter themselves.
We are also interested in any in-kind hours of support in areas like social media production, volunteering at events, donated photos or artwork for articles, copyediting, and proofreading.
We are also very interested in speaking to audiences to help more people engage with feminism at work and entrepreneurial feminism. If you need a savvy, energetic feminist entrepreneur speaker or panelist, drop us a line.  We know many of them and are happy to recommend!
If you would like us to help promote your next event, let us know!  We charge $50.00-$100.00 per website listing plus social media support.
To donate now, please click here or visit our Patreon site here. We are sincerely grateful for any and all types of support.
---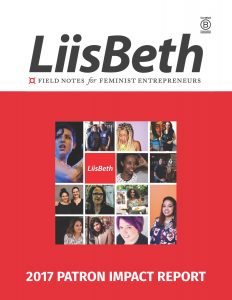 Are We Making A Difference?  Is Our Work Helping to Advance Gender Equity and Equality?
We have published over 129 articles and have hosted over 500 people at our various events, salons, and forum since we began in February 2016.
But are we having an impact?  Are we contributing to advancing gender justice through our work?
In December, LiisBeth decided to take stock, reflect and publish our findings.
You deserve to know if your contributions are helping us make a difference.
We need to know if we are using our resources in an optimal way given our mission.
Watch for the final report in early January.
---
In case you missed it!
---
CAN'T MISS EVENTS
Jan. 20: Innovation in Craft & Design
A talk presented by Interior Designers of Canada.
3:00PM–5:00PM, C536-43 Hanna Avenue, Toronto. Free. Register here.

April 10–11: Diversity Procurement Fair
Presented by The Canadian Aboriginal and Minority Supplier Council (CAMSC), Beanfield Centre, 105 Princes' Blvd., Toronto
---
That brings us to the end of our last newsletter for 2017
Again, we hope you enjoyed it as well as our deeper reads at www.liisbeth.com.
Again, we could also really use your support. Please consider a donation, either as a lump sum ($5, $10, $100, anything will make a difference!) or monthly subscription between $3 to $10 dollars. Remember 100% of our dollars goes towards paying writers, editors, and creators a living wage rate for their work. You might even know a few of them!
The next newsletter is scheduled for mid-January.
Until then, we wish you a very happy, prosperous and generous new year.

Petra Kassun-Mutch
Founding Publisher, LiisBeth