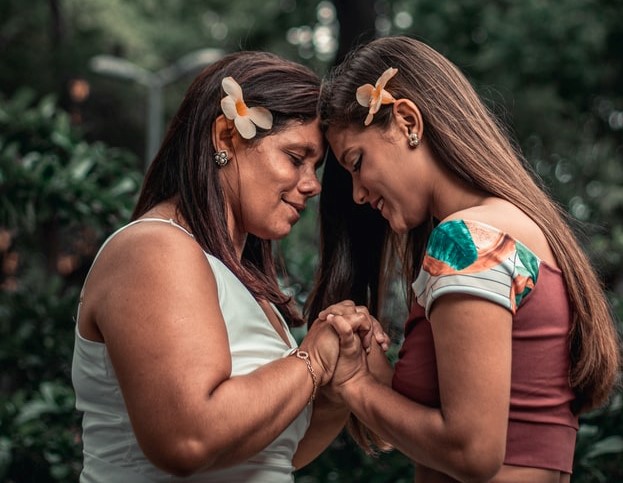 When you think of Mother's Day you may experience visions of spa dates, flower bouquets, decorated cards and brunch with a round of mimosas. However, these are odd times where the spas are closed, mail arrives slower than usual and your waiter/waitress appears at your door with lukewarm meals wrapped in plastic. With the current social distancing measures in place some might not even get to hug their loved ones on this day, but there are so many other ways to give mom thanks that you can enjoy together from anywhere; music, for example.
Whether you get together in the living room over banana bread and Tik Tok ideas or sing along over a video app, here's a 10 song playlist that goes out to all the mama bears to show appreciation for all that they do each and every day.
---
Kanye West – "Hey Mama"
Over soothing "La la's" sampled from Donal Leace's "Today Won't Come Again" Kanye pours love, devotion and thanks into rhymes for his late mother Donda West. The song appears on his 2005 album Late Registration, which was released just two years before she passed away. Having been extremely close with his mom Kanye talks about their relationship; the ups, the downs, her unwavering support and Ye wanting nothing, but to give her the world.
UMI – "Mother"
Singer/songwriter UMI casts sunshine, the ocean and a myriad of animals as the stars of this music video alongside clips of her and her mother having a picnic somewhere green. The visuals act as a celebration of not only mothers, but also Mother Earth and all the life it provides.
Jhené Aiko ft. Namiko Love – "Sing To Me"
Okay, tissues will be needed here! In 2018 Jhene Aiko and her daughter Namiko (nine at the time) performed this song on VH1's Dear Mama: A Love Letter To Moms television special. With a barrage of "I love you's" and lines like "You are my world, my favourite girl" the song is as sweet and touching as you'd expect from a mother and daughter duet.
4. Beyoncé – "Ring Off"
As private as Beyoncé has been about her personal life throughout the years, her music allows her fans a glimpse of the woman behind the bodysuits and perfectly choreographed dance moves. With a nod to her hit song "Single Ladies (Put a Ring On It)" the ballad is addressed to Beyoncé's mom who, in 2011, went through a divorce with the pop idol's father after he was allegedly unfaithful. Beyoncé praises her mom for making the difficult decision to move on and promises better days ahead.
Ashanti – "Mother"
Ashanti showers her mother with compliments, acknowledgment and love on this track. If you can't find the words yourself, this could be the perfect tune to sing to mom. That is, if you can hit all the high notes.
Chance The Rapper – "Hey Ma"
Here we find Chicago-born Chance The Rapper kicking it at his childhood home everywhere from the front steps to the roof. Photographs from his youth are held up in front of the exact spot they were originally taken years before. The song isn't just about Chance's own mother, but all the women who'd played important roles in his life, most significantly, his grandmother. He's playful throughout in the visuals boasting about his success and how he's finally able to give something back to those who gave everything for him to get there.
Queen Naija – "Mama's Hand"
Youtube star and singer/songwriter Queen Naija shares her family with us on "Mama's Hand". The song and video are an ode to her son who she beams at over a video call in the intro as they say "I love you" and "I miss you" to each other. The ending finds Queen Naija getting cozy with her boyfriend and Youtube partner Clarence White, while she was pregnant with her second child.
The Shirelles – "Mama Said"
Get up a dance to this dash of 60s doo-wap! As it is, unfortunately, only two minutes long you're going to want to put this one on loop.
Meghan Trainor – "Mom"
This upbeat joint will have you bragging about mom all day long. "You might have a mom, she might be the bomb/ But ain't nobody got a mom like mine," sings Trainor. Included is an audio-clip of Meghan calling the song's muse, Kelli Trainor, just to say she loves her.
Ciara – "I Got You"
Dedicated to her son Future, Ciara coos the familiar melody of lullaby "Hush Little Baby" while sharing footage of them laughing and playing in the visuals for "I Got You". New mommy at the time, Ciara incorporates these stunning photos of her cradling the newborn baby and heading home from the hospital all smiles. Throughout the song she promises to protect him and to always have his back.
I'm not crying, you are.
---
To listen to the playlist on Spotify, click here.
Happy Mother's Day!
---
LiisBeth is an indie, all womxn-owned feminist media enterprise who is fuelled by reader donations.  If you enjoyed this playlist, share it!  And please consider supporting this work: [direct-stripe value="ds1554685140411″]
---
Related Reading
https://www.liisbeth.com/2020/02/25/family-first-meet-the-fecs-feminist-in-residence-for-march-2020/