MISSION FIRST.
LEADERFUL.
GENERATIVE.
MISSION FIRST.
LEADERFUL.
GENERATIVE.
As of April 1, 2023, LiisBeth is now governed by rabble.ca
CORE OPERATING VALUES
Fairness, transparency, collaborative decision making, community-led, and operate with a generosity of spirit.
Prioritize inclusivity, equity, and diversity.
We aim to be exemplary supporters of creativity and its value; we pay for work. No one contributes for free on LiisBeth.
Maintain high standards of editorial integrity and uphold journalistic ethics code as outlined by The Canadian Association of Journalists
To provide a safe, inclusive space for the LiisBeth Community
Apply radically inclusive governance principles (see bylaws here)
To grow to increase impact, plus achieve and maintain financial sustainability.
EDITORIAL CORRECTIONS POLICY
Our aim is to deliver the highest-quality, non-oppressive form of journalism possible and share the complete, unvarnished truth as best we can learn it.
We believe it is our ethical responsibility to correct all factual errors, large and small (even misspellings of names) promptly. 
If the error is substantive (i.e.: important contextual omission) and caused harm to any person or community,  we will work in a restorative way with all parties and with the writer's participation and consent, update the piece and post the apology and details of the correction at the bottom of the article as a note.  
WE PRACTICE RADICAL GOVERNANCE
Most nonprofits and for profits don't pay much attention to crafting accountable bylaws. They are typically written by lawyers or by template which serves to perpetuate a standard of as little board accountability as possible.  Lawerly advice suggests that an organization keep it simple to avoid the possibility of a stakeholder taking them to court over lack of compliance–because you see, bylaws are not policies (which can be implemented and changed anytime, quickly by management), they are the law of the organization. Stakeholders can hold organizations to account for bylaw breaches in court. We believe the practice of settling for weak, un enforecable bylaws are one of the most underleveraged tools for social change in the capitalist and legal system. 
But it does not have to be that way.
That's why LiisBeth spent over a year crafting what we consider to be the most radical bylaws ever written/ratified for a media organization–or any organization. In addition to lawyerly reviews, we also had several independent reviews by BIWOC and social justice leaders with deep experience with standard nonprofit governance.
If you are curious, you can check them out by downloading them here.  If you learned something from them of value, please consider a donation of $25.00.  We spent about $10K in legal, consulting and independent review fees on this work. 
Comments? Feedback? Bring it on!  Presentation on our governance journey for your board? Team? Email us at nick@rabble.ca 
OWNERSHIP AND EQUITY
rabble.ca is a Canadian nonprofit.  There are no "owners" or shareholders.
SOCIAL PROCUREMENT COMMITMENT
LiisBeth strives to do business with like-minded and values aligned enterprises. In making purchasing decisions, we prioritize buying from women, BIPOC, LGBTQIA2S led and 51%+ majority-owned firms. As a proxy for assessing commitment to gender equity, we ask all our large corporate suppliers to provide information regarding the percentage of women (1) employed in the supplier's organization, (2) in board, executive and senior positions, and (3) shareholders or any statements that demonstrate their authentic commitment to gender equity, inclusivity and diversity.
We source suppliers and source freelancers via the following networks:
AWBEN (Aboriginal Women's Business Entrepreneurship Network)
IWB (Immigrant Women in Business) members are automatically approved.
CGLCC (Canada's LGBT+ Chamber of Commerce)
CJOC (Canadian Journalists of Colour)
CanWCC (Canadian Women's Chamber of Commerce)
WeConnect International: WEConnect International is a global network that connects women-owned businesses to qualified buyers around the world.
WBENC: The Women's Business Enterprise National Council (WBENC) is the largest certifier of women-owned businesses in the U.S. and a leading advocate for women business owners and entrepreneurs.
TRANS Entrepreneur networks
BCCC: The Black Canadian Chamber of Commerce
LiisBeth suppliers who do no fall into one of our social procurement priority categories are all invited to (1) become signatories to the Women's Empowerment Principles (WEPs), or (2) sign the Voluntary Agreement to Promote Gender Equality and Women's Empowerment which is for companies with fewer than 10 employees (free) or, 3) Complete B Corp's Inclusion Challenge self-assessment (free) and submit the results. Self-employed suppliers are invited to complete the free Gender-Based Analysis Plus online course available here through The Status of Women Canada.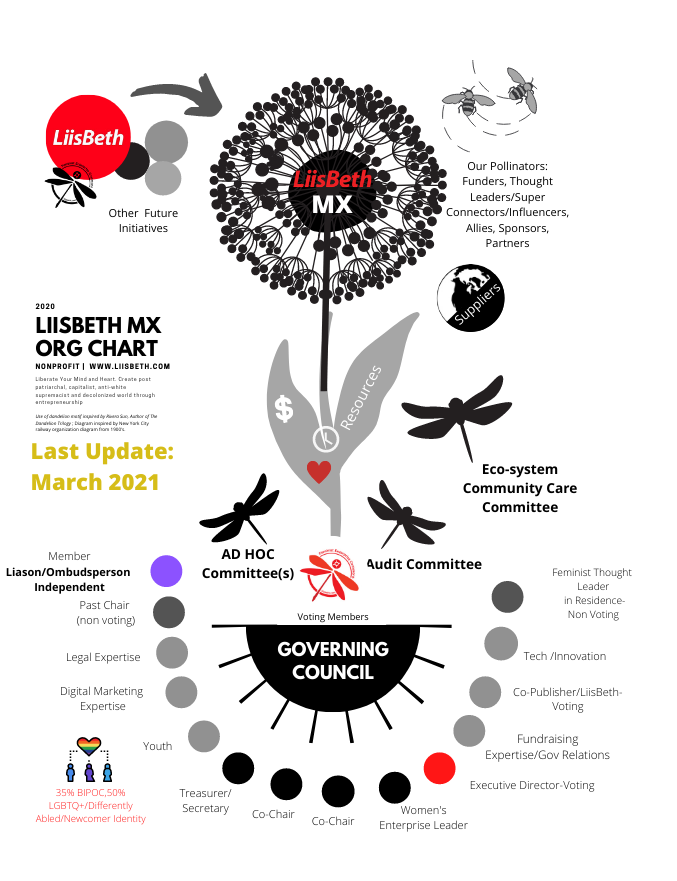 In vetting sponsorship requests, the LiisBeth community will carefully take into account the enterprises' alignment with our mission and values. LiisBeth sponsors, like suppliers, are also invited to (1) become signatories to the Women's Empowerment Principles (WEPs) for companies with more than 10 employees), or (2) sign the Voluntary Agreement to Promote Gender Equality and Women's Empowerment (free), for companies with fewer than 10 employees, or 3) Complete B Corp's Inclusion Challenge  self-assessment (free) and submit the results. Transparency will be paramount in all our dealings with our subscriber base and identified stakeholder group. 
Ready to sign up as an ally? Click here for more all the details and choices!