You are visiting Liisbeth's archives!
Peruse this site for a history of profiles and insightful analysis on feminist entrepreneurship.
And, be sure to sign up for rabble.ca's newsletter where Liisbeth shares the latest news in feminist spaces.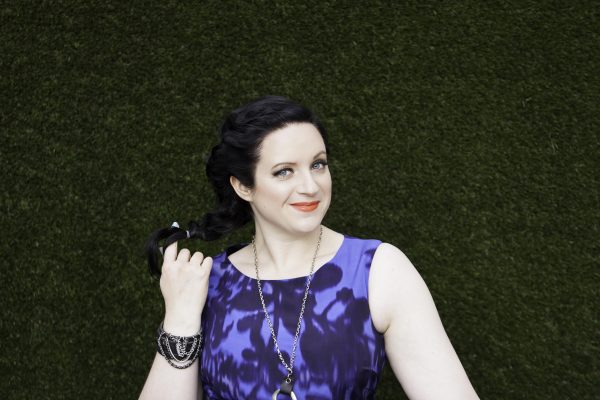 During a dark period in Katrina McKay's life many years ago, she visited a temple in India dedicated to Lakshmi, the Hindu goddess of prosperity. The only visible foreigner, and unfamiliar with local religious customs, she was overwhelmed. When she reached the temple's altar to offer some crumpled bills, two poor women handed her flowers and treats to leave instead. "I felt so loved and so connected," McKay recalls.
A thought occurred to McKay: "I want to be a living Lakshmi." At the time, she didn't know how she would accomplish this, but she was determined to create some kind of abundance for others.
Today, the serial feminist entrepreneur and founder of Uplevel Solutions, a provider of outsourced business services for startups and emerging companies, is on her way to fulfilling her mission. She has created sustainable employment primarily for women in the Philippines, while helping entrepreneurs in Canada and other developed countries grow their own enterprises.
The Path to Entrepreneurship is Rarely Straight
I met with McKay at The Spoke Club, a private club in Toronto, to talk about her entrepreneurial mission. The 35-year-old CEO nestled into a chair beside a sunlit window and looked, well, decidedly anti-corporate: long black hair, a nose ring, and the word "Sisu" (Finnish for "will") tattooed on the back of her neck. Indeed, she describes her path in business as circuitous.
Her start was rather traditional, however. Grew up in a prosperous family in Mississauga, a city just outside Toronto. Attended Appleby College, a private school. Looking back, she says she was always an entrepreneur at heart. "I know that's super cliché," she says, adding that even as a kid, she was always trying to create value in the world, starting an environmental club and organizing charity fundraisers at her school.
Yet, she steered clear of business, pursuing a degree in French literature and philosophy at the University of Toronto, graduating in 2005. At the end of her first year, she took another unexpected detour, falling in love with an Australian who was in Canada on a holiday visa. "I didn't have little girl princess dreams of being in a white dress," McKay says. She married at the age of 20 so her boyfriend could stay in Canada. She also thought she could help him overcome his mental health challenges. "I believed I could love him more than he hated himself."
After graduation, McKay worked in various fast-paced and demanding marketing roles in small and medium-sized enterprises (SMEs). "I was bright and inexpensive," she says. When her bosses had an idea, she ran with it. Looking back, she says, "I was living entrepreneurship. It just wasn't my company."
But as McKay's husband deteriorated mentally and physically, she decided to join a major Canadian health charity in 2009. It was a conservative, bureaucratic environment for a progressive go-getter like McKay, but it provided her with a steady salary, benefits, and predictable hours. This allowed her to fulfill her "strange role as housewife and also breadwinner."
Despite her efforts, McKay could not save her husband. He died by suicide a year later. "Super dark," she says of that time. "There is no playbook for being a widow at 27."
She also struggled in her job, which had become "soul sucking," especially since the sole reason she was in it was gone. She thought, "I refuse to be stuck."
So McKay started to moonlight.
Creating Your Own Opportunities is Key
In 2010, McKay launched Ohhh Canada, an online shop for sex toys and apparel. This entrepreneurial venture, she says, was about celebrating life after what had become a sexless marriage. "Sexual empowerment is a big part of healing," she says.
She also started freelancing as a marketing consultant for SMEs. However, she didn't quit her day job just yet. "There is this idea among some entrepreneurs that you are only a real entrepreneur if you burn those bridges, cut those ties, and put things on a credit card," she says. But McKay is pragmatic; she knew the value of a steady paycheque to finance her dreams.
But by 2011, the juggling of a salaried position and her side businesses became too much. McKay fell into a loving, stable romantic relationship (they're still partners). There was no personal care-taking involved but she regularly worked 100-hour weeks at her various ventures and was exhausted. "My partner would ask, 'What do you want for dinner?' and I would burst into tears."
What little time she had to herself was quickly filled with invitations to lunch from marketing clients and people in her network who noticed the sudden growth of Ohhh Canada. They wanted to pick her brain about how to fix their own company or launch an e-commerce business. She said sure for a while then realized, "Wait a minute. What I'm actually doing is coaching." So she expanded her marketing consulting business and added business coaching to help entrepreneurs realize their entrepreneurial vision.
But McKay became desperate for any help to lighten her load. She tried hiring locally but found it difficult to attract and retain talent as a small business. "It was expensive for my little fledgling business when I was trying to put money aside to quit my full-time job." People would quit and she would be back to square one. "It's a gig economy," she says. "How much loyalty will they show you when another employer offers more hours or money, and a more enchanting opportunity?"
That's when the idea of hiring a virtual assistant dawned on her. She had trained virtual teams in India before for a client in the conference marketing industry. She thought, "Why am I not doing this for myself?" She advertised for Ohhh Canada on an outsourcing site. Metchell Jackson, a Filipino woman in her early 30s living in Dumaguete City, answered her call.
Jackson, an IT graduate, was doing outsourcing work in the call centre of a large retailer at the time but says her "brain cells were dying." She was intrigued by the opportunity to work with a female entrepreneur, especially one working in the sex business. "I'm very open-minded," she tells me via Skype. "I have a different view than regular Filipinos. They view [sex] as taboo and bad."
McKay conducted a job interview with Jackson via Skype and the two said they loved each other instantly. "It sounds so cheesy but it's true," McKay says.
When McKay asked her to work full-time, Jackson jumped at the chance. "I believed in her mission." Jackson initially provided customer service for Ohhh Canada then became McKay's executive assistant for her coaching business, interacting with clients virtually. Soon clients began to ask McKay, "How can I get access to people like Metchell?"
McKay realized her clients faced the same business challenges she had in finding competent, reliable help that they could afford. That's when yet another entrepreneurial idea hit McKay.
Creating Opportunities for Others is Good for Business
In 2013, McKay launched Uplevel Solutions. By then, she was doing well enough to bootstrap the non-profit on her own.
It helped that Jackson was her "boots on the ground" in the Philippines, sourcing talent there. Uplevel currently has more than 30 team members, mostly women in the Philippines. It also employs a handful of people in Toronto, led by McKay, who focus on strategy development and management of the business.
McKay has now brought all of her ventures (outsourced business services, marketing consulting, and business coaching) under the Uplevel Solutions banner. She says Ohhh Canada is currently on "hiatus" as she repositions it. Typical clients of Uplevel bring in revenue ranging from $250,000 to $1.5 million. "This is our sweet spot," says McKay.
Her clients are mostly headquartered in Canada, the United States, Australia, and the United Kingdom. They pay US$5 an hour for virtual administrative support, which generates about 70 per cent of Uplevel's revenue. The other 30 per cent is comprised of more strategic services such as marketing consulting, public relations, and business coaching (at $2,800 per day).
Half of Uplevel's clients are female entrepreneurs. Shannon Crane, the founder of Brass Vixens in Toronto, turned to McKay for business coaching when she opened the first of her four pole dancing studios in Toronto six years ago. Back then, she says she was doing everything ("I cleaned the bathrooms, I was answering the phones, I was teaching classes"). She had struggled to find good help since she couldn't offer predictable hours. Some weeks required 20 hours, other weeks only two. "People weren't banging down my door [for work]," she says. And as a self-described "control freak," she struggled with the idea of outsourcing, which requires sharing sensitive information such as passwords with people she had never met. But she trusted McKay and decided to give it a shot.
She was initially surprised by the low rates. Before signing on, she sought confirmation that Uplevel's employees are paid fairly and the company helps women be successful in their communities. "It's important for me to align myself with other businesses who are not only like-minded but are also very female positive," she says. Now, Crane relies on Uplevel for administrative support such as webmaster services.
McKay says that many of her clients would not be able to afford help at all while starting their businesses, even at minimum wage rates in Canada. In the Philippines, Uplevel is able to pay well above that country's minimum wage, which McKay says varies between rural and urban areas. Her company also pays for training during probation, which is less common in the Philippines. Jackson, McKay's original hire, is now a manager, earning almost five times what she made in her previous call centre job.
It's not just the ability to afford help that makes outsourcing attractive to Uplevel's entrepreneur clients. They often don't have the time or inclination to find the right talent, invest in training, and deal with thorny HR issues such as performance problems. "I love leading and training people," McKay says. "And in some cases [entrepreneurs] just don't have the time to do that. It's a hassle they don't really want to be adding to their life or their business."
As McKay says of many Uplevel clients, "They need to pass some of [the work] off so they can go out to do what they do—continue to grow their empires."
Staying True to the Mission Takes Work
McKay acknowledges that a stigma has developed around outsourcing due to the exploitation of foreign labour, poor work quality, and the perception that it takes jobs away from Canadians. She says her company has to work hard to overcome that stigma. To her, she sees outsourcing a little differently; it's a way to give women a leg up in developing countries.
"There aren't a lot of opportunities for brilliant and talented women," she says, pointing out that many Filipino women move to Dubai or Canada to work as nannies and send money home to support their own small children. "It's heartbreaking."
Jackson, who does most of the recruiting, has a bias towards hiring women. "Because in the Philippines, it's like they are stuck to be like a wife, nothing more," she says. "I want to change that."
One of Jackson's recruits is Edna Viola, a neighbour. The 23-year-old single Filipino mother had dropped out of teacher's college after becoming pregnant. "I imagined myself teaching," she says. "I so loved children." Instead, she returned home with dim prospects to her parents, who worked as subsistence farmers.
She was considering taking a job at a call centre but it entailed risky night travel. "There are a lot of robbers and bad guys out there," she says. She was relieved when Uplevel offered work. Though she has to work similar hours, from 10 p.m. to 7 a.m. to coincide with North American business hours, she is able to do so safely from home, which also allows her to be close to her son. She also saves on the cost of travel and work clothes.
Viola, like all new hires, started with non-client-facing work. Her skills and attitude were assessed during an eight-week paid probation period, then she was given a development plan, which involved meeting with McKay or another senior manager to discuss past performance and future aspirations. Viola is now a team leader. When McKay first approached her to take on the role, Viola said, "Oh no, I can't do that. Can you assign to other people?" McKay was adamant. "No, you can do it; we believe in you."
For McKay, investing in people is important. While all new hires have to be competent in written and spoken English, Uplevel offers internal coaching to support advancement and external resources such as English teachers to help managers communicate with greater professionalism. Employees can receive paid time off to volunteer in the community as long as it is not for political or religious organizations.
Perhaps what is most unusual for a virtual company is the sense of team McKay strives to create. She makes quarterly video calls with everyone in the company. "The team loves that," says McKay. She also travels to the Philippines annually to bring people together in face-to-face meetings. "We ask how people are feeling and we actually care. Don't get me wrong, we get on to business; we talk numbers; we talk progress reports and spell out KPIs but we are a people-based business."
She encourages employees to talk about their life mission at every meeting. McKay takes pride in how people's missions have changed since joining Uplevel. At the start, Viola's was to support her family and afford a birthday party for her son. Supporting her family remains her priority but she has begun to dream bigger, setting a goal to travel to Paris. "Her experience and understanding of abundance has changed dramatically," McKay says.
Uplevel distinguishes itself from other companies providing offshore talent in a key way, according to David Creelman, a corporate consultant on human capital management and co-author of Lead the Work: Navigating a World Beyond Employment. He says not many companies leveraging technology to build virtual teams invest in people the way Uplevel does. "I would say this is unusual," he says.
Creelman explains that the more standard practice is for North American employers to treat people as dispensable freelancers—even though investing in creating a stable team and a high-involvement culture is a high-performance model. "It's an interesting competitive strategy that McKay is adopting because we do know if you can pull off a high-involvement work culture, it's very productive. There is good research on that."
But Creelman adds a cautionary note: "The evidence also shows that [a high-involvement culture] is hard to sustain and most companies that try it eventually give it up." Short-term financial pressures often cause managers to lose sight of longer-term strategic benefits. "They start cutting back on training, take career pathing less seriously, and find ways to cut back on compensation and benefits."
McKay is determined not to let that happen. She says she is not in this business for a quick win. A key part of her mission since her encounter with the Hindu goddess of prosperity so many years ago has been to create abundance for others, though she admits Uplevel was an unexpected way to go about it. "I did not set out to create a business-support services company," McKay laughs. "How unsexy is that? Yawn. I go from sex toys and lingerie to business support services?"
But her mission continues to fire up business. Uplevel's top-line revenue has grown steadily, about 25 per cent annually. In the next twelve months, McKay anticipates doubling that, in part by partnering with other service providers to expand Uplevel's range of services. She wants to be the "go-to company for entrepreneurs looking to grow their company."
She also wants to live up to the ideals of another hero, Richard Branson. "He always says he takes care of his employees first and then relies on employees to take care of clients," McKay says. "I feel the same."
---
You are visiting Liisbeth's archives!
Peruse this site for a history of profiles and insightful analysis on feminist entrepreneurship.
And, be sure to sign up for rabble.ca's newsletter where Liisbeth shares the latest news in feminist spaces.