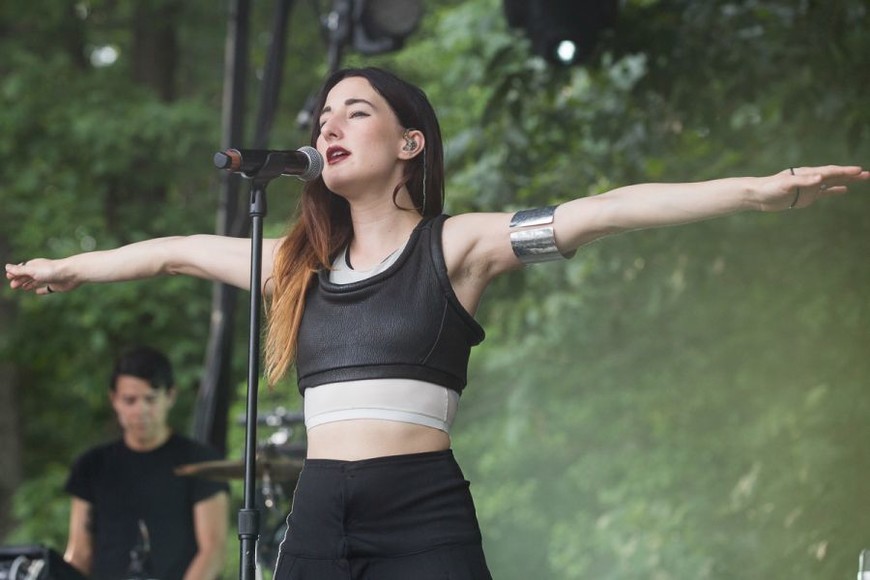 https://www.liisbeth.com/2017/08/31/honouring-labour-day-playlist-pushes-boundaries/
September is here, an ambivalent time of the year for many. Summer is winding down, along with its warmth, weekend getaways, and all the friendships and romances that emerged from the woodworks in those expansive months. But September, in this annual cycle, has always been a time to dig in. We come back to our initiatives, our priorities, and we reconnect with the people in our lives who are part of our structures and commitments. We land back into our communities and routines.
For the team at Venus Fest, September is the culmination of our work. We've worked on structures and priorities that we can be proud to land back into and that support a feminist, intersectional, and thriving ecosystem for our social future. This is how we will repair a lost sense of connection in our communities and a more welcoming space for everyone.
The following is a playlist of songs from artists that are showcasing at Venus Fest this year, artists who are repairing these connections and sharing a vision of feminism with their followings and communities.
Zola Jesus, "Siphon"
This song is a beautiful call to life. Zola Jesus sings of remembering the light in someone's eyes and insists that "we won't let you bleed out." The lyrics are like a redemptive poem that speak of our ability to find connection, to remain connected, and to lift each other up through this connection.

Vallens, "Devour"
Vallens have delivered twisted grunge rock to Toronto's music scene for several years. Singer Robyn Phillips brings moving themes to her lyrics with commentary on consent, the male gaze, and in the case of "Devour," she's given us a beautiful contemplation on cultural concepts of beauty that time might devour as we mature.

Maylee Todd, "Downtown"
Maylee Todd has been a pillar of Toronto's music community for over a decade now, from her lush disco soundscapes, to her Ableton Live workshops geared towards women and artists of colour, to her virtual womb installations and much more. "Downtown" is a perfect showcase of Maylee's style: shimmering melodies over a fully costumed scene with a healthy dose of the bizarre.

OSHUN, "Parts"
Brooklyn natives OSHUN, named after the goddess of water, have been making soulful music for years but recently released their first LP to well-deserved reception. The video shows the duo continuing to elevate and honour their goddess nature even when confronted by the confusion of others.

Moor Mother, "By The Light"
Moor Mother has had a long history in her career of powerful rap music built with an earthy feel and a deconstructed honesty. I imagine "By The Light" to be a connecting piece between the binding chains and ancestral pain in the song and the light that still exists within each person, a light that keeps us going and connects us all.

Bully, "Guess There"
This is a video about your average lonely, suburban snail. "I guess there could be something I'm missing," sings frontwoman Alicia Bognanno in a nod to the isolation and lack of connection inherent in Western culture. It's an honest look at the monotony of routines that we can get trapped in and the disconnect it causes.

Partner, "Play The Field"
If there's a Canadian band right now that brings connection to every show it plays, it's Partner. They have an amazing ability to relate to their audience and as a result, their music brings a lot of warmth to listeners and the community that gathers at their shows. Here's a funny song about a cute woman that makes them want to "play the field."
bully gue
Ora Cogan, "Moonbeam"
Ora Cogan's "Moonbeam" video seems to be the perfect visual representation of her unique sound: ethereal and soul stirring with a sense of longing and a wash of darkness. Ora has been building her craft over several years and has created a healthy handful of albums with a true DIY spirit that pioneers her path in music and her relationship to her audiences.

TiKA, "All Day All Night ft. HMLT"
This powerful song by Toronto/Montreal artist TiKA is a prayer to freedom in the face of a constant threat against Black lives. "All day all night, I have to fight to keep my balance but I'm right here," she sings, answering to a world where oppression still exists all day and all night, alongside the truth of her personal freedom.

Isla Craig, "Gregory (Live)"
You may recognize Isla Craig's soaring voice from having graced the albums of Jennifer Castle, US Girls, and many more. Her own music has always been a treasured, albeit rare presence in the Toronto scene. However, Isla has returned this year with her album The Becoming, a testament to the strength of a local artist who has built community and connection around her music, and can re-emerge after several years with something entirely fresh and inspired.

---
Did you enjoy this playlist!  Good news!  Good news!  We have more! You can also find LiisBeth on Spotify! 
https://www.liisbeth.com/2018/03/15/a-change-makers-playlist/
https://www.liisbeth.com/2017/08/31/honouring-labour-day-playlist-pushes-boundaries/
https://www.liisbeth.com/2017/07/11/summer-reset-playlist-feminist-entrepreneurs/
https://www.liisbeth.com/2017/02/13/cure-chaos-playlist-feed-heart-mind/