You are visiting Liisbeth's archives!
Peruse this site for a history of profiles and insightful analysis on feminist entrepreneurship.
And, be sure to sign up for rabble.ca's newsletter where Liisbeth shares the latest news in feminist spaces.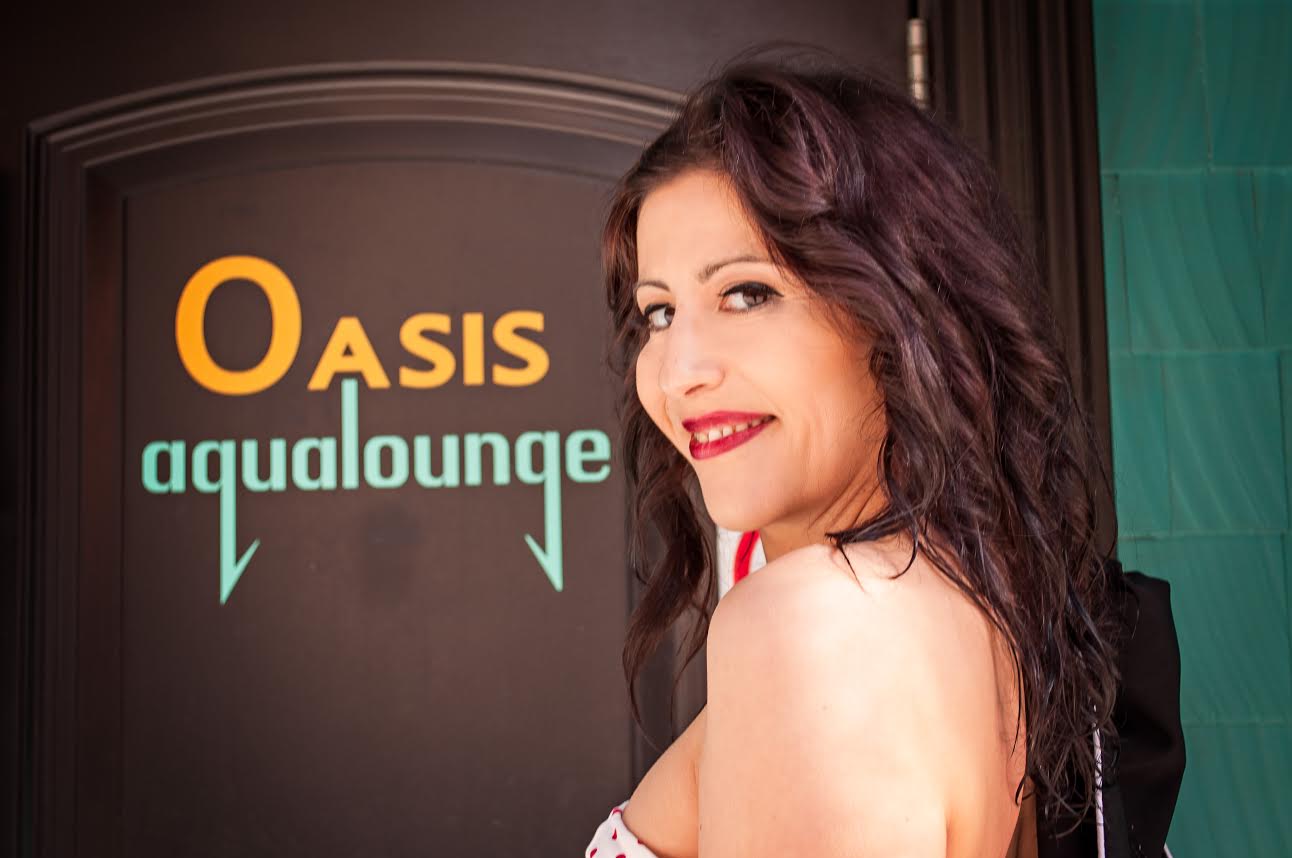 Judy Kaye drinks coffee at a quiet café a few blocks from Oasis Aqualounge, the upscale sex club she and her husband Richard opened in 2010 as the majority owners with other partners. The 48-year-old mother of three is dressed smartly in black with glasses perched on top of her head. She laughs as she calls the creation of the female-positive, sex-positive club "our mid-life crisis business."
As successful business people, Judy, who holds an executive MBA from Queen's University, and her husband came up with the idea for Oasis after frequenting swingers' clubs themselves. "I think entrepreneurs spend a lot of their time looking at other businesses and saying if they owned this business they would do this, this, and this," she says. For her, the "this" was a club that would be open during the day, offered more than drinks and dancing, and allowed sex on the premises.
They also envisioned an environment that wasn't just for swingers but that really catered to women—single or with any orientation of partner(s)—who wanted to safely explore their sexual fantasies without judgment or pressure to undress or have sex. "We felt that there was a lot of shame in our world around expressing sexuality for women," says Judy. "This was an aspect of people's lives that so many keep hidden and locked up and don't nurture." She meets more men than women who are comfortable with nudity and sexuality, perhaps because men have so many more spaces for exploring their desire. Oasis is trying to change that. "We get a lot of sexually confident women, which is absolutely amazing, but we also help women become sexually confident."
Oasis proved the perfect name for their club since it could also serve as a mini-escape for busy couples with only a few hours to spare. As a parent, Judy knows how hard it is to get out of mommy mode: "It's like, 'Who's got a cough? Where's hockey? Who needs a snack?'" She felt there was a market for couples who wanted to find a deeper sense of intimacy in a sex-positive environment. She believes Oasis saves marriages because couples who enhance their sex life can deal with problems better. "If you're not getting along with someone, then every little irritation seems magnified."
They imagined opening a small place until they came across a 2,700-square-metre dilapidated heritage mansion (formerly a gay bathhouse) east of Maple Leaf Gardens in Toronto, on the corner of Carlton and Mutual Streets. "We could see the possibilities," recalls Judy, who negotiated a long-term lease. The club has many amenities, including a heated outdoor year-round pool, hot tub, steam room, sauna, bar, dance floor, and several adult playrooms such as the Shaggin' Wagon and Dungeon.
What's the Big Deal about Sex?
Today, Judy and her husband focus mostly on strategic management and building a great team to support Oasis' rapid growth while their five other partners, all full-time employees, assume day-to-day management and administration. At startup, the sexpreneurs found that swinging deals presented a major challenge. "There was such a stigma against this type of business," says Judy. Banks shied away, which forced them to finance Oasis themselves, including $500,000 in renovations. "We used our entire savings, mortgaged our house, maxed our credit cards, and borrowed from family," says Judy.
They also had to secure a second-tier processor for credit card transactions because major banks wouldn't issue them. "We knew that if we were going to be the premium brand, we couldn't be a cash-only business," she says. Finally, TD came on board, even holding the 2016 Pride Toronto press conference at Oasis to recognize the 35th anniversary of the infamous bathhouse raids by police, one of which took place at the very bathhouse Oasis took over. "That was a huge honour for us," says Judy.
Getting a municipal bathhouse license also proved difficult as this was a first for women and their partners. Previously, women's events that were held at men's bathhouses operated under their own licensing. "Everything [the city] knew was based on men," says Judy. "The municipal licensing people were not sure what category to put us under." They even had to jump through hoops to get the liquor license, undergoing criminal checks since they hadn't run a bar before.
Marketing also presented challenges. The Toronto Board of Tourism denied their application to join even though Oasis' newsletter had a worldwide circulation of more than 20,000 readers. "They claimed they didn't have an appropriate category to place us even though they have 'fun things for couples' and 'night entertainment,'" says Judy. "We pay our taxes. We pay employees well. We have a health plan. This is not some cash-only, back-door kind of thing."
It even proved tough getting customers who were "huge repeat customers" to be ambassadors for the club. "We would say, 'Tell your friends,' and they would say, 'Are you kidding?'"
To spread the word, the club created AquaFlirts, a promotional team that marketing director and events producer Fatima Mechtab describes as her "sex-positive, fun, flirty staff." The AquaFlirts attend trade shows and community events such as The Everything To Do With Sex Show, Sexapalooza, and Pride. Says Mechtab: "We've never shied away from who we are, never. We really embrace sex-positive, body-positive, liberal values. We are so open and willing to talk to people."
Oasis is winning people over, and more and more visitors are now being referred by friends. In the early months, they were only open Thursday to Saturday and averaging 50 paying customers per week. Today, they are open seven days and averaging 1,000 customers per week. Annual revenues grew by more than 20 per cent last year, reaching nearly $2.5 million.
The sex club's growing popularity is also helped by popular culture such as the 50 Shades of Grey franchise. "I feel like conversations around swinging, polyamory, and sex clubs have really become more prominent in mainstream media," says Mechtab.
Events + Education = Diverse Fun
It wasn't difficult to convince swingers—typically heterosexual couples—to try Oasis. "A new sex club? Let's go," was the response. But financial viability demanded a larger market and now six years later, customer surveys show that the majority of customers are not interested in swinging. To survive, Oasis has succeeded in creating a social club where folks can chat without pressure to have all kinds of sex, or any sex, without shame. "It's not just sort of an anonymous sex club with rooms where you don't see anybody," Mechtab says. "The whole experience at Oasis is not just about the sex. It's about the entire atmosphere and vibe."
The club hosts diverse events that appeal to a wide range of interests. These often have a sex-education component that also acts as an ice breaker. Oasis After Dark, for example, is for BDSM lovers; Down to F*ck serves women craving sex with multiple men; Spectator Sex caters to couples who want to "perform" in front of an appreciative audience.
And then there is Sapphic Aquatica, exclusive events for women and trans people. "That's my baby," says Mechtab, who identifies as gay. "There isn't a lot for women as far as this type of environment goes, but there is nothing for queer people and trans folk." Stressing that trans men and non-binary folks are also welcome, Mechtab launched Sapphic Aquatica shortly after joining Oasis in 2012. She throws an anniversary party every January featuring such activities as Sybian rides (a high-powered vibrator operated by a trained staff member that is straddled to achieve orgasm) and fundraising for LGBTQ causes.
Sex educator Luna Matatas says Oasis is the only sex club she knows of that integrates education into its events. While some of what Matatas teaches at Oasis is technique, such as how to use sex toys, the more important lesson for women is building sexual confidence. "We are experiencing oppression and shame on multiple levels about pursuing the kind of pleasure we want," she says. Sexual fulfillment has important benefits for women's emancipation. "You expand your range of expression and emotion through doing a lot of sexual creative things," says Matatas, noting that this serves women well in spaces beyond Oasis.
Compassion and inclusion are important lessons, she adds. "It's not just about you getting what you want. You need to create a safe environment to invite everyone else to get what they want too," explains Matatas. Unicorn Night, where a "unicorn" or single woman plays with a couple, is Oasis' most popular event. Matatas has taught couples how to swing with a unicorn so that they don't regard her as "some sort of stunt vagina" and facilitates "meet and greets" for unicorns so they can feel comfortable and enjoy special pampering such as complimentary glasses of champagne before their sexual encounter.
Matatas also helps women challenge their own self-limiting beliefs. As a self-described "chubby, curvy, queer, brown woman," she is a role model for how women can embody their own kind of sexy. She makes a point of dressing up to "present sexy" at Oasis' workshops; some women have even approached her to ask what dress size she wears. She can confidently convey: "Fat people have sex too and we have good sex."
Turning on to Safety
Clothing is optional at Oasis so people walk around in various stages of undress. But while one may envision an unruly Animal House, there are strictly enforced rules to guide the play. There are 13 rules printed in several languages and presented via video by a stiletto-clad vixen. They're even read out loud to new guests to make sure everyone understands.
Rule number one is "No means no." But can't "no" mean "yes" in a sexual context? "Even if you are acting out a sadomasochistic scene, staff and managers have to see that conversation is happening," Mechtab says. "You need an affirmation that your action is okay with that other person." What about hugging? Mechtab admits she's a hugger by nature, but even that's a no-no without expressed consent. "We're a space where people are naked, intimate and maybe haven't been to a place like Oasis so you don't know what could trigger them. In our business, only yes means yes."
Differential pricing also maintains civility and balance in numbers. "It's an economics thing," says Judy. Oasis tried gender-neutral pricing but that disproportionately drew more men, causing both men and women to complain. Single men now pay a premium (and are restricted from the club at certain times) while some days, admission is free for women and trans folk. While some men complain about the preferential treatment of women, Oasis is firm they are doing the right thing. "We believe that having a space that is very safe and comfortable for women, and where women's needs are paramount, is good for both men and women," says Judy. After all, when women feel happy, confident, and safe, they are less ashamed of wanting sex and exploring their sexuality, which makes men happy too.
Happy Employees = Happy Customers
Oasis' engaged workforce of 40 people also works hard to create a good vibe. "We don't hire based on experience," says Judy, pointing out that you may get a better Caesar elsewhere but having a bartender with sex-positive values and who supports women matters more. Many of the staff frequented Oasis before joining the payroll.
Staff range from university students (the University of Toronto's Sexual Education Centre's 2013 party attracted many that would become regulars) to more mature employees such as Teresa, a trim, ginger-haired grandmother who says Oasis is "like home." She says other sex clubs she visited were "cliquey." "If you didn't look pretty enough, they wouldn't let you in," she says. Teresa recalls a "bigger lady" asking her whether she would be allowed into Oasis, and she offered this reassurance: "We do not discriminate. We have people from big to small."
Teresa, who started as a cleaner, now co-hosts an event with her husband called Cum Give it a Shot, which educates people about squirting (female ejaculation at climax). It's a team effort. Teresa helps women relax ("I will kiss them and play with their boobs") and her husband demonstrates the right technique. "He's got the magic touch," Teresa says, proudly noting that not every guy can make a woman squirt. "I can go about four feet. Last time I did it, I had a target."
Oasis encourages staff to share interests and propose ideas for new events, such as a burlesque party that was organized for a birthday. Many of the marketing posters feature staff rather than stock images. "We would do more if we had people willing to do more, but there's privacy issues," says Judy.
Oasis also organizes staff road trips to check out other clubs—both for new ideas and bonding—and outings such as naked bowling and nude polar bear dips on New Year's day. "How many staff like their jobs so much that they want to go there when they're not working?" asks Judy.
Creating a Sexy Legacy
"Finally, this year we feel like we can say this is a successful business," Judy smiles, emphasizing that it has been a team effort. This optimism serves the entrepreneur well. "You always have to see the good side of something in order to break through all the pain it takes to get there. It's kind of like having a baby."
Sticking it out has been hard at times, but they have already established a legacy in creating a space that champions new attitudes about women's sexuality. Feedback such as "I've never felt so comfortable in my own skin" bring tears to her eyes. "Because that's the point," Judy says. "Whatever I am, I am sexy."
---
Related Article:
Swinging offers sexual freedom, but you have to play by the rules (Toronto Star, Feb. 7, 2017)
You are visiting Liisbeth's archives!
Peruse this site for a history of profiles and insightful analysis on feminist entrepreneurship.
And, be sure to sign up for rabble.ca's newsletter where Liisbeth shares the latest news in feminist spaces.