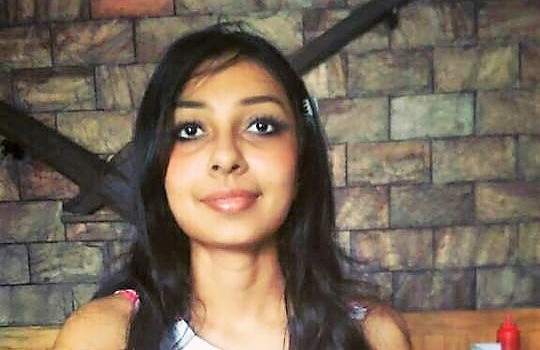 "I need help making something important happen." That's the first line of a letter written by a 20-something woman from Gujarat, India, who wrote to LiisBeth out of the blue. Dharaa Patel, a Hindu, entrepreneurial millennial, hoped we would publish her letter about her mission: to advance South Asian women's financial independence as a necessary first step in any efforts to advance gender equality in India. She considers herself a feminist but is fearful of calling herself one.
Patel does not speak much English. She does not have a laptop, only a smartphone and was nevertheless persistent. She has been following LiisBeth on Facebook and on World Pulse, an international social network for women who want to create change.
The act of writing a feminist business publication in Canada with her story is both deft and audacious—qualities we admire!  Publishing her letter is our way of saying, "You go girl!"
If you thought that South Asian women were making consistent progress, this letter will help you think otherwise (#weshouldallbefeminists).
---
Dear LiisBeth,
Indian tradition is beautiful sometimes, but not always. In our tradition, household work is the responsibility of women and financial matters are the responsibility of men. No one officially imposes this division of duties, but all agree that it was the prevailing system when life in India was ruled by "satyug" (India's traditional culture). Growing up, we hear that according to history and tradition, married partners are always loyal to each other and work on equal terms as family to survive and thrive.
But it turns out that this is not the reality now. Indian culture and traditions are referred to when convenient, to keep mostly women in line with the promise of love, safety, and happiness. But the reality is that even today, the majority of women face dowry demands, domestic violence, rape, the questionable honour of being the second sex, and discrimination since childhood.  The vast majority of women in India are housewives. They are not allowed to do work after marriage for one reason or another. Crime against women in their own homes is high because it's very easy to exploit a dependent person as she has no choice but to bear it.
Yes, we have laws against such abuse and behaviour but you have to ask any woman what she has to endure to get justice or to exercise her rights. It's a nightmare.
Now my point is that we forget that many of our teachers believed in women's rights, but we continue to be stuck on the idea that women need to be kept and controlled. From early childhood, we raise both genders with discrimination. The birth of boys is celebrated. I haven't ever seen any parents celebrate their daughter's birth. Girls have always been unwanted children especially when one daughter is already there. After a government campaign, the girl birth ratio has increased. But this is because there is a ban on fetal sex determination and abortion, not because girls are suddenly more wanted and respected.
Girls have to help the mother in the kitchen, no matter what she has done or if she has attended school all day. Boys do not need to help after school because they may be tired and well, they are boys. We bring up both in different ways. One has to be responsible. The other has all the freedom. Girls are reminded daily that they have no right to ask their mothers to pamper them with time off as they will one day have to go to someone else's house (husband's house) to do housework for them and their families.
While the education of girls has increased, with many receiving degrees in engineering or MBAs, girls are mostly educated to help them attract a good husband. Ironically, the more educated you are, the less likely you are to attract a groom because, in the end, they prefer to go for a girl who can just manage housework, take care of his parents, kids, and do not wear modern clothes for fear of attracting other men. Dowry is technically prohibited. But in reality, if parents make it clear that they are not going to spend much rupees on the new family following their daughter's marriage, the family and daughters believe they are leaving the prospect of marriage to chance.
Tradition demands that parents of girls offer expensive gifts, gold, or cash to the groom's family if they are going to allow their daughter to stay at their home. I have seen many families who try to get knowledge of how much gold the girl's father was going to give in advance by working their networks.
Marriage in India still means financial security and a place to live for most women.
After marriage, once the new daughter-in-law joins the new family, all other (women) members retreat or retire from household work, leaving it up to the newcomer to carry the load. This kind of mentality always leads to a life of hell and the lost potential of young women and their dreams. Rich families and their daughters may not suffer more as they have maids. Middle-class women have to suffer a lot. Our male-dominated society and systems compel women to choose only this path.
Recently I visited a marriage bureau and witnessed them talking to a boy from an affluent family who wanted to place an order for a highly educated girl who can take care of his parents. She would not be allowed to work. He made it clear that he wants a girl who is kind, down to earth, and one who will obey the orders of the husband and in-laws.
So it's clear why society confronts and shames working women. Society feels threatened by working women, and would rather that they stay at home. However, women in our society view work outside the home as prestigious. It is a chance to become financially independent and expand their range of life choices.
How can we help women try to escape from this cultural expectation and situation?
Financial independence through work is the answer. I want to encourage and help other women to bring about change in India. I plan to do this by producing a film that tells our stories. And I hope to get in touch with filmmakers and other organizations who can help me in my project. I hope some of the women in the LiisBeth network anywhere in the world can help put me in touch with those interested.
If my generation will take the first step, then we can help the next generation take it even further. Change will happen. Gradually.
If you would like to help, you can contact me at dharakpatel10@gmail.com.
Thank you!
---
Note from LiisBeth: India currently ranks 87th on gender equality according to the World Economic Forum's 2016 Global Gender Gap Index (Canada ranks 35th and the U.S. is 45th). Recent studies show that women's participation in India's labour force has actually decreased from 42% to 31% as educated urban career women are choosing not to work in order to adhere to traditional values. Patel herself worries that her non-traditional views on gender will diminish her chances at marriage. Women earn 56% of what their male colleagues earn for performing the same work.
---
A list of select readings recommended by Dharaa Patel: 
Why are millions of Indian women dropping out of work?: BBC News, May 18, 2017
No role reversal yet! Study shows 64% Indians think women are meant to be good moms, wives: The Economic Times, May 18, 2017
Home is where we must start to dismantle patriarchy: Video Volunteers, March 8, 2017
Related Readings by LiisBeth
https://www.liisbeth.com/2016/12/21/dimple-mukherjee-finds-voice-founds-business/
https://www.liisbeth.com/2016/05/13/meet-mithula-naik-feminist-designer-latent-entrepreneur/