There's a reason people kindle romance in bars: they hope alcohol will soothe their first-date jitters. For Haritha Gnanaratna and Audra Williams, booze wasn't an option. Gnanaratna was a professional bartender, but Williams, a writer and media personality, had never had a drink in her life.
"People get really defensive when I say I don't drink," says Williams. "They think it's about them, like I'm judging them just by being sober." But Gnanaratna saw her choice not as a hurdle to overcome but a new bar to reach. Says Williams: "He made me the most delicious non-alcoholic cocktail on our first date."
That zesty drink—smoked black tea swirled with celery cordial, cardamom, agave, and lemon—was the beginning of their romance, and a new business venture, Temperance Cocktails, launched in September 2018. They split tasks, with Gnanaratna focusing on product design and testing, and Williams on communications and marketing. They both liked coming up with drink names, playing off tarot cards (The Fool, The Hierophant).
Williams, a former speech writer for NDP leader Jack Layton and self-described "left-wing fixer," now works as a content and engagement specialist at the Centre for Social Innovation (CSI) in Toronto. The CSI industrial kitchen provided them with an early production facility to make and bottle a line of original drinks, which are available for sale online. They also mix drinks fresh at special events, offering an alternative to people who choose not to drink, prefer to drink less, or simply want the sublime taste of a good cocktail without the booze.
The Sober Nightlife
Their market may be a drop in the bucket of the alcohol-dominated beverage industry, but it's an expanding niche. Gen Z may be the first generation in centuries to drink less than their forebears. In Canada, interest in non-alcoholic and low-alcoholic drinks has increased, with sales rising by 10 percent in 2018. Interestingly, less alcohol doesn't necessarily mean less partying; according to one study, young Americans were drinking 15 percent less on a weekly basis, yet continued to frequent establishments where alcohol is served, a trend the research group called "sober nightlife." This trend might be attributed to an increased interest in health and wellness, financial concerns, or even the legalization of marijuana in Canada and many states in the US.
The Temperance co-founders note that even industry insiders are cutting back. "People are realizing that the lifestyle is untenable," says Gnanaratna. "And, I hate the word, but they're going on 'detox weeks' or whatever. It's kind of a cool litmus test for how things are going to be translated. If people in the industry are moving towards that direction, I can only guess at how much larger the demand is on the public side."
As a bartender, Gnanaratna has seen the worst of how alcohol can influence behaviour—from bar fights to sexual aggression to outright exploitation. On more than one occasion, he has been fired for cutting off regular patrons he thought had too much to drink. Williams chose sobriety for personal reasons. "My mom drank a lot," she says, "and it just seems to make every situation worse."
The First Feminist Movement?
Their business name is a nod to the temperance movement that some historians, such as Ruth Bordin, consider the first major women's rights movement—and a radical one at that. In the 18th and 19th century, public drinking was rampant but a woman married to an alcoholic had very little recourse but to suffer his unemployment, poverty, and the domestic abuse that often came with it. In the US, female temperance leaders advocated not only for reduced alcohol consumption and outright prohibition but also women's right to vote. The movement gained traction when religious leaders took up the cause (backed by industrialists wanting a sober workforce). Notably, the 18th and 19th amendments to the US constitution—prohibiting alcohol and enfranchising women—were passed in the same year, 1920.
Williams and Gnanaratna self-identify as feminists and are trying to instil their business with feminist values. But he's the sole proprietor. A feminist thing to do? She says she didn't want her middle-class, white privilege to be the face of the company when applying for funding, and she still works a full-time career at CSI. In marketing, they avoid gendering drinks (no "girl drinks" here), refuse to shame or stigmatize drinkers, and avoid the language of alcohol recovery because as Williams says, "That's important, but it's not my community, so I can't speak for it."
Rather than demonizing alcohol, they want to provide people with choice and shift how we perceive alcohol as "the default" drink in social spaces such as bars, nightclubs, networking wine and cheeses, wedding receptions, sporting events, and so on. Gnanaratna admits that, while he designed non-alcoholic drinks in his previous bartending career, he sold very few. "What I realized," he says, "is that those people were kind of self-selecting out of those spaces." Says Williams, "For us, it's really about accessibility. Anytime a person is making a choice that's not the status quo, you're pushing back against something." Their goal is to make it easier to make that choice.
Temperance Cocktails also enables non-drinkers to feel more comfortable in those social spaces by offering fun and celebratory options with all the trappings of alcoholic cocktails (fancy glasses, exotic garnishes, bright colours) that also don't signal you're abstaining. As Williams knows well, being an obvious non-drinker in a room full of tipsy people can invite all kinds of defensive reactions and intrusive questions. With a Temperance cocktail in hand, folks can relax into regular social conversation rather than fielding uncomfortable queries about addictions or whether they're pregnant.
The Secret Ingredient: Choice
As for running a business together—which can strain any romantic partnership—the co-founders enjoy working together. Williams loves being the go-to product tester and watching Gnanaratna employ "mad scientist" things in the kitchen, such as an antique meat slicer for making extra-thin fruit garnishes. Gnanaratna is thrilled to have found a career that draws on his experience as a high-end bartender, without having to count out tip coins into the wee hours each night.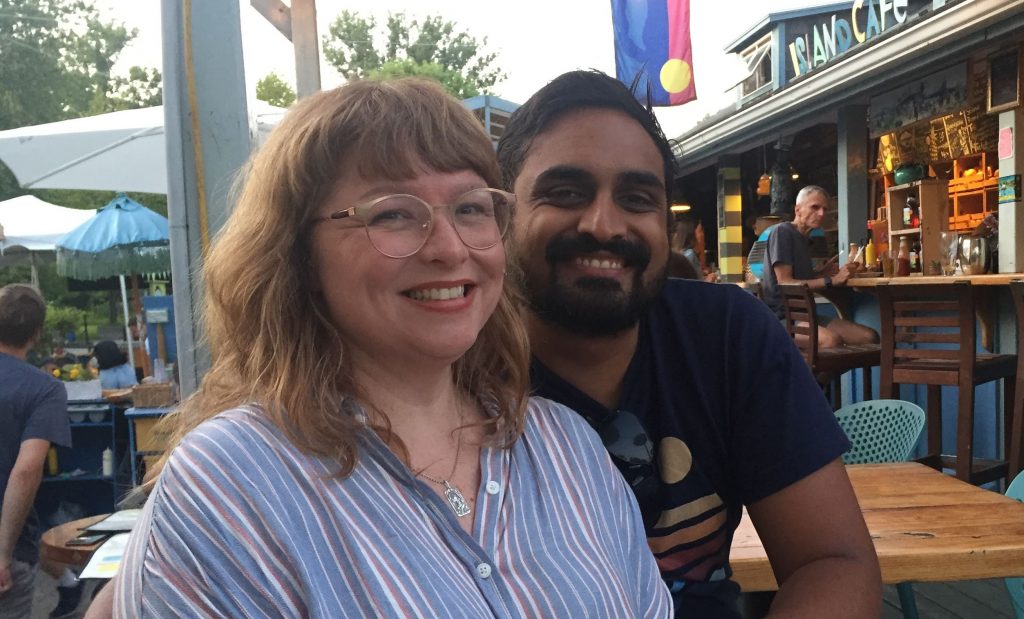 But it has been hard work scaling up the business. Last year, the two launched a Kickstarter campaign to create 22 original recipes, produce a recipe book featuring those cocktails (designed with tarot-themed visuals), and pay eight people to work on the product. They targeted their month-long campaign to their personal network and turned to cultural figures they knew to be non-drinkers for help promoting it. They raised $40,256 from 553 backers, surpassing their $36,800 goal. When it was almost over, Williams tweeted that she "wasn't sure" how tired she was, until someone pointed out to her, "You are literally summoning nearly $40,000 from thin air. That is some amazing magic." Then they went to work filling holiday drink orders and developing a 2020 action plan.
One hundred years after prohibition banned the sale of alcohol in the US (giving rise to illegal speakeasies, bootlegging, and perhaps the Jazz Age), the Temperance duo is jazzed to create new products for a new age fuelled by choice. Says Gnanaratna: "Maybe [our customers] just want to drink less, or not that day, or they're finished drinking for the night. Or, [like] at one of our recent events, people were kind of staggering back and forth between us and the wine bar because they wanted to pace themselves."
Williams says they want to make drinks that stand out for their own qualities. "We don't want to talk about alcohol or not-alcohol all the time. It's kind of like the men's rights movement," she jokes, "where they say they want to help men but, somehow, they're always talking about women. I don't want the focus to be on what's not in the drinks, but on them being their own lovely thing."
---
Creating researched and inspirational content to support and advocate for feminist changemaking takes hundreds of hours each month. If you find value and nourishment here, please consider becoming a donor subscriber or patron at a level of your choosing. Priced between a cup of coffee or one take out salad per month.
Support LiisBeth
You will have access to Payments processed through PayPal.
You can also contribute to our "Sustainability Fund" or an open donation in any amount.
---
This article was generously sponsored by Startup Toronto!
---
Related Articles
https://www.liisbeth.com/2016/04/19/bridge-over-tricky-waters-love-business-and-good-governance/