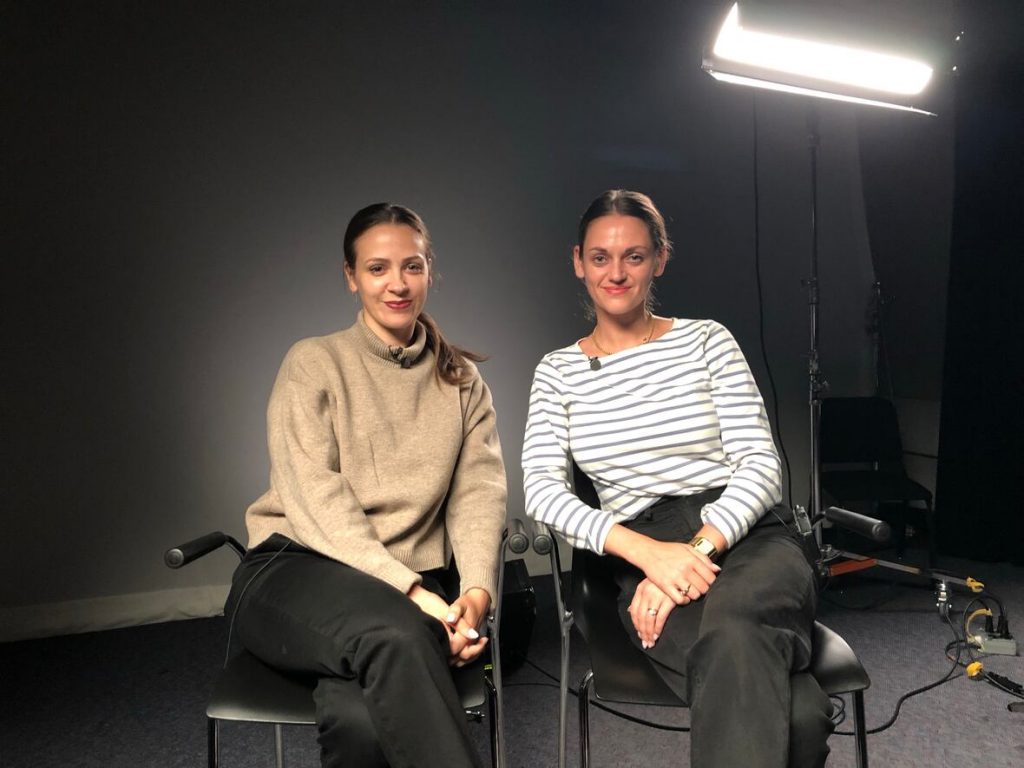 INTERIOR. Emily and Lola clothing shop. Montreal. Summer, 2010.

LINDSAY TAPSCOTT (28), an unemployed University of Toronto English literature grad who recently moved to Montreal on a whim, enters the shop to drop off her CV. She is about to depart when the store clerk, KATIE BIRD NOLAN (21), aspiring actor working part-time to pay rent, calls after her: "Wait a sec, is your dad's name John?"
Lindsay turns around nodding, and the moment becomes more surreal as Katie announces that her mom is Ingrid Bird, the woman who spent years travelling through Europe with Lindsay's father, John Tapscott.
CUT TO:
EXTERIOR. Six months later. Balcony of a Mile End apartment in Montreal. 1:30 a.m.
A group of 20-something women are drinking wine, laughing, getting to know each other. Lindsay has moved in with two of Katie's friends who needed a roommate. Lindsay and Katie discover they both went to theatre school, like the same movies. They laugh about their fluke encounter, as if they were kindred spirits brought together by the magic of Montreal. They joke about growing up listening to stories about each other's parent, their travel adventures together. Three decades later, John and Ingrid have lost touch so it's a fun surprise when Lindsay and Katie announce their chance encounter. Both parents insist they had a platonic relationship all those years ago.
Katie: "Can you imagine if we were long lost sisters?"
Lindsay: "Ha! Sounds like something out of a film."
Is That How Film Companies Launch?
INTERIOR. Next day.
Katie excitedly types on her laptop. She immediately calls Lindsay: "I have a ridiculous idea for a web series. Do you want to write it with me?"
Lindsay, without missing a beat: "Sure. How hard can it be?"
FAST FORWARD three years to 2013. Katie and Lindsay are sharing an apartment in Toronto, dubbed "babe nation" by Katie's boyfriend. They are writing and making short films on microbudgets of $2,500 or less, either crowdfunded or paid for out of pocket. They try out Babe Nation as the name for their fledgling film company as a semi-joke. But the more they use it, the better it sounds.
Babe Nation: It's about their deep connection and friendship, their feminist values and work ethic, their off-beat sense of humour, and also their raison d'etre: to focus on women-centred stories and hack away at the disproportionate opportunities that flow to men in the male-dominated industry.
When actor Vanessa Matsui came to them looking for producers for her web series, Ghost BFF, they jumped on board. The tone and subject matter suited Babe Nation: a dark comedy about female friendship and suicide. They learned to raise "real money" by nailing the "Canadian film financing model" — a combination of government funding from places such as Telefilm Canada, Ontario Creates, and often tax credits, presales, grants, and advances. The budget for season one — nearly $250,000 — enabled multi-day shoots, higher production values and a hit show. The budget for season two of the series tripled, with funding coming in from the Bell Fund, Canadian Media Fund (CMF), and a sale to Shaftsbury Films and KindaTV.
Perfectionists by nature, Katie and Lindsay took the first few years to establish their brand and understand the types of stories they wanted to tell. Influences include author Zadie Smith and producers Christine Vachon and Margot Robbie. Katie describes their "brand" stories as "slightly left of centre but with a really strong statement." Rather than sexy sleepover movies with girls in bikini lingerie, they produce stories for an intelligent female audience. Subject matter includes loss, depression, and belonging. Characters are three-dimensional — both strong and fallible, vulnerable and ballsy, sometimes despicable yet relatable. They are smart and funny, much like the producers. "For us it's about attaching ourselves to projects that depict female stories the way women want to be depicted, not the way men have been depicting them forever."
They also learned to trust the "weird particles" that surround their projects, the same energy that brought them together in the first place. And they established one abiding ground rule when choosing projects: Both must love the project to the point of obsession. "Producing is so hard," says Katie. If you're not obsessed with the thing, why would you do it?"
How to Fight Sexism in Show Biz?
CUT TO: CLOSE UP: Women in View On Screen 2019 Report. Analyzed data of funded projects finds, surprise, that the way to get more women in film and TV is to support more women producers. Calling it "The Producer Effect," the report shows that a producer's identity impacts who gets hired on a project. Women producers worked with more women on their team; women of colour producers worked with more women of colour; Indigenous producers worked with a far greater percentage of Indigenous women; men producers worked with more men. And male-produced projects received more funding.
Icky insider sexism sheds light on the impact of those stats on women.
INTERIOR. 2019. Berlin International Film Festival.
A large conference area bustling with industry types in stylish glasses, fashionable shoes, and egos that struggle to fit through the door.
CUT TO: Private meeting room.
The Babe Nation producers meet with an international SALES AGENT (55), bald, white, male. He stares at Katie's chest the entire meeting. "I'm normally not interested in Canadian producers but you two look very exciting," says the agent, his voice dripping with condescension.
Katie fakes a smile. Lindsay tries to tell the agent about their film. The guy cuts her off, his eyes now on Lindsay's bright red lipstick: "Young ladies like you can have a very bright future you know."
Lindsay tries to continue her pitch but the guy interrupts her again: "I mean look at you. This is Berlin! This is the big league!"
The two women read each other's energy: Time to cut this short. "You're right," Katie says as they stand up to leave. "And we're going to see more of the market now, thank you very much."
CUT TO: INTERIOR. Meeting room. Toronto International Film Festival (TIFF), 2019.
Babe Nation has booked a meeting with another sales agent – also white, middle-aged, male. He's running seriously late.
Katie paces the room: "We could have had another entire meeting with someone else by now."
Lindsay sighs: "Maybe two! One for each of our films in this festival!"
Finally, a SLICK DUDE IN BLUE JEANS saunters in. He wears a smarmy grin and a shirt unbuttoned at the neck, one button too low. "Well, hello there," he coos, sliding his glasses to the end of his nose. "Babe Nation, isn't it?"
This time, the women don't waste another minute. "Correct," Katie says, "and we need to be somewhere else."
CLOSE UP: Gender Parity Action Plan, announced by Telefilm Canada, 2016. Babe Nation seizes opportunity. They enter the industry on a wave of increasing support for women. The Telefilm plan aims to "prioritize projects whose key creatives (director and/or writer and/or producer) reflect the diversity of the country in terms of gender, Indigenous communities or cultural diversity." Results of its gender parity initiatives for projects funded during the 2019/2020 fiscal year show an increase in funding for projects with women in key roles.
Babe Nation, through their own hustle and networking, sought out incredible mentors in seasoned pros Damon D'Oliveira and Christina Piovesan, who introduced them to financers and became executive producers for their two features, The Rest of Us and White Lie.
How to Level the Playing Field For All?
CLOSE UP: Reelworld Film Festival and Reelworld Screen Institute Changing the Narrative Report: 2020 Status of Canadian Black, Indigenous and People of Colour in Canada's Screen-Based Production Section. The report suggests a disproportionate amount of funding goes to white creators, while BIPOC creators receive smaller amounts targeted at emerging talent. A lack of BIPOC professionals on selection committees for funding decisions is cited as one reason for the disparity.
Babe Nation took note, recognizing their own white privilege. While they have worked with a number of women of colour, the relationships were unplanned and coincidental. Says Lindsay: "When there's a sense we're not doing enough from a creator standpoint we push ourselves further to do more." They signed the producer pledge to take immediate action to acknowledge and dismantle systemic racism in the Canadian film and television industry, by committing to radical change. For example, when considering a project now, Babe Nation has committed to thinking more critically about the storyteller. Women always take first priority, but they're now diving deeper and asking, is this someone we haven't heard from before? Is this a BIPOC artist who is short on opportunities, or a younger woman without a lot of experience? In terms of paying it forward, they are currently mentoring two young producers working on their first feature.
The Feminist Future: Exhausting? Exhilarating?
This year marks Babe Nation's fifth as an incorporated company with substantial successes: two seasons of a major web series, two films at TIFF, two projects in advanced development, and four others in the works, including an adaptation of Bonjour Tristesse, Françoise Sagan's 1950s controversial novel (it took three years to secure the rights) with Durga Chew-Bose writing the screenplay; and a feature by writer Alanna Francis about coercive abuse within female friendships.
So how are they handling the success? "Little sleep and a lot of anxiety," Lindsay jokes. They are eager to hire more people, such as a junior producer and a business affairs person, but aren't quite there, financially. A near goal is to score a studio deal so they can spend more time and energy in creative development instead of crunching numbers.
While the pair never set out to create a feminist company, they believe they grew into one as an extension of their own personal values. For writers and crewing a production, women are their first choice and often become lifelong friends and collaborators. To them, feminism is about equality, working collectively, and providing opportunities for people to voice their opinions in the creative development process. "We hear from the people we work with that our sets are an anomaly, which is equally lovely and horrifying," says Lindsay.
Keeping their brand feminist-focused requires hands-on involvement in everything: chasing after scripts, optioning material, working on creative development with writers and directors, securing financing, marketing, and meeting with agents to sell their projects. "Our brand is as strong as it is because it is the two of us that have our hand in everything," says Katie.
Still, their company name has raised eyebrows. How can Babe Nation be a feminist label? To the producers, the name is bold, tongue-in-cheek, even intimidating, invoking a place — a nation — where strong women unite, encourage and support each other. A place where women create generative work together, and tell stories that have gone untold for too long. But do they really want to be called Babe Nation when they're 75 years old?
The two picture the scene, roaring with laughter.
FLASH FORWARD:
INTERIOR. Cannes Film Festival. 2060.
Katie and Lindsay stand in the wings of a glittering silver stage. They lean on their walkers as they sip champagne. The ANNOUNCER says, "And now, please welcome, the recipient of this year's lifetime achievement award for change making cinema, Babe Nation!"
Lindsay peers at their company name, in big lights. "Did you really imagine we'd get here?"
Katie pushes a grey lock from her face. "Yes, of course." Lindsay releases the brakes on her walker. "Me too."
---
Publishers Note: Babe Nation is a participant in Canada's first feminist accelerator program for womxn in digital media, Fifth Wave Labs. The Fifth Wave is a year-round program offered by CFC Media Lab and its partners to support the growth and development of women entrepreneurs in the digital media sector in southern Ontario. All enterprise founders in the Fifth Wave community are selected for both their potential and commitment toward weaving intersectional feminist ideals of equity and fairness into sustainable and scalable business growth strategies. Fifth Wave Initiative is committed to 30% participation by members of underrepresented groups. The Fifth Wave is a LiisBeth Media partner.
---
LiisBeth Media is a 100% womxn-owned and led, reader supported media enterprise. If you enjoyed this story and would like to see more, please consider becoming a $10-25 one time donor today! [direct-stripe value="ds1577111552021″]
---
Related Reading:
Moving Pictures: What We Learned from Women Filmmakers at TIFF 2019