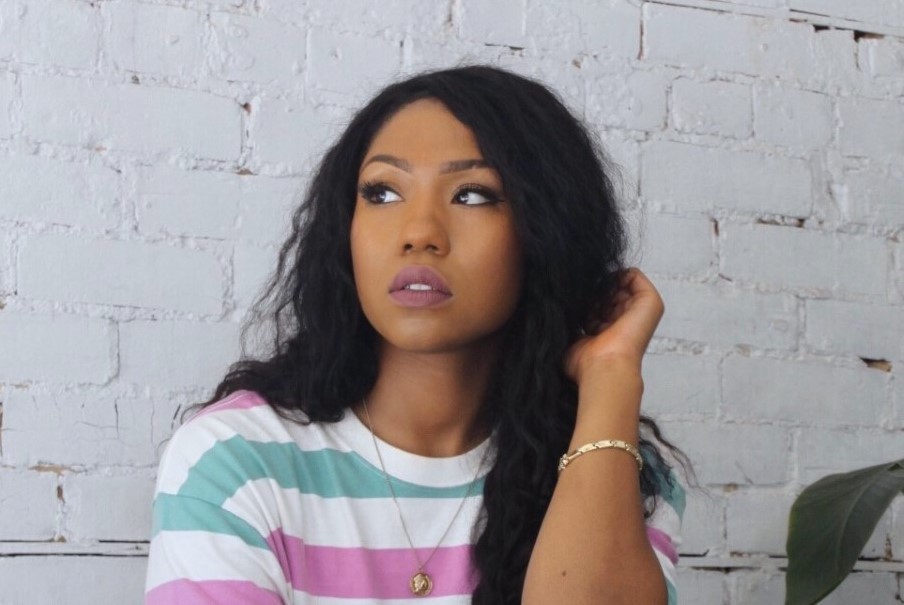 It would seem that since the beginning of time, ideas about sex and what it means to be sexy have been skewed by one force or another. The right time, the right person, the right size or shape. However, with more and more people becoming open to dialogue, taboos are slowly disappearing and the fear of judgment is loosening its grip. Forward-thinking representation has been portrayed in everything from social media to music to even television—and it's about time.
One song after the next, this playlist challenges dated narratives about doing the do and standards of beauty. So, what are you waiting for? Slip on your sexiest underwear and dance fearlessly like everyone is watching.
CupcakKe, "Biggie Smalls"
Chicago rapper CupcakKe drops bars of self-love and positivity in "Biggie Smalls" where she addresses all those little insecurities that tend to keep women back from living their best life. Praising fat rolls, stretch marks and little booties, CupcakKe wants you to know she loves you, big or small.
Princess Nokia, "Tomboy"
Tomboys unite on the streets of New York City flaunting little titties, fat bellies and superhero underwear. Princess Nokia checks the rap game for its over-glorification of women in bikinis with big boobs and small waists who always seem to emerge from a swimming pool somewhere. "Tomboy" highlights the girls who love oversized clothes, playing sports and who will still "take yo man."
Summer Walker, "Girls Need Love"
Summer Walker knows what she wants and isn't afraid to ask for it. The Atlanta, GA–based singer speaks about women being honest with their desires in the sultry charm of her lyrics.
Teyana Taylor, "3 Way"
Teyana Taylor has been happily married to her husband Iman Shumpert since 2016, and she isn't shy about what they do in the bedroom. The title is self-explanatory, but let's just say this power couple likes to keep things spicy.
The Internet, "Special Affair/Curse"
Syd Tha Kyd is as sensual and alluring as ever leading the vocals for "Special Affair" while her bandmates conjure the captivating rhythm. The lyrics depict Syd crooning a compelling invitation to an unnamed female with promises of Patron and a good time. The video splits up into three songs including "Curse" and "Palace," which features a surprise verse by fellow Odd Future member Tyler, The Creator.
Jessie Reyez, "Body Count"
Filmed in her hometown of Toronto, this video finds Jessie Reyez being led to her ultimate demise after seemingly breaking some kind of societal standard. The Salem-inspired visuals teleport you to a time when women were sentenced to burn at the stake after being accused of witchcraft or behaving in a manner their community didn't agree with. Reyez explores themes of sexual freedom, double standards and judgment with "Body Count."
Little Mix ft. Sharaya J, "Strip"
Pop group Little Mix makes a statement with the visuals for "Strip." The quartet enlists a range of women to stand by them and reject the slurs often associated with women and their bodies. The song aims to empower women to rethink what's considered sexy and love themselves anyway.
Lizzo, "Scuse Me"
Lizzo is the self-love goddess that everyone should be listening to. The rapper/singer mixes just enough spice and radiance into a video that celebrates body positivity. After releasing the video in 2017, Lizzo took to Twitter and shared the meaning behind the song: "Scuse Me celebrates the BODY. I wrote this song to immortalize my curves."
Sevdaliza, "Human"
There are quite a few metaphors that unfold in this Iranian-Dutch songstress's music visuals. In "Human," Sevadaliza can be seen performing a dance before an audience of suited men as the words "I am human" are repeated in chorus. The singer confronts the notion that women are objects for the entertainment of men as she speaks about her body as just that, a body and not something to be constantly sexualized.
Troye Sivan, "Bloom"
Troye Sivan, an Australian Youtube star turned pop idol, revels in his sexual identity on his sophomore album Bloom, which also debuted a song and video by the same name. In "Bloom," Sivan uses imaginative language about flowers and gardens to possibly insinuate bottoming for the first time. The line, "Put gas into the motor and boy I'll meet you right there," is pretty hard evidence of the special affair. No pun intended.
---
Stream or download the playlist on Liisbeth's Spotify link here.
Want more LiisBeth playlists?  We have 8 of them! Here are two more as samples!
https://www.liisbeth.com/2018/03/15/a-change-makers-playlist/
https://www.liisbeth.com/2017/07/11/summer-reset-playlist-feminist-entrepreneurs/