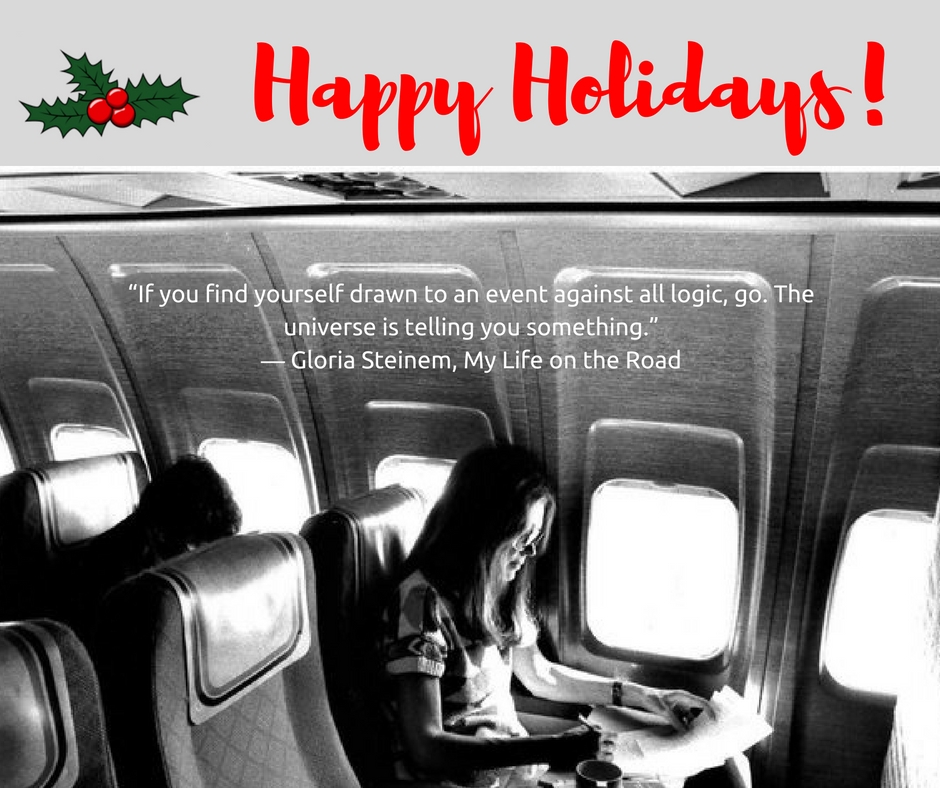 VIEWPOINT
Last week, The Economist released "The World in 2017", its annual collection of opinionated predictions for the year ahead. This 31st edition advertised forecasts from some personalities of note, including Justin Trudeau and member of the Russian female protest group Pussy Riot, Maria Alyokhina. It also includes predictions from George Clooney. (Oooh la la! I hoped his prediction came with a photo!)
In last year's edition, The Economist predicted that 2016 would "be summed up in three words: woes, women and wins". The woes referred to the worsening situation in Syria. The wins noted were sports and tech-related. And, the part about women referred to the impact of women coming into powerful roles for the first time, like Hillary Clinton's bid for the White House (the 2016 cover featuring future world leaders didn't even include Donald Trump-they assumed she would win), Janet Yellen's work at the Federal Reserve, and how Angela Merkel will respond to the migrant crisis.
Turns out they were not entirely wrong in their prognostications -except for the Hillary Clinton part. Looking back, the 2016 edition was also light on predictions regarding the future for 50% of the planet's population, women and girls. In fact only one out of the 100+ predictions that related to the role and state of women and girls on the planet; ­A piece on the importance of educating girls. In the world's poorest countries, still, only 20 percent of girls complete Grade 8 education.
The 2017 edition, however, is markedly different. First, it includes not one but seven predictions out of 100+ that speak to the fight for gender equality, including one with the actual word "feminism" in the title. And second, the predictions related to the advancement of women this time are more about broad social shifts, versus an emphasis on a handful of individual women-in-power 'firsts'.
Social and culture gender-related predictions noted include the increasing acceptance of a fluid approach to gender, the rise of "nuanced feminism", 2017 as a breakthrough year for women in the boardroom due to quotas and public opinion, and the advent of "marketplace diversity and inclusion". Andi Zeisler describes in We Were Feminists Once how companies have increasingly used feminism in their advertising to sell us stuff while their overall company leadership and policies continue to show they are at their core, un-feminist, or worse, "unwoke". In a similar way, this same trend is being seen across other areas of diversity and inclusion.
Out of the seven predictions related to gender equality, a piece worthy of both further note and criticism is "A Feminism for All" by millennial writer Louise O'Neill (also the author of Asking for It, a novel examining gender and sexism). First, it's great to see feminism included in the predictions at all. And we agree with O'Neill when she writes feminism today is for "women of all races and religions, it's for transgender people, it's for men, it's for straight, gay people and everyone in between." We also agree with O'Neill's idea of "nuanced" feminism, which says feminist issues are complex and not given to simple answers. However, with her emphasis on how individuals embrace feminism today,  O'Neill misses the opportunity to underscore that feminism is not just a mindset; it's also about actively working for change, and in particular, systems change. We found that oversight disappointing.
If feminism is about working for deep-seated social change, then it will require much more than a countable increase in the number of "woke" fan girls (or fan guys, and everyone in between) posting selfies of their feminist selves. I guess one could argue that this is at least a start, but for feminism to truly matter, it will eventually need people who are prepared to really dig in, unlearn media's skewed representation of feminism, relearn the movements' real history and roots (including it's issues i.e. white feminism), read everything they can about feminist thought leadership today, and engage meaningfully in efforts to power system and institutional change.
But then again, posting a selfie is easier.
Overall, as a long-time Economist reader, I was pleased to see these topics make the 2017 prediction list. And I hope the curators are as close to right about their forecast as they were with their 2016 list.
As for George Clooney, sadly, there was only a small illustration of his head beside the article, mostly written by someone else.
---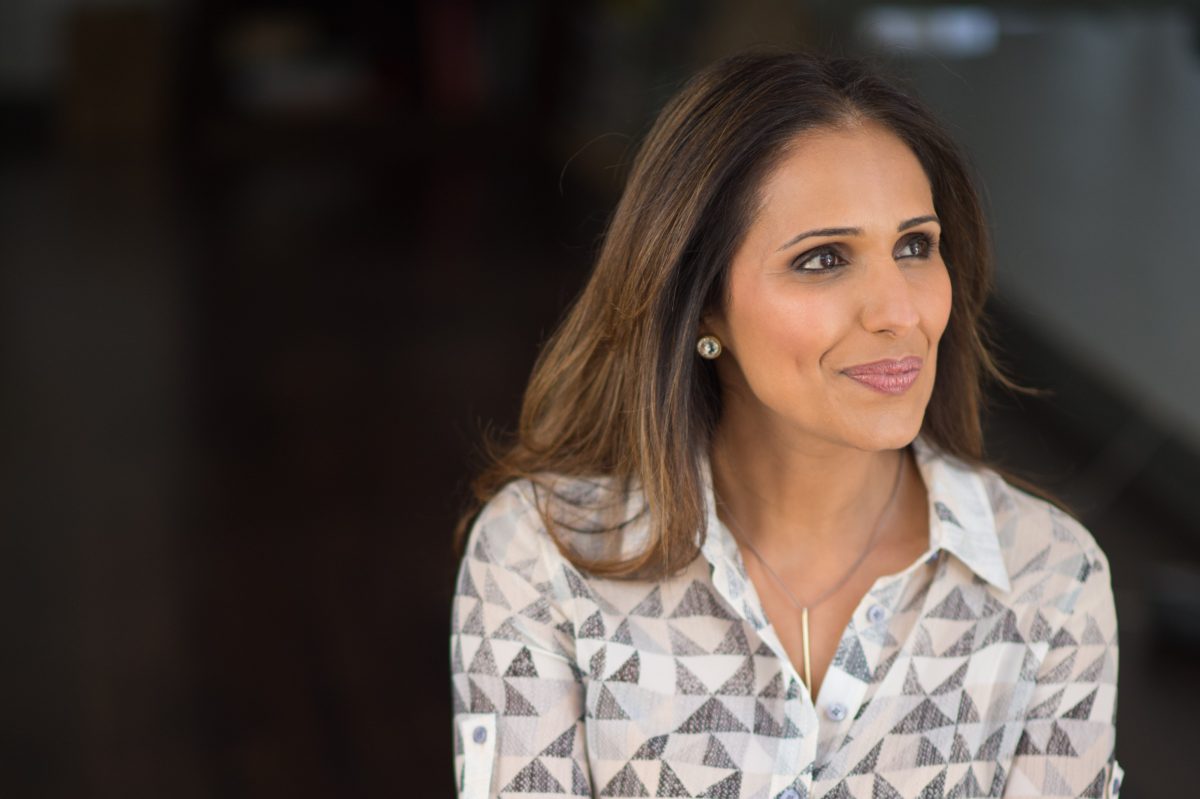 THIS WEEK ON LIISBETH
This week, we interview Dimple Mukherjee, founder of Whole Self Consulting, an advocate for the benefit of women-only spaces, and creator of the Bindi Parlour experience.  The Bindi Parlour is described as a "girls night out at home", an idea we thought was timely given the approaching holiday season.
We loved Dimple's very personal, and grassroots story about how she came to entrepreneurship. We hope you do as well. You can find the article here.
---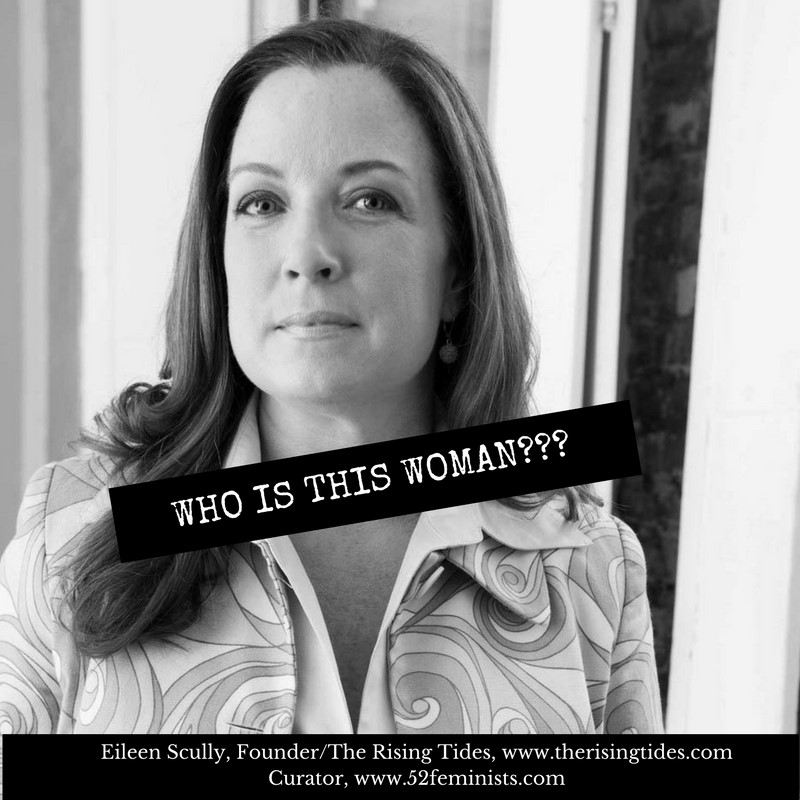 52FEMINISTS
Sometimes you just gotta love Twitter.  For without it, I would not have been introduced to so many fabulous feminist entrepreneurs over the past few months who by chance, saw our feed and decided to reach out because of common ground.
Who is this fab woman? Meet Eileen Scully, an accomplished woman in tech, founder of The Rising Tides, a diversity and inclusion consultancy based in Connecticut, and creator of a fabulous sideline website called 52feminists.com.
The website profiles at present, 52 feminists and the list is growing.  I asked Scully why she started this initiative. Scully explained in an emailed response that "In July 2016, it began to feel as though so much of the progress we had made towards advancing the rights of women were slipping away. Every day I work with businesses helping them achieve gender parity, but I needed an outlet for the social and political aspects of women's equality. 52feminists is a platform to expand the definition of what is a feminist, through the stories of ordinary people. Each week features a different feminist on each of our feeds, and to our subscriber base."
To check it out, visit 52feminists.com and submit your profile! You can also join her twitter feed @52feminists.
---

DO QUOTAS HELP OR HINDER?
Check out Sarah Kaplan's (Director, Institute for Gender & the Economy, Rotman School of Management) timely new research brief "The Debate About Quotas" where she explores both sides of the gender diversity quota debate.  The brief notes that "Policy makers and organizations have been working toward achieving gender diversity for many decades, but progress has been slow and is perhaps even stagnating."
Are quotas the answer? Learn about the pros and cons here.
---
THE CANADIAN WOMEN'S MARCH ON WASHINGTON
It was freezing cold Toronto's City Hall on Wednesday, December 11, but we showed up anyway.  The occasion? A photo shoot arranged by Toronto march organizer Marissa McTasney (Founder of Moxie Trades).  The purpose was to join other communities around the world doing the same–showing support for the Women's March on Washington event planned for Sunday, January 21st, the day after the inauguration of Donald Trump as the 45th POTUS (President of the United States). To see similar photos from around the world, use #whyimarch. You can also watch "Why I March" declarations here.
To check out the Metro News article on the gathering, click here. Yes, and by the way, NONE of us are soccer moms (they are making a correction).
The January 21st event promises to be a historical event by all accounts. All across Canada, and around the world, women (and men) are preparing to participate in the march as a show of solidarity for diversity, equality, and inclusion. To find out about a march near you, visit http://canadianwomenmarch.ca/local-marches/.  To get a seat on one of the buses departing from Toronto for Washington, visit http://canadianwomenmarch.ca. Tickets are $150.00 per person.
---

MEET SOPHIA
LiisBethian Vicki Saunders (Founder, SheEO) sent us a link to this incredible article titled "Selfless Devotion" by Janna Avner on why engineers are giving robots "feminine" personalities. And what this says about how femininity is perceived in our society.
Janna Avner is a creative technologist living in Los Angeles who recently co-created Femmebit, a yearly digital new media festival celebrating women artists. Janna graduated from Yale in 2012, and is currently a gallery director who curates shows, exhibits paintings, and writes as much as time permits.
In the article Avner provides us with insight in the humanoid development space.
Avner writes "Sophia," created by Hanson Robotics, is one of the several fair-skinned cis-appearing female prototypes on the company's official website. She possesses uncannily human facial expressions, but though she may look capable of understanding, her cognitive abilities are still limited."
Further on, Avner also notes "Looking at female humanoid robots shows me what the market has wanted of me, what traits code me as profitably feminine. Like a Turing Test in reverse, the female bot personality becomes the measure of living women. Is my personality sufficiently hemmed to theirs? This test might indicate my future economic success, which will be based on such simple soft skills as properly recognizing and reacting to facial expressions and demonstrating the basic hospitality skills of getting along with any sort of person."
Believe me; it's worth the time read.  Thanks, Vicki!
---
CAN'T MISS EVENTS
Does your plan for 2017 include launching a social enterprise? The Community Innovation Lab has just launched their 2017 Social Enterprise Accelerator program. This early stage, co-ed incubation and training program will run from February 2017 to June 2017 and aims to support and enrich the learning experiences of social entrepreneurs in Durham Region, Northumberland, and the Kawarthas.  Learn more here. And to apply click here. Only 25 spaces are available.
Women on the Move presents "Entrepreneurship on a Shoestring: Where to Spend your Marketing Dollars, Wednesday, January 11, 2017 from 1:00-2:30pm.  Register here.
The Institute for Gender & the Economy presents Sallie Krawcheck, Co-Founder and CEO, Ellevest Digital Investment Platform; Chair, Ellevate Network; former CEO of Smith Barney and Merrill Lynch Wealth Management; former CFO, Citigroup; Author, January 12, 5pm-6pm, Desautels Hall (Second Floor, South Building) | map Rotman School of Management, U of Toronto, 105 St George Street.  Tickets are $36 and include a copy of Sallie's book "Own It: The Power of Women At Work".
Feminist Art Conference (FAC) is a hidden gem of an event. This year it will be from Jan. 10 to Jan. 21, 2017. Tickets are free but space is limited. Register here. Note:  LiisBeth is also moderating a panel on Gender & Entrepreneurship. 
If you want something to look forward to in the New Year after the mad rush of celebrations and resolutions, consider joining Dimple Mukerjee's 10 Day Morning Rituals Challenge in February 2017. It's quite the ride, and there's absolutely no right or wrong way to do it. You'll connect with other like-minded people, and maybe even plant another seed for your wellness, just waiting to sprout and grow. Click on the link above to get a heads up when it gets closer.
---
That's it for the December newsletter. And we are also taking a short break from our publishing schedule so all can enjoy the holidays.
We will resume our newsletter and monthly publishing schedule on January 17th, 2017. What's ahead? We kick things off with a inspiring article by Margaret Webb about a group of "Bold Betties"  in Colorado, a rousing video interview with Dr. Patricia Green (Paul T. Babson Professor of Entrepreneurial Studies and Academic Director Goldman Sachs 10,000 Small Businesses and 10,000 Women) on feminist entrepreneurship, followed by an interview with Dr. Candida Brush (Babson professor of entrepreneurship and Vice Provost of Global Entrepreneurial Leadership) about the need for more relevant curriculum for women entrepreneurs.  In January, we also feature Katelyn Bourgoin, founder of a very cool online network of female entrepreneurs called Vendeve.  And of course, there will be much more.
In case you feel like a LiisBeth fix during our break, and in case you missed them the first time around, we recommend checking out our 2016 most-read articles (according to Google) by category:
Service articles:
1. Invasion of the Brain Pickers: 9 Ways to Deal with Requests for Free Advice, by Rona Maynard
2. How to Embed Feminist Values In Your Company, by Valerie Hussey
3. Why We Need Diverse Approaches to Start Up Incubation, by Priya Ramanujam
4. Bridge Over Tricky Waters: Love, Business and Good Governance, by Sue Nador
Activism:
1. When Those Who Lead Fall Behind, by Petra Kassun-Mutch
2. Who Erased Claudia Hepburn, by Petra Kassun-Mutch
3. Entrepreneurs by Choice; Activists by Necessity, by Cynthia MacDonald
And finally, for most read profile, check out  All Jacked Up, by Margaret Webb.
All in all, we published 55 original articles in 2016 plus 22 newsletters.
Regardless of web statistics, we are super proud of the work created by all contributors, illustrators, and freelance editors.  Big hugs to each and all. We will see more of their work along with the introduction of new contributors in 2017.
If you have not subscribed to LiisBeth, but have valued our work, please help us continue by signing up as a paid subscriber here.
In the meantime, dear readers, subscribers and LiisBeth website visitors, have a terrific holiday season.
See you again on January 17th. And as always, if you have comments, thoughts, story ideas or tips to share, please send them our way to publisher@liisbeth.com.
HAPPY HOLIDAYS!