Detroit-based feminist philosopher, doula and social-change strategist Adrienne Maree Brown has written works described as "luminous" in its "imagining the future of climate change, making different worlds through direct action and social movement-building, and creating transformative change through visionary speculative fiction."
Brown is just as luminous -and visionary-in real life.
Judging by the engagement and enthusiasm from the more than 2000 who attended her recent talk about her new book, Pleasure Activism, at Toronto's Lula Lounge earlier in May, her work is more compelling than ever.
Pleasure Activism aims to "explode the dour myth that changing the world is just another form of work" when, according to Brown, that work can be a source of great personal healing and pleasure. Brown believes it's important for those choosing to make a living via alternative world-making to take the time to heal from day to day grappling with darkness and systems of oppression that comes with the job.
Going against the grain is heavy lifting and recovery from that intense emotional labour is difficult.  Pleasure Activism is a form of slow-release medicine for those battered by the work.
After the program, LiisBeth had an opportunity to talk to Brown about how and why we need to move beyond reform to radical systems change;  the role of social change organizations, leaders, and individuals in that fight; and her views on implementing feminist ideas as an organizational leader.
You can read the interview below. But you can feel the interview by listening to the audio recording below.
Listening to the audio will take only 12 minutes out of your day and and we guarantee you will be blown away by Adrienne Maree Brown's powerful and inspiring personality.
Alternatively, the transcript of the interview, edited for clarity and length, is below.
---
LiisBeth:  You mentioned tonight that you believe our institutions and systems are beyond repair.  What else can we do if what we want is a fair and inclusive world?
adrienne maree:   Your asking me how, right? (Laughing). Revolution [versus reform] is something I'm really committed to, and I try to talk about it a lot. I try to get a lot of people to be thinking about it. I encourage them to be in relationship with the idea of revolution. To me, it's fine to be involved in activities or reform as long as you understand that they are not the outcome.
A slightly improved system is not actually a liberation for most of us because the current systems are set up to [foster] such an extreme level of inequality that small changes won't make a difference. I always talk to them [reformers] like, it's great to be taking steps to have more equal rights. It's great to be moving towards more equity, but if you have an entire society that is based in white supremacy, an entire society that is based in competition rather than cooperation, then it's always going to be a marginal [part of the program] to be bringing all identities of all people in when making decisions about the world.
So, a lot of the work that I do is about revolution but, I also really believe in building the new in the shell of the old.
LiisBeth: If revolution is what we need, how can we invite more people in to the be a part of it?
adrienne maree:  I tell people, everyone can be a revolutionary. Wherever you're sitting right now is a potential revolutionary space. Where you are right now is the revolutionary front line. If you're a banker [or entrepreneur] what can you do to change the system? What can you do to make it more fair? What can you do to create more access no matter where you sit?
Actually, the greatest changes in the world have happened because people who thought of themselves as ordinary people were willing to develop and [put into motion] subversive strategies within whatever systems they were in.
I also think it's important to invite people to think about why they exist because all of us are in a lineage of survivors. Everyone can trace their personal lineage back to people who were revolutionary and come to realize that they exist today because of their work. Even if you think you're too scared to be a revolutionary in this lifetime, your ancestors somewhere along the line were revolutionaries. Somewhere along that life your job is to pick that up and bring it to present.
LiisBeth:  Let's talk more about fear and the role that fear plays in preventing people from doing what's needed or right for the world we live in right now.
adrienne maree:  Audrey Lorde is a writer I recommend to everyone [who is thinking about this]. She talks about the fact that we're going to be afraid no matter what. Why not be scared and try to intervene? We need to actually learn, that being scared is a social control mechanism. As long as you're scared of creating a change, as long as you're scared of disrupting the status quo, nothing will change.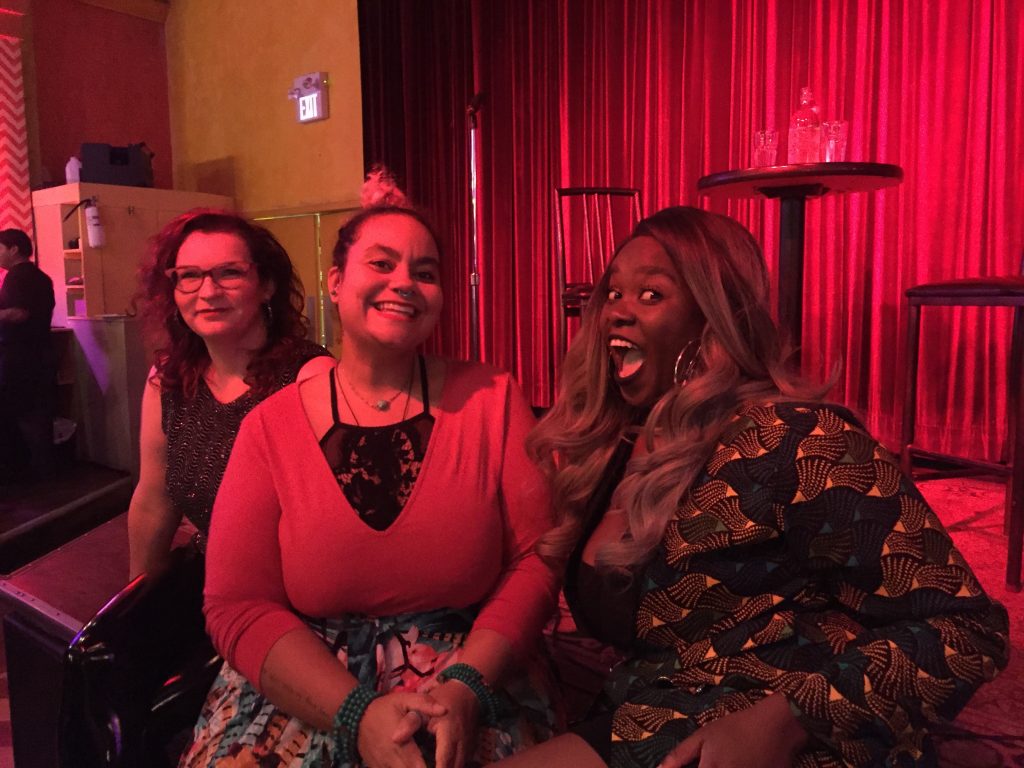 LiisBeth:  You served for a while as the Executive Director of The Ruckus Society a small but long-established non-profit focused on supporting activism.  What was that like for you? Was it an easy job?
adrienne maree:  I went into it with a lot of ego. I looked at how everyone else is doing the executive director role, and decided I was going to totally do it differently. I was going to make sure we were super fair, flat structures, all the things. And then I got into the job and I was like, oh, actually, the system of philanthropy actually constructs how things work—not the person leading it. The current system of [funding] makes it almost impossible to have integrity and be a boss. You're constantly being asked to jump through hoops for what big philanthropy says are the goals of what the work you're doing should be, rather than trying to make sure the work is actually serving your community.
So as an ED, you get hired because you have all these visions, values and ideas, but then quickly realize, especially in a small non-profit, that you are continually in a desperate financial situation, and, rightly, also need to prioritize the welfare of the six people whose healthcare and income relies on the organization's financial sustainability, which translates into me getting the resources in.
So, I think being a non-profit ED is an impossible job. When I am coaching others doing that job, I remind them that they have been asked to do an impossible thing. The board expects them to be great at budgets, managing people and fundraising, plus have and be able to implement a great, new vision.
Most people are good at one or two of those things, maximum. So, I think it's an impossible job. I think we should stop having it as a singular job. In most institutions the strength would come from having two to three people sharing the role.
Lisbeth: When it comes to feminist leadership, what have you found works? And doesn't work?
adrienne maree: I think it really, really works to have spaces informed by feminism. However, if those ideas are not embraced at the board level, it doesn't work.
Your board should also reflect the community that you're trying to serve. If the board is only the rich people and then the community seen as down there, there's going to be an impossible tension that the organization is trying to hold and manage between what far away funders and the community want. So, a board should be in a space where there's a balance.
I also think that a lot of times people assume that if a woman is in charge, it signals that it is a feminist institution. I think we have to really challenge that.
It's not enough to just have literally a woman there. I think that we have to think about what are the aspects of feminism that person is trying to bring in. To me, that means thinking about how the person approaches the Collaborative [ecosystem around you] and the Care. Think about not just being collaborative, but how are we being collaborative with each other. We need to ask how is this person or organization working with others to share limited resources versus how men get trained to be alpha males competing over those same resources.
adrienne maree:  We also must ask how does this leader care for the entire structure? How is this person developing the deep connections needed to withstand the pressures of oppression? How do you deal with all the "no's" in the system?  Everyone in a feminist organization should be cared for. They need to feel like a valuable member versus working in a type of 'Top is cared for, but the bottom can be fired anytime' type of hierarchy.
I think another practice that's really important is to look at how maternity, paternity and parental leave happens. To me, a feminist institution is a place that says to both parents "if you have a baby, you got a lot of time to go take care of that kid, you don't have to worry about it, and you get to come back [to work]." In my view, whoever made this baby has to go take care of this baby.
Lisbeth:  Tell us about your new institute?
adrienne maree: I recently founded something called the Emergent Strategy Ideation Institute. A few years ago, I put out this book called Emergent Strategy, which is about how do we learn from natural operating systems to do our organizing [and planning] in right relationship with the planet. The institute is basically offering intensive training, facilitation, coaching and mediation to help people who are interested in taking that path, do it as well as they can.
Last year, we held several "immersion" workshops where people would come and play with adaptation, play with fractals, and play with how to create more possibilities. So, this year we're doing seven that are spread out across the U.S. We are also conducting facilitation training in Detroit. I brought on a team of about 20 people who are all incredible facilitators, coaches and other things who I know are all practicing it, so that I know it doesn't get bottle-necked with me.
LiisBeth: Amazing. Well, hopefully you'll be doing services in Canada.
adrienne maree:  Oh yes, oh yes. I've got Canadians on my team. I'm ready to come to Canada.
LiisBeth:  So, thank you so much
adrienne maree:  Thank you. I appreciate you (Hugs)
LiisBeth:  I appreciate you, too. (Hugs back)
---