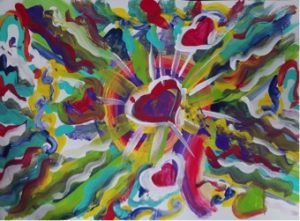 An Alternative model of whiteness painted by Golnaz Golnaraghi
I am a first-generation immigrant woman from Iran, standing in a room comprised of mostly white folks. I had a paintbrush in my hands and found myself creating art that represented a model of whiteness, an alternative model.
I was participating in a workshop that was part of the White Privilege Conference – Global, held recently in Toronto. "Whiteness without White Supremacy," was facilitated by Dr. Dori Tunstall, Dean of the Faculty of Design at OCAD University — the first black dean to hold such a post in North America.
What emerged in my art conveyed my vision of a model of whiteness with a strong and rooted core grounded in love, power sharing, co-creation, empathy, iterative-learning, equality, and belonging.
I hadn't considered writing about the conference — until after, when I felt compelled to share my reflections. But first, a bit of background.
The conference was hosted by Ryerson University's Office of Equity and Community Inclusion, headed by Vice President Dr. Denise O'Neil Green. It followed on the heels of the 2016 White Privilege Symposium hosted by Brock University. The WPC was founded in 1999 in the United States and brought to Canada by Dr. Eddie Moore Jr., a diversity, privilege and leadership consultant and educator who also founded The Privilege Institute.
At a Ryerson Soup and Substance Session held prior to the WPC, Dr. Moore explained that when he was a practitioner working towards a PhD and attending and presenting at conferences, he felt that diversity was the one topic that seemed stunted at a basic level, without a growth process. "We would never accept that if our kids stayed in math in the same course all the way through their high school." So, he set out to make the WPC the Calculus course for diversity. The conference, utilizing what he calls an "inclusive relationship model," offers a space for deep dialogue and solutions-based action around systems of supremacy, privilege, power, and leadership.
Walking into the theatre hall on my first day of the conference, I felt a palpable excitement in the room. There were more than 500 participants—one of the most diverse I've ever experienced—from a range of genders, races, religions, and sexual orientations and hailing from a broad mix of sectors, most notably education and non-profit.
The quality of the seven keynote speakers (four women and three men) was impressive—all accomplished thought leaders, educators, and activists from Canada and the United States. The conference also featured 65 workshops, a Youth Action Program for youth in grades 6-12, a marketplace of more than 20 vendors, and the 10th annual Viola Desmond Awards & Banquet Dinner, named for a Black business woman who challenged racial segregation in Canada but was only recently recognized, becoming the first woman on Canadian currency.
For me, to attend this conference with hundreds of people (many white) eager to learn, explore and talk about diversity at the deepest levels, with a spirit of curiosity and respect, was a moving experience. I was inspired by the keynote speakers who dedicated their lives to social justice, despite potential risks of becoming targets of backlash.
At the Soup and Substance Session, Dr. Moore explained that risk: "What I've learned doing this conference is if you're really good at this work, people will put your life in danger." He said that was a significant threat, as the father of two young children. But he vowed never to let fear hold him back from taking action.
That is no easy thing. In her book So You Want to Talk About Race, Ijeoma Oluo cites retaliation as the number one concern for people of colour engaged in racial justice work. Activists face harassment on social media, protests at public events, and threatening emails, just to name a few threats. The WPC in Toronto was no exception as protesters held a public rally on the last day of the event, calling a conference on white privilege "racist."
But as Oluo aptly reflects in her book, "Conversations about racism should never be about winning. This battle is too important to be simplified. You are in this to share, and to learn. You are in this to do better and be better."
The purpose of the conference was not about blaming a group of people but, instead, acknowledging the systemic causes of oppression and inequalities—and their effects. Ultimately the goal was to move us towards meaningful conversations, solutions and change, in societies and ourselves.
The conference explored many rich concepts, far too many to cover in one article. What I seek to share are themes from the keynote speakers that stood out for me.
We must reject talking about white privilege in a disembodied way
We cannot talk about white privilege without speaking about white supremacy, so said Toronto-based social activist and freelance journalist Desmond Cole. He emphasized that white supremacy is a system of power that designates value to individuals based on the perception of skin colour and ethnic ancestry, creating a racial hierarchy with notions of whiteness at the top. And, that white supremacy gives rise to white privilege.
Ritu Bhasin, an advocate for authenticity, inclusion and empowerment, defined white supremacy as the "ideology that white people are better, more valuable, more deserving, more competent, more able than people of colour and indigenous peoples; how it shows up and how it manifests is by way of power and privilege."
Cole called on us to reject conversations that speak about white privilege in a disembodied way, as if white privilege were not connected to the history of colonialism, slavery, capitalism—a white privilege "that just exists, 'cause it exists, 'cause it exists and is sad and unfortunate, but that's just the way it is. Heck, can you even change it? Maybe it's a force of nature!"
Cole pointed out the ways white supremacy plays out in the policing system. Cole, himself, was arrested at a police board meeting where he took the microphone to speak out about Dafonte Miller, a Black teen who was allegedly severely beaten by an off-duty Toronto police officer and his brother. As a prominent voice and critic of the Toronto Police, Cole was also part of a successful effort to remove police presence at Toronto public high schools.
We must recognize privilege and how it affects us, in different ways
In basic terms, privilege is a set of benefits, advantages or 'perks' afforded people who fit into a particular social group. We hear about male privilege. But what about straight privilege? Ability privilege? Class privilege? White privilege? It may be difficult to recognize our own privilege while we are enjoying the perks, but we must seek to understand them based on different aspects of our identity such as race, gender, class, sexual orientation, religion, physical ability, etc.
We can be privileged in some aspects of life while experiencing oppression in other areas. To underline this point, Sian Ferguson's White Privilege 101: A Quick and Dirty Guide offers an example of white people who believe they don't experience privilege because they are of modest means. Being poor can be an oppression but does not negate the benefit that comes with being white. Cole drew an analogy of a 100-meter sprint: "Some people are starting at 70 meters and some people are starting at zero. And some people are going to get arrested as soon as the shot gun goes off to start running, so that they have to be put back to the beginning."
For those who may struggle with seeing their own white privilege, Dr. Adrien K. Wing, Associate Dean at University of Iowa and editor of Critical Race Feminism, suggests a read of Dr. Peggy McIntosh's 1989 article "White Privilege: Unpacking the Invisible Knapsack." McIntosh, a white woman, offers a personal account of taking a closer look at her own daily experiences with white privilege, which she once took for granted. These are some of her observations:
I can go shopping alone most of the time, pretty well assured that I will not be followed or harassed.
If a traffic cop pulls me over or if the IRS audits my tax return, I can be sure I haven't been singled out because of my race.
I can be pretty sure that if I ask to talk to "the person in charge," I will be facing a person of my race.
I can easily buy posters, postcards, picture books, greeting cards, dolls, toys and children's magazines featuring people of my race.
I can go home from most meetings of organizations I belong to feeling somewhat tied in, rather than isolated, out-of-place, outnumbered, unheard, held at a distance, or feared.
Wing reminded us of recent incidents that might extend the list—Going to Starbucks While Black and Dozing at Yale While Black. "Every single day another one of these episodes happen and for some of you it can be like 'Wow that's sad,' but for those of us subjected to that potentially every day, this is no joke."
We must look at Allyship as not a noun that we are, but an action we do
That powerful comment, from one of the conference MC's, captured the essence of the conference for me.
Cole urged the audience to stop using the word "allyship" and, instead, to consider, "Are you my friend? Cause my friend would see me being harmed and would stand in front of me to protect me…I want you to be my friend and I want you to be, ideally, if we can get really close, my family." What I took from Cole's message? We must move beyond talk, beyond calling ourselves allies, towards taking action—with courage and heart.
Dr. Jane Fernandes, President of Guilford College, and the first deaf woman to lead an American college or university, has also been active in addressing critical race justice issues. Growing up as a deaf white woman, she experienced a structure of hierarchy in the deaf community that mirrors the hearing community, with whiteness also at the top. "If we share an oppression with people of colour, like deaf black people and deaf white people, we share deaf and then we're fighting for deaf rights, and we can forget that we are white." But by understanding what goes on in the intersections, we can begin to dismantle and transform the system. Doing so makes our advocacy more inclusive and effective.
"Our choice when we know about our white privilege and we understand all these things about how it was created," she said, "is to use it in such a way as to dismantle our system (of oppression)." That starts with small acts. "If everyone here disrupts the system a little bit five times a day, every day, that's massive."
We must be self-empowered warriors to make change
Dr. Shirley Cheechoo, who achieved a double first—first female and first Aboriginal Chancellor at Brock University—is also an award-winning artist, actor and filmmaker. She shared a moving account of her eight years in the residential school system where she experienced harrowing emotional, physical and sexual abuse. She turned to drugs and alcohol to blunt the pain—until she decided to quit, cold turkey, and turn her life around. She recalled her grandfather's advice: "Forgive but never forget about it. Shirley do not let anyone choose your path in life. You have to let go of the old self. Self is not something already made. It is through your choice of actions that you create your best self."
Cheechoo chose not to forget her past, but to stop being a victim of it. "We cannot wait for the next generation to make a difference. We are responsible, and we have the opportunity to make change."
Motivated by a deep passion to serve indigenous youth, by helping them live their potential, she founded De-ba-jeh-mu-jig Theatre Group (the only professional theatre company located on a reserve in Canada) and Weengushk Film Institute (a film and television training centre unlocking the creative potential of indigenous youth). "For years I have asked as a mother, as a woman in my community, how long, how many more years are we going to leave the children and the youth in the hands of unemployment? How many more people will have to fall into the trap that steals and butchers lives, dreams, and hopes of our next generation to come? We must learn to defeat the system and fix the problem now, and we must do it together. The Third World Country is right here, in our backyards."
We must take the bridge on the path forward
Dr. John A. Powell, an internationally recognized author, speaker, and Director and Chancellor's Chair at Hass Institute at UC Berkley, gave a rich talk on "Rethinking White Privilege in the Age of White Supremacy and Ethnic Nationality."
Powell explained that when we talk about white privilege and ethnic nationalism, "We're talking about a process of 'othering,' we're talking about some people claiming that they belong, and those same people claiming that other people don't belong." He suggested that this process of 'othering' is a problem that has gained power into the 21st century and is happening all over the world.
Othering, Powell said, can be thought about as "the way we marginalize people, the way we distribute resources, the way we recognize consciously and unconsciously as well as structurally, people's humanity. You can 'other' someone without necessarily having a conscious animus towards someone." And that can be based on a variety of dimensions—gender, race, ethnicity, sexual orientation, religion and on and on.
"The opposite of 'othering' is not 'saming,' it's belonging," he said. "When you think about integration, inclusion, you think about people coming into your space, but it's still your space. You can ask them to leave." But belonging, he pointed out, is saying "It's not your house, it's not my house, it's our house. When people really belong, they co-create the thing they belong to." According to Powell, this is done through a process of bridging, listening, engaging, organizing, and love.
Ethnic nationalism, he pointed out, has become more explicit because of migration patterns and increased diversity, specifically that of the ethnic 'other.' That reminded me of narratives reflected in the 2016 elections in the United States, the global refugee crisis, the US travel ban, the US migrant crisis, as just a few examples.
He offered two dominant stories in society available to us: "One is breaking, which is stories about the fear of the 'other,' in some way threatening or taking something away from who we are. And the other is a bridging story, which is that we are actually going to enlarge the 'we' and the 'other' will be a part of that new we." Bridging takes us towards a path of human connection and belonging.
Powell also talked to the changing demographics in Canada, citing Joe Friesen's Globe and Mail article that said, "By 2031, one in three Canadians will belong to a visible minority. One in four will be foreign-born, the highest proportion since the end of the last wave of mass immigrantion that began around 1910." Powell asked the audience to consider what Canada's story might be and who will tell that story? "And so, will we bridge? Or will we break?"
We must move forward
And so, I left the conference with my painting of what an alternative model of 'whiteness' might look, realizing that it's a 'we-ness' we must strive for, rooted at the core, grounded in love, power sharing, co-creation, empathy, equality, belonging. And the call to me, to take the bridge forward through action, translating that painting into all the narratives that shape our lives: schools, teams, workplaces, boardrooms, business models, advisory groups, government. And on and on.
---
For more information about the White Privilege Conference in Toronto, click here. For more information about the 2019 White Privilege Conference in Iowa, click here.
Additional Resources:
To watch recordings of the keynote speakers at the Ryerson White Privilege Conference, click here.