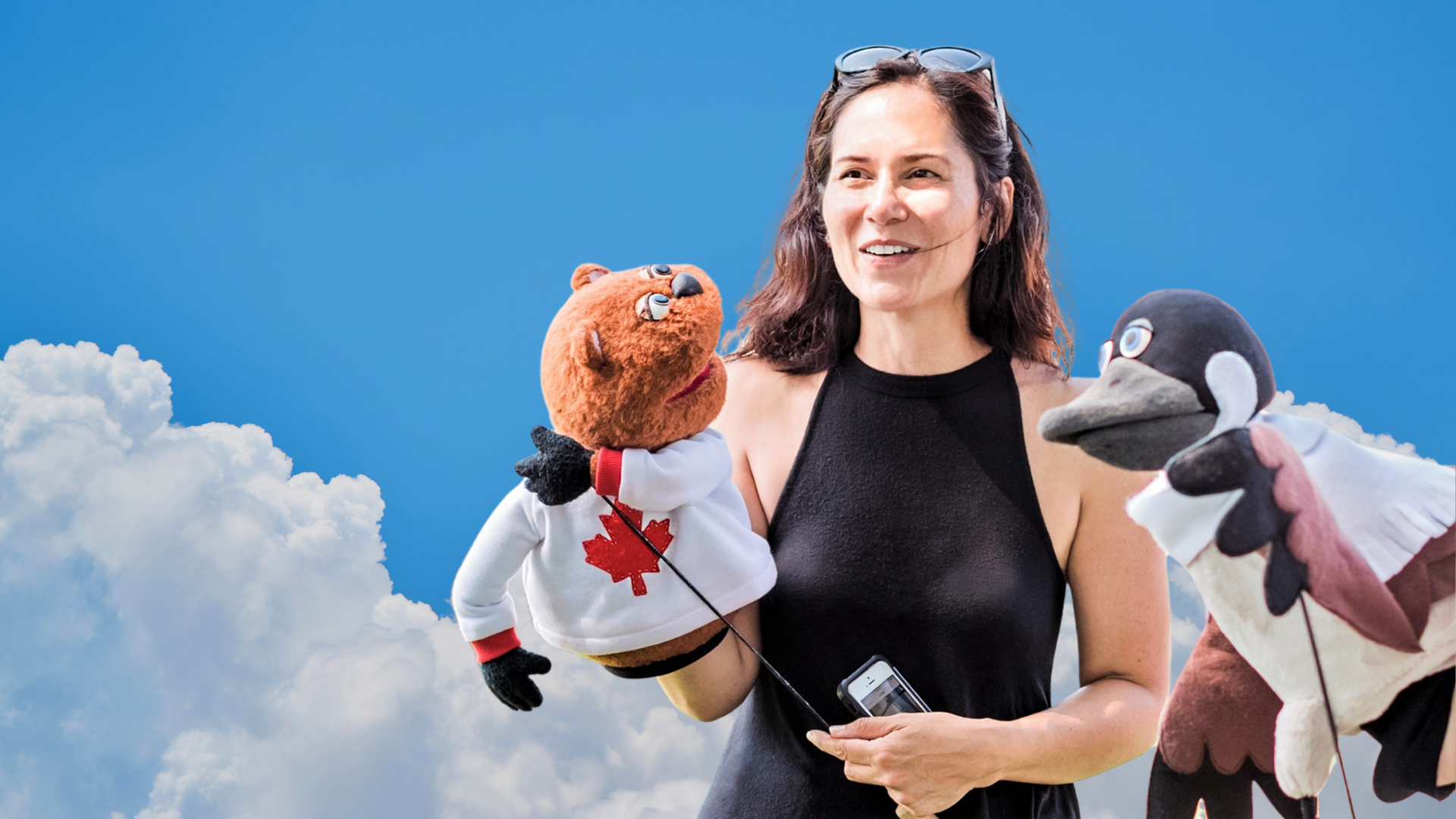 What was your favourite tv show when you were a kid?
If you're an 80's baby, it may have been Babar, Thundercats or Inspector Gadget. If you grew up in the 90s, maybe it was Lamb Chop's Play Along, Pokemon or Gargoyles. If you're Gen Z, you probably binged on Caillou, Teen Titans, and SpongeBob SquarePants.
Whatever your favourite, you most certainly remember it. The shows we watch as children tend to hold a nostalgic place in our hearts – and have a formative impact on our minds.
Meet Maria Kennedy, executive producer and owner of media company Little Engine Moving Pictures, who is creating TV, film and interactive content for the next generation of "the young and the young-at-heart."
Kennedy, who identifies as mixed race Caucasian and Filipino, grew up in "a small out port town" in "the heel of the boot" in Newfoundland, a community that was "almost entirely white," she says. "Growing up as a kid, one thing was for sure – I did not see a lot of myself on TV or media. And so now I have an opportunity to change that."
Her mandate? "To do something that makes an impact and is sort of transformative in the children's and family space." She describes the shows her company develops as "progressive, aiming to have "50-50 gender balance" and sexual, gender and racial diversity.
Kennedy graduated with an applied degree in fashion from Ryerson University. Her grandmother was a seamstress in the Philippines, and her mother sewed all the family's clothes, so it came "somewhat naturally" to her, she says. She focused on costume design, which is what "got her in" with film students. She went onto work in set decoration, wardrobe and art departments then became an assistant producer, where she started "from the ground up" working on commercials, music videos and branded content.
"I was always keen to take on new responsibilities–I think part of being the offspring of an immigrant or coming from an immigrant family is that you are very work-oriented. I don't know if that's a survival thing or what, but I'm a very work-oriented person.
Kennedy started Little Engine in 2013 with her husband, Ben Mazzotta, a director, originally focusing on corporate content, but she really wanted to create kids programming. "We had young kids, and I was watching and researching the shows my children were watching – I had control of the remote at that point," she says. "My parents were both educators. I liked the idea of curriculum-lead content that could be very entertaining and also progressive that had, you know, diversity and definitely gender parity, because there are so many kids shows where the main characters are little boys and not girls."
So, they gathered some puppeteer friends they had met while attending Ryerson University and shot a "little six-minute pilot" in their dining room, what would become Now You Know, a science-based educational program geared to four-to-six year-olds. Says Kennedy: "I sent it to TVO and the head of TVO Kids liked it and she immediately greenlit it into production."
Kennedy became sole owner of the company in 2016, when Mazzotta stepped back to focus on content for adults. The company now has a "growing team" of six that balloons to around 60 heading into production and strives to pay fair living wages and be inclusive in hires, both on camera and behind the camera. "If you look at our crew shots, we try to have as much diversity as possible. And I try to make that known."
Although she did not set out to build an intentionally feminist company, Kennedy found that as she created kids shows and leaned towards working with female creators that her work became increasingly focused on "not only gender, but making sure there was equality.
"I think it was really just in the course of gaining experience as a business owner that made (the company) more of a feminist company. I evolved as a feminist. And it was really only in the last few years that I learned to use my voice and I (began) seeking out spaces where I could explore and learn more about being a feminist business owner.
"Everyone is talking about diversity, everyone is talking about gender parity and equity," says Kennedy. "And that's one of the first things that I'm going to talk about if I'm pitching a show, if I'm looking for a show to develop, you know. Those are among the first qualities that I'm looking for."
For example, Little Engine is currently developing a "space-adventure comedy series" aimed at eight-to-12 year-olds called Starseeker, which features a strong female lead of colour and a racially diverse cast. A teen series in development, Local Heroes, features an openly lesbian lead.
Representation in kids programming has traditionally been white cis-heterosexual male focused– think about the way men and women are portrayed in classic series like He-man or the 90s X-Men, all barrel chests and heaving breasts, or the dearth of Princesses of colour in the Disney franchise (not to mention its reticence to just give Frozen queer-icon Elsa a freaking girlfriend already– although there are rumours they may rectify this in Frozen 3).This is an overarching problem in the industry even now; a 2019 study by the Center for Scholars and Storytellers found that children's programming focused mainly on male characters and there was serious under representation of people of colour, women and characters with disabilities.
Despite this lack of variety, there appears to be a serious hunger for more diversity. Netflix's She-Ra and the Princesses of Power is more of a re-imaging than a remake of 80's She-Ra, which featured a scantily clad heroine; the updated version features openly homosexual relationships, including those between people of colour, strong female leads with a variety of body types, and neurodivergent and openly non-binary characters. That show wrapped up in early 2020 to glowing critical reviews and nearly a dozen award nominations.
So, what does long term success look like for Little Engine Moving Pictures? Kennedy says, for her, it's a very practical thing.
"It really comes back to what I would want, as a team member, and that's to have a fulfilling job and a career, one that's financially viable," she says, with a smile. "And, obviously, to tell kids stories that travel the world, that make an impact on a young audience so that it transforms them, in some way.
"That's really inspiring to me."
---
Publishers Note: Little Engine is a participant in Canada's first feminist accelerator program for women in digital media, Fifth Wave Labs. The Fifth Wave is a year-round program offered by CFC Media Lab and its partners to support the growth and development of women entrepreneurs in the digital media sector in southern Ontario. All enterprise founders in the Fifth Wave community are selected for both their potential and commitment toward weaving intersectional feminist ideals of equity and fairness into sustainable and scalable business growth strategies. Fifth Wave Initiative is committed to 30% participation by members of underrepresented groups. The Fifth Wave is a LiisBeth Media partner and ally. Apply here.
One theatre company's big idea to save the world: teach kids how to be environmental superheroes
Read More »
This May's Feminists in Residence are fighting to support birthers' rights through COVID-19. Luckily, they had the foresight to shift their business online years earlier.
Read More »
Kristi Herold became CEO of one of North America's largest sport and social clubs by targeting one goal: making sports accessible for everyone.
Read More »