This LiisBeth exclusive Hallowe'en photo essay was created by Jack Jackson.
We asked Jack to think about Hallowe'en and the concept of fear. Formerly known as "All Hallows Eve", This originally Celtic tradition was essentially about humans facing their fear of what lives and lies beyond and beneath.
With the U.S. election looming, this Hallowe'en, ghosts and the living dead are seemingly the least of our fears.
We don't enjoy being afraid, but as we learn in this essay, sometimes struggling with fear, rather than being frozen by it, can catalyse the transformations that surprisingly, ultimately, set us free.
---
My name is Jack.
I thought the way I felt was 'normal'. Now I know there was nothing normal about it at all.
I was scared of everything outside of the confines of my own home. Loud noises, new things, new people, new places.
I think the old world was designed for certain groups of people to be scared, that's how the rest of them held on to their power. Keeping people silenced and afraid. But I wasn't just afraid, I was terrified.
I cut my face ashamed of the shame it revealed. No one told me it was ok to be like me, no one told me it was going to be okay.
Always in the background. Observing and mute. That's where they wanted me, I guess. Where was the rulebook for people that looked like me? Where were the reflections of people like me – were they hiding too?
Awkward in company, yet craving authenticity and connection. So obviously 'other' yet with an overwhelming need to blend in. I was the perfect incubator for addiction.
But I knew what I wanted to be; I just didn't know how I would get there. All I knew was fear and shame. And then one day I left. I left everything. My well-paid job, my house, my family and friends, my small island. I left everything I had known.
Fuck the shame, fuck the men who would prefer my silence, fuck your small minds and consumption of dumbed down spoon-fed mediocrity.
I make my own rules now and the other people like me, they're no longer hiding.
The scars are still there. I think to some extent they'll always be there. But the panic has long subsided and the fear is morphing into excitement.
The old world has gone for everyone. All of us who had been living in fear, constantly transforming ourselves to fit into their world- it's our world too now and we're ready to build a better future.
---

Publisher's Note: November is trans awareness month. Check out events in your area participate in advocacy and educational events that celebrate, honour and raise the visibility of the trans community. We also honour the memory of trans people whose lives were lost in acts of anti-transgender violence on November 20 for Trans Day of Remembrance.
---
Generorsity Shout Out! Flowers for the photo shoot were graciously donated by Floral Fetish Design (Toronto). You can order awesome arrangements from them here.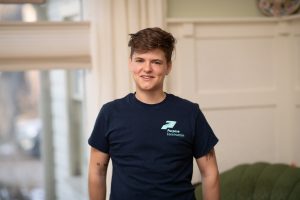 Kalen Taylor founded a dual-purpose construction company to build and rebuild lives. Foundational lessons to be learned.
Read More »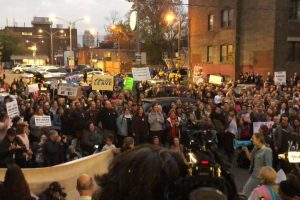 Trans exclusionary talk from so-called radical feminists is not just hurtful, it can be criminal. The problem is, what to do about it?
Read More »
"Today [International Trans Day of Visibility] is a beautiful day–something that means more and more to me as I have become less visible as a trans-guy"-T. Thomason
Read More »