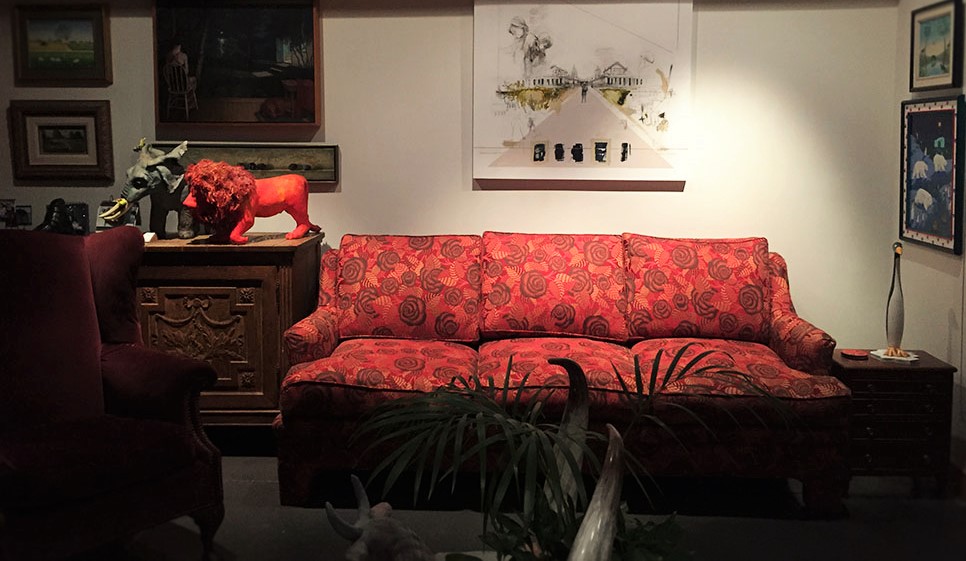 LiisBeth, the shit-kicking feminist entrepreneurship zine you're reading right now, held its first-ever consciousness raising–style salon a few weeks back. It felt like the heady old days of feminism. It felt like the thrilling future of feminism.
The evening gathering took place in the living room of LiisBeth board advisor Abby Slater—businesswoman, impact investor, social-enterprise champion—and featured two leading feminist thinkers and changemakers: Andi Zeisler, author of the brilliant We Were Feminists Once, and Sarah Kaplan, gender capitalism expert and director of the brand new excellently named Institute for Gender + the Economy at the University of Toronto's Rotman School of Management.
Oh, and let's mention a third: Petra Kassun-Mutch, the instigator of the salon, founder of LiisBeth and spirit incarnate of the zine's namesake, Stieg Larsson's Stieg Larsson's Lisbeth Salander, a fictional, dragon-tattooed, streetwise avenger, champion of the underserved, unheard, and overlooked. Or in Petra's world, women entrepreneurs.
Thirty-five members of the LiisBeth community congregated, including executives, writers, artists, activists, non-profit leaders, startup founders, and students. There were deep pockets, shallow pockets, pockets of colour, pockets of queerness, pockets of supermoms who have done it all, women at the start and end of careers, and every gradation in between.
It seemed absolutely right, the very randomness of ourselves gathered for a necessary conversation: assessing the state of feminism in this age of individualism.
Or as Zeisler might put it: How do we rescue feminism from the clutches of capitalist neoliberalism, which would divide our collective action for change and reduce feminism to a brand to sell us stuff?
Or as Kaplan might put it: Rather than stand on the sidelines of capitalism, how do we create true systemic change rather than being co-opted to fit in "nicey nice" with the status quo of inequality?
Kassun-Mutch was pressed with questions: Has feminism stalled out? With so much inequality still—we have not come nearly far enough, baby—how do we get back on track? Given that we have to swim in this system, how do we leverage the tools of business to change the system? While being sensitive to intersections of feminism—and the room was a sampling of that—how do we work together, support each other, be good allies rather than be divided by our differences?
How do we get back to collective action to change a system that so often diminishes women?
The conversation stirred up anger (as it should), plenty of laughter (as a gathering of women usually does), and a strong desire to connect between the generations and intersections and fault lines of business and non-profit. It also reinvigorated a passion and excitement for the hard work of making shit happen. Plenty of ideas flowed from the evening, which we'll be following up in LiisBeth stories for months to come.
The next evening, LiisBeth gave us another peak into the future of feminism as the media sponsor for Zeisler's talk at the Rotman School of Management, organized by Kaplan. Astonishingly, while Zeisler has spoken about feminism at campuses across North America, this was her first-ever invitation to speak at a business school. No doubt that has something to do with her attack on corporate capitalism for hijacking and neutering the feminist agenda, to render it into a pinked commodity.
The room was packed with young female MBA students whom Zeisler gave plenty to think about. I spoke to quite a few after the talk. Many identified as feminists, and now they were questioning what they were learning in business school. One wondered aloud, "Am I being trained to merely sell stuff to women? To exploit women, to increase profits, reduce costs, for my own advancement?"
Heading into the lecture, I introduced myself to an older executive who told me she works in finance. Given the subject of the talk, I asked what challenges she's faced working in such a male-dominated industry. She shrugged, almost dumbfounded by my question. "You know, with sexism," I nudged.
"None," she said.
After the lecture, she rushed up to me, mouth agape at her apparent amnesia. "When I started my career, I was forced to share an office with a co-worker who was stalking me. I had a different approach to sales; I took time to get to know my clients rather than closing the deal on the first meeting. I was outselling my male colleagues and they couldn't stand it. And even though I was making the company tons of money, the male executives kept pressuring me to change my sales strategy."
And this is what she did: she left and started her own company. Things clearly went swimmingly ever since.
She admitted that she had completely forgotten that the harassment she endured was the very reason she went to work for herself.
The three MBA students I chatted with didn't see any immediate exit strategy from the trenches. They truly worried about being co-opted by toiling in the muck of those trenches. Would they end up working for corporations that exploit women, systematically pay them less, and block opportunities?
And then their conversation drifted to asking themselves this question:
How could they work in the system while changing the system to make it more equitable?
Between them, they could check the boxes of a multitude of intersections: race, working class, immigrant, refugee, gender queer. Even though women now constitute 30 per cent of students at Rotman business school, they still feel like a maligned minority. They told me that just going to school requires enduring an onslaught of microaggressions: male students ignoring them in study groups and talking over them in class; male profs using gendered case studies (i.e. all men) and sexist language; male executive MBA students heading to strip clubs for bro-bonding after weekend classes. They don't see that scenario changing once they start their careers, not with men still dominating business leadership and business values.
"Feminism shouldn't be an optional lecture," one tells me. "Feminism should be on every course curriculum in business school."
That's one solution. And they came to another, as they circled back to why they had chosen to do an MBA in the first place.
One had graduated from gender studies, sharpened her teeth on the critiques of capitalism, and went to work in social services and non-profits to create change. But the more she saw how corporations exploited women through their supply chains, the more she realized how hard it would be to create true change from the sidelines. "We need activism all throughout industries and in different positions in society. I wanted to become someone in business who could make change. We have to have women in business who are feminists and activists. Change won't happen unless we have people on the inside who care about doing the right thing and can convince others to do the right thing."
Personally, I came away from the two events chuffed by the future of feminism, and we'll be tracking it right here in the digital pages of LiisBeth. Stay tuned for that—and for more hell-raising salons too.
Related Readings and Audio Interviews