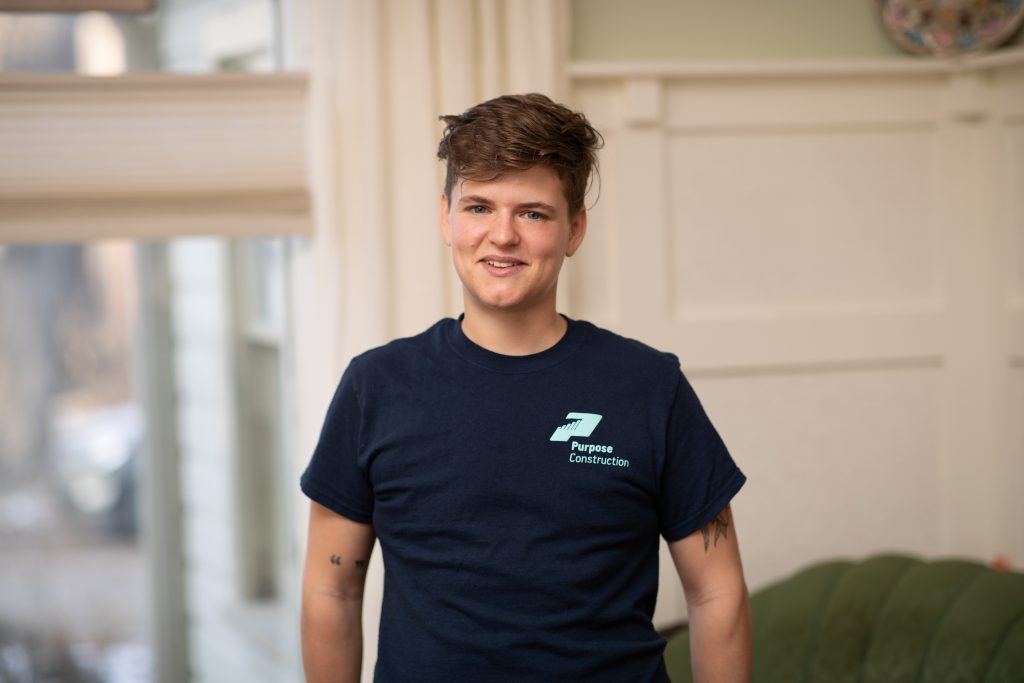 We asked LiisBeth board member Jack Jackson to share a transformative story about someone who has inspired them, in celebration of International Transgender Day of Visibility (TDOV) on March 31.
Jackson is the co-founder of the inspiring social impact project, Don't You Want Me (DYWM), a global documentary photography project showcasing LGBTQ people with their rescue dogs. Queer and trans people, who are often rejected by family and friends and live on the fringes of society, tell their stories of finding new purpose and connections, of reintegration and resilience, the catalyst being the arrival of their rescue dog. Look for the DYWM banner exhibit on display outside the Toronto Humane Society for TDOV.
Jackson chose to highlight the story of fellow entrepreneur, Kalen Taylor, owner and founder of Winnipeg-based Purpose Construction. The non-profit social enterprise's mission is to hire people who face barriers to employment in the trades: women, queers, trans and non-binary people, newcomers, refugees, and people transitioning out of the justice system. The company offers a trades-training program, living wages, and a deeply supportive work environment.
Started in 2010, the company has completed $11 million in commercial and residential contracts and given employment to 244 people over that period. It has recently reached $2 million in annual revenue, with a payroll of 40. For every dollar that goes to Purpose Construction, $4.29 goes towards social impact.
As Taylor says, "Really, we are in the business of economic inclusion, carving out a safe space in construction for those of us who aren't straight white men."
As Jackson says, Taylor's work shows us what happens when love is taken away—by discrimination, hate, and ignorance—and how people flourish when it's given back. In the midst of a pandemic, stories like these remind us of what's needed—and what's possible.
Here's their conversation.
---
Jack Jackson: How did you start working in the traditionally male-dominated construction industry?
Kalen Taylor: I come from a construction family. My parents both ran small businesses in the construction trades. When they couldn't find child care when I was young, they would bring me along to construction sites. If I was sick, I was hanging out under the boardroom table while the adults argued about building projects. So, in many ways, construction feels like home.
At the same time, I grew up listening to my mother's stories about how brutal it was to be a woman working in the trades in the '70s and '80s. She told me stories about throwing up from anxiety because the sexual harassment on site was so bad. She told me stories about clocking a guy on site for grabbing her butt. "Because sometimes kiddo, you've got to hit the guy first and ask questions later." She was my hero.
I also knew that construction was not a place for everyone. It was, and is, an overwhelmingly white, cis-male space. The gatekeeping is no joke. Even today.
Jackson: Can you recall a specific moment of wanting to effect social change or did it happen organically?
Taylor: I also saw the power of the construction trades to change people's lives for the better. When I was growing up, my older brother spent some time in and out of jail. A criminal record effectively excludes you from the legal economy, leaving you with very few options to earn a living and support yourself. I watched how that economic exclusion can lead to a cycle of recidivism as people are driven back into the illegal economy to support themselves—through no fault of their own.
Construction is one of the few sectors of the economy where a person can earn a middle-class wage with limited formal education–and where there are real opportunities for continuing advancement. In the end, my parents pulled some strings and found my brother a job as a construction labourer. Ten years later, he earns more than any of my university-educated friends. He's had the opportunity to turn his life around, and he has. I can't think of any other sector of the economy with the power to transform lives the way construction can. Especially if you're white, cis, and male.
But what about the rest of us? What about the women, the queers, the trans and non-binary people, refugees, newcomers, and people coming out of prison without family connections to pave the way to a career?
I live in Winnipeg, a deeply racially divided city where the Indigenous population is dramatically over-represented in the prison system and systemically excluded from the economy when they are released—a cycle that has been going on for generations. The construction industry remains a totally unsafe space for visibly queer/non-binary people like me, so I made my own company to ensure we all have access to the economic opportunities construction provides.
Jackson: Who has your company helped?
Taylor: I'm totally humbled by the people I work with. They've experienced pain and hardship that most people will never come close to understanding. Senay Masazghi, our lead carpenter, fled religious persecution, was kidnapped and imprisoned. The jail he was sent to was underground, no one knew where he was, and no one could visit him. There was a single hole that let in air and sunlight. Senay was imprisoned there for five months. Senay travelled for months on foot across borders to reach Canada, surviving a migration that many others didn't.
Jackson: You changed your name, pronoun, and had gender-affirming surgery. How did you navigate this while running a company?
Taylor: A few years ago, I came out at work as non-binary. I'd put it off for a long time simply because I was nervous about marginalizing myself further in a sector where I was already an anomaly. As the public face of Purpose Construction, I was also worried that I wouldn't be able to bring in clients and the whole company would suffer. But I realized that if I was dedicated to making sure there was a space for all of us in construction, that meant me too. All of me.
The response has been mixed but, overall, better than I thought. Within Purpose Construction, there has been nothing but support.
A few months ago, a really beautiful thing happened. Our team was interviewing a new hire—they were queer, Indigenous, and had a history of involvement with the justice system. At one point, one of my colleagues asked what their preferred pronoun was. There was a really long pause. Finally, they said, in a really low voice, "Oh, it doesn't really matter. I'm sort of in the middle. But whatever, it doesn't matter."
Then, everyone started talking at once.
"It does matter! And it's all good."
"The boss is non-binary! Whatever you want us to call you, we've got you."
"You just tell us what you want to be called and we'll do it."
It was a really nice moment. It was also a moment when I realized how important it is to be doing this work in public as a non-binary person. How, maybe, I can create small places for other non-binary and trans people to come out, feel safer, and be respected. Visibility is important. I'm still here, and I'm still bringing in new clients, and I'm getting better and better at navigating people's questions and responses to my gender.
I've learned the importance of owning my story. Being non-binary isn't something I need to apologize for. It isn't something that's getting in the way of my work. It's a part of the work. It's a part of the reason why Purpose Construction exists.
Jackson: You're doing groundbreaking work. Can you tell us a bit more about your latest project?
Taylor: In the last year, our team has found ourselves bumping up against the same problem again and again. Many of our employees don't have access to safe, affordable, and secure housing. The personal ramifications of this are devastating, not to mention the ripple-down effects. We have parents working for us who have children in the child welfare system. They have stable employment, they're clean, their life is on track. So why aren't they with their children? Because they can't afford a house with enough bedrooms to meet the legal requirements for family reunification.
There are over 700 families on the waiting list for subsidized housing units over two bedrooms. There are just no options for these families. The Canadian government is separating families, largely Indigenous families, based on poverty alone. My employees are part of my family, and I can't see them suffer like this and do nothing.
One day in the office, we just had this collective moment. We were like, "Fuck it. We build stuff. If no one is building affordable housing, why can't we?"
We purchased three vacant infill lots in Winnipeg's North End and, today, we're getting ready to build our first three houses.
They're going to be physically accessible, highly energy-efficient four-bedroom houses. By waiving all profit and administration fees, partnering with granting organizations, community partnerships, buying discounted materials from suppliers, we're able to build a house for about $230,000—and sell the house to people working with us for about $140,000, with no down payment requirement.
It's huge. It means that families would be paying $650 a month for a brand new four-bedroom home. It is truly affordable. It means they own it, they get to build equity and value in that home over a lifetime. It's a retirement asset. Most importantly, it means that people can be reunited with their kids, and can raise a family in a safe and secure place.
This is early days yet. We haven't even broken ground on the first three houses. But we've been in negotiations with the City of Winnipeg to give us 20 more vacant inner-city lots for a low cost or free, so we can build a lot more affordable housing in the neighbourhoods that need it most. It's a drop in the bucket compared to the need in our community, but it is something tangible we can do with the skills we have.
Discrimination, both systemic and societal, remain a major contributing factor to minorities ending up in the justice system, living in poverty, or living on the outskirts of society. Purpose Construction is giving people and communities a fighting chance at leading a normal life, of building a sustainable and stable life for themselves and their families.
Jackson: Beautiful! What a transformative story! It's time we told our stories.
---
Did you enjoy this story?
LiisBeth is a womxn-led independent intersectional feminist media organization. If you enjoyed this story and like what we do and stand for, please consider becoming a monthly donor subscriber today! [direct-stripe value="ds1577108717283″]
"Today [International Trans Day of Visibility] is a beautiful day–something that means more and more to me as I have become less visible as a trans-guy"-T. Thomason
Read More »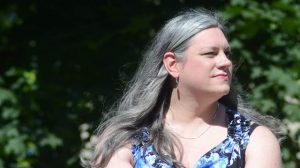 New city wide tech festival learns a few hard lessons on the way to opening day. Advancing inclusion and diversity in an industry that is anything but takes a lot more than a ticket discount.
Read More »