Amidst a week of news about mass shootings, UN reports about food instability due to climate change, Trump's approval rating increase, and the firing of women of colour at Equal Voice, news about a new investment, even if small, in Ontario's social enterprise space comes as a welcome relief.
Clearly, we need social entrepreneurs more than ever.
Earlier today, in London, Ont., the Honourable Mary Ng, Minister of Small Business and Export Promotion, announced a new $3.6 million investment in diverse women social entrepreneurs in Ontario as part of the Women Entrepreneurship Strategy (WES) initiative that seeks to double the number of women-owned businesses by 2025.
The funds will go towards the creation of the Women of Ontario Social Enterprise Network (WOSEN) and the development of a fresh, sophisticated social enterprise entrepreneurship program based on inclusive design and Indigenous approaches to venture creation. The WOSEN project aims to support 150 new women-led social enterprises, as well as expand 75 existing ones. It will also offer 10 women-centred innovation training sessions to 250 people, training for 35 business coaches, and connect $3.5 million of capital through the Women Impact Investor Network.
That's a lot of impact for just $7 million. But the social enterprise space is used to making a dollar stretch.
The WOSEN project is led by Pillar Nonprofit Network (London, Ont.), a well-established network of more than 600 non-profits plus its all-star list of project partners that include The Centre for Social Innovation (CSI), NORDIK Institute, Okwaho Equal Source, Lean4Flourishing, Eve-Volution Inc (LiisBeth Media's parent entity), plus The Social Enterprise Institute and the SVX. The startup consortium will be collaborating with others to develop the new program plus outsource the delivery of that program through various partners over the next three years.
Why Women?
The need for a women-centred program and investment has long been clear to the social entrepreneurship community in Ontario. Women have dominated the for-profit and non-profit social enterprise space. Tonya Surman, founder and CEO of the Centre for Social Innovation, has worked to support over 5,000 social-purpose companies since 2008. The CSI is home to nearly 1,000 organizations, 2,700 social innovators, and according to Surman, 58 percent of their members are women. "CSI has been female-led for 15 years and we know first-hand the challenges of getting the support to be able to grow our businesses," says Surman.
One of the most significant barriers to sustainable growth for women social entrepreneurs, apart from access to aligned capital, is finding relevant programming, mentors with the right experience, and a supportive network.
Research shows that many women social entrepreneurs eagerly line up to participate in mainstream startup support programs, only to find that the programming is one-size-fits-all or tech and venture capital pipeline–oriented. Only 44 percent of 117 startup support organizations in Ontario consider gender and diversity when recruiting or selecting clients. Fewer still have diverse, women-centred or purpose-led enterprise programming.
Additionally, access to relevant programming of any kind has been uneven across the province. Rural areas are often left out. Diverse and Indigenous women have expressed concerns that existing programming privileges colonial approaches to venture design, leadership, and operations, which results in their reduced participation. As a result, both material economic growth—and social impact—have been left on the table.
What's Unique?
The program aims to be the first of its kind to incorporate Indigenous values, practices, and wisdom into the design right from the start. The programming is also aiming for 70 percent participation by underrepresented women entrepreneurs, including those with disabilities, Indigenous women, women-identified, two-spirited women, women in rural or remote regions, and those who identify as visible minorities and newcomers.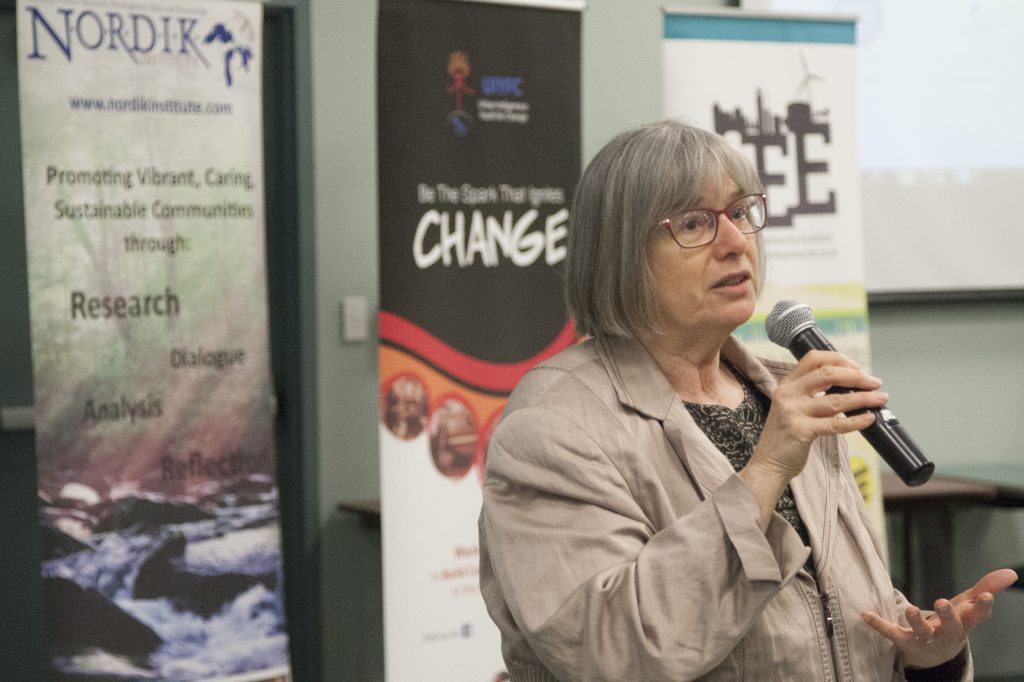 The Indigenous component of the program's development will be led by Okwaho Equal Source, an Indigenous-owned boutique consulting enterprise created by Shyra and Rye Barberstock. Shyra Barberstock, who is the president and CEO, has long been part of efforts to support and improve access to relevant programming for Indigenous entrepreneurs. "As an Anishinaabe woman, and social entrepreneur myself, I am happy to see us finally have the opportunity to develop a program that embeds, versus tacks on, Indigenous values and concepts when it comes to venture creation," says Barberstock. "After all, Indigenous peoples have been entrepreneurs for a long time. We know a thing or two about creating economic opportunities that help communities flourish while also sustaining the environment on Turtle Island."
Innovating Entrepreneurship Programming
Indigenous entrepreneurship programming designed expressly for Indigenous entrepreneurs and funding for such initiatives has been on the rise across Ontario over the past five years. Initiatives like Sunshine Tenasco's Pow Wow Pitch, Algonquin College's Institute for Indigenous Entrepreneurship, and Toronto Councillor Kristyn Wong-Tam's proposal for the Indigenous Centre for Innovation and Entrepreneurship all serve as prime examples.
However, no province-wide program has, as of yet, attempted to create an entirely new program from scratch that blends and builds on both Indigenous and feminine wisdom.
Andre Vashist, Director of Social Innovation at Pillar Nonprofit Network, says the approach to economic development has been missing an inclusive and Indigenous lens. "In the era of truth and reconciliation, we should be open to the knowledge, wisdom, and help by the longest living community on this land. As we are tied to land, whether we call it Canada or Turtle Island, there are many practices and teachings that can benefit our society's economic strategy. This includes a more holistic approach that combines financial, social, and environmental considerations," says Vashist.
Ondine Hogeboom and Ellen Martin, Co-Directors of Lean4Flourishing, points out that the exciting thing about this project is that the funding is not about delivering standard programming fare to an underrepresented group. Hogeboom adds, "We have the opportunity to work with the social enterprise community to co-create an entirely new innovative system of supports and curriculum that is grounded in current social, political, and environmental realities. This is IP [intellectual product] that, if proven effective, could be exported across Canada and beyond."
Joanna Reynolds, Director of Social Enterprise at CSI, notes that WOSEN will enable CSI to work directly with women social entrepreneurs with a focus on helping racialized, newcomer, and Indigenous women gain equitable access to business acceleration supports. "The fact that WOSEN's partners are all committed to learning from traditional Indigenous knowledge in order to embody the next economy, one that is regenerative, equitable, and prosperous for all, is also inspiring," says Reynolds.
Overall, this initiative, according to Lore Wainwright, Interim Executive Director of Pillar Nonprofit Network, will help us build even stronger partnerships across the province, from rural to urban communities. "We can support a diverse population of women who want to contribute positive economic and social impact," says Wainwright.
Creating a financially sustainable enterprise creates measurable social benefit, especially in a society that still thinks investing in social enterprises is just a new form of philanthropy versus real business. Being a woman, especially a woman experiencing intersecting oppressions, generates additional barriers.
Sure, $7 million in combined new investment over three years is not a game-changer in dollar terms when you consider investments made in other sectors. But perhaps the little innovative program that comes out of it will be.
---
If you like our work, consider becoming a donor subscriber today (we are 100% reader supported media): [direct-stripe value="ds1562329655623″]
Additional WES Investments Announced This Week:
Minister Ng announces Women Entrepreneurship Strategy investments (August 8, 2019)
Also, the following women-owned-or-led businesses received up to $100,000 through the Women Entrepreneurship Fund to help them grow their business and reach new export markets:
Related Articles on LiisBeth
https://www.liisbeth.com/2015/10/04/social-enterprise-in-ontario-substance-or-style/
https://www.liisbeth.com/2018/10/19/minister-mary-ng-to-announce-a-new-20m-women-entrepreneurs-fund-today/