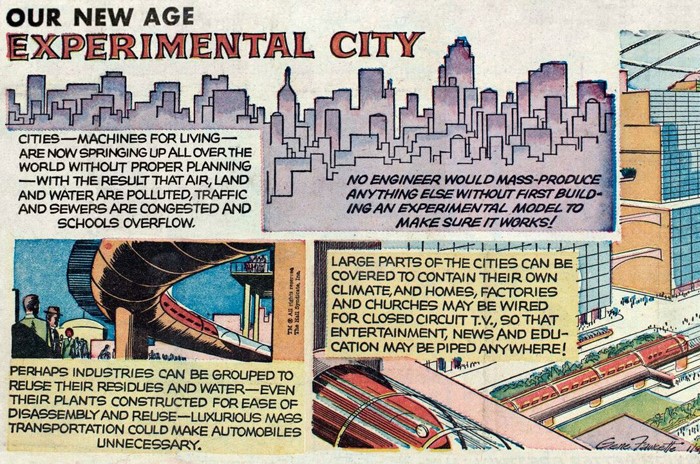 On a hot summer July evening last summer, a few members of the LiisBeth team (Lana, Geraldine, Champagne) and I went to see a screening of The Experimental City, a 2017 documentary about the Minnesota Experimental City (MXC) project.
The MXC was a 1960s technology-led city-building project that sought to solve urban problems of the day (excessive waste, pollution, automobile congestion, lack of parks) by building a full-size Jetsons city on appropriated land from scratch, using the latest technology sourced from around the world.
Its lead visionary—engineer, futurist, comic strip author, and dean of the University of Minnesota's Institute of Technology Athelstan Spilhaus—imagined a city with underground garbage recycling, lots of open parks, wilderness and farms, automatic highways, moving sidewalks, and waterless toilets. Fuelled by enthusiasm for the possibilities, a cadre of like-minded engineers, designers including geodesic dome inventor Buckminster Fuller, a newspaper publisher, futurists, politicians, and corporate leaders all decided take the techtopian idea from comic to concrete.
Despite years and significant spending on designs, plans, and site scouting, in the end the project never put a single shovel—or tree—in the ground.
We were interested in learning about the MXC because we are in the midst of planning our September 29 Feminist City Walk and Talk, an event dedicated to examining feminist approaches to city building.
Turns out watching the film was time well spent on several levels. The MXC story is not only a cautionary tale about techtopian projects in general. It is also a story about the limitations of patriarchal leadership styles.
When Product Trumps Process
The MXC plan was envisioned as an innovation experiment. Its unproven ideas girded by emerging technologies required a 60,000-square-foot sandbox and 250,000 real people living its experience in order to try things out, iterate, and try again until market-ready scale-up versions could be implemented elsewhere—for a handsome sum.
MXC was, essentially, a minimum viable product. Its citizens (in this case) were early-stage adopters. The play? To create new jobs and wealth for Minnesota by selling the experiment's spinoff products and intellectual property (IP) that would arise out of the project. Partners and advocates included federal and state governments, the University of Minnesota, and the 3M corporation. The project's all-male leaders were able to raise $250,000 from the US federal government and $670,000 (equivalent to $8.4 million today) from businesses to invest in the project plan.
It all sounded exciting and promising. There was just one problem: where to put it.
Eventually the group found a site—an unincorporated township in rural Minnesota with fewer than 2,500 residents (back-to-landers and rural folk). The assumption was that these residents would be pushovers and would be thrilled to see 60,000 acres of their pristine natural environment turned into a city of the future for a quarter of a million dollars. The pitch? Think of the jobs! Think of the economic development! Think of what we could learn! Think of the economic potential! Think of the profits!
By now, this top-down sell story should start to sound familiar, especially if you have been following Toronto's Sidewalk Labs' (this time the study cost $50 million) city-building project spearheaded by Alphabet (Google's parent company) over the last two years.
As you know, Minnesota's Experimental City was never built. They didn't even get close. Why? As the documentary so clearly points out, its leaders and advocates prioritized product over process. They assumed a "trust us, we got this" and "father knows best" stance that was off-putting. Most importantly, they overlooked Mary Parker Follet's 1920s feminist management wisdom by adopting a "power over" (exert authority) approach versus "power to" (develop agency and capacity to act in others) combined with "power with" (acting as expert heroes instead of initiators and sustainers of a collective process).
They also forgot Margaret Mead's timeless lesson: "Never doubt that a small group of thoughtful, committed citizens can change the world; indeed, it's the only thing that ever has." This applies not just to those with power and influence, but also to those with little else but just cause, a point of view, and determination.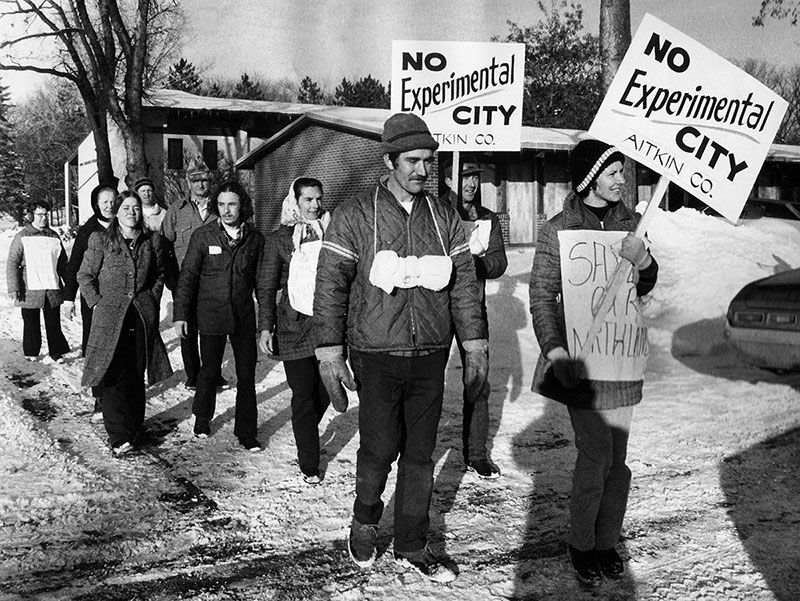 And what if, as feminist management scholar CV Harquail suggests, we shifted the eye of these stormy projects from a focus on economic development to a focus on citizen care?
Today, 80 percent of North Americans and 55 percent of humanity worldwide live in cities. We need to embrace both product and process innovations to make cities livable, sustainable, and safe. However, a patriarchal, top-down, corporate sales–oriented process that puts technology and corporate interests first is unlikely to succeed.
Projects like these, which involve a complex and large set of inter-independent stakeholders, require a deep understanding of the role of power, agency, co-creation processes, and fair and equitable distribution of benefits. It also requires the ability to inspire and take the time to create shared vision through the process of reflecting, learning and unlearning because every community is different. A colonial approach to selling this project might have worked in New York, but it would never fly in a place where citizens increasingly refer to where they live as Tkaronto as well as Toronto.  These are all things feminist movement leaders are attuned to and know a thing or two about.
Lana, Geraldine, Champagne and I stayed for the panel session that followed which featured accomplished tech entrepreneur and out spoken Sidewalk Labs critic Saadia Muzaffar, and Sidewalk Labs supporter, Ken Greenberg, the former Director of Urban Design and Architecture for the City Toronto, author of Toronto Reborn, and adviser to Sidewalk Labs Toronto.
Trying to keep an open mind, and putting aside the fireworks examples of mansplaining that occurred, the panel discussion only served to confirm our views.
Patriarchal leadership styles which, by the way, know no gender, is like kryptonite when it comes to advancing complex, multi-stakeholder projects.
If the Alphabet (parent company of Google and several former Google subsidiaries) want to see projects like this succeed in the future, it may want to consider hiring fewer "father knows best" techno-determinists to lead these initiatives, and hire the real superstars at leading a collective process–a diverse team of feminist leaders–instead.
Publisher's Note: This article was original published in August 2019 in LiisBeth's newsletter.  
---
LiisBeth is a 100% womxn-led/owned media enterprise focused on bringing forward feminist perspectives on current issues and supporting the work of creators, entrepreneurs, innovators and community leaders who are feminist.   We are also 100% reader supported.  Please consider a donation to help us do more! [direct-stripe value="ds1577108717283″]
---
Related Readings
https://www.liisbeth.com/2019/09/24/feminist-in-the-city/
https://www.liisbeth.com/2018/11/27/creating-a-feminist-city-we-rise-by-lifting-others/