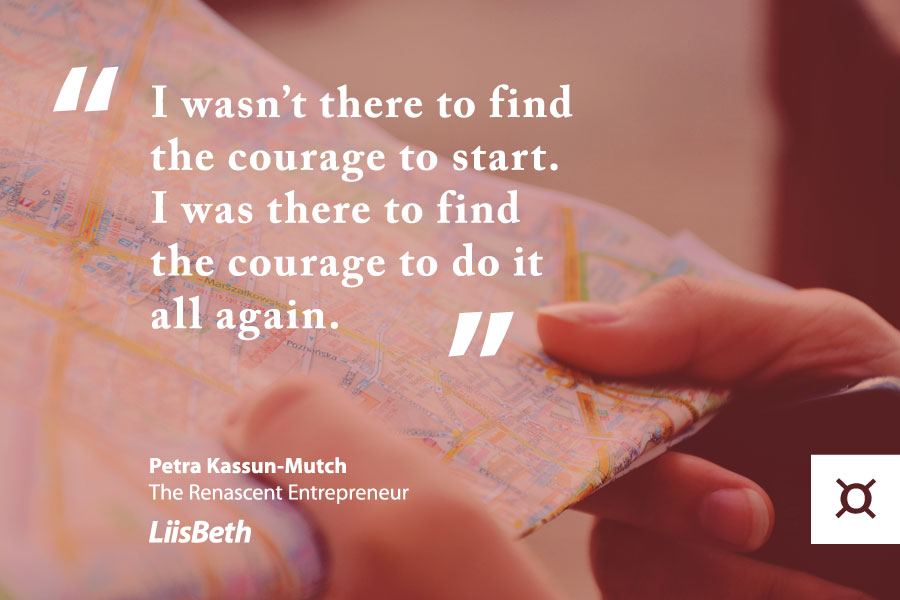 As an entrepreneur who recently exited my last venture (not with millions in my pocket, more like barely surviving), I found myself in that messy middle stage of figuring out if I should start another — and also at yet another high-energy, motivational entrepreneurship conference. On this evening, 300 aspiring career transitioners — the outplaced, retirees who hadn't saved enough, and many Zuckerberg-inspired millennials — sat with notebooks in hand, waiting for the first speaker. The event promised inspiration plus how-to tips to help the tired, hungry and eager masses develop the courage and skills to become an entrepreneur.
The first speaker (a man as is so often the case) swaggered across the stage while Katy Perry's song "Roar" powered through the sound system. Once at center stage, he stopped, deliberately silent. His eyes scanned the audience for a few seconds. He then raised his right arm, wagged his pointing finger and proclaimed, "The two most important days of your life are the day you were born and the day you figure out why!"
Great line, I thought, for a talk about finding your entrepreneurial "why." But unlike most in the room, I knew my "why," and I wasn't there to find the courage to start a business. I was there to consider whether I should do it all again.
But thinking about my "why" sent my mind spiraling back to a vivid moment, one of the most pivotal days of my life.
It was a sunny, mid-summer Friday, time for our weekly staff lunch. I had noticed the lunchroom was a getting a bit tight. No wonder. Since opening our doors a few years before, we had grown from five to more than 18 staff. But, somehow, we still managed to arrange thrift-shop chairs around the breathtaking harvest table that was designed and built by one of my first hires, John, a celebrated Toronto sculptor before joining the company.
To outsiders, we were in the business of making artisan cheese. But to me, the founder and CEO, the cheese was our medium but not the message.
This is what the enterprise had come to mean to me: Proving that a small but highly innovative, sustainably-designed business set in an economically-bifurcated rural area could succeed while focusing on returning benefits to the community — sourcing locally, offering fair farm contracts and providing good jobs. And while operating in a notoriously over-regulated industry. I wanted to change the world and be financially sustainable.
My staff also believed in the power of a for-profit social enterprise. Doing well and generating social benefit was built into our company's DNA.  We had high standards for making cheese and high hopes that we could create real and lasting change in our community.  And, you know, we almost made it.
Then an untimely divorce unraveled the dream.
Back to that Friday lunch.
The lunchroom (which tripled as the boardroom and meeting room) was bustling. We made a point of eating together on Fridays, sharing bread and stories about the week. It was generally a potluck affair, supplemented by tomatoes and other pickings from our staff garden outside.
On the wall was a bulletin board pinned with pictures of staff and families, a Myers Briggs team grid (yes, I made them do it), thank you letters from the community, newspaper clippings, the make-cheese schedule, and a recent article about us in Fortune magazine. In those halcyon days, three staff had to stay behind in the retail store during those lunches as more than 5,000 visitors streamed into our store each week. We had been open just 18 months. Though we were not yet profitable, sales had skyrocketed from $5,000 in the first month to more than $120,000 per month by end of year one. We were on the right path, according to both the accounts and awards our cheeses had won.
As lunch was wrapping up, I rose to my feet and went to the front of the room. Normally, this is when I would share sales stats, bring attention to challenges for the following week, and call out birthdays and achievements. But today would be different.
I thought I could just say it, but emotion came fast and furious. Instead, I pulled out the folded press release from my back pocket and started to read. "On August 11th, 2012, Petra Kassun-Mutch, Founder and CEO, is stepping down to make way for a new management team that will take the company to the next level…." Blah. Blah. Blah.
There was stunned silence. I said I was sorry, as my eyes welled with tears. I hurried from the room, placed my keys on my desk and walked out, just like the divorce lawyers told me to do, in case anything I said after might be construed to have had a negative effect on staff retention or brand value. Not a time for unintended consequences, they advised.
I had unwittingly ceded control of my company to my partner years ago for reasons that made sense at the time. The divorce lawyers and lenders rendered the company just another line item on the family balance sheet. Many told I was too emotional about the company to be objective. Perhaps I was as I eroded my personal finances on legal fees in an effort to hold on to it. I could not afford to buy it out myself. I struggled for a year to find an investor to buy my parnter's half. I succeeded in finding a serious suitor with big hopes and dreams for building the company with me, but the deal had to be acceptable not only to myself, but my ex and, of course, the investor as well.  A deal was never consummated.
During the 18-month battle, it became clear that the drawn-out, hellish divorce proceedings were taking a toll on the company. My attention as CEO was divided – at a crucial time in our company's growth. Bruised, scared and exhausted, I finally realized it was time to step aside if the company had any chance of reaching its potential. After many consultations with friends and advisors who were concerned about my health and post-divorce reality, that Friday, I let it go.
My mind snapped back to the present, the conference, where the speaker was summing up key points in a booming voice: "Entrepreneur is just French for has ideas, does them…. Find your passion, and the money will follow…. If you can dream it, you can do it!"
But the carnival call is one thing, reality another.
Starting a capital-intensive company you plan to lead and grow is hard. It takes years of sweat and stress equity to launch and a lot more than passion to operate it well. Even if you get everything right, you can still, in the end, fail.
Leaving the company I built, letting go daily interaction with the community of staff and customers, saying good-bye to the sweet smell of curds in the vat and losing my identity as business owner, hurt. A lot.
While a lot of things went right, many things went wrong. We grew too fast. All the business planning in the world could not have anticipated the 2008 financial collapse — or a partner who wanted out. As the battle lines for control of the dairy were drawn, I was told I suffered from "founder's disease," as occurs when identity and passion for the company become too intense and inseparable, clouding vision. Perhaps they were right. Creating and running a business is still a very human and, therefore, a flawed affair.
It took me some time to collect myself, re-glue the shards and regain my confidence.  I worked hard to "integrate" what had happened to become a new, wiser self. Some days I still grieve, though less intensely now. And I think about what I can teach my daughter, who was very much a part of the journey, about that period of our lives.
Following the sale of the company, I needed time to heal and decided I just wanted to be safe for a while. So, I did what most entrepreneurs do after a rough exit: I set my sights on finding a job with a steady pay cheque. That opportunity came at a wonderful organization I had collaborated with in the past. I was returning to a corporate life, which I had previously enjoyed.  But I soon learned you can't go backwards. I chafed at working in middle management in a large organization where the pace of decision making is slow, and politics and administrative processes stifle timely implementation of new ideas. As Oprah would say, I could not be my best self. My entrepreneurial experience had profoundly changed me, forever.
Which brought me to yet another entrepreneurship conference, along with hundreds of hopeful others.
In addition to being in the messy middle stage, the one between ventures, I was also, by another term, a renascent entrepreneur, exploring, deep diving and milling around to find that next moment where heart, mind, body, resources and purpose align once again.
Not long after that conference, I found that moment once again.  Or perhaps I had always known it, that my heart and soul had become invested in learning and living the craft of entrepreneurship — and not only for myself but the community of entrepreneurial dreamers I found myself drawn to while attending conferences, hosting start-up pitching sessions and in my consulting work, which increasingly became about guiding, challenging and championing new entrepreneurs. And this is how the LiisBeth project was born.
In this latest venture, the medium and message are one — to create a community and publishing venture where we can share what we are learning and experiencing about entrepreneurship — to strengthen our business, ourselves and the world. I feel that familiar excitement coursing through me as I move on from renascent entrepreneur to full on serial entrepreneur!  Sure, I've learned a few things. The first, you can bet I will be far more vigilant about who I involve. The other? Whether I was born to be an entrepreneur or came to it through living the life, I realize it has made me who I am: strong, driven and hopeful enough to start all over again.