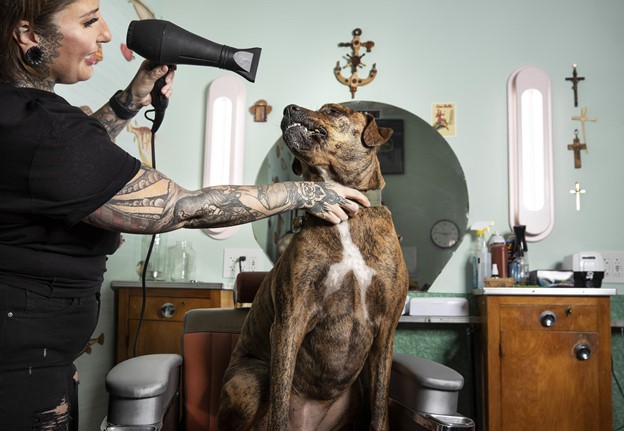 Eli is a trans-masculine person who is most comfortable in the liminal space between "F" and "M": "I acknowledge that life is really hard AND really wondrous, and I believe the more that we can fearlessly be honest about our struggles and come together as loving supportive chose family and community, the more 'life preservers' we will ALL have to share. I can't own a dog right now because I'm living a life that has weird hours and a low paying job that I believe, is in part, connected to my queer and transness. I wish I could."
Pam and Storm: "The love of a dog who is terrified of everything is one of the most special and gratifying bonds imaginable. We are constantly helping each other grow and push past our hardships."
Nic and Chuck, Non Binary, Kichwa Otavalo: "It's funny how we transform ourselves to survive. Chuck, being from Australia, grew more fur to survive our winters; me, I grew more self awareness. I found where I needed to be in life. Chuck is my constant reminder of the power of resilience and of giving ourselves second or sometimes third or fourth chances."
Finch and Freya: "On days that I'm really struggling, she can still make me happy or proud or laugh or less alone. And when she's anxious I can reassure her that the world is scary but she can do it because she has before and will again and just saying that out loud sometimes is a good reminder to me."
Reuben and Luna: "Going from being so scared to be left alone, not having a name or knowing how to walk on a lead to being her happy, balanced, wonderful self has been nothing short of a joy to behold. Taking a lead in her rehabilitation gave me the purpose and connection I was craving."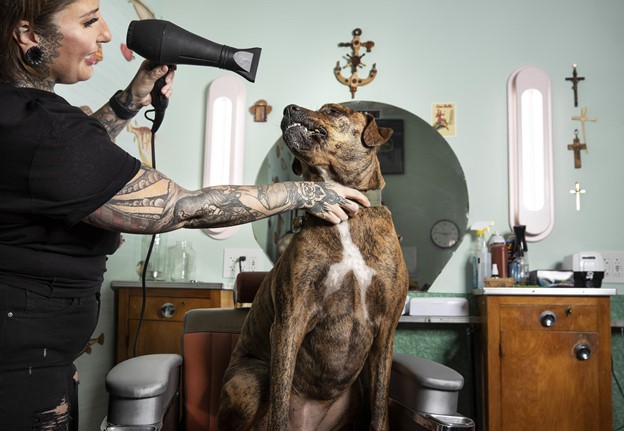 Stella and Jada, Pansexual Femme: "Growing up there had always been a dog by my side. I moved away from home at 18 and not only lost my best friend but also myself. I struggled for years with depression and mania, not being diagnosed with bi-polar until my early 30's. I felt extremely lonely and always the outsider…. Baby Jada's huge now. She's also been a huge factor in me getting clean and sober. She has turned my life around and I will never be able to thank her enough."
William and Bella, Man of trans experience: "She saved me, I know it's meant to be the other way round, but without a doubt, she saved me. The 3 best decisions I've made in my life are transition, sobriety and Bella."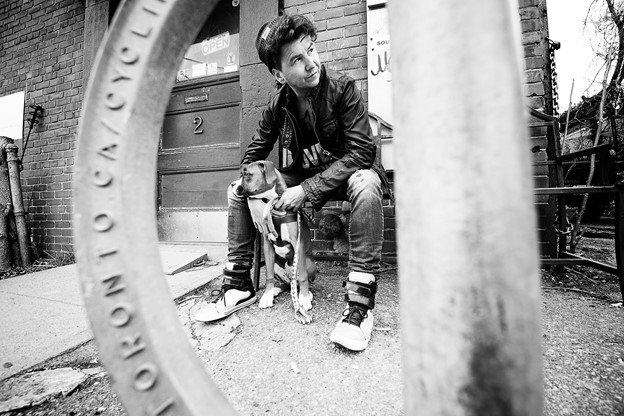 The Project was in part borne out of my own experience of coming out as trans in a new country. I was in a relatively 'good' position compared to many trans people, yet it was still the most traumatic and isolating period of my life, far more so than a pandemic. My story isn't unique. I moved from a small conservative island to a more liberal progressive city but, with that distance, you often lose all sorts of safety nets. I lost almost everything during my transition. And then came Jet.
On paper I was in no position to get a dog. I really had nothing other than crippling anxiety and a roof over my head for the next six months. But Jet changed everything. Because that's what happens when people have something to love, something to nurture, something to fight for. She was the start of a business, photography work that I love, a completely new life and a new family. Without a doubt, she saved my life.
Some people think the name of the Project is sad, but the Project was always meant to not only provoke dialogue about the effects of discrimination to a mainstream audience, but also to be an absolute celebration, to show how, against all the odds our participants have triumphed. What we should be sad about, however, is the people that were not able to take part in the Project as they are no longer with us. Trans people are an absolute gift to the world; their experience and insight are an invaluable contribution to the advancement of equality for all.
Statistics on Trans People in Canada
of trans adults have considered suicide
of trans adults have attempted suicide at some point in their lives
of Canada's homeless youth identify as LGBTQ
of trans Canadian earn less than $15,000 a year
of the queer and trans community reported significant impacts on their mental health due to the pandemic compared 30% of non queer/trans people
LGBTQ people may experience intersecting forms of discrimination- such as racism, sexism, o r poverty alongside homophobia or transphobia that negatively impact their mental health.
Publishers Note:  We must do more to support the trans community. Please consider a donation to the Don't You Want Me campaign here and learn more about the fight for trans rights organizations here.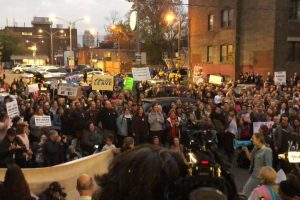 Trans exclusionary talk from so-called radical feminists is not just hurtful, it can be criminal. The problem is, what to do about it?
Read More »
Cherry Rose Tan created a forum for entrepreneurs to talk about what they thought unspeakable—the mental health struggles of entrepreneurs.
Read More »
"Today [International Trans Day of Visibility] is a beautiful day–something that means more and more to me as I have become less visible as a trans-guy"-T. Thomason
Read More »