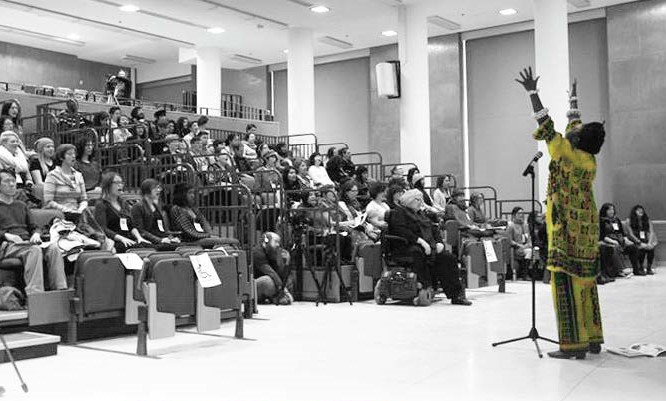 Feminist Art Conference 2014, OCAD University, Toronto
The process for art-making can boil down to something like this: Make art, get feedback, make art better. Sounds easy, right? It wasn't for Ilene Sova. In 2012, the Toronto artist-activist was painting portraits of women who had disappeared in Ontario for her Missing Women Project. She wanted to talk about the hard issues she was tackling in her art—patriarchy, misogyny, systemic racism, violence against women—but there wasn't a group of fellow feminist artists to turn to, at least not a formally organized one.
Sova put out a call for submissions and volunteers and got a rush of responses, including from people in Kenya and Colombia. On International Women's Day in March 2013, she launched the first Feminist Art Conference (FAC), a multidisciplinary event that brought together artists, activists, and academics of different gender identities, ages, nationalities, and feminisms so they could show their work and use it to spark discussions around important feminist issues.
The conference sold out in two days, attracting 120 participating artists and 150 attendees. "Clearly what I had been missing in my own social practice was something that others in our creative communities were also yearning for," says Sova. FAC's subsequent annual conferences have been equally as successful, especially the 2017 event that happened the day of the Women's March.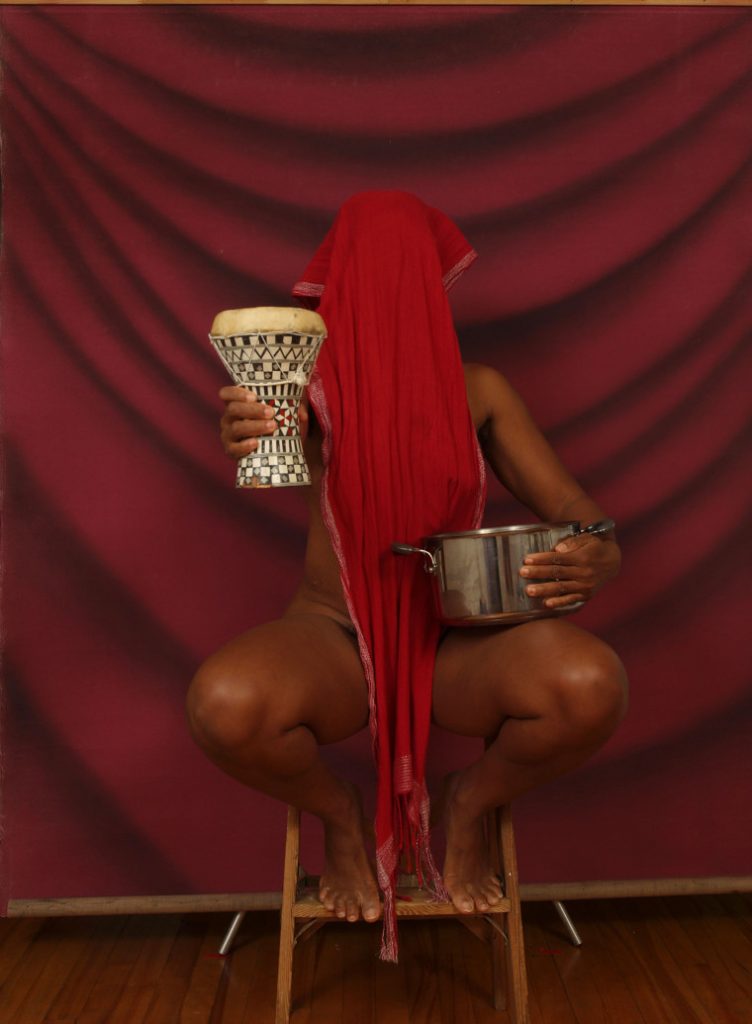 'Ashaba'; No human can look at her directly by Karen White explores unseen oppression. By covering her face while staring straight at the viewer, the artist makes us feel both complicit and engaged in the exploration of colonialism and imperialism.
 Art That Moves
Feminists have been long fed up with the fact that women's art continues to be undervalued, underrepresented, and often completely ignored. The feminist activist group Guerrilla Girls have been calling out the gender and racial inequality in the arts since 1985 when they picketed the Museum of Modern Art in New York for featuring only 13 women out of 169 artists.
That inequality persists today. Female visual artists earn just 65 percent of the annual income of their male peers, according to a 2018 report by the Ontario Arts Council. Since 2013, women have only accounted for 36 percent of solo exhibitions at Canadian galleries; it's dramatically less for non-white women. Gender disparity also exists in the performing arts space, which FAC attempts to redress in their events.
FAC has heard all the reasons why feminist work is often shut out of commercial spaces and public institutions. It's not mainstream or universal (i.e., not male). It's too angry and personal (i.e., too female) to be good. No one (i.e., men) will buy it. FAC's response? Carve out spaces to showcase intersectional work that might be deemed taboo elsewhere, for instance, on topics such as rape culture, transphobia, racism, ableism, domestic violence, missing and murdered Indigenous women and girls, media representation, cultural appropriation, environmental degradation, and Islamophobia. Nothing is off limits. FAC featured a graphic novel about trauma and abuse, Girl in the Attic by Hyein Lee, which contains such difficult subject matter that FAC added its first-ever content warning.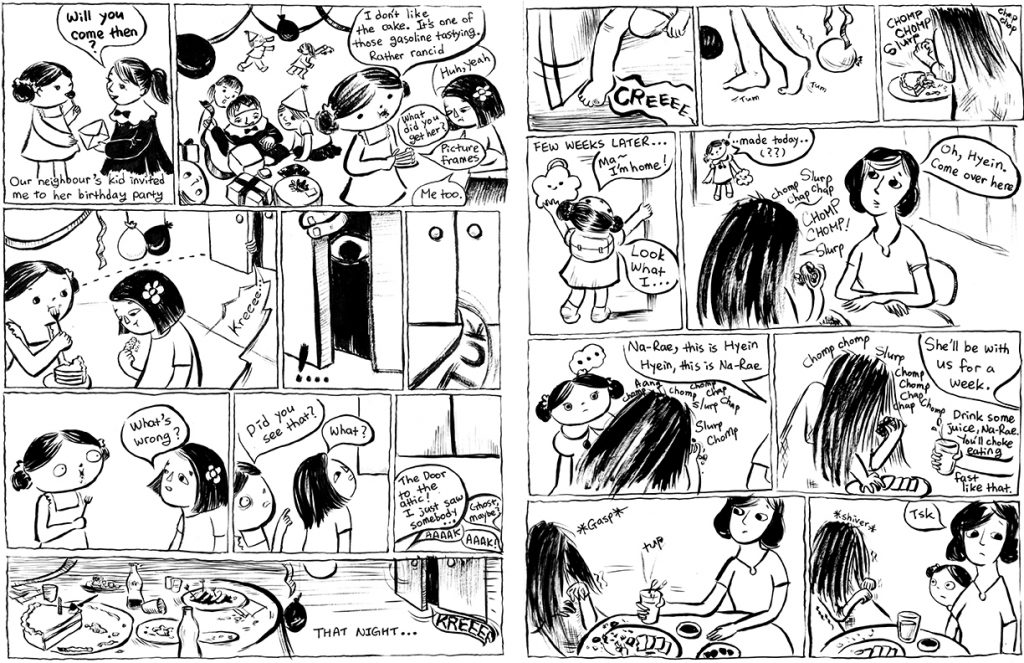 Girl in the Attic by Hyein Lee explores themes of trauma and abuse by drawing the viewer into the narrative.
According to Sova, people attending FAC events say they are really touched because the art reflects current social issues that affect them. "This creates a very impactful experience for those viewing art or experiencing a performance," says Sova.
After hosting four conferences, FAC changed its name to the Feminist Art Collective to reflect its expanding mission. It now hosts artist residencies on the Toronto Islands. And its next event—the Feminist Art Festival, March 5 to 7, 2020, at OCAD University—will include a reception, conference, performances, film screening, makers' market, and a two-week exhibition featuring the work of visual artists.
The Art of the Action
Since day one, FAC has operated as a grassroots organization run entirely by volunteers. Currently, the core team consists of 30 people from a variety of backgrounds and experiences.
Carissa Ainslie, who took on the coordinator role after Ilene Sova became the Ada Slaight Chair of Contemporary Painting and Drawing at OCAD University, describes their current organizational structure as non-hierarchical. "We try to be intersectional in terms of who we're including in the conversations that we're having," says Ainslie. "Ensuring that everyone has a voice at the table is really important regardless of what their experiences have been."
FAC's biggest challenge is finding the time and money to put on events, particularly without a physical office or paid staff. It didn't help that the Ontario government slashed arts sector funding from $18.5 million to $6.5 million earlier this year but, before that, FAC did not have much success getting grants as their conferences are so unique they don't "tick all the eligibility boxes." Instead, they're exploring other options such as sponsorships with companies that align with their values.
For now, FAC relies on in-kind donations for printing services, food and beverages for receptions, and space rentals (OCAD University is a signature partner and hosts the festivals as well as committee meetings). Ticket sales (with pay-what-you-can options) and their annual Made by Feminists market at the Gladstone Hotel also brings in funds.
Despite budget constraints, FAC continues to grow. Submissions for the 2020 festival were up to 187 from 130 in 2017, coming in from Australia, South America, Europe, United States, and Canada. Ainslie says the political landscape has changed since their last conference in 2017 with the #MeToo movement encouraging people to talk openly about sexual harassment and gender inequality.
A voting committee of 11 people (artists, curators, activists, community members and academics) will select the final artists to participate at the festival, through a selection process that considers social justice issues, intersectionality, the collective's mission and, of course, the strength of the art itself rather than the artist's professional record.
Not Missing, Not Murdered by Amanda Amour-Lynx features the shirt the artist wore the night she was sexually assaulted. Photo: Black Umbrella Photography, Rebecca Tisdelle-Macias
With FAC serving as a spring board, past participants have gone on to show or perform their work in other venues and countries, collaborated with artists they met at FAC events, and even started conferences (see Black Futures Now and M.I.X.E.D) as well as a literary magazine (Living Hyphen).
Says Ainslie: "The world is a bit ridiculous and I hope people can come together and have some good conversations. We try our best to support the artists the way we can. We can't always do that with funds but we can by creating a space where artists can build their CV and present work that may not be welcome anywhere else. We just want the best for all the artists involved."
The Feminist Art Festival runs from March 5 to 7, 2020 in Toronto. Get your tickets here. 
---
LiisBeth is all womxn-owned/led.  works to promote entrepreneurs, creatives and innovators in the feminist economy. If you appreciate our work, please consider becoming a donor subscriber. [direct-stripe value="ds1554685140411″]
---
This article was made possible thanks to the generosity of Startup Toronto.
---
Related Articles
https://www.liisbeth.com/2016/12/07/make-difference-2017-take-action/
https://www.liisbeth.com/2017/03/02/gender-innovation-entrepreneurship/