Most practices of the Christmas season contradict my feminist values, the gendered narratives of Christianity conflated into the season of "giving," with women carrying the burden of holiday shopping, cooking, and social coordination. Then there's the "give and get"—giving a charitable donation in time to get a charitable tax receipt by year end.
For me, holiday giving and celebrating should not be powered by a capitalistic consumer agenda but by love, thoughtfulness, kindness. During the holiday season, winter solstice in particular, I focus on hope and gratitude for female* energies rather than the pinging of POS machines in shopping malls driving us into debt. Do our loved ones really want that? I don't think so.
This year I endeavoured to find a way to engage with the festivities, in ways that make my heart happy. I visited three events featuring feminist makers and changemakers: the Made by Feminists Market at Toronto's Gladstone Hotel; Ottawa's Feminist Fair; and the Indigenous & Ingenious Show and Sale in Toronto. You can check out their crafty arts online, as I am sure they will inspire you to new ethical shopping heights, as they did me.
Here are some of my feminist faves that are sleighin' it!
This powerhouse family team walks the feminist talk! Sisters Sarai (22), Jahdiel (25), Kristine (27), and their mom, Carolyn, run SaSa Naturals, an ethical, all-natural approach to self-care that emphasizes the power of women's bodies. The co-founders are incredibly knowledgeable about each product and ingredient as well as traditional hygiene and wellbeing practices of women around the globe. They source goods directly from female-run shea nut farms in Ghana and even visit regularly to ensure female farmers are being treated equitably and that plant-based products are produced sustainably and free from chemicals. Products include all-natural deodorant alternatives, delectable soaps, bath bombs, lip chap and Yoni steam kits (unlike Amazon's selections, these vaginal cleansing kits use herbs that honour the sacredness of womanhood). By using traditional medicinal practices rather than chemicals, the SaSa team is building a sassy brand that reminds women that our natural selves are our true selves. Check out their Instagram page to place orders that can be shipped to both Canada and the United States.
Kristen Campbell, an ecological restoration maven, founded her company almost two years ago as a way to make beautiful change in the era of climate crisis. She handmakes seed bombs—ethically sourced native plant species balled up in clay—that you can chuck at any barren patch during your morning walk or your own garden for that matter. Add rain, and flowers spring up. Bees and butterflies will love you, as native habitat springs from these flower bombs. Beautifying the world has never felt so therapeutic as hucking an enviro-friendly bomb of life to Mother Nature! An excellent gift for the outdoorsy, flower-loving, tree-hugging types in your life or for anyone who just wants to drop an f-bomb—and feel great about it.
Helena Verdier discovered a love for transformative upcycling while studying at Carleton University. Now 26, she has made a business of repurposing some of our favourite literature into works of visual and wearable art. She creates paper flower crowns, centrepieces, and floral decor, showcasing and selling her flower-power pieces on her Instagram page. Seeing Verdier's artistry highlighted on the Feminist Twin's page enticed me to make the trek to their Feminist Fair in Ottawa for their sixth annual event where I discovered plenty more feminist gift-giving ideas.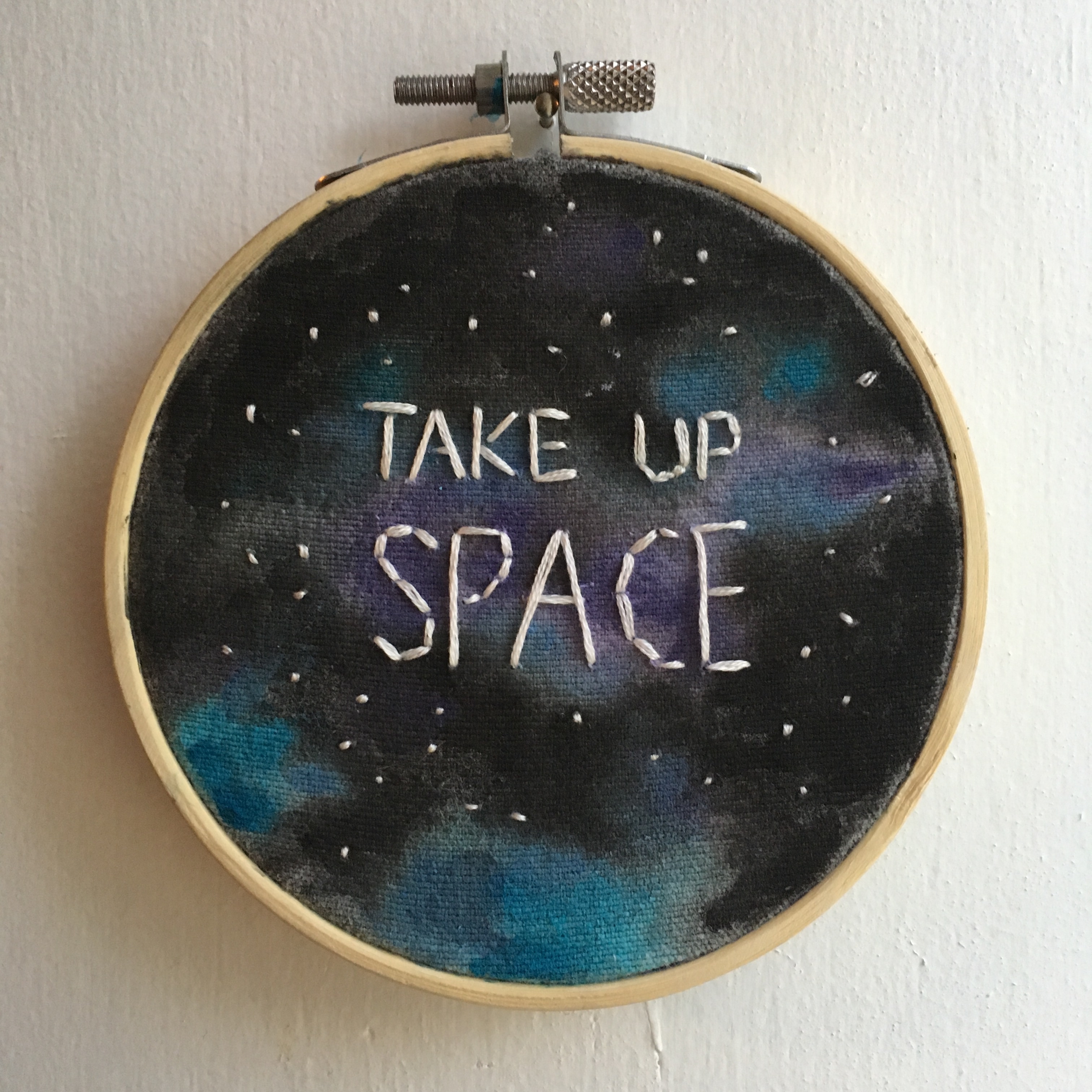 Remember those framed embroidery pieces hanging in grandma's house, greeting you with cheesy, sentimental sayings, like "Home is where the heart is" and all that? Well, Claire's (Claire ask us to not publish her last name) embroidery art is not that. The 30-year-old stitches radical, feminist ideas into her hoops such as "A woman without a man is like a fish without a bicycle" and "Ovaries before brovaries" as well as slogans for the woke such as "If it is inaccessible to the poor it's neither radical nor revolutionary" and "Hang on lemme overthink this." She also draws on racialized voices for inspiration. From Serena Williams: "The day I stop fighting for equality…will be the day I'm in my grave." Such soulful, gut-punching, and often hilarious affirmations gave me the most painful belly laugh—and sure to deliver the same kick to your pals. Claire ships her work straight to your door—and accepts custom orders should you know exactly what will tickle a friend's feminist fancy.
At Indigenous & Ingenious, I visited Chief Lady Bird, an Anishinaabekwe artist who resists colonization through her mixed media prints, brilliant murals, skateboard decks and youth-focused projects that focus on Indigenous resilience, sex and body positivity, as well as calling attention to the importance of Indigenous women in our communities. She recently illustrated Nibi's Water Song, a brilliant children's book about Nibi's quest to find clean water in her community, highlighting the need to listen to Indigenous voices and protect our planet for future generations. You can order Chief Lady Bird's art on her Instagram page. She takes commissions for custom pieces too.

But the greatest gift I took away from my foray into these feminist fairs? The knowledge that every dollar we spend casts a ballot for the world we want to inhabit. One maker told me that the money she made at the event will help pay her rent this month. When we buy from our brilliant sisters, we are also giving a gift of survival and support in the fight to dismantle the patriarchy. Now, I can deck the halls with that!
---
Creating researched and inspirational content to support and advocate for feminist changemaking takes hundreds of hours each month. If you find value and nourishment here, please consider becoming a donor subscriber or patron at a level of your choosing. Priced between a cup of coffee or one take out salad per month.
Support LiisBeth
You will have access to Payments processed through PayPal.
You can also contribute to our "Sustainability Fund" or an open donation in any amount.
---

This article was made possible thanks to the generosity of Startup Toronto!
---
Related Reading
https://www.liisbeth.com/2016/11/22/merry-little-inclusive-holiday-season/