In the fall of 2016, when Jordan Peterson, a psychology professor from the University of Toronto, gained social media notoriety for refusing to recognize a person's right to be addressed by their preferred pronouns, claiming there is no scientific evidence for being non-binary, Margeaux Feldman came face to face with the skewed and limiting perceptions existing within the business of academia. Rather than protecting the right to gender identity and expression, Feldman says "the university gave Peterson a platform to stage a debate around pronouns and trans identity, instead of penalising his behaviour." The incident prompted Feldman to consider how she could use her industry background in writing resumes and cover letters for a career services company to help businesses make workplaces more inclusive.
Feldman, a PhD candidate in English literature with a specialty in sexual diversity, understands that language can be a powerful tool in changing perceptions and creating more inclusive workplaces. So Feldman, who identifies as queer and uses the pronouns she and her, set out to explore how to use language "to become a better ally for the queer and trans community, both within academia and outside."
Feldman teamed up with queer spoken-word poet and educator Tanya Neumeyer (whose preferred pronouns are they/them) to create the workshop "Queer + Trans-Inclusivity: For Entrepreneurs," the first iteration hosted one week before Toronto's Pride Parade by Shecosystem's Emily Rose Antflick.
The three-hour seminar attracted 18 women and one man who cited their employment as artists, activists and entrepreneurs. In Shecosystem's well-lit co-working space, they gathered to learn the language of inclusivity, which started with a determination to overcome a discomfort in using queer and trans-inclusive language.
Neumeyer kicked off the workshop with a recital of their spoken-word poem I'm So Gay. Then, Feldman led an introduction exercise asking participants to state their preferred pronouns.
The revelations were immediate. Most stated their name, reason for attending, and a fun thing about themselves, but completely forgot the fundamental instruction of citing their preferred pronouns. Quickly, everyone realized how non-intuitive pronouns are, and how little we think about them—until we do.
"When you ask what pronouns one prefers, it opens the space up for inclusive dialogue," said Neumeyer.
The point of this exercise, of course, was to acknowledge each other's preferred identity without preconceived gender assumptions, but also become aware of how binary our positioning is in a heteronormative society. In other words, we live in a world where people are largely identified as he or she, where gender is marketed in pinks and blues and, said Feldman, "where sex equals gender equals sexuality."
The co-facilitators informed participants that being a powerful ally of queer and trans folks—and a fighter for inclusivity—starts by understanding queer ethnography. Feldman introduced everyone to a glossary of queer- and trans-identifying terms she had compiled. For the uninitiated, the terminology of gender identities—and the complex, fluid, and multidimensional expression of gender—can be confusing.
"To learn a new language, you need to be immersed," Neumeyer warned participants, but also added that it's okay to make mistakes. "You need to be able to make a fool of yourself when someone is teaching you something, and be resilient until you've nailed it." Neumeyer, who has taught spoken-word poetry to more than 5,000 students, and performed for applauding audiences at Engineers Without Borders and the Association of Ontario Health Centres, says becoming a good ally to queer and trans folk takes work.
It means researching and learning what LGBTQQIP2SAA stands for (lesbian, gay, bisexual, trans, queer, questioning, intersex, pansexual, two-spirit, asexual, and ally) and what nuances separate each term from another. How we understand the differences between these 11 identities will determine how we put our allyship into practice.
According to Neumeyer and Feldman, sex is widely accepted as being based on the binary identity of female and male biology, while gender, much like language, is a social construct. "There's nothing that makes my haircut feminine other than the fact that we've decided to assign it that definition," said Feldman. "Whether it's conscious or unconscious, we're always performing gender constructs."
But, according to Feldman, many people resist the male/female gender boxes assigned to them at birth by a heteronormative world that attaches male or female labels to sex and gender.
As budding allies, some workshoppers struggled to understand various gender classifications. "What's the difference between cis-gender and heterosexual?" asked one business owner. Feldman explained that cis-gender is a person who identifies with the sex/gender they were assigned at birth, but "has nothing to do with sexuality." A cis-gender, for example, could identify as homosexual or heterosexual. Transgender, on the other hand, refers to folks whose gender expression does not match the gender or sex they were assigned at birth.
According to the Ontario Human Rights Commission (OHRC), trans or transgender is "an umbrella term used for people with diverse gender identities and expressions that differ from stereotypical gender norms. It includes but is not limited to people who identify as transgender, trans woman (male-to-female), trans man (female-to-male), transsexual, cross-dresser, gender non-conforming, gender variant, or gender queer."
Saying transgender is okay, but transgendered is not because of the othering qualities of the suffix "ed." Imagine saying "heterosexualed" or "straighted."
When addressing a group, it's preferable to eliminate gendered addresses and say "folks" instead of "ladies" or "gentlemen." After asking people's names, it's encouraged to learn their preferred pronoun(s), as well. If you do make an error, recover by accepting your failure gracefully without taking up too much space apologizing.
The co-facilitators urged that employers write job descriptions using inclusive language that motivates marginalized groups and LGBTQ+ to apply. And they should also make sure not to tokenize diversity outreach by hiring just one or two, thus forcing them to wear a visible minority label.
Making a workplace inclusive, they said, also goes beyond learning the language of inclusivity.
Bathrooms and shared areas in brick-and-mortar businesses should be rethought as gender-free spaces. That means having co-ed bathrooms rather than male- and female-labeled spaces or change rooms with sufficient privacy where anyone can feel comfortable using them.
When following your queer sisters and brothers on Instagram, move away from #femaleidentified and towards #bodypositive.
As an icebreaker for workshops and events, get creative with The Gender Unicorn, an exercise welcomed by queer and trans folks unlike The Genderbread Person.
It's imperative to read and understand the codes of practice specified by OHRC on Preventing Discrimination Because of Gender Identity and Gender Expression.
And bookmark A Guide Towards Allyship, a comprehensive online learning resource for those taking their first steps towards becoming an ally.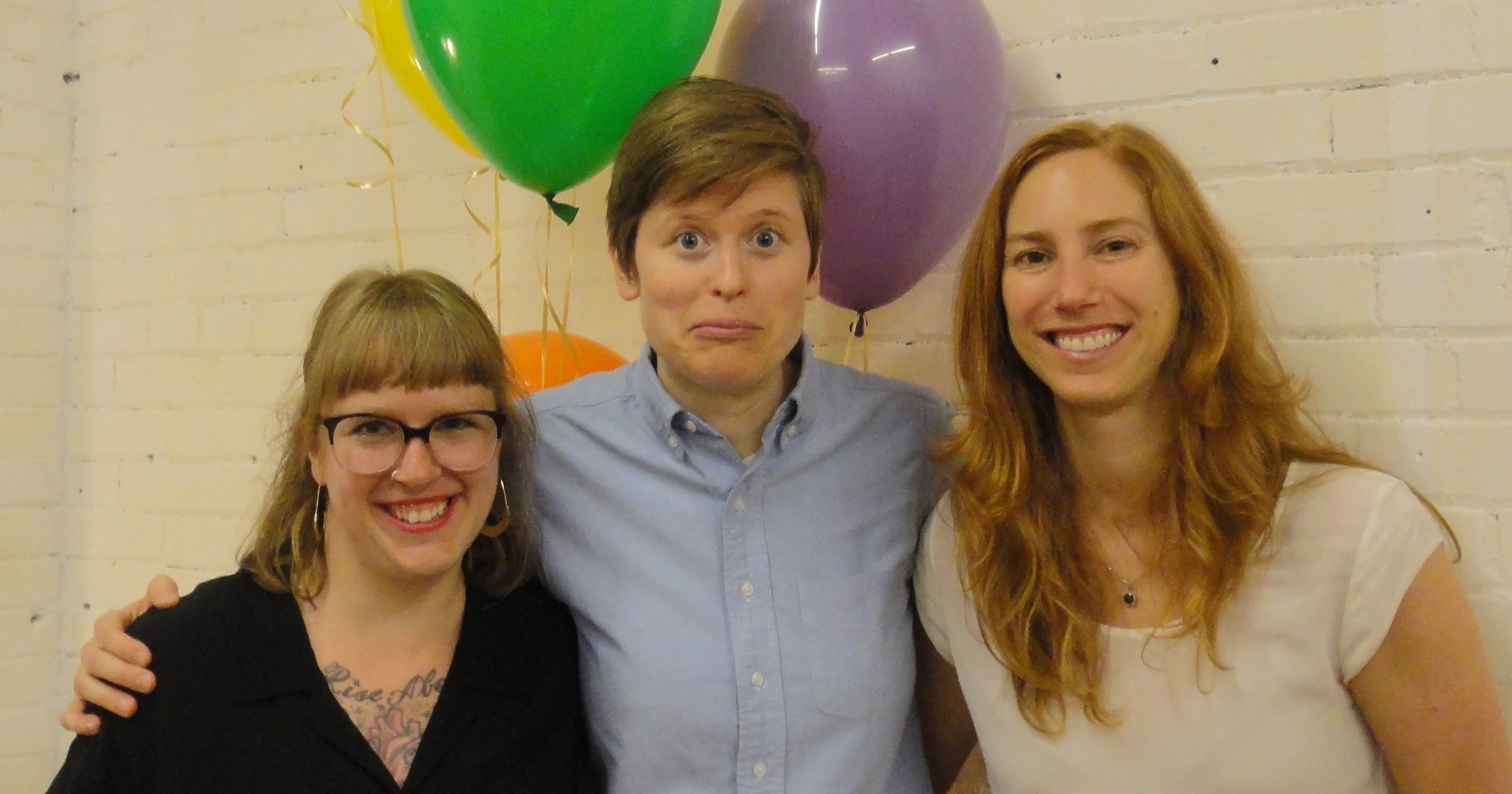 As the workshop ended, participants agreed that there are gaps in our knowledge of what it means to be a good ally. An awkward politeness exists around the subject of queer- and trans-inclusive language. One might be intimidated to avoid the matter completely, but "that's not being an ally," said one participant who is a girls' school educator.
Being an ally, said Feldman, means to remember your own positionality of power and privilege, constructed through intersectionalities of race, ability, gender, class, religion, age, and other defining factors while uncovering your own gender blindspots.
---
Additional Reads on Queer Entrepreneurship by LiisBeth
Queer to Their Boots by Priya Ramanujam