When you hear the word "decolonization," what comes to mind? Land acknowledgements, the KAIROS Blanket Exercise, or the Medicine Wheel? Learning Indigenous traditions and the history of colonization? The act of offering the lands that were taken from Indigenous people back to their rightful owners? (See further reading by Eve Tuck and K. Wayne Yang below.)
Diem Marchand-Lafortune, who created an intensive two-day workshop called "Decolonizing the Heart," describes decolonization as "a process" that guides us to look, with a critical eye, at the history of North America and its power structures, including economies and governments, which "have been formative in developing one's own and one's ancestors' worldview." It requires "working to dismantle and transform one's way of seeing and being in the world," and that means unlearning principles that we may take for granted. For instance, this could include analyzing our business practices and offering up products and services as gifts to people in need rather than expecting money for them.
Marchand-Lafortune, a Cree-Métis and Jewish woman who was adopted and raised by an Acadian/Mi'kmaq father and Scottish mother, says she synthesized and "indigenized" 40 years of knowledge, life experience, philosophy, psychoanalysis and practice in negotiations and law school within the two-days of teachings. The program is not a 101 on Indigenous issues. It includes complex ideas. Marchand-Lafortune warns that both Indigenous and non-Indigenous people who feel invested in exploring decolonization in more depth should be prepared for "hard work and self-examination."
One goal of the workshop is "to understand oneself better so that one can interact with other people in a more healthy way," she says. "I've put all these disparate things together that allow people to learn we can't reconcile with other people till we reconcile with ourselves."
I began to learn about decolonization when I was doing my Masters of Social Work at the University of Toronto through academic readings, experiential re-enactments of colonization, and cultural competency training. However, I felt my education on Indigenous issues was insufficient, especially following a poorly facilitated class discussion on the findings of "cultural genocide" from the National Inquiry into Missing and Murdered Indigenous Women and Girls (see further reading below). Students were upset and complained to the administration. Seeing the harm social workers have caused and continue to cause Indigenous people prompted me to take a class on building Jewish-Indigenous relationships at the Lishma Jewish Learning Project.
I heard about the Decolonizing the Heart workshop from a fellow student in my master's program. Monica Henriques is a social worker of Dutch and Jamaican ancestry who took the workshop and became Marchand-Lafortune's executive assistant.
The workshop was a lot for me to take in. I felt a bit overwhelmed by all the ideas floating around in my head while simultaneously trying to remember how to put the tools into action. Undoing nearly 35 years of colonial education, changing deep-rooted emotional reactions, and relating to others in new ways may take me more time and practice. However, the experience left me with a great deal to think about.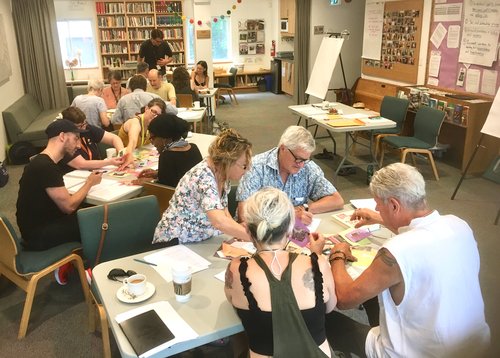 About a dozen people attended day one of the workshop at the Toronto United Mennonite Church in Toronto's east end, including educators, non-profit professionals, writers, social workers, and religious professionals. The workshop integrated seemingly disparate topics throughout, including traditional Indigenous teachings, anti-oppression practices, conflict resolution strategies, and object relations theory approach to human development. It involved lectures, group discussions, experiential activities, visual mapping of individual ancestry, personal reflective writing, role-playing exercises, and video re-enactments. A second day was added to allow more time to cover the expansive material and practice role-play exercises.
On the second day, we simulated a variety of scenarios in which we responded to racist remarks. In one role play that took place at a liquor store, a customer suggests to the cashier that she shouldn't serve Indigenous people and uses an offensive racial slur. The workshop teaches tools to guide us in identifying what may have happened in our past to trigger our emotional reactions to the situation, and for bystanders to take a few moments before acknowledging the harmful comment so that we can "call in" with compassion for the person causing the harm, trying to empathize and understand that person's motivation, rather than "call out" the harmful comment through shaming and blaming. As the type of person who tends to freeze up in conflict situations, I have a hard time finding the right words to speak up. In one role play, the bystander asks, "What did you mean by that?" The customer says that Indigenous people are prone to alcoholism and wants to protect them. The bystander then provides information found on their phone's web browser on alcohol rates among Indigenous populations in Canada. When the discussion wraps up, the Indigenous customers jokingly suggest the customer making the racist comment might pick up the tab at a nearby cafe–in exchange for conversation and a reading list to deepen the learning.
The workshop led me to reflect on standard practices in health and mental health care that I learned during my master's. For instance, the Medicine Wheel includes four sections that represent the intellectual, emotional, spiritual, and physical realms of each person. Well-being is feeling balanced in these four areas. Within health care and mental health institutions, the spiritual component of healing is usually missing. Though it may sound simple, finding that sweet spot where mind, body, heart, and soul are aligned is anything but simple. In this way, traditional Indigenous teachings hold the knowledge that Western society is lacking.
The workshop also reminded me of how important relationships are to our continued survival. This includes our relationship to other people, the natural environment, and ourselves. Indigenous societies lived on the land, co-existing with plants, animals, and their natural environments long before Europeans colonized and settled North America. Living in Toronto, I rarely have the chance to connect with nature, and I do not need to think about how the food I buy in the store is cultivated. I was also raised to compete with others for limited resources and taught to be independent and self-sufficient, ideals upheld by capitalism. However, Marchand-Lafortune explains the importance of collaboration with others and building strong ongoing relationships with the people around us.
This is the fundamental question that arose for me after attending this two-day workshop: Do you want to participate in colonization and colonial practices or do you want true change? When decolonizing the heart, you may never feel like you're getting it right, but if you are not grappling with difficult questions, then you're probably getting it wrong.
Marchand-Lafortune offers this analogy: "It's really hard to be a feminist if you start acting like entrepreneurs that are in the capitalist paradigm—competition, aggression, all that stuff." Put yet another way: though people may crave sugar, we don't need it so why not consider what is driving that craving for sugar? She suggests focusing on meeting needs rather than creating businesses that are feeding "false needs."
The Heart in Practice
The workshop provoked months of contemplation on decolonizing the heart. What does this look like in practice? For me, that process looked something like this while writing this article:
1. Acknowledging my power and privilege as the writer crafting this story and asking critical questions. Why am I, as a white settler journalist, believed to be an expert on decolonization after attending one workshop? Whose voices are heard and whose are not? Who is given credit for this knowledge, who is benefiting from it and in what ways (financial gain, prestige)? Why are Indigenous writers reporting on Indigenous issues rarely published?
2. Engaging in ongoing conversations with the editor, publisher, and workshop facilitators while trying to understand the motivations and needs of each one. Prioritizing relationships, by allowing time for these conversations, rather than being rigid and guided by speed and productivity.
3. Identifying my emotions when they arise (anxiety, anger, frustration, sadness) and asking which unmet need each feeling is connected to. Taking the time I need to do something to dampen these emotions before re-engaging in discussions.
4. Showing up to retake the workshop a second time even though I felt exhausted and overwhelmed by the start and end of the day. Offering to help make coffee after arriving and staying after it ended to clean up.
5. Asking for advice from friends and doing additional reading on the topic. Then giving credit to those involved in my creative process at the end of this article.
6. Connecting with the spiritual traditions of my ancestors in a way that is meaningful to me.
7. Rewriting this entire article while incorporating what I learned in steps one through five.
With files from Diem Marchand-Lafortune, Monica Henriques, freygl gertsovski, and Emily Green.
---
Further Reading and Resources
Decolonization is not a metaphor by Eve Tuck and K. Wayne Yang (2012)
Canada grapples with a charge of 'genocide.' For indigenous people, there's no debate by Alicia Elliott, Washington Post (June 2019)
Wretched of the Earth by Frantz Fanon (1961)
Women and the Gift Economy: A Radically Different World is Possible, Edited by Genevieve Vaughan (2007)
The Maternal Roots of the Gift Economy, Edited by Genevieve Vaughan (2018)
---
This article was made possible thanks to the generosity of Startuphere Toronto!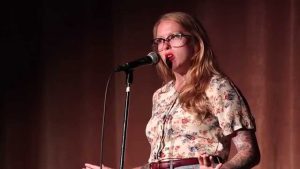 A workshop for entrepreneurs on queer- and trans-inclusivity teaches participants how to be better allies and better their businesses.
Read More »