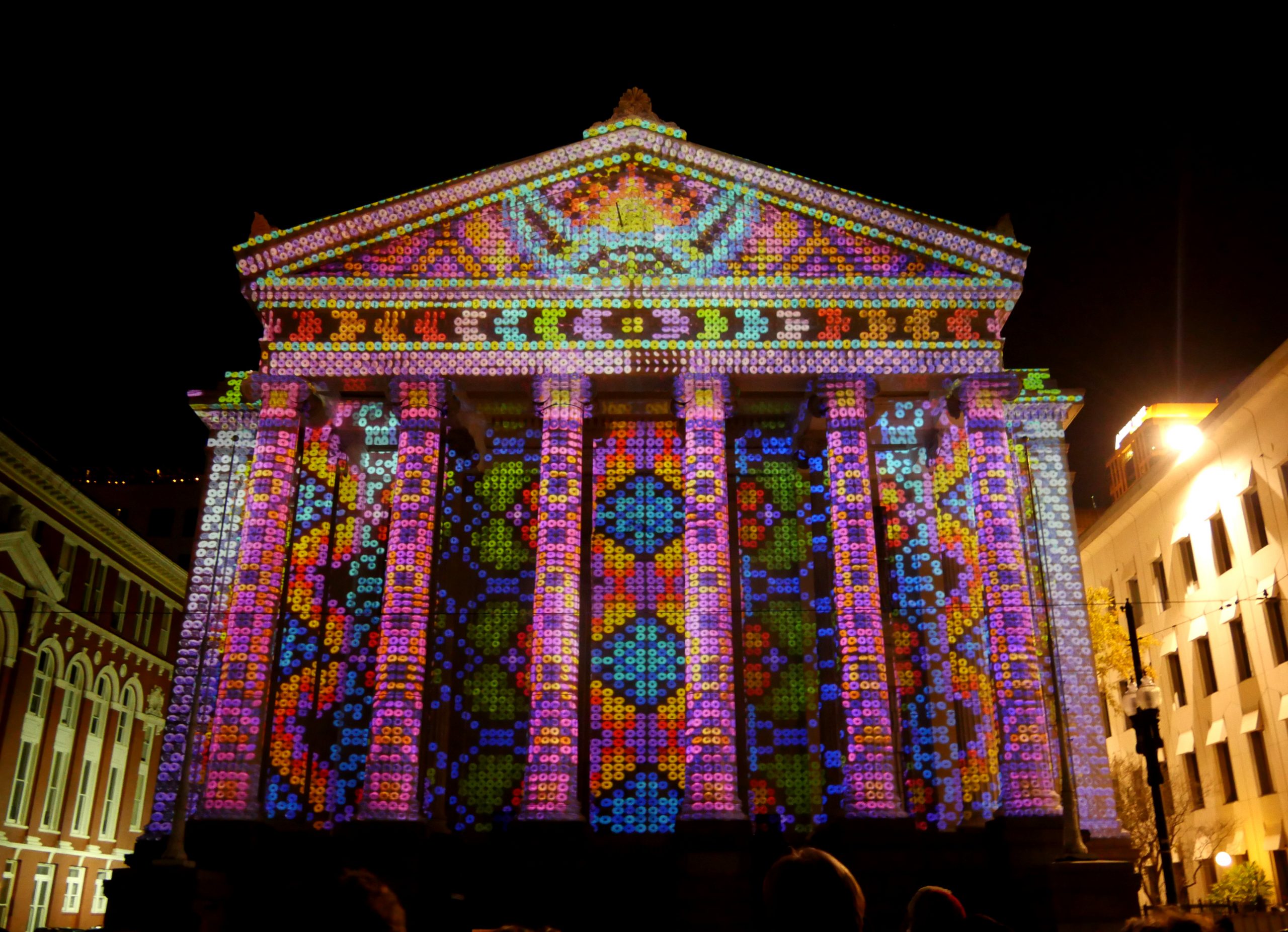 Every night, a vibrant sun rises on the façade of a 200-year-old temple in Queretaro, Mexico, followed by a mountain and dessert flowers springing from the ground, giant guitars and fruit baskets, a toro's head draped in a garland of flowers. The fiesta of light is the brainchild of Mexican-Canadian entrepreneur Emma López, the Creative Director and Co-Founder of AVA Animation and Visual Arts Inc.
In 2016, she was hired by the local tourism board to do what the Temple of Santa Rosa de Viterbo, with its baroque architecture and artistic masterpieces, could not: Keep tourists in the bustling city centre after dusk. She created a jaw-dropping lightshow that illuminates the front of the temple with animation celebrating the natural heritage and culture of the region.
The installation went viral on social media, and soon tourists and locals who avoided the area after sundown were flocking to see the whimsical display, filling up hotels and restaurants. Street vendors churned out profits selling themed merchandise.
One could say, art saved the day, or rather the city's nightlife and re-activated the local economy.
López saw the transformative power of public art, to build connections and communities. "Some people might see it as an empty form of entertainment, but I see it as an opportunity for positive socialization and community engagement and something that could trigger important changes in our behaviors and our overall moods."
But to realize her own dream, the pioneer in the field of light projection mapping had to leave her native Mexico – three times.
Learning on the Global Stage
Born in Villahermosa, Mexico, López studied Graphic Design at Universidad de las Américas, where she met her husband, Pedro Narvaez. After graduating, they moved to Toronto to build their reel as freelance graphic designers, working together on animation projects with such companies as MuchMusic and CBC.
They moved back to Mexico to start their company, AVA Animation, but struggled building a network of clients. The couple looked overseas to bolster their reputation and credentials. A client in Yerevan, Armenia hired them to do a light show for the Armenian Opera House. A 3D mapping house in Beirut flew them in to teach them the pioneering techniques of animation mapping.
Says López: "Ten years ago, there were no examples online, no references, so it was an amazing process of discovery, trial and error, see what works, learning, and trying to translate all of the knowledge of animation and design that we already have into these new mediums."
They soon landed opportunities at festivals across Europe, winning awards in Amsterdam, Moscow and Japan and realizing the potential of what their work could achieve. Those credits helped them win their first project on their return to Mexico— the initiative in Queretaro, which garnered national attention.
For the next 10 years, AVA Animation thrived, building installations and light shows for companies all over Mexico, but that growth came with its own set of challenges. Many clients did not care to deal with a woman entrepreneur. "It's annoying," says López of Mexico's 'machismo' culture. "We had some clients who couldn't even look me in the eyes, but they do see my husband!"
Narvaez became the public face of the company, dealing with clients who didn't want to work with a woman. That blatant sexism rankled López who built the company to reflect her core feminist values, for instance, rejecting projects that involved objectifying women. When a sport-marketing client asked AVA to project cheerleaders in a way that was demeaning to women, they turned down the project—against the advice of their business advisors.
"We won't do anything that we don't feel comfortable with," says López. "We don't work on anything we won't show our daughters, for example. So, there could be money in football and shows but that's not the thing that we do."
López appreciates having a business and life partner who deeply supports her values and believes in what she can do. She has a 51% ownership in the company, mostly to make a statement that AVA is a proud feminist enterprise, but they share the work 50/50. López focuses on the creative and client management, while her husband handles the technical side of projects such as the lens calculations, projector placements and software. She describes it as "a process of building on top of what your partner is building, and then you see the reflective work of a team."
Building a Feminist Future
Her husband supported her decision to leave Mexico a third time, this time to escape the misogyny in business and the wider culture. She was concerned about safety, for herself and her daughters–government statistics show a sharp increase in femicides, 137 percent over the last five years.
"The way I was raised in Mexico," says López, "there was always an anxiety of being a woman and having to be aware of everything—and the mental baggage was really hard." She says people are starting to protest now, citing the March 2020 march that saw tens of thousands of people hit the streets across the country to demand government action on the high rate of violence against women. "It's something that's been there for a long time. So, I wanted to spare [my children]."
But the move back to Canada was not easy. A legal mistake in their immigration application meant López had to return to school in order for her and her family to continue living in Canada. For two years, she juggled work and care of two toddlers while attending Seneca College for animation.
"[My husband and I] basically felt like we were hitting rock bottom," she says. "But we realized that going to school allowed us to start building connections, because teachers at the school realized we were doing things differently, that we were doing things with an intention and we already had so much knowledge." She went onto pursue a Master's of Art and Animation at OCAD University and participated in the Canadian Film Centre's Fifth Wave.
Mark Jones, the Chair of Creative Arts and Animation at Seneca College, helped AVA Animation get their first gig in Toronto — their class graduation ceremony, for which they did a large-scale projection of classmates' work on stage at the Steam Whistle Brewery. This opened doors for several more projects commissioned by international tourism associations, ad agencies, theme parks, light festivals and private events. Their installations can cost anywhere from $10,000 upwards to a million and their permanent staff of four to six can swell with independent contractors, depending on the scope of a project.
Taking Art to the Streets
Since COVID-19, López has seen an increase in city commissions, as cities look to create safe artistic experiences by animating streets with public art. For BigArtTO, a city-led initiative, AVA worked with local artists to project their work onto the sides of buildings and landmarks across Toronto. Working with other artists was a first. "We learned to make spaces like a canvas for other artists, and help them show their work and transform the city with light and experiences to allow communities to feel connected, but in a safe way."
The company just signed on to another large-scale project with the film and music video producer Director X and museums across the city of Toronto to share untold stories about historic locations in Toronto. Part of this series features a short film on the first abolitionist meeting at St. Lawrence Market, which AVA Animation will project on the walls of the historic market.
"We transform spaces with light and transport people to places they've never seen before," says López, "It's the wow factor. When it comes to life, it's like there's a new skin on the structure."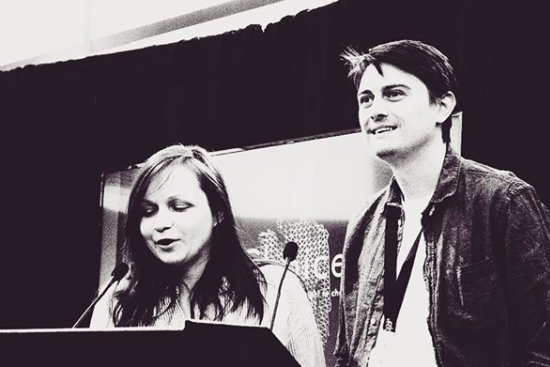 Two filmmakers harness technology to change the debate on abortion
Read More »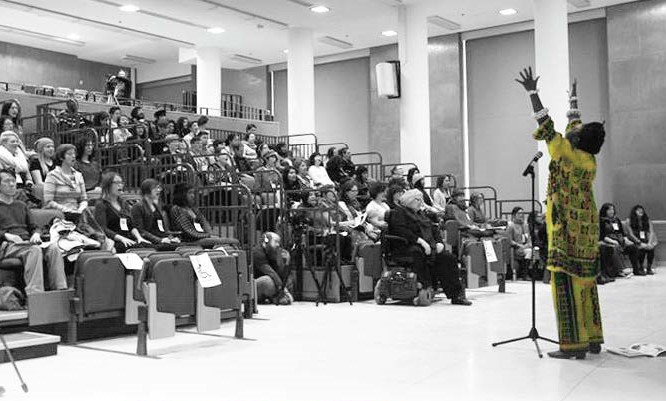 A feminist collective comes together to bring real talk to the art world.
Read More »