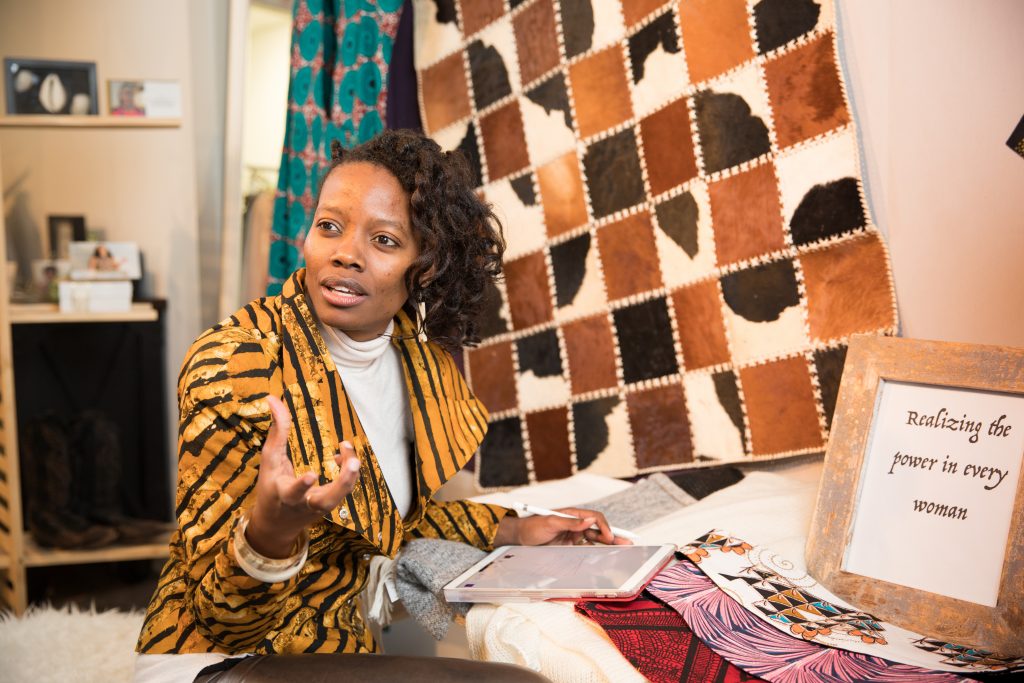 In an industry notorious for unfair wages, waste, and horrible working conditions, 32-year-old Edmonton-based fashion designer and business owner, Lorna Mutegyeki stands out. Born in Uganda, she emigrated to Canada at the age of 18. In 2017 Mutegyeki launched Msichana, a sustainable luxury fashion label that is committed to advancing employment opportunities for women in Africa. The social enterprise employs and empowers women through every step of the production and sales process. Msichana ensures that textile makers are paid fairly, have great working conditions, and that each garment is unique and handmade using the highest quality fabrics on the continent.
"Each piece is a handmade, one-of-a-kind work of art with much love and attention put into it," says Mutegyeki.
The creations are designed in Canada and proudly produced in Africa by weavers, dyers, and embroiderers. The company's supply chain is completely transparent and ethically made for women, by women. Materials are meticulously sourced. That includes tracing the cotton all the way down to where the seed was grown. Ethical fashion is hard work.
From belts to dresses, jackets to jumpsuits, prices range from $80 to $600+. The enterprise appeals to a largely affluent segment of the North American women's fashion market comprised of those supportive of environmental and social justice centred, artisanal scale enterprises. Benefits? Zero mass production. Zero waste. Assurance of thrive-level wages plus a progressive company culture for women in Uganda. Leveraging your economic power to advance women and gender equity. 
Msichana is also breaking stereotypes by providing new opportunities in traditionally male sectors for women in Africa. Mutegyeki told us that in Ethiopia, most weaving work is traditionally done my men. Her goal is also to unshackle women and show the impact that financial independence can have on their lives, families, and community.  Winnie Nabukera, one of Msichana's artisans explains her point of view in a short interview supplied via iPhone video by Msichana, "African women sole-preneurs are not well supported in a male dominated society". Nabukera adds that Msichana has created new income opportunities that also helps address the gender pay gap, plus provides an opportunity to upgrade skills, which in turn, helps her connect with other new clients of her own.
LiisBeth introduced Msichana in our February newsletter, and then spoke with Mutegyeki on the phone last week to ask more about her personal journey as an entrepreneur.
---
LiisBeth: What does Msichana mean?
Mutegyeki: It's actually the Swahili word for young woman. Swahili is a combination of many languages, a coming together, an intersection. I thought it would be a great way to express the values of the brand.
Liisbeth: You invested in an expensive MBA degree, and successfully leveraged this to get a well-paying job in the finance industry. Why take a risk at becoming a fashion entrepreneur–a brutal industry for start ups– after just a few years?
Mutegyeki: I gave up my golden handcuff job because it was, for me, unfulfilling, and I felt I needed to get out before the handcuffs became tighter. I also wanted to have an impact in the world. I grew up in a strong feminist household. My mother was bold, strong, and not afraid to get emotional and assert herself. I noticed once how a respected local female politician, [the Honourable] Miria Matembe, was treated when she spoke out about rape, domestic violence, the need for Ugandan women to have an education, and equality. Because of her views, she was called unladylike. People said she was losing it. And didn't take her seriously. I noticed how women as a gender were oppressed in my own country and have to say, was surprised to find out that a first world country like Canada still grapples with similar issues—just like Uganda back home. I understand the current conversation about rage. I myself feel rage, carry intergenerational rage, when I see how women are still treated and made to feel like they are never enough. I wanted to help create a world where the feminine, women's bodies and women are truly valued for what they authentically bring to the table. A world where the ability to be soft is a sign of courage and inner strength.
LiisBeth: How did you fund your startup?
Mutegyeki: I thought I could save up and then jump in. So I'd been saving for [starting my business] for a long time. Five years. Just waiting until I had enough. I just eventually realized I was just never going to have enough money to do it. The up-front costs for what I wanted to do were far beyond what I could save within a few years. I not only had to buy equipment, I also knew I would have to make a big investment in training our women suppliers before we would have a product. I knew it would be a long time before we were ready to have anything to sell.
So saving enough was a no go. As an alternative, I thought I could start the business by working after hours, nights, weekends. That way, I could continue funding my startup through my earnings. But I failed. I completely failed. My job was too demanding and after one year of trying, I learned I could not do both. I had to commit to one or the other.
So finally, I quit. And jumped in. While it is tough not having that income, I don't think I could have made the progress I made in a relatively short time if I had tried to do my full-time job at the same time.
LiisBeth: The Federal Government of Canada has recently made an historic investment in the advance of women entrepreneurs in this Country. Is it helping you?
Mutegyeki: I have been following the announcements and it is very interesting and exciting. And government here does a lot to help entrepreneurs. But I feel that most of the funding is tailored to help established enterprises. The funding is also project-based. So that means to qualify, you to have start a new project. For example, launch a new product line or service that augments your established business. But what if your entire business is a new project? As a startup, the last thing you need is to finance a new project when what you really need are the resources to grow the project you already started. What early stage ventures need is operational funds. Money for more people to scale what they are already doing—not just money for things the existing business is not ready to handle.
LiisBeth: Have you ever asked yourself the hard question—should I keep going or just quit?
Mutegyeki: That's a hard question to answer. To be open, when I've had crushers, I do ask myself that question. And I'm always assessing all my options. The quit option has been on the list at least twice. Especially when I feel lost sometimes, because, if something's too close to your heart sometimes you can't see very clearly. But then, just in time, my mentors, my husband, and even clients many who act like mentors, reach in, pull me back to the centre, and ask me point blank the hands on hip "is that absolutely necessary?" kind of question? The biggest thing mentors do for me is ask the tough questions I work hard to avoid by being too busy to think about them. Their support and helpful ideas keep me going and fire me up to tackle the issue—rather than run from it.
LiisBeth: What's next for Msichana?
Mutegyeki: Right now, I am doing a slight pivot by introducing accessories which are a lower price point than our garments. I also know I need to invest more in marketing. And that I can't keep "D-Y-I-ing" everything. It's starting to show. I need to hire someone. But am not at a level of cash flow where it is possible to do so. And I am nervous about raising outside capital. I don't want to compromise my triple bottom line values. I would consider a loan—but I already have sleepless nights. A loan is just another thing to stay awake at night about. Ideally, I would find a strategic partner who is interested in achieving the same things.
LiisBeth: What is your word for the year?
Mutegyeki: Authenticity.
LiisBeth: What are you reading these days to keep you on track?
Mutegyeki: Anything by Eckhart Tolle, and Thinking Fast and Slow by Daniel Kahneman
LiisBeth: Lorna, you are fierce and very brave! It's been a pleasure.
Mutegyeki: Thank you.
---
Find out how Msichana fashions are made!
---
Related Articles
https://www.liisbeth.com/2016/07/27/queer-to-their-boots/
---
Subscribe today!