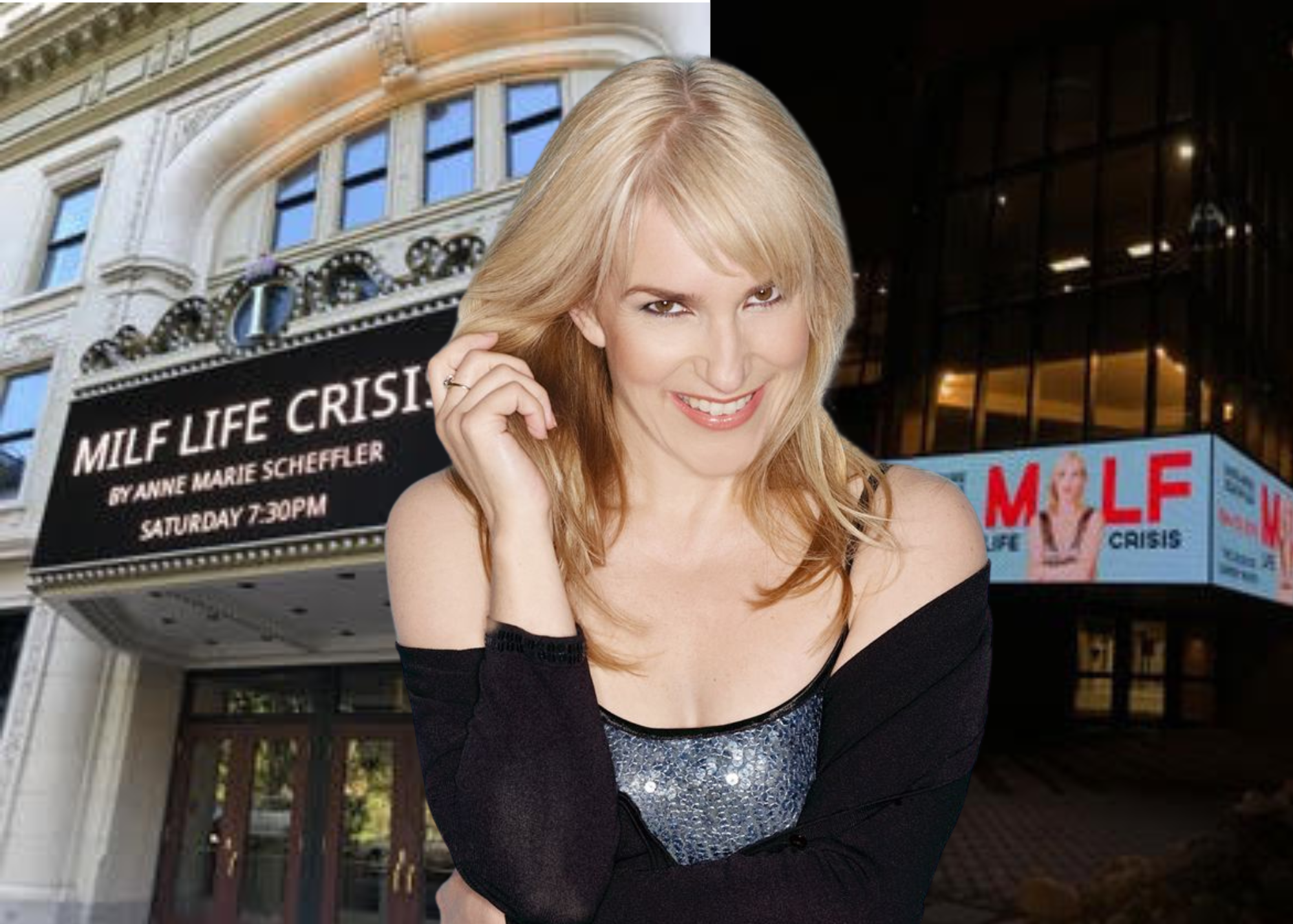 Look, between the ongoing global pandemic, crushing defeat of Wade v. Roe and an escalating international conflict low-key threatening to go nuclear, we at LiisBeth know it's been a tough year (or three) but rest and pleasure are an important part of resistance work. To lighten things up a little (and help you get your laugh on) we interviewed Anne Marie Scheffler, a long-time career actor, writer and producer, about her new, up-coming holiday show MILF and Cookies.
---
Q&A
LiisBeth: Let's start with the facts. Who is Anne Marie Scheffler?
Scheffler: I was born in Toronto, Rexdale in fact. I'm a first generation Canadian. My parents are German and Polish. My father was a bank manager and my mom was a stay-at-home mom. I started getting paid as an actor at the age of 15. I went to the University of Toronto, got a degree in English, and was at the same time booking professional acting gigs while writing my university exams. From there I went to George Brown Theatre School for formal training. And TV. Oh boy, I wanted to marry TV. With TV you could talk to the world, and I really wanted to talk to the world. Not surprisingly, I've been in over fifty TV commercials and love being on TV.
LiisBeth: You're an actor first and foremost. What led you to write and produce your own shows?
Scheffler: When I got my first agent in my 20s, she got me film and TV auditions. And I was thrilled! Until I saw the roles: rape victim. Go into the audition room and scream. Look, I did go into the audition room and scream. But I kinda didn't want to get the booking. And another audition was "girl number 1" and I went in with "guy number 1" and we had to neck. That was the actual audition. No lines. So, I'm thinking, "maybe I need to write the roles I want to play." And so I wrote funny monologues for myself. Honestly, I wrote my first play in grade 3 that our class put on in front of the whole school. I had always been writing for myself. Doing improv. Imagining the possibilities.
When you're hungry and ambitious in your twenties, you want to act as much as possible. My fellow actor friends and I would do open mic nights, fundraisers, anything to see if our stuff worked. I had about five monologues in my back pocket that I wrote for myself and auditioned with. Artistic directors would be like: "That was great! Where did that come from?" And I'd say "I wrote it." And that sometimes got me writing job offers which I never took because I was an actor!
In 1994, I had a spot in the Summerworks theatre festival in Toronto. Basically you pay for a spot to put on a show in a respected theatre festival. I had been doing clowning at the time, but my clown partner had left me, and all of a sudden, I didn't have a show! The producer Benj Gallagher said to do a one woman show. I was like, "Hell, no!" but I was working at His Majesty's Feast as a singing wench, and my fellow wench, Sarah Sked, said she'd be my director. I sewed my five funny monologues together and created my first solo show Situation: NORMA. 
NOW magazine's late, legendary and much-beloved theatre critic, Jon Kaplan, was at my show on opening night. He loved it so much that he sent a photographer to my house the next day. My picture appeared in the theatre section, with Kaplan's glowing review in which he called me "a gem." My career took off. I got a better agent, I worked even more in TV and film, and I wrote two more Norma shows: Watch…Norma's Back and Leaving Norma.
I toured my Norma shows at fringe festivals in Canada and the US, selling out and getting rave reviews and honing my comedy chops on stage, really poking fun at what it was like to be (supposedly) following society's norms. I make fun of myself in my comedy, spoofing the conditions I find myself in, to actually shine a light on the ridiculousness of the roles we play in order to be good.
In 2001, I went to a taping of Everybody Loves Raymond at The Warner Brothers studio in Burbank, and the penny dropped. At this point, I was doing TV roles, TV commercials, doing my own live shows, and here was a multicam sitcom. A marriage of theatre and TV. I fell in love with multicam. Soon after, my live comedy show Not Getting It long-time into a one-hour Comedy Now! special for CTV/ The Comedy Network by SFA Productions. A seven camera shoot. Of course, I'm still priming the pump for the seven season multicam series–or single camera, I'm flexible–but the path was unfolding.
Ironically, my old agent said to me: "I can see you being like the wife on Everybody Loves Raymond!" And I said "I'm Raymond!"
LiisBeth: What is your relationship to feminism? When did feminism come into your life? 
Scheffler: In terms of feminist influences, I can start with my mother. She taught me unconditional love. She is a walking love machine. My mom is, literally, love
My father told me that to have my own money is to have my own freedom. That shaped me a lot. I didn't think in terms of being a dependent, or a wife, I wanted to make my own money, make my own success, in the way that I wanted to.
That worldview was ingrained in me. It's why I said no to demeaning roles. I wasn't up for a career of playing victims. I lobbied with my actor's union to influence producers to have more women roles that reflected whole, real women.
I knew how to write, and I took charge of my career and wrote and produced "myself." As Nia Vardalos (My Big Fat Greek Wedding) told me in an article I wrote for the Alliance of Cinema, Television and Radio Artists (ACTRA) on women in the business: "Don't wait for the phone to ring–call yourself." Now that I am older and coming from a place that is so much more whole, I have moved way beyond the "pick me, pick me, pick me!" approach to my career to one where, basically, I pick myself. 
LiisBeth: So as a woman actor making her way in a Harvey Weinstein world, how do you reconcile a highly sexualized approach to comedy and use of the term "MILF" in a world where sexualization of women in entertainment is seen by many as problematic? 
Great question. So, as a comedian, it's my job to mirror our shared experience as a society back at that society. I push the boundaries. I say what we are all thinking but I'm not afraid to say. To quote my comedy special: "I've achieved my goal! I'm fuckable! But now I'm offended by it!" Honestly, the comedy special is partly based on my experiences as an actor in really inappropriate situations with a producer. Which could have been victimizing, but instead I turned it into comedy gold.
Turning on your sexy and beautiful self shouldn't be bad and unsafe. And if it feels bad or unsafe, I'm happy to shine the light of love and humour on it and expose it.
Collection of comedy clips from Anne Marie Scheffler shows (4 minutes)
As for MILF, I renamed and reclaimed a term that really offended (some people) but now has become less charged. Maybe soon you'll be able to google 'MILF' and instead of porn, mostly comedy will come up. MILF and Cookies is sexy and hilarious.
LiisBeth: What's next for Anne Marie? 
Scheffler: Like other actors/producers such as Reese Witherspoon and Pamela Aldon, I've been a great artist, now I want to shift to be an equally great business person.
I'd like to turn my one woman show MILF Life Crisis into a limited series like Phoebe Waller-Bridge did with her show Fleabag, and create blockbuster comedy movies. I've written myself two comedic vehicles–The Bachelor Whisperer and Princess Candy Cane–and am looking for the right producing partners. 
LiisBeth: Congratulations on an incredible journey as a woman in a tough industry! What advice do you have for others? 
 I remember being in my early 40s, and being a new mom with two little boys. I was juggling childcare to go to auditions, and lying in bed at night, thinking it's very possible my life and my career are both over. And then I turned on the TV to a new show: 30 Rock. What? A new face? Tina Fey? A woman in her 40s? A mother? Who created a TV series she wrote and stars in herself? Again, the penny dropped. There was still hope. There is always hope. The only one who can limit you is you. Find your own voice and work it. There are a million different flowers in the garden. There is room for everyone. Decide what stories you want to tell, and then tell them really well.
LiisBeth: Speaking of stories, tell us about your upcoming holiday show, MILF and Cookies. 
MILF and Cookies is Anne Marie 2.0. It's our sexy, single lead from MILF Life Crisis, with a woman who now has decided to be comfortable as a single MILF. She owns her MILFdom but then finds herself spending Christmas eating pot cookies with her BFFs and examining all the men she's loved, all the men she didn't love, and the men she is about to love. People walk away feeling lighter. And stronger.
LiisBeth: Sounds a lot like you Anne Marie! Thank you for sharing your talent with the world. 
---
MILF and Cookies plays December 15- 23rd at Toronto's Comedy Bar Danforth's main stage. Tickets available at comedybar.ca/shows/milf-and-cookies
Not in Toronto? You can catch Scheffler's one-hour comedy special, Not Getting It, Monday December 19th on MTV2.
Publishers Note: Anne Marie Scheffler is a member of Fifth Wave Connect, a community of feminist women entrepreneurs who participate in the Fifth Wave  Initiative, a year-round program offered by CFC Media Lab and its partners to support the growth and development of women self-identified feminist entrepreneurs in the digital media and commerce sector in southern Ontario. Fifth Wave sponsors a series of profiles highlighting their work.  Fifth Wave Initiative is committed to a minimum of 50% participation per cohort by members of underrepresented groups. The Fifth Wave is a LiisBeth ally sponsor at the Lighthouse level. Fifth Wave 
How Female Lifestyle Empowerment Brands teach us that the prerequisite for success is white beauty.
Read More »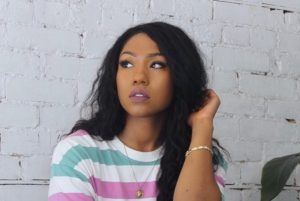 It's February. Time to celebrate love, sex and body positivity with a playlist that features some amazing emerging artists. Enjoy another exclusive LiisBeth playlist from Sadé Powell
Read More »
In the 1970s, Germaine Greer called out patriarchal social norms that cut women off from expressing their innate sexuality and true desires. The good news is today's sex and body-positive entrepreneurs are here to disrupt those norms—once and for all.
Read More »