I've known Sarah Polley since she was a young activist. Over the years, I've watched her career as a film and TV writer and director with some pride. She helped me enormously by telling me about a concussion clinic in Pittsburg a few years ago, so I was aware that she had been unable to continue directing because of her concussion. 
Polley has come back to directing with Women Talking, one of the most powerful films I have ever seen. Based on the extraordinary book by Miriam Toews, Women Talking is a powerful feminist film not only about women organizing to confront or escape male violence but also about the different ways trauma affects us and how to emerge from its grip. As the film begins we see this line "what follows is an act of female imagination." I am struck by the fact that such a film could even be made within the Hollywood system.  
The story, as you may know, is based on a true horror story of an extremely conservative patriarchal Mennonite colony in Bolivia where seven men were convicted of drugging and raping more than 100 women and girls in 2011. The film, as does the book, imagines the women are meeting in a barn to discuss whether to stay and fight, leave or do nothing in face of the realization that so many of them and their daughters have been sexually assaulted over night after being drugged. The men have left the colony to bail out the rapists. There is not much time to decide what to do.
I'm not a film critic but the acting, cinematography, writing and direction is all wonderful enough that a film that is literally about women talking held my interest for the entire runtime without pause. It is a profoundly feminist film for the obvious reason that trauma from sexual assault is central to many women's lives and gendered violence affects many more.  But more than that, we see a group of women who have not been taught to read or write as is the belief of their sect, who are basically slaves to the men in their community, who have taught their daughters to accept these conditions based on their religious beliefs are able to face the horror of what happened to them and then debate, discuss and sometimes fight about what to do.  
Most of them believe that leaving the community will mean that they won't go to heaven. Despite the extreme circumstances, the debate reflects many of the debates we have had about how to end violence against women. Some argue that it is up to the police and courts to punish these men, not up to the group. Others argue that whether or not the rapists are punished doesn't solve the problem faced by the women, or even guarantee the protection of their children. Can they leave and create their own beloved community? If they stay and fight  won't they become like their assaulters taking their anger out in violence? Despite the extreme circumstance, the debate and discussion reminded me of some deep divisions I've been part of debating in the feminist movement and on the Left. 
Collection of comedy clips from Anne Marie Scheffler shows (4 minutes)
Debates about violence and non-violence, whether to include men on a march, how to stand up to the Catholic Church on abortion, whether to defy the law. As sometimes the case in social movements, or in the decision of whether to become an activist, whatever they decide will profoundly change their lives. In the film we also experienced how different women are affected by their trauma in profoundly different ways from deeply angry to almost beatific. We also learn that it isn't only the men who are responsible because mothers have taught their daughters to accept the conditions. And perhaps most extraordinary of all, Sarah respected the religious beliefs of the women.
In the Q and A after the film, Sarah talked about how the process of the film was also feminist. As the mother of three young children, she didn't want the ten-hour days that are normal practice on a film so she organized it differently. There was a therapist on site to help actors and others deal with the psychological impact of the story. Instead of acting the usual role of the brilliant, domineering auteur writer-director, she encouraged her crew and the actors to contribute to how the film was being made, especially at crucial decisions.  
Women Talking made me feel hope for the future. It is coming to a theatre near you in December. Please see it in the theatre. I'm sure it won't have nearly the impact on your TV or computer.
Publishers Note: This article was originally published in rabble.ca on September 30th after it was screened at the Toronto Film Festival (TFF) 2022. We are grateful for the opportunity to republish this review for our audience! Thank you rabble.ca!
How Female Lifestyle Empowerment Brands teach us that the prerequisite for success is white beauty.
Read More »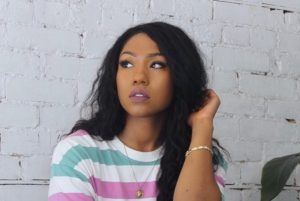 It's February. Time to celebrate love, sex and body positivity with a playlist that features some amazing emerging artists. Enjoy another exclusive LiisBeth playlist from Sadé Powell
Read More »
In the 1970s, Germaine Greer called out patriarchal social norms that cut women off from expressing their innate sexuality and true desires. The good news is today's sex and body-positive entrepreneurs are here to disrupt those norms—once and for all.
Read More »