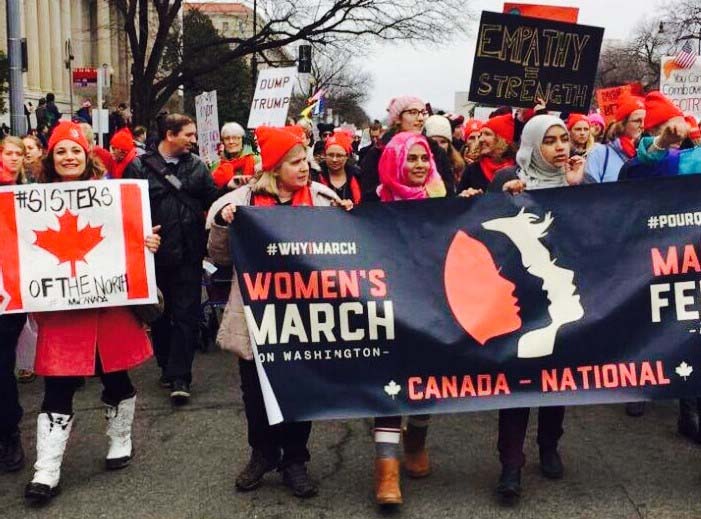 Sadaf Jamal (above, in the pink hijab) is the passionate and inspiring founder of Move N Improve, a non-profit focused on women's health, wellness and empowerment, based in Durham Region, just east of  Toronto, Ont.
As a proud Muslim, mother, and graduate from the University of Waterloo (Ontario) with a Masters in Biology,  Jamal founded the company in response to her own struggles for achieving health through fitness while maintaining their commitment to the tenets of the Muslim faith. Move N Improve caters to the Muslim community, however, warmly invites all women interested in a fitness environment free from stereotypes, or the need for expensive form fitting workout wear to join the community.  Move N Improve provides a body positive safe space, a multifaith prayer area, childcare, and teaches Yoga in a way that has the Imams and Muslim scholars support. Jamal also arranges outdoor activities like sunrise watching, zip lining, and even skydiving.
On Friday, January 20, she set off for Washington, DC, along with 350 other women from the GTA, to attend the Women's March. We asked Jamal to tell us about her experience.
---
LiisBeth: How did you get involved with the Women's March?
Sadaf Jamal: I was invited to the march by Canadian march organizer Marissa McTasney (founder of Moxie Trades). I met Marissa at a new women's entrepreneurship boot camp program called The Refinery, which is one of the programs run by the Community Innovation Lab in Durham. I was lucky enough to win third place in my business pitch competition!
L: What compelled you to go?
Jamal: The cause for this march resonated with what I do every day at my non-profit organization Move N Improve Canada. It is a health, wellness, and empowerment program for women of diversity. I stand up for diversity and inclusion every day. I empower Muslim women to feel proud of who they are and feel comfortable enough to educate others about their differences every day. It is not easy to live life as a woman. Throw in extra challenges of diversity and racism in a society that judges you through a lens of negative propaganda displayed by the media and life becomes harder. This march to me was a collective break of silence against injustice, an outward, out-loud expression of the inward struggle that many women go through in their lives to achieve their rights. We are all different yet similar in what we want in life, which is justice and equality.
L: What did your family think?
Jamal: Because I am a Muslim woman and because of the rhetoric used during the campaign, my family was very concerned that I was leaving for this march. But the cause of this march was too great to hold me back. My eight-year-old son did not want me to leave. He said, 'It's too dangerous Mama. Please don't go. I love you. Just email them your concerns!' But I told him that sometimes we must show up and stand up for what is right and the good of this world is worth fighting for. And for that we must face our fears like Batman and show courage!
L: What is the one thing you learned by attending?
Jamal: I learned that it is very important that we stick to our principles as we fight for equality. I realize how hard it is to be accommodating to people that you disagree with and the tendency is to shut them out. But now more than ever, we have to be able to listen, even to things we don't agree with. We have to be willing to not shut ourselves off in a bubble. Like in this march, we saw thousands of women getting together to march under the banner of equality. We have to realize though that when it comes to taking practical steps to gain equality or even having discussions about what exactly equality looks like, there will be disagreements as we saw during the march. We have to be open to those voices and work together because we are people of principles who believe in the freedom of speech. Working together under the banner of equality for diverse communities is not very easy. But times and demographics are changing. We must empower people to respectfully educate others about their differences rather than staying in bubbles, and we also must empower ourselves to listen and understand, not just listen and reply. This will bridge gaps between communities
L:  Do you think marches matter or make a difference?
Jamal: I think marches matter in a specific context. If this march was only a heated eventful historic march, then it definitely will not make a difference unless the message is kept alive in the hearts and actions of daily lives. I see marches as a way of committing to the cause. So every person who showed up should dedicate time now in working for the principles they marched for. I know a lot of people, especially women of colour, who are already dedicating their time in fighting for equality for women but we need more people to be really committed to it. We need everybody to help each other out especially those who are more capable of reaching out, volunteering, networking, introducing, producing positive media coverage, and helping in whatever capacity. This is not a one-woman show! At the end of the day, marches are done by people. So, when it comes to making a difference, it is only people who can collectively do that.
---
This interview was edited for clarity.
To find out more about Sadaf Jamal's enterprise visit Move N Improve.
To learn about the Refinery program in Durham Region, visit The Refinery.