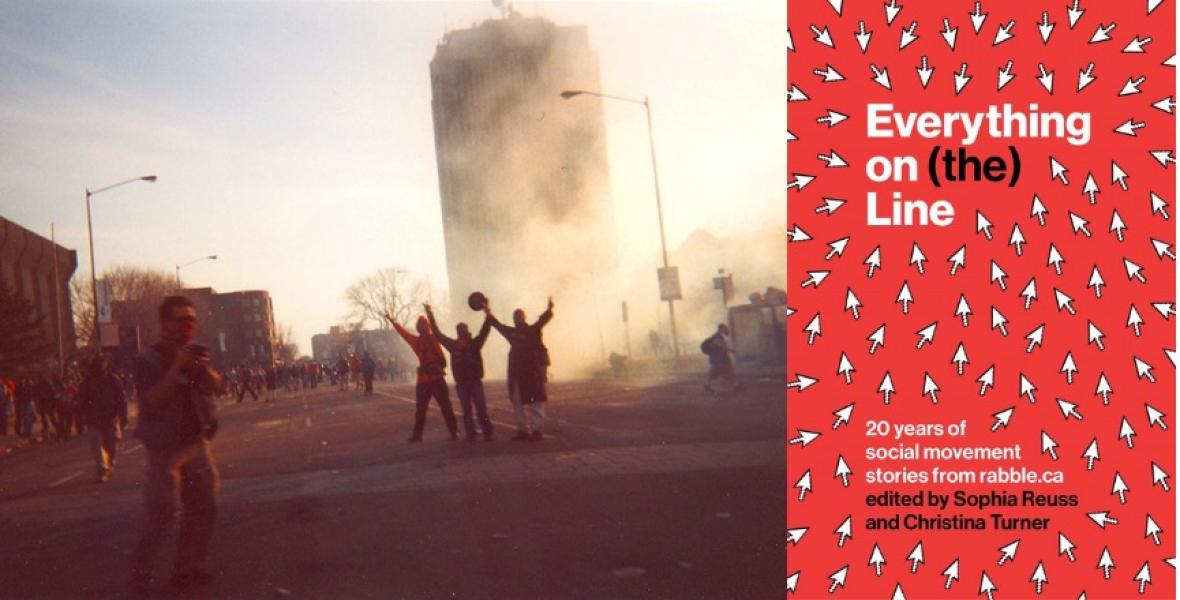 I don't remember 9/11. 
Maybe that's because I was a Canadian toddler, rather than American, or was just too young — but opening to the first story in Everything On (The) Line: 20 Years of Social Movement Stories from rabble.ca I am transported back by the moving words of Monia Mazigh and Barâa Arar, mother and daughter of Maher Arar, a Syrian-Canadian who was arrested on September 26, 2002. 
This transportive ability — to travel back in time and to live something you have a different memory of — is the primary accomplishment of rabble.ca's  compilation of stories from the last twenty years. 
rabble.ca is an independent, nonprofit  award winning left wing media outlet with 1M unique readers annually worldwide, based in Vancouver (original territory of the Musqueam, Squamish, and Tsleil-Waututh nations). They aim to extend and amplify the work of social movements and front-line activists in Canada.  
Everything On (The) Line is a collection of stories, but also the fossilized voices of journalists and activists during high-intensity moments in Canadian politics. Editors S. Reuss and Christina Turner have unearthed articles from rabble's archives which capture the concerns and opinions of the activists, feminists, and fighters before us —concerns that still exist today. 
The articles speak from Indigenous rights to climate change; personal accounts of protests and violence; outrage and critique for the government. The collection focuses on the personal lives of Canadian citizens impacted by these threats, while also panning out to inspect the governments of the early 2000's, tying traumas from the violent injustices occurring around the world together: uniting pain but also hope across two decades. 
The aim of the collection is not only to celebrate the twentieth anniversary of Rabble, but to allow the past and present to converse; articles from 2001 in tandem with essays from 2020. 
It is an opportunity for readers to "reflect on the social movements that challenged capitalism, racism, settler colonialism, and patriarchy over the past two decades." (5)
Readers hear the personal stories from Monia Mazigh and Barâa Arar, to personal accounts of when Black Lives Matter Toronto turned the Pride Parade into a protest. Words from protestors of the G8 Summit burn with anger still, 19 years later. 
In her piece "What Do We Want and Where Are We Headed?" Pamela Palmater expresses how "ultimately, we want to be free to govern ourselves as we choose; free to enjoy our identities, cultures, languages, and traditions; free to live the good life as we see fit." (129) This desire for freedom and respect echoes throughout the twenty-four pieces in the book. 
Anger and fear and distrust bubble up within these essays. 
Amber Dean writes about attending Robert Pickton's trial in 2007 for the murders of Sereena Abotsway, Mona Wilson, Andrea Joesbury, Marnie Frey, Brenda Wolfe, and Georgina Papin — asking how colonization can be over when the violence persists?
Michael Stewart picks apart the Harper government's inability to "cope with the tender, patient, ironclad solidarity of Indigenous people in Canada." 
Murray Dobbin asked in 2009 how the government would face their denial and complacency in the face of crisis. 
All are systemic issues still present today; the final section with pieces from 2015-2020 carry ghostly echoes of the first section from 2001-2005. This disturbing parallel calls for transformative justice, addressed by Walters and Zellars in their 2020 essay on abolishing the police and collective care. They call this turbulent time an "[opportunity] for reflection and growth [which] must be central to our abolitionist imaginings" and to "have the courage to dream, try, fail, try again, and fail better." (173) 
The collection also contains new essays from esteemed writers such as Nora Loreto. In her piece "Real Change Meets Radical Tactics" Loreto traces the resurgence of feminist action in recent years, raising the point that "for what remains of the mainstream feminist movement, the dominant frame is still firmly white. Whiteness obscures the fact that women do not experience systemic violence in the same way. It creates a tent so large that feminism becomes a matter of self-identity […] feminism has become slippery and toothless." (145) This comment spoke to me as a reader, as a feminist, and as a member of LiisBeth, because whiteness is a barrier in the feminist organizations I see and participate in. 
LiisBeth's masthead is primarily (some queer) white women; "Everything On (The) Line" was compiled by two white women; LiisBeth partners with rabble.ca's, putting together a monthly roundup. A white, queer woman is writing this review, the last in a funnel of white voices. 
That being said, 35 per cent of LiisBeth's contributors are women of colour and over 50 per cent of the articles written in the last year featured enterprises and projects founded or operated by women of colour, queer women and trans folk.  
When rabble.ca was founded, a UNECE study found 40 per cent of journalists in Canada were women, and 97 per cent of journalists across all media were white, according to a study done by Laval University in 2000. This statistic from Laval University, as well as the point that there was (and still is) no current study to compare this data to, was mentioned in a rabble.ca piece in 2016 by Joanna Chu titled "The face of Canadian Journalism is still white — and it's time to push back." 
The collection spurs questions and invites reflection not just on the state of our world, but also journalism — those who wrote before us and how future writers will curate, cultivate and uplift all voices. 
It's an opportunity to see how far we have come, but also look at where we still need to go. 
Everything On (The) Line is not perfect, because history is not perfect. What we glean from these reverberations of rallying voices is that the next twenty years should be equally as action-packed, as fueled by the desire for change. We should read about and reach for change, as the voices of rabble.ca have. 
The fifth section of the collection is titled "Activism and Indie Media: Pasts and Futures", where publisher Kim Elliot and Mathew Adams call rabble.ca a bridge for the social movement, and reflect on how the launch of rabble.ca in 2001 gave them the focus of "[amplifying] the voices of resistance struggles and movement-focused news." 
Hopefully, Everything On (The) Line can be the bridge to the past that lays the foundation for the next twenty years of rabble.ca.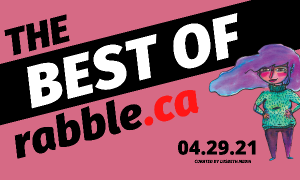 Is feminist media–or all media for that matter, dead?
Read More »
Too many feminists today know too little about feminists who came before them. Here is a chance to meet one of them.
Read More »