I'm a UK illustrator and I draw pictures for conferences and events to make the boring stuff more interesting and accessible. 
In the olden days (pre-pandemic), I got to travel around the UK and Europe to draw at events. Alas, for the past year, I've been drawing virtually from my studio in the rural windy North-east coast of England and was thrilled to be invited along to illustrate and write about StrikeUp 2021 Digital Conference for Women Entrepreneurs. Usually held in Canada, this year it was 100% online, and therefore global and accessible. Hooray for COVID! Silver linings an' all that. AF means 'as fuck', but if you don't know what it means probably other people will also be confused so I've removed it.
The event overall had a slick, interactive online environment, and a diverse range of speakers: The Hon. Mary Ng (Canadian minister of small business), Manjit Minhas (from Dragons' Den), Melissa Davis (President & Brand Architect of Ugly Dukling), Dr. Shimi Kang (Author of The Tech Solution), and Elana Ben-Ari (toy designer turned social entrepreneur) to name but a few.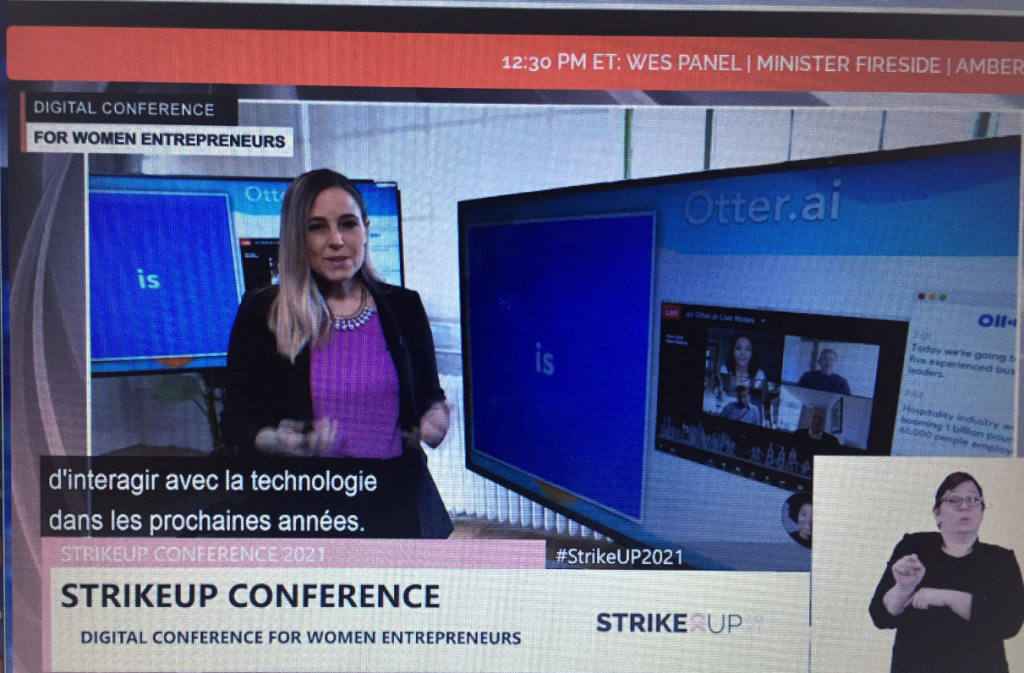 The conference began with an acknowledgment of territory – something I'd only seen from Australian course creators, but I was so excited to see here. Claudette Commanda acknowledged Canada's Indigenous land (that colonial settlers *cough* Brits *cough* took from First Nations) and looked to the promise women entrepreneurs hold for our global economic recovery. We are leading the financial recovery. Yes, we bloody are! *punches the air*. Mmm. A bit of female entrepreneur pride palette cleanser to cancel out the ancestral colonial guilt?
Immediately, I was blown away by the accessibility of the event. Not only were there closed captions (a rarity in UK/US online events, in my experience) but also a sign language interpreter! It made me pause – is the UK just completely and utterly behind the times? We're over here banging on about accessibility but, in reality, we are miles and miles behind. We have so much work to do.
Anyway, after a rich cultured introduction, the first speaker, Manjit Minhas, started the conference off with a bang. The co-founder of Minhas Breweries and Distillery and one of the dragons on CBC'S Dragons' Den spoke energetically about how she and her brother created a small craft brewery they grew to include several companies with revenues over $100 million.
The bits that stood out for me were Manjit's incredible strategies for pitching:
1 Who are you?
2 What are you selling?
3 When are you selling it? 
4 Where does your business take place?
5 Why does your business exist?
I also admired her attitude toward negotiation. 
Dream bigger! 
Ask for more. "You get what you negotiate!" 
I was feeling inspired by her talk and buoyed by the discussions, until somebody asked Manjit, "How do you stay confident?" and she responded.
While I can't bear to remember the advice word-for-word, it boiled down to this: looking good = feeling good. Take pride in your appearance! Eat healthily. Dress well.
My face dropped. You wot, mate?
Um…forgive my ignorance but I was over here thinking that confidence came from pride in your work. Doing a good job. Feeling like you are making a difference in the world. Not picking out a good outfit and eating carrot sticks! URGH. 
My experience as a teenager dealing with an eating disorder gave me first-hand evidence that closely linking self-worth to appearance is a Bad Idea. A first-class ticket to crazy-town. A lose-lose scenario. "STOPPPP" I wanted to yell into the event's fast-flowing chatbox. "IT'S NOT TRUEEEE."
If, as female entrepreneurs, we are reduced to looking good = feeling good then ewww, no thank you. I don't want any part in it. I'll be over here being visually unappealing, yet confident in my abilities, thank you very much. Pass me another cookie. Have I got crumbs on my dungarees? Oh well. #sorrynotsorry
Ok, rant over. Moving on to the rest of the sessions, there was a wonderful pick-your-own adventure feel to the whole thing. 
The menu of tasty entrepreneurial snacks on offer:
Real-Time Strategies for Business Success: A Conversation with Women Leaders
Wellness, Connection & Adaptability Solutions for Times of Challenge
Become the Only Logical Choice (French Only)
Women at the Forefront: Women Entrepreneurship Fund + Economic Recovery
Fireside Chat With Hon. Mary Ng (Canada's Minister of Small Business)
Relentless Adaptation
I opted for 'How To Grow' with Sarah Stockdale. Here's an abbreviated blurb: "You're a founder or exec planning out your growth strategy (and) probably feeling uneasy about how to find, prioritize, and plan for growth… we'll… dig into how to build your strategy and set your team up for success." Or, as Sarah says it: "Founders ask me all the time when they should hire their first growth marketer, and I look at them and say, it's you." 
Sarah is the founder of Growclass, "…an intensive marketing course to help level up as a professional in an inclusive, friendly learning environment."
If I had to sum up the whole session in one sentence it would be this: Find out what is working well and do more of that. 
Obvious, but golden. 
I really enjoyed Sarah's infectious optimism around homing (honing!? Never know which one is correct) on what's going well in your business. It made me think about which bits of my business that are currently working. 
"Look for what is currently working in your business, and supercharge that," says Sarah.
Yeees, you're speaking my language, Sarah Stockdale!
I'm all about that: "Improve the good, outsource the bad." Over here in the UK, business curriculum is obsessed with getting you to improve the things you're naturally terrible at. I never understood this. The main thing about being an entrepreneur that I love is that business asks, what are you good at? Do more of that! What do you absolutely suck at? STOP. Hire somebody else to help you, or take it entirely off your hands.
After a break for a late lunch – with actual crumbs on my dungarees now – I tuned in for "Women at the Forefront: Women Entrepreneurship Fund + Economic Recovery."
I was surprised/shocked/astonished (I never know which word is appropriate) to learn that in Canada, only 16% of small and medium-sized businesses are owned by women. The Canadian government, however, is investing $5 billion to double the number of women-owned businesses by 2025. Yaaas.
In the UK, 29% of SMEs are owned by women. I'm one of them, and I can confirm that not having a gross man-boss is 100% worth the scary tax stuff, the patronising financial advisors, and the occasional waves of self-doubt.
Get that Canadian Government Women Entrepreneurship Fund dollaaaaar.
At the end of the day, I closed my laptop feeling inspired, if slightly Zoom-fatigued. 
I know it's a long flight, but can we meet up in person next time?
International Women's Day is about celebrating the social, economic, cultural, and political achievements of women. Attend a rally. March. Listen.
Read More »
When a bunch of entrepreneurial feminists gather in one place over two days, sh*t gets done. Outspoken Q&A sessions, riveting foundational speakers, Sharpies scribbling testimonials on paper in paradigm-breaking workshops. Attendees left with a renewed hope, practical resources, and ways to connect and take action.
Read More »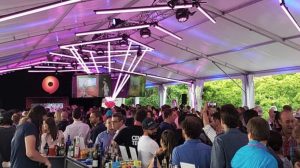 I noticed plenty of women attending the conference and after parties, and I found the festival a great place to network with industry peers. But there is more to gender parity than numbers, leaving plenty of work yet to do as far as inclusion is concerned.
Read More »