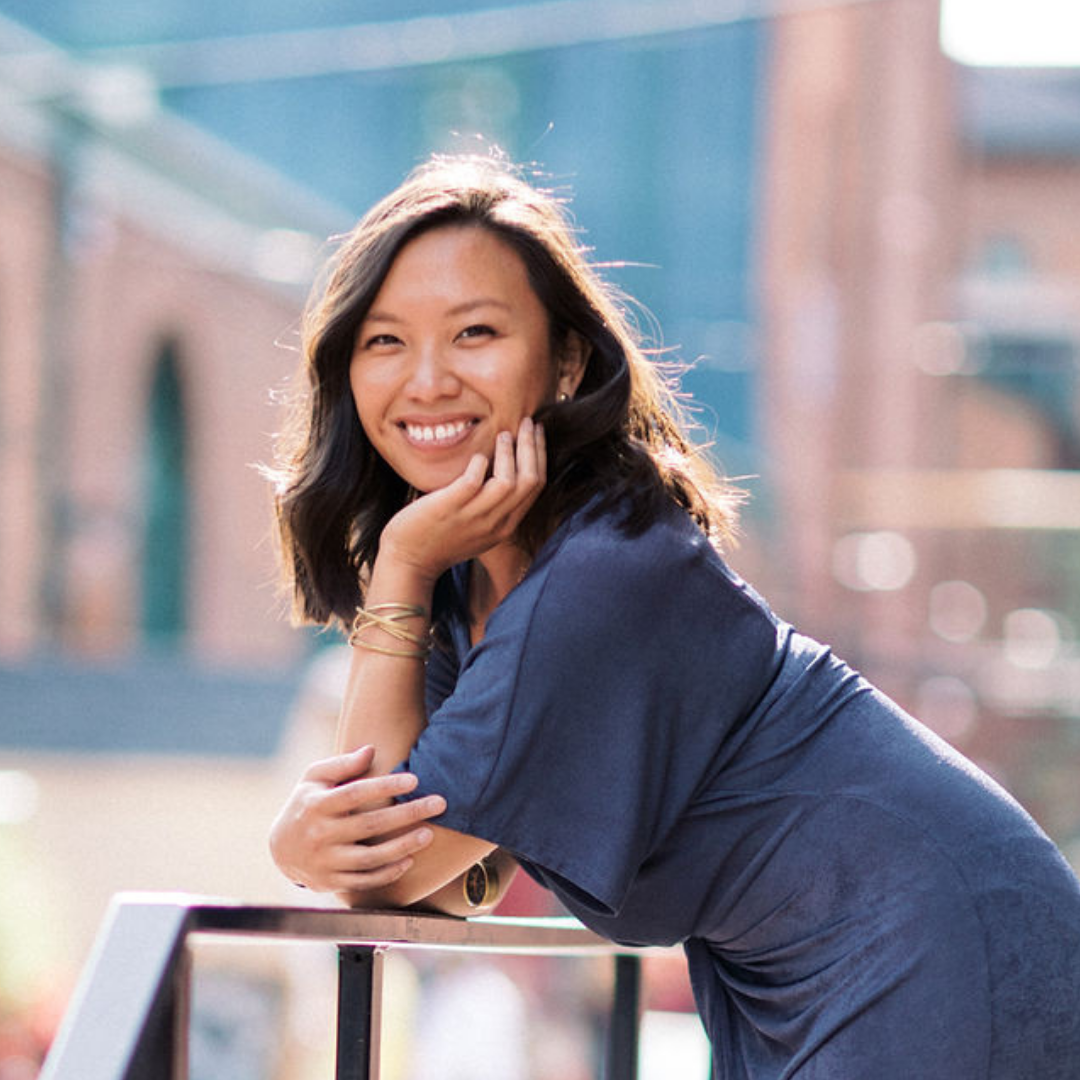 Justine Abigail Yu (she/her) is the founder and editor-in-chief of Living Hyphen, a community and magazine that explores what it means to live in between cultures as a hyphenated Canadian – that is, an individual who calls Canada home but also has roots elsewhere.
On Living Hyphen's website, Abigail writes: "From the Haitian-Quebecois commuting along the Montréal Métro to the South Asian trans man applying for permanent residency, from the young Filipino-Canadian woman texting her immigrant mother to the Plains Cree and Métis man meeting a traditional healer, this magazine reveals the rich inner lives of Canada's diverse communities."
Abigail recently launched the Living Hyphen podcast during the pandemic, a collection of "stories from a multitude of different storytellers across what we now know as Canada to explore this concept of "homestuck" – whatever home might be, whatever one's relationship to their home(s) might be, and whatever being stuck can mean."
We spoke with Abigail about the new podcast, storytelling during a pandemic, and finding community while living between worlds.
LiisBeth: What is your origin story?
Justine Abigail Yu: I am a Filipina-Canadian. I was born in Manila, Philippines and moved to Toronto, Canada when I was just four years old. I was constantly in this tug of war as I was growing up, always going back and forth between these two identities, places, and cultures I hold so dearly. That all these truths about me could exist at once is something that has always boggled my mind. And it's something that I tried to hide or quiet when I was younger in an attempt to fit in.
It's only as I've gotten older and more comfortable in my own skin and more unapologetic in exercising the power of my voice that I've come to realize, accept, and hold pride in the fact that I am not simply fragments and pieces of these two cultures or places. I am fully and wholly both. I am Filipina-Canadian.
LiisBeth: How did the idea for Living Hyphen come about, and what are you hoping to achieve through it?
Abigail: The seed of this idea was born in the fall of 2015 at Toronto's Feminist Art Conference when I attended a powerhouse panel about (the lack of) diversity in Canadian literature. The panel was stacked with writers of colour with tons of experience to share about the publishing industry. I listened to these writers talk about the difficulties they faced in getting their work published, simply because their stories did not conform to the "Canadian narrative." Either that or their stories were not "ethnic" enough.
As a writer and as a woman of colour, this deeply unsettled me. I didn't want to have my story filtered through the lens of a homogenously white editorial board that actually has no idea what it means to live in between cultures. In that moment, I decided that I had to build my own house – by and for writers of colour. And so, the seed of Living Hyphen sprouted.
Since the launch of the inaugural issue of our print magazine in October 2018, our mission has always been to reshape the mainstream and amplify the voices that often go unheard.
Our inaugural issue featured the stories of more than 50 artists and writers from all across what we now know as Canada and who hail from more than 30+ ethnic backgrounds, religions, and Indigenous nations. We've since grown to include cultural programming by way of writing workshops and storytelling nights to cultivate, nurture, and mentor writers and artists who have been told for far too long that their voices don't matter.
LiisBeth: What made you launch a podcast, and what was the process of creating the episodes like?
Abigail: Last August, I got a random email from Trisha Gregorio pitching me on the idea of turning Living Hyphen into a podcast. I didn't know who she was. We had never met. It was a straight up cold email. But she wrote to me with such a clear vision of what she wanted to create, a deep understanding of what Living Hyphen is all about, and a confidence of her skillset and qualifications that I knew I had to at least take a meeting with her.
At the time, I had just finished reading through hundreds upon hundreds of submissions for our upcoming second issue and listening to so many incredible storytellers from our writing workshops. It would be impossible for Living Hyphen to publish them all! Print is so expensive and time-intensive. But these stories are so powerful and beautiful and important that it would be such a loss to the world not be shared.
And so Trisha's email came at the right moment. I had been looking for new ways to share the stories that people entrust us with, and podcasting felt like a natural progression.
It's been an interesting process working on this podcast in the time of COVID. I've never met Trisha (in person), but we've been working so closely together over the last few months – brainstorming audio formats, developing a concept for this season, curating stories, recording remotely with artists and writers all across the country and with each other, and then meticulously editing everything together! Trisha is really the mastermind behind this podcast as both co-host and producer. She has managed to capture the essence and the heart of the Living Hyphen brand and community and I am just so humbled to have her on our team.
LiisBeth: What role does podcasting play as a medium when it comes to storytelling and building community?
Abigail: For those of us in the diaspora or who have been displaced in some way – whether voluntary or forced, abroad or right here on this land – we have not always had the luxury or privilege of having our stories or histories captured across time through written texts. We are largely a people of oral traditions, and it feels so natural and authentic to tell our stories through this podcast.
As my co-host Trisha Gregorio says, "With the audio format we're able to dial in on a different kind of intimacy. Living Hyphen has always been about the closeness and warmth of having a storytelling community to belong to, especially for those of us from underrepresented communities. So, there's something so special about getting to hear all these stories in the podcast directly from the voices behind them, and to be able to bring these, in this form, to listeners."
LiisBeth: What's next for Living Hyphen?
Abigail: We're launching our second issue this July called, "Across Generations," which we are so excited about! It's full of intergenerational stories of resistance and healing. We've also been working with Canadian Stage to develop an adaptation of some of the stories that can be found in our magazine. It's called nowhen and it's set to be on stage at the High Park Ampitheatre from August 5-12. Fingers crossed that lockdown restrictions will lift by then to allow for outdoor performances! We'll also continue to deliver our many writing workshops for emerging writers.
It's hard to believe how much we've already accomplished in just 2.5 years. We've grown and expanded in ways I never expected, and I'm just hoping to continue in this trajectory and doing what we do best – amplifying the voices of those who have all too often gone unheard.
LiisBeth: Thank you for sharing your story and your work with us.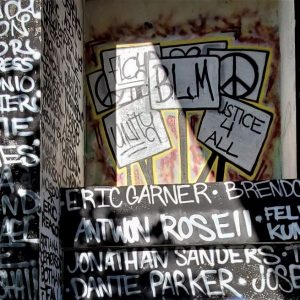 Graffiti in Toronto, Ont. Photo by PK Mutch.   As American hip hop artist and spoken word champion Guante so eloquently says: "White supremacy is
Read More »
Fall is typically a season packed with feminist meet ups, community gatherings and conversation spaces. What to do this year? Can ZOOM meets ups fill the void?
Read More »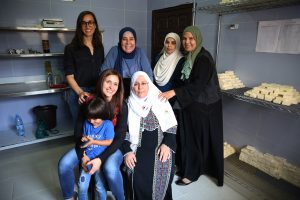 A Toronto-based social enterprise brings hand-pressed soaps made by refugee women in the Middle East to North America. 
Read More »