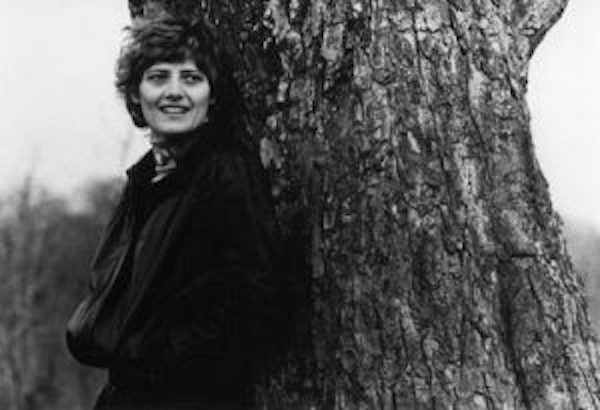 To round our women's history month in March 2021, a group of feminists gathered for the season finale of The Fine Print, an online conversation series with contemporary feminist authors. Topic of discussion? A novel inspired by one of the original founding members of the German Green Party, a revolutionary activist who fought for human rights, peace and environmental justice. The brilliant young political firebrand espoused ideas so far ahead of her time in the 1980s, we could easily imagine her in a national leadership role today, along with the likes of New Zealand's Jacinda Ardern, Finland's Sanna Marin, Iceland's Katrín Jakobsdóttir.
So why don't people know more about Petra Kelly?
For author Shaena Lambert, the answer is all too familiar and tragic – history erases female leaders and their accomplishments. The Canadian author set out to resurrect the life of Petra Kelly who transformed global and environmental politics in the 1980s before she was murdered at the age of 44. Police reported that while she was asleep, Kelly was shot in the temple by her lover and ex-NATO General Gert Bastien, who then turned the gun on himself. Their bodies were not found for an estimated eighteen days – Kelly, still an elected Green politician at the time, was already in the process of being forgotten.
Lambert, also an environmental activist, met Kelly at a peace demonstration she helped organize in Vancouver, B.C. in 1986 and was transfixed by her charisma and inclusive vision. "I met her personally. I met the general and I was swept up by her vision," Lambert said during her interview on The Fine Print. "It was so much larger than the vision we had in our peace movement out here in Vancouver. The interconnections that she made between peace and ecology and human rights and Tibet and sexual freedom."
Decades after that event, Lambert saw Petra Kelly's photograph in a museum at Checkpoint Charlie, the famed crossing point between East and West Berlin during the Cold War. It was the same photo that Kelly had sent to Lambert all those years ago.
In that moment, Lambert felt a zing and knew she had to write about Kelly. "I just walked out of that museum changed, with that sort of electric feeling the hairs on my arms were all lit up," Lambert told The Fine Print guests.
To answer the question of why Petra Kelly slipped so quickly from memory, Lambert wrote the novel primarily from the point of view of Manfred Schwartz, a composite of several Green activists who were close to Kelly. In the novel, he is also an ex-lover (she had many) who struggles to understand her legacy and her often contradictory choices. Did she give up on the Greens? Did they give up on her? How could a peace activist fall in love with a Nazi officer?
"You've been the corpse for too long," Manfred Schwartz narrates in the novel. "I've let your final identity define you, your murder turn you into a murder victim, as though that's who you were, your meaning, your self. As a feminist, how you would have hated that! All your complexity, your laughter, your fears, reduced to a body in a bed."
Giller-award winning author Madeleine Thien hailed Petra as "a tour de force" and "a masterpiece – a fierce, humane and powerful novel for our times…the story of generations reckoning with history, sex, the land, guilt, and our troubled future, is at every moment personal and political."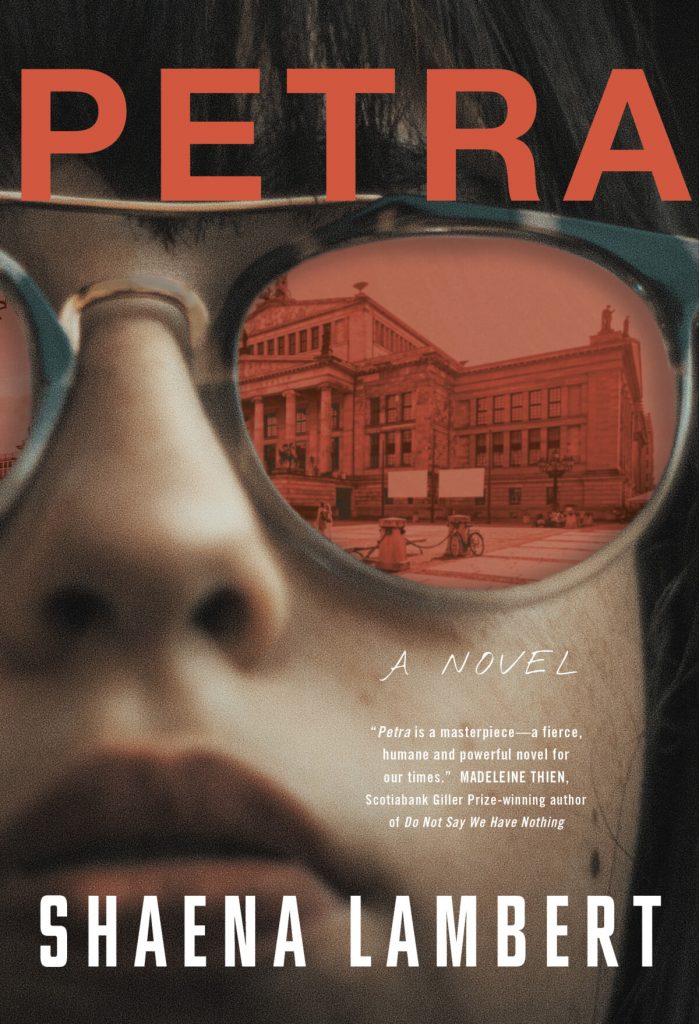 After the formal interview on The Fine Print, guests engaged with Lambert in a lively informal conversation. The author shared her thoughts from Cortez Island in B.C.: "I'm feeling an intersection more between activism and my work as a writer than I ever have before."
Many at the online event voiced their astonishment at how Petra Kelly's feminism addresses the issues of today—climate crisis, economic uncertainty, land sovereignty—nearly 40 years after her death.
As Petra narrator Manfred Schwartz puts it: "And now, in 1980, the only sane way forward, for so many of our generation—the way to channel both our love and our fury—was the new Green Party."
If Petra Kelly were alive today, she would be 74 years old.
Petra is Lambert's fourth book. She was the featured guest in March 2021, on The Fine Print, a conversation series with contemporary feminist authors hosted and produced by Lana Pesch in the Feminist Enterprise Commons (FEC). Watch the video highlights of the conversation here on YouTube. 
Read an excerpt from Petra (Penguin Random House Canada, 2020) © Shaena Lambert 2020